Best elliptical machines: The best cross trainers for a low-impact home workout
The best elliptical machines can transform your workouts by losing weight, improving fitness and toning muscle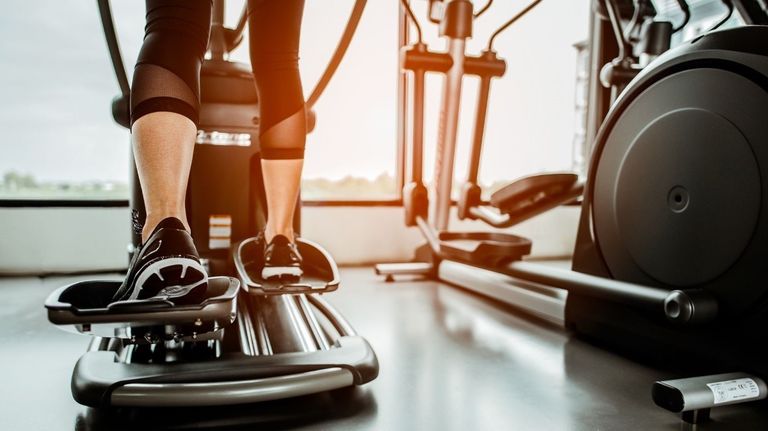 (Image credit: Canva Photos)
By Lee Bell
The best elliptical machine is always a hotly-contested gym station. That's because cross trainers and ellipticals depending on what you refer to it as, are one of the best exercising aids ever made. 
Why? It's very low-impact, so there's no danger of damaging your joints, it works your arms and legs, providing a full-body workout, and can offer both cardio and resistance training benefits, beating out treadmills and exercise bikes in both efficiency and value for money.
Hitting nearly all lower body muscle groups including the glutes, quadriceps, hamstrings and calves, working out on an elliptical machine is tougher than it looks. And don't forget how most units have levers that help work the arms, too. It's a full body workout.
In one study published in the scientific journal Gait Posture, the best crosstrainers and elliptical machines demonstrated greater muscle activity in the quadriceps, hamstrings and other muscle groups than overground walking, treadmill walking and exercise bikes. Throw in the arm exercises too and an elliptical is the best cardio machine you can get. 
While lots of contenders for the 'best elliptical machine' title have been a commercial gym staple for donkeys' years, that doesn't mean they aren't suitable for the home. If you're in the market for one and you have the space - go for it! I'll help you find the best one for you.
Our top pick for best elliptical machines is the SoleFitness E95, a perennial best-seller thanks to it's heavy-duty features, near-silent drive system and high-tech extras.
Read on for some more elliptical machine buying advice, plus our in-depth guide to the best elliptical machines available right now - and unmissable deals on these brilliant machines!
Best elliptical machine: US deals available right now
Top brand
ProForm Carbon HIIT H14 Elliptical Trainer | Was $2,999 | Now $1,599 | Saving $1,400 at Best Buy
Not only does this top-rate elliptical have a 14-inch HD touchscreen, you also get a year's iFit subscription included to watch on said screen - nice! There's also 26 resistance levels to help you find your beast mode, plus dual 2" Bluetooth speakers, and a 5" horizontal and 10" vertical elliptical stride path.View Deal
Bowflex Results Series BXE216 elliptical | Was $2,599.99 | Now $1,799.99 | Saving $800.99 at Best Buy
The Bowflex BXE216 features a high-tech burn rate console, 25 resistance levels and integrated Bluetooth technology so you can connect with online training apps such as Explore The World to help you burn calories like never before.View Deal
Low price
Horizon Fitness EX59 Elliptical | Was $999.99 | Now $649.99 | Saving $350 at Dick's Sporting Goods
An elliptical for under 600 bucks? Yes, please! This Horizon Fitness machine has lower pedals than most models, making getting on and off a less perilous task - and also great for fitting into rooms with low ceilings. It also has 10 levels of magnetic resistance and built-in Bluetooth speakers.View Deal
ProForm 895 CSE Smart Strider Elliptical | Was $1,999.99 | Now $1,099.99 | Saving $900 at Dick's Sporting Goods
ProForm are are one of the leading elliptical brands in the market at the moment, and this model is a great buy. It has a 7'' full-color touchscreen display and a 18 lb. flywheel, plus you get year's iFit membership for free with your purchase.View Deal
How to choose the best elliptical machine for you
As a low-impact alternative to the treadmill, ellipticals are ideal multi-muscle home training machines for those wanting to get fit but don't really like running, or have foot issues. They're also one of the best exercise machines for weight loss. But with so many different working parts to take note of, finding the right one could be a little overwhelming.
To help you choose, you should know above all what a flywheel is. The key part of any elliptical, this piece of equipment controls how smooth the machine feels during use. A quick rule of thumb is: the heavier the flywheel, the smoother and quieter the elliptical will run, due to the additional weight helping it spin more efficiently. As you've probably already guessed, cheaper machines generally feature lighter flywheels, meaning the experience isn't quite as nice.
As far as costs are concerned, you can expect to pay in the region of $500 - $2,000 / £400 - £1,500 for an elliptical machine. Anything less than this will likely prove to be loud, shaky and almost certainly get your neighbors worrying.
Size is a factor, too. Gym-quality machines will take up a lot of floor space and if you're limited in that respect, it might be worth looking at foldable options, as these can be wheeled away until it's time to use it again.
The best elliptical machines you can buy
1. Sole E95
The best elliptical machine for most people
Specifications
Dimensions: 69 x 157 x 211cm
Foldable: No
Flywheel weight: 13kg
Resistance levels: 20
Stride length: 8-24inch (adjustable)
Reasons to buy
+20 levels of resistance+Adjustable stride 
Reasons to avoid
-Assembly can be tricky-Not foldable
One of the most popular ellipticals on the market, and for good reason. The Sole E95 Elliptical Trainer is regarded as one of the best machines in its class when it comes to home gyms. Solid, smooth, and customisable, this great all-rounder features a heavy 17kg flywheel and near-silent drive system that feel stable and smooth during use without making a racket. 
Another highlight is the fully-adjustable ramp angle that can be increased to 40 degrees so can work every muscle in your legs without it hitting hard on the knees. There's also an onboard computer featuring a sizeable 9-inch LCD monitor and built-in Bluetooth speakers. With all this, you're getting the perks of a commercial-grade machine for a significantly lower price tag.
2. Technogym Synchro Forma
The best premium elliptical machine
Specifications
Dimensions: 204 x 78 x 164 cm
Foldable: No
Flywheel weight: 7kg
Resistance levels: 12
Stride length: 20inch
Reasons to buy
+Top quality equipment+Easy to use
Reasons to avoid
-Pricey-Only 12 resistance levels
If style really matters to you when buying an elliptical machine, and you'll pay whatever it takes to get it, then there's no need to look further than Technogym's Synchro Forma. This super high quality cross trainer feels just like those at the gym. With an elegant matte black and satin silver finish complemented by a minimal tracking display, this elliptical machine trainer knows what it takes to outshine all its competitors in the looks department. 
At the same time, this machine is by no means  style over substance. Its sleek looks are met with an exceptionally sturdy, solid construction that feels built to last. This is probably because it's been based on those commercial models you see in fancy gyms, but adapted for the home. Top quality, sturdy and familiar feeling, making it very easy to use.
3. ProForm 225 CSE
The best budget elliptical machine
Specifications
Dimensions: 102 x 54 x 162 cm
Foldable: No
Flywheel weight: 7kg
Resistance levels: 12
Stride length: 14inch
Reasons to buy
+Compact size+Excellent value for money
Reasons to avoid
-Not as quiet as competitors-Bluetooth connectivity feature only works with iFit
Looking for an elliptical for under £400 that doesn't feel like it could fall apart at any second? Have a gander at the ProForm 225 CSE. A great day-to-day machine that while isn't as solid-feeling as its pricier competitors, does the job and proves excellent value for money. 
There's plenty of tech baked in, too, despite its entry-level price. There's a Bluetooth-enabled syncing for iFit Coach app connectivity (where you can find new workouts daily), and EKG Grip Pulse hand grips which transfer accurate pulse readings across to the large LCD display for on-the-go analysis. It's compact size also means it won't take up a whole lot of space. A superb bit of kit for the price. 
4. NordicTrack E11.5
A great all-rounder with a robust frame
Specifications
Dimensions: 166 x 67 x 204cm
Foldable: Yes
Flywheel weight: 9kg
Resistance levels: 20
Stride length: 20-22inch
Reasons to buy
+Foldable for storage+Adjustable platforms
Reasons to avoid
-Heavy at 87.5kg total-Data screen could do with an upgrade
One thing that NordicTrack is well known for is the robust, heavy duty nature of its equipment, and that's no different with the E11.5. The sturdy and high quality finish is evident as soon as you get it out of the box. While it's quite heavy, weighing in at over 87kg, it means the action of the strider is smooth and almost silent with ramp movement and resistance changes mostly unnoticeable. Its best feature, however, is that it's foldable and on wheels, meaning you can use it in the centre of a room and then fold it up and push it into a corner when you're done.
5. Branx Fitness Magnetic X-Fit
The best value mid-range elliptical, with great set of features
Specifications
Dimensions: 166 x 66 x 158cm
Foldable: No
Flywheel weight: 14.5kg
Resistance levels: 16
Stride length: 19.5inch
Reasons to buy
+Great value for money with sturdy flywheel +App that allows you to control speed and resistance level and monitor your performance
Reasons to avoid
-Self assembly-Design could be better
The Magnetic 'X-Fit' cross trainer by Branx Fitness boasts all the things you'd expect from an elliptical at twice the price, such as a monitor and connected app which help to track your training progress. With a flywheel just shy of 15kg plus weighty other parts, it not only has a top-quality feel about it, but is quiet and sturdy enough for exercising in an apartment without ticking off your neighbours. There's also 16 resistance levels, which makes it great for building strength, and the 19.5inch stride means most users can jump on board for either a walk or a run, regardless of their height. It's also rather compact, so ideal for those looking to save on space.