Ninja Foodi 9-in-1 air fryer deal: Cook healthy dinners with this Amazon bargain
Cook healthy this Christmas with over 25% off the Ninja Foodi Electric Multi Pressure Cooker & Air Fryer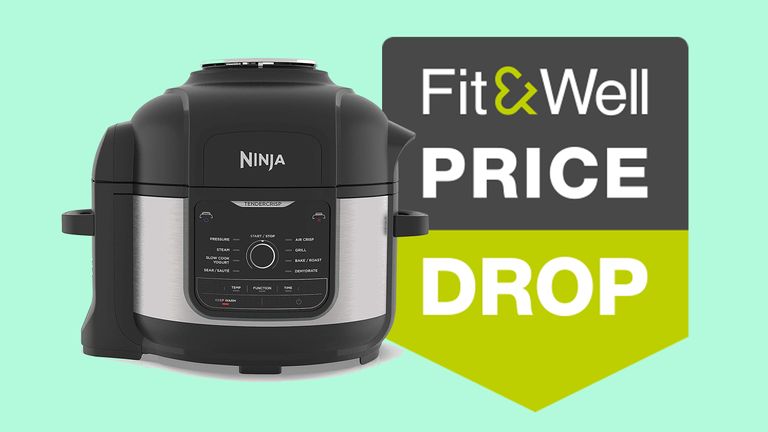 (Image credit: Amazon)
By Matt Evans
As winter approaches, it's tempting to abandon healthy, summery salads in favour of warming comfort foods, which can also be very fattening – especially as we're getting less exercise in the cold and dark. But with the Ninja Foodi Electric Multi Pressure Cooker & Air Fryer, you can cook comfort food that's also healthy.
Whether you're air-frying chicken thighs or whipping up a stew, the cooker can handle whatever you throw at it. Right now, Amazon is offering 25% off the Multi Pressure Cooker, saving you £50 on an extremely popular bit of Ninja kitchen kit. It would make a great gift for health-conscious, culinary-minded family.
Get the Ninja Foodi Multi-Use Pressure Cooker/Air Fryer deal now:
Top deal
Ninja Foodi 6 litre 9-in-1 Multi-Use Pressure Cooker/Air Fryer | was £199.99 | now £149.00 from Amazon
This all-in one pressure cooker has a bevy of different modes and features. As well as an easy to use pressure cooker and slow cooker, it's also an air fryer, tender crisper, bake oven, roasting pot, it's packing a defrost function... the list goes on. With a 6 litre removable inner tub and 14 levels of safety, it's versatile and convenient.View Deal
Why get an air fryer?
Love the taste of food like chips and fried chicken, but don't want to be stuck with all the grease and extra calories? You'll need an air fryer.
Good air fryers are fantastic new gadgets that allow us to indulge in our favourite fried foods without drenching them in grease. Using just a teaspoon of oil and a system of hot air circulation, it fries foodstuffs completely evenly, with no need for deep-fat or shallow-frying.
In this way, air fryers can reduce the amount of calories, fat and harmful compounds in your food. It won't magically transform it into something super-healthy, but for cheat-day treats, and home-cooked dinners, it will reduce the calories you consume while preserving the great taste.