Why exercising outdoors burns more calories - plus more reasons to workout outside
It may seem counterintuitive in the winter months, but exercising outdoors brings a host of health benefits that will aid immunity and weight loss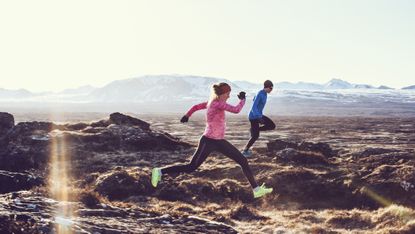 (Image credit: Getty Images)
If the thought of exercising outdoors this winter makes you want to hide under a blanket, we're here to change your thinking.
As the dark winter nights draw in and the mercury drops, it can be very tempting to stay indoors, wrapped up in a cozy blanket. But by venturing outside for a workout, your health, fitness, mood and all-round wellbeing will be transformed.
And if you're looking for the best exercise for weight loss, stepping into the great outdoors will help you torch even more calories - helping you to maximise your training and lose weight fast.
Personal trainer Sarah Overall (opens in new tab) runs outdoor bootcamps, even during the winter months. She is a firm believer in the power of daylight and the outdoors as a health- and mood-booster.
Here she details just a few of the benefits you can reap from exercising outside and leaving the hot stuffy gym (or living room, if you're isolating) behind…
1. Outdoor workouts burn more calories
When the mercury drops, your body has to work harder to maintain its core temperature, which requires energy. And more energy expended equals more calories burned.
What's more, you also challenge yourself by exercising on uneven surfaces, different terrain and dealing with environmental factors such as wind. These all contribute towards improved calorie burn, core strength and cardiovascular fitness - just by getting out of an air-conditioned gym, stuffy hall, or the central-heating haven of your living room.
2. Vitamin D exposure boosts your immune system
Recent research (opens in new tab) estimates that a staggering three-quarters of American adults and teens are deficient in vitamin D. Nicknamed the 'sunshine vitamin', we need vitamin D to keep our bones and immune system healthy.
One key way the body absorbs vitamin D is by exposure to sunlight. This can be challenging during autumn and winter in cold climates, as we tend to stay indoors more - so any chance you have to be outdoors will help top up this vital vitamin. Upping your intake of vitamin D foods is also a good idea.
Outdoor exercise also helps you fight off colds and even flu, and can reduce the likelihood of you catching the nasty bugs in the first place. A 2015 study (opens in new tab) by Chosun University in South Korea found that exercise boosts the immune system by repeatedly stressing it – which means your body is alert and ready to fight off any foreign invaders when a virus strikes.
3. Exercising outdoors boosts your mood
Exercise will boost your mood at any time of year but it's super-effective in the winter, sending the levels of the "happy" chemicals, serotonin and dopamine, soaring and thus helping to keep the winter blues at bay. Research provided by the UK's NHS (opens in new tab) suggests that exercise can be a more effective treatment for depression than anti-depressants.
4. It's cost effective
No expensive gym fees to pay or home gym equipment to buy when you get your sweat on outdoors, which leaves you a healthy budget with which to splash out on some new fit kit. Check out our edit of the best workout leggings or the best running shoes for women if that's the case for you. Not a lady? We've picked the best running shoes for men, too!
Launched in 2020, Fit&Well.com is all about helping you meet your health and fitness goals in ways that are fun and achievable. With news and features on fitness, weight loss, running, nutrition, yoga, wellness and more, we're committed to helping you wherever you are on your fitness journey. We break down the best fitness tech, with reviews, buying guides and the latest deals on fitness and wellness kit, from dumbbells to diffusers.
We cater for all difficulty levels here. It doesn't matter if you're a beginner in the world of fitness or you're gearing up for your tenth marathon: we're all moving towards the same goal – creating a healthier, happier you. From guides on getting started doing walks around the block, to creating the perfect work-from-home space, to eating to fuel your first triathlon. It's all here.