Watch: The viral "Bring Sally Up" push up workout challenge is back for lockdown
Can you finish the song? Bring Sally Up, played through your workout earbuds, can transform your home workout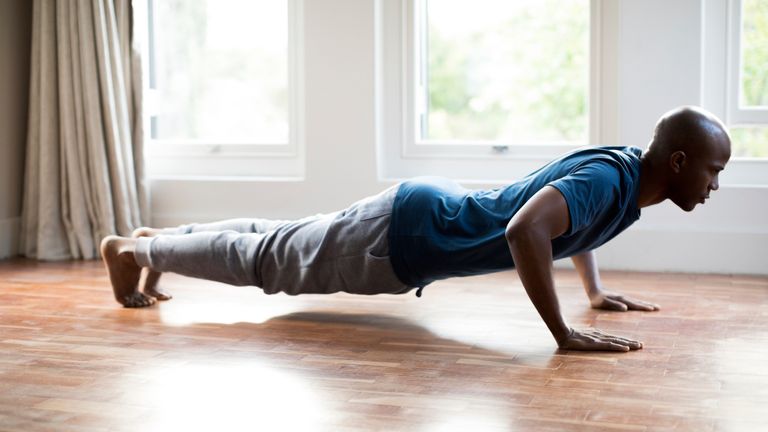 (Image credit: Getty Images)
By Matt Evans
If you've been looking for a new workout routine to get to grips with during lockdown, the "Bring Sally Up" workout challenge is enjoying a renewed resurgence.
 The premise of the workout challenge is very simple: you pick an exercise, such as the push up or squat, and you begin to play the song "Flower" by Moby, which has a repetitive chorus of "Bring Sally up, bring Sally down". Every time you hear the word "up" you perform the upward part of the movement, and every time you hear the word "down" you descend, holding the pose until you hear the word "up" again.
It's often done with push ups as a serious test of core and upper-body strength (here's how to do a push up properly, so no cheating) but it can also be done with squats and lower-body work too (here's how to do squats). If you're really brave, you could try it with pull-ups and dips, but you'll need to be exceptionally fit and strong. Here's a prime example to follow along – and be warned, it's harder than it looks. 
Get the song on your best workout earbuds and see how you do, marking the timestamp in the song at which point you gave up. You've got a goal to aim for and surpass for next time, with the end result being to complete the entirety of the song. 
It's small wonder this challenge has had a real resurgence in popularity: in lockdown, not only are we all very bored and craving something to do, but it puts a new spin on simple bodyweight exercises, which we can do anywhere we have a small amount of floor space. 
The workout places a lot of stress on our arms and legs thanks to isometric holds. Holding your squat or push up at the bottom, most difficult point of the movement creates an enormous amount of tension in your muscles. One study, published in the Journal of Sports Science, found incorporating isometric training into your routine delivered even more strength gains than conventional movement-based stuff.