Here's how Keanu Reeves, 57, got in shape for The Matrix Resurrections
The actor's roles have become more physically intense over the years, but he's also learnt to adapt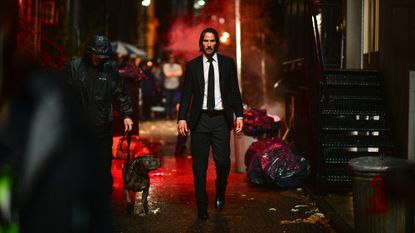 (Image credit: Getty Images)
We all know it's harder to stay in shape as we age. But it seems so effortless for the eternally-youthful Keanu Reeves. The movie star has spent over three decades at the helm of high-octane action films.
Impressively, Reeves handles many moves and fast-paced scenes himself rather than opting for a stunt double. But at 57, it takes more than a few sets with the best adjustable dumbbells to keep fighting fit.
Since 2014, he has played John Wick, a former hitman, in the franchise's three films. These neo-noir movies are densely packed with fighting and lightning-quick choreography, and Reeves is firmly at the center of the action.
He spent four months learning Judo, Japanese ju-jitsu, and Brazilian jiu-jitsu and worked out with trainers from LA SWAT and the Navy Seals to prepare for the role. John Wick 3 arrived in 2019, and now, less than three years later, Reeves has returned to his most iconic role.
Recently, he's been promoting The Matrix Resurrections, the fourth installment of the Matrix sci-fi franchise. During an appearance on The Late Show with Stephen Colbert, Reeves disclosed that he and Carrie-Anne (his Matrix co-star) had to jump off a 46-story building.
To take risks like that, even with the modern safety precautions that come with a big-budget Hollywood movie, you need to find a way to cope with fear. Reportedly, Reeves learned how to meditate while filming Little Buddha back in 1993, which might have something to do with it.
But it also requires a physicality you can only get from training. For the original movie, Reeves practiced Kung fu and other martial arts for The Matrix's legendary fight scenes. In 20 years since then, he has continued to train and learn new skills, particularly for John Wick.
He's realistic, though, and getting into shape is a lot harder as you approach your 60s than in your mid-30s. In interviews, he acknowledges that he "can't do stairs as fast" but keeps his energy up by eating steaks, a habit he picked up when filming The Matrix.
The actor isn't alone in adapting. Arnold Schwarzenegger revealed that he'd dropped weights from his workouts earlier this year. His rationale was similar, noting, "none of us can beat time. So you can either mope around and be mad about it, or you can adapt."
Reeve's first breakthrough action role was as an undercover FBI agent infiltrating a gang of bank-robbing surfers in 1991's Point Break, which left a lasting imprint on him. He had to learn to surf, a practice he's continued over the years.
In an interview with Men's Journal, he acknowledged the film's impact on him, noting that "it was life-changing for me. It introduced me to fitness and training." Not long after, he starred in the action-thriller Speed with Sandra Bullock and The Matrix a few years later.
It seems that the secret to Keanu's endless enthusiasm and youthful demeanor is that he genuinely enjoys learning new techniques and quickly adopts them in his free time too. Of course, we aren't all Hollywood action heroes, so we don't have to train like one either.
The important thing is to find exercises and routines that you look forward to and that make you feel good. The best workouts for abs are a great place to start, as they build core strength, which plays a vital role in our circulation, posture, and stability.
James is a London-based journalist and Fitness Editor at Fit&Well. He has over five years experience in fitness tech, including time spent as the Buyer's Guide Editor and Staff Writer at technology publication MakeUseOf. In 2014 he was diagnosed with a chronic health condition, which spurred his interest in health, fitness, and lifestyle management.
In the years since, he has become a devoted meditator, experimented with workout styles and exercises, and used various gadgets to monitor his health. In recent times, James has been absorbed by the intersection between mental health, fitness, sustainability, and environmentalism. When not concerning himself with health and technology, James can be found excitedly checking out each week's New Music Friday releases.