Best cross training shoes: Top sneakers for gym work, HIIT workouts and more
What to look for in the best cross training shoes - and the top picks you can buy right now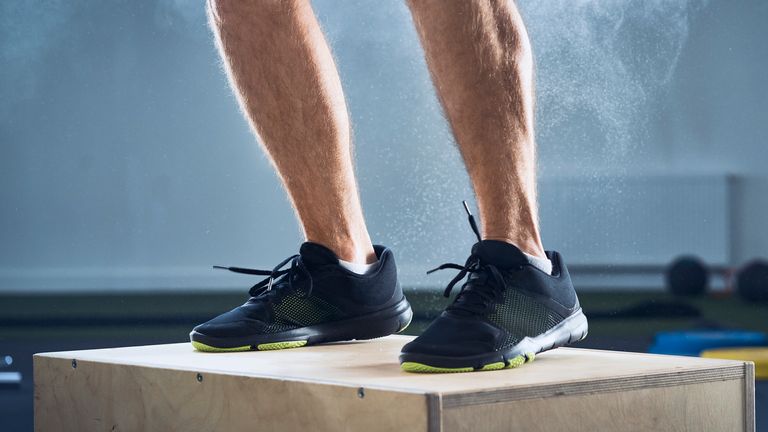 (Image credit: Getty Images)
By Chris Smith
The best cross training shoes are perfect for people who love CrossFit, High Intensity Interval Training (HIIT) and polymetric workouts. They share a lot of attributes with the best workout shoes, but they're perfect if you like to switch things up, whether in the gym or in the park. 
These multi-disciplinary workouts are a combination of exercises that encompass lots of disciplines to boost strength, cardiovascular fitness and agility, while burning fat at a supremely high rate. Practitioners get more bang for their buck as the metabolic effects continue post-workout. Burning calories at an elevated rate while sleeping isn't a bad deal, huh?
Cross training shoes must therefore tick a lot of boxes. They need to provide stability for weight training, must be durable enough to withstand rope climbs, while providing cushion for jumps and comfort for the intense cardio bursts. It's a lot to ask, but the best cross training shoes pull it off with aplomb.
In this article, we outline what to look for when selecting the best workout shoes for you, and present our favorites that satisfy these criteria. All the styles listed below cater to both sexes, making them the best cross trainer shoes for women and men alike.
How to choose the best cross training shoes for you
The best cross training shoes for you will depend on your preferred disciplines. Each of our chosen shoes vary in terms of the stability, comfort level, flexibility, breathability and durability. 
If you're focusing on strength training, you should seek a cross trainer that prioritizes stability. For those rope climbs, a number of shoes are built to withstand the wear and tear and give you extra grip. If you're a CrossFitter who likes to prioritize cardio then, you may seek a shoe with more comfort and flexibility. 
However, we wouldn't recommend any of the shoes listed below for sustained running due to the absence of significant cushion, energy return and arch support.
One of the most popular cross training shoes right now – and the one we recommend above all others – is the Nike Metcon 5. For CrossFit and HIIT workouts the shoe offers tremendous heel stability, comfort and durability while remaining ensuring there's plenty of room for manoeuvre in the forefoot. 
However, it's a close-run thing and one of a number of superb options. The Reebok Nano 9 is one of the original CrossFit shoes and perhaps a little more suited to strength training, due the imposing outer sole that ensures a solid and secure base promoting balance and correct weight distribution for exercises like squats and kettlebells. 
The NoBull trainer provides many of the aforementioned benefits and has proven a hit inside and outside of the box, thanks to an understated design that allows it to double up as a great shoe for wearing about town. 
Meanwhile, for those seeking a cardio fix through HIIT workouts, while blending in some agility-based activities, we recommend the Inov-8 F-Lite 235 V3. It's impressive energy return makes it one of the better cross trainers for running (although none are great). Finally, if you're seeking a highly versatile show with a design harkening back to the cross training shoes of yesteryear, you could do a lot worse than the Under Armour HOVR Rise.
The best cross training shoes you can buy right now
1. Nike MetCon 5
The best cross training shoe for most people
Specifications
Weight: 360g
Workout type: Fitness training
Stability: Neutral
Heel to toe drop: 4mm (with removable 8mm insert)
Reasons to buy
+Added heel stability for lifting +Roomy fit 
Reasons to avoid
-Unsuitable for long runs
Metcon is an abbreviation of metabolic conditioning, which is the combination of strength and cardio training. Made popular by CrossFit and High Intensity Interval Training (HIIT), metcon workouts burn loads of calories in short, intense blasts and keep your metabolism ticking over at an elevated rate for hours thereafter. 
The headline feature in this shoe is the additional stability in the heel that can assist with squats, deadlifts, box jumps and kettlebell exercises that require a solid base. The 3D-printed upper is highly breathable and roomy, while the raised carbon rubber sole material will offer some additional grip on rope climbs. For those who like to focus on lifting, there's a Hyperlift insert that that adds a little heel lift too. They wouldn't be our choice for long runs, but they're perfectly comfortable for those short bursts required of HIIT and CrossFit workouts.
2. NoBull Men's Training Shoes
The best premium cross training shoe
Specifications
Weight: 283g
Heel to toe drop: 4mm
Reasons to buy
+Very light +Suitable for an array of workouts
Reasons to avoid
-Run a little small
The NoBull Trainer shoe has emerged from the all-star pack thanks largely to their versatility. They're a simplistic (hence the name) yet fantastic do-it-all shoe for those whose workouts are wide and varied. They can handle cardio, lifting, jumping, climbing and everything in between. The shoes have built a loyal following among big HIITers and CrossFitters because they offer the flat sole required for lifting stability, but are able to handle cardio elements of the workouts comfortably. They're lightweight, breathable and, most importantly, very durable. 
With the understated design that stands apart from statement shoes like the Nanos and Metcons, you'll struggle to find a more stylish cross trainer for everyday wear, either. If you like the design, but need a more run-centric shoe, the same brand's Mesh Runner shoes are a great option.
3. Under Armour HOVR Rise 2
Best cheap cross training shoe
Specifications
Weight: 312g
Heel to toe drop: 8mm
Reasons to buy
+HOVR midsole foam provides comfort and cushion +More versatile than other cross trainers 
Reasons to avoid
-UA Apex shoe is more advanced
The latest cross trainer from UA is one of those do-it-all shoes that'll suit the vast majority of gym, CrossFit or HIIT workouts. The headline feature is the HOVR 'zero gravity' foam within the midsole, which offers more cushion than our other selections and will do a little more to protect the joints when engaging in agility-based exercises like box jumps, while providing some energy return for explosive actions like burpees and cardio-based elements of the workout. 
There's also a full rubber outsole to give you stability in weight-bearing exercises, while remaining lightweight enough to accompany you on walks, jogs and during everyday wear. It's a classic looking cross-trainer and offers much better value than UA's flagship HOVR Apex cross trainer.
4. Reebok NANO 9
The classic CrossFit shoe, still going strong
Specifications
Weight: 343g
Heel to toe drop: 4mm
Reasons to buy
+New breathable upper +Excellent stability for weight training 
Reasons to avoid
-Not too grippy
Until the Nike Metcon showed up, the Reebok Nano reigned supreme in the CrossFit realm and continues to bear official CrossFit branding to this day, although not for much longer as Reebok has severed ties with the brand.
The shoe's ninth edition brings plenty of improvements, including even greater heel stability courtesy of a wider, flatter outsole. The midsole is now firmer too, which provides excellent support for lifts, but means the landings can be a little less forgiving. Experienced testers say this model is still more suited to running then the Metcon range too. On this model Reebok added FlexWeave material for the upper, which adds a little more manoeuvrability in the forefoot, while an additional layer of material will protect the toes when performing exercises like burpees.
Durability is a signature feature again, enabling the shoe to withstand as many rope climbs as you can handle. Since the launch of the Reebok Nano X, the Nano 9 shoe can be nabbed for a bargain price.
5. Inov-8 F-Lite 235 V3
The best cross training shoe for runners
Specifications
Weight: 236g
Heel to toe drop: 4mm
Reasons to buy
+A more dynamic cross training shoe +Super lightweight, but durable
Reasons to avoid
-Not the most stable for advanced lifters
This typically lightweight and breathable shoe from Inov-8 is suited to the more dynamic cross trainer, rather than those stationary athletes who excel at lifts, squats and kettlebell workouts. The F235 V3 includes a dynamic fascia band within the G-Grip outsole that makes it the most natural-feeling cross trainer out there. The innovation seeks to mimic the "anatomical position of the plantar fascia ligament" and Inov-8 attests when your heel leaves the floor, the tech helps to prevent elongation of the medial arch and supports the entire body weight as you propel forward. 
The company is keen to defy the lightweight construction by making this shoe as durable as the other hard-hitting cross trainers in our list. The RopeTec coating on the upper can handle rope climbs without disintegration, while the rubber toe bumper means you won't be stubbing those tarsals when jumping back for burpees or while climbing ladders.