Best cross training shoes 2023 for HIIT, gym workouts, and weight lifting
We've tested the best cross training shoes to help you find underfoot support for fast-paced workouts and weight sessions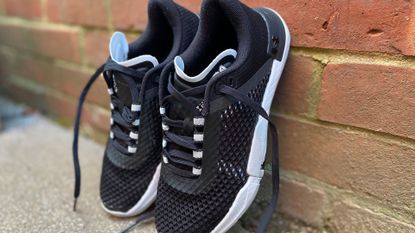 (Image credit: Becks Shepherd)
The best cross training shoes perform well in gym workouts, HIIT classes, and weight-lifting sessions due to their durable outsoles, extra ankle support, and cushioning throughout the midsole that responds well to shock.
If you've used a bouncy pair of the best running shoes for men (opens in new tab) or the best running shoes for women (opens in new tab) in non-running workouts will understand the need for a more versatile training shoe. We put these cross training shoes to the test to help you find the right option for your training.
So, whether you want more support during squats, agility while rope climbing, or stability during burpees, we've found the best cross training shoes for HIIT workouts, gym sessions, and weight lifting across a range of styles and budgets to get you started.
The best cross training shoes you can buy right now
Why you can trust Fit&Well Our expert reviewers spend hours testing and comparing products and services so you can choose the best for you. Find out more about how we test.
Best cross training shoes overall
Specifications
Best for: Weightlifting, gym workouts
Available for men and women: Yes
Reasons to buy
+
Lightweight
+
Low drop
+
Breathable materials
Reasons to avoid
-
Not much cushioning
-
Limited styles
The Under Armour TriBase Reign 4 cross training shoes are made with heavy lifting in mind. If you enjoy working with weights, then we found that these help build a stable base for your workouts. This is thanks to Under Armour's TriBase design, which helps you stay close to the ground, maintain good posture, and produce more force during lifts.
Like many of the best gym shoes, the TriBase Reign 4 have quite a flat sole, and little cushioning, which is what we found makes them so effective for resistance training. But that's also why you're better off looking for a pair like the Reebok Nano X1 if you enjoy some high-intensity cardio workouts or need something a little more flexible.
The lightweight, breathable mesh fabric keeps your feet cool, and the large tongue sits comfortably over the top of your foot. Meanwhile, we found that the grippy soles, along with the internal and external heel clips, meant that you had a solid base for lifting weights, making them some of the best cross training shoes for resistance training.
What the users say
Reviewers have awarded the Under Armour TriBase Reign 4 an impressed 4.8 out of five. Wearers have been particularly impressed with the sneakers' comfort and stability, especially when working with weights.
Although most people find them a great workout companion, some were left disappointed with the aesthetic design and limited range of colors.
---
Best all-purpose cross training shoes
Specifications
Best for: Gym workouts, HIIT, weightlifting
Available for men and women: Yes,
Reasons to buy
+
Supportive
+
Slightly raised heel for weightlifting
+
Stylish
Reasons to avoid
-
High price point
-
Toe area quite wide
When we tested a pair of the Reebok Nano X1, we thought they were excellent, durable, all-purpose training shoes. They're designed for explosive cardio workouts and more static resistance training, so we put them through their paces with gym workouts, HIIT classes, biking, and boxing. They were supportive throughout and stayed cool, even during intense exercise.
The rubber outsole extends slightly over your toes, offering stability and grip during high-movement exercises like burpees and mountain climbers. Similarly, the integrated heel clip provides some support when lifting weights. We tested it out with some barbell squats, and the shoes never collapsed inwards during heavy lifts.
The design is also quite subtle, so you won't need to change into another pair of shoes for your post-workout activities. This is in contrast to other louder shoes like the Under Armour HOVR Apex 3, for example. We did find that the toe area was quite wide, though this can be an advantage when working with weights as you have more space to press your toes into the ground.
What the users say
The Reebok Nano X1 has an average rating of 4.5 out of five for the men's shoes and 4.3 out of five for the women's on Amazon. Wearers were impressed with the versatility of the training shoes and liked that they stayed cool during intense workouts.
Some reviewers noted that the heel area was a bit tough, leading to chafing when wearing no-show socks. Fortunately, they found that switching to ankle socks prevents soreness.
---
Best cross training shoes for high-intensity cardio workouts
Specifications
Best for: Cardio workouts, CrossFit, HIIT
Available for men and women: Yes
Reasons to buy
+
Wide fit
+
Supportive for weights and explosive exercise
+
Comfortable
Reasons to avoid
-
Not suitable for long cardio workouts
-
Heavier than many cross training shoes
The Nike Metcon 7 are the latest iteration of Nike's successful and popular Metcon range of cross training shoes. It's clear that the company has designed these for multi-exercise workouts—the Metcon name comes from a training style known as metabolic conditioning, which combines strength-focused moves with intense cardio.
During testing, we found that they lived up to their name. We wore them for heavy lifting, jumping, and circuit training, and they offered a firm, comfortable, supportive base for our workouts, especially during explosive movements. Like other cross training shoes, they aren't going to replace your running shoes, but they can handle pretty much everything else.
While they were comfortable for the most part, with a wide platform under the feel for stability, we did find that the heel design wasn't firm enough always to keep our heels in place, so they did slip up and down during some exercises. Still, the rubber outer soles and wraps keep your feet supported during heavy lifting and HIIT, making them an ideal all-purpose gym shoe.
What the users say
The Nike Metcon 7 shoes currently score 4.5 out of five on Nike's online store. Most reviewers have been long-time Metcon wearers and particularly liked the updated design compared to previous editions.
Many Metcon 7 owners commented on their support during workouts, but some reported holes and other material wear after only a few months of use.
---
4. New Balance Minimus TR
Best cross training shoes for comfort
Specifications
Best for: Gym workouts, weightlifting
Available for men and women: Yes
Reasons to buy
+
Lightweight design
+
Internal liner means you don't need socks
+
Breathable materials
Reasons to avoid
-
Rubberized sole loses grip if it gets wet
-
Not ideal for cardio workouts
The New Balance Minimus TR are comfortable workout shoes designed to support you across a range of training styles. You don't get a lot of color options, though there are men's and women's editions, plus standard or wide fit. We tested these with socks, although the breathable fabrics meant that our feet never got overly hot or sweaty.
Because of the fairly minimal color scheme, we didn't feel that these cross training shoes looked out of place away from the exercise mat. So, you could feasibly wear them while commuting to the gym or for stretches throughout the day. However, the thin upper portion and flexible sole makes them ideal for fast HIIT workouts or a CrossFit session, but less suited to long walks or running.
The Mimimus TR performed well and supported us in a range of workouts, from high-intensity bodyweight routines to weight lifting sessions. The flat sole definitely helped, as this allowed us to keep the weight in our heel during squats and deadlifts. The rubberized outer sole made it easy to switch between moves, but tended to lose some grip when even a little wet.
What the users say
The New Balance Minimus TR cross training shoes currently have a 3.3-star rating on Google Reviews from 188 reviews. Many of the lower-scoring reviews compare them negatively to earlier editions of the Minimus trainers, noting that the materials are less durable.
But not everyone was critical. They are highly rated for CrossFit, weightlifting, and HIIT, with many reviewers praising the comfortable fit and breathable materials.
---
Best cross training shoes for casual runners
Specifications
Best for : Casual running, HIIT
Available for men and women: No
Reasons to buy
+
Combination sole designed for running and gym workouts
+
Rubber outsole for improved grip
+
Available in seven colors
Reasons to avoid
-
Slightly raised sole isn't ideal for weight lifting
-
No women's version currently available
-
Design won't appeal to everyone
When it comes to the Under Armour HOVR Rise 4, we found there was a lot to like. Our tester loved their lightweight design and snug fit, finding the shoes were "amazingly comfortable" from the off. They look great too, with a choice of seven colorways to suit all styles, though we were disappointed by the fact that no women's version of the shoe has been released to date.
The sneakers are designed with versatility in mind, benefitting from a combination sole suitable for running, home workouts and gym-visits alike. So, in a baptism of fire, we tried the lot, wearing them for everything from short cardio bursts to HIIT sessions to weight lifting in order to get a good gauge of their performance.
We found the foam-based HOVR midsole offered more cushioning and a greater offset (8mm) than your average cross training shoe, making the HOVR Rise 4 a good choice for people whose training has a running bias. However, this thicker foam layer is paired with a sturdy rubber TriBase sole, giving them a responsive feel for HIIT staples like tuck jumps and skaters.
Admittedly, the midsole can sometimes feel a bit clunky due to its chunky nature, particularly when performing exercises like burpees which require quick changes of position. It's also not the most stable when lifting heavy - unlike Under Amour's impeccable Tribase Reign 4 or a pair of Converse.
But, if a squat PB isn't top of your bucket list and you prefer a balance of home workouts and running to stay in shape, these could be the cross training shoes for you.
What the user's say
When we reviewed the shoes, they'd only just been released, so it's unsurprising that user reviews of the shoe are few and far between. However, the pieces of feedback that do exist on the Under Armour website are exclusively positive, with an average rating of 4.2 stars out of five for the HOVR Rise 4.
Happy customers say they fit well and feel comfortable, with a good level of cushioning and support for HIIT workouts. The only complaint we could see was from two buyers who mentioned that the colors displayed online look very different in person.
---
Best cross training shoes for versatility
Specifications
Best for: Weightlifting, HIIT, sprints, CrossFit
Available for men and women: Yes
Reasons to buy
+
Durable upper mesh
+
Lightweight design
Reasons to avoid
-
Design won't be to everyone's taste
-
Cushioning takes some getting used to
The On Cloud X are some of the lightest cross training shoes around. They weigh just 0.5lbs/240g—compared to the rather hefty Nike Metcon 7, which are 0.84lbs/380g—thanks to the company's CloudTec sole, made of a durable lightweight foam. We never felt like this put the On Cloud X at a disadvantage, though, as it meant that it was easier and quicker to switch between exercises.
The knit-weave upper portion keeps the shoes on the lighter side and makes them breathable so that you won't end up with overly sweaty feet at the end of a hard workout. We found that the foam padding around the collar meant they were particularly well-suited to high-impact moves like box jumps.
While they were comfortable even during longer testing sessions, the heel cup area wasn't as sturdy as other trainers, so the On Cloud X might not offer the ankle support you need if you're hoping to wear them for weightlifting workouts. However, if you're after a versatile, lightweight shoe for high-intensity cardio routines, the On Cloud X fit the bill.
What the users say
The On Cloud X shoes achieved an impressive 4.6 out of five on Google Reviews from 2,172 reviewers. They get high praise for comfort, and people appreciate the lightweight design for intense exercise.
One reviewer even noted, "I am a fitness class instructor and use these for circuit and studio classes, including group cycling classes." Not everyone was sold on the reasonably minimal design, though.
---
7. Converse Chuck Taylor All Star High-Top Sneaker
Best cross training shoes for weightlifting
Specifications
Best for: Weightlifting, gym workouts
Available for men and women: Yes
Reasons to buy
+
High-top design for ankle support
+
Ideal for workouts and leisure
Reasons to avoid
-
Flat sole not great for running or jumping
-
No cushioning
The Converse Chuck Taylor All Stars are best known as a fashion shoe these days, but they were originally designed with exercise in mind. Initially launched almost a century ago, the lightweight canvas design and durable, flat rubber soles made them some of the most popular and flexible basketball shoes in history.
Many of us now use the Chuck Taylor All Stars as everyday shoes, but they can double as some of the best workout shoes too, which is why you'll see many people wearing them for strength training gym workouts. We used them for high-intensity classes, mostly based around bodyweight cardio moves, and weight lifting sessions to see how they fared.
Fast-paced movements during HIIT classes were a bit clunky, as the sizeable rubber sole tended to drag along the floor, adding resistance. However, they offered fantastic support while working with weights. The flat sole meant it was easy to keep the weight in the heel, while the thin canvas upper kept the feet relatively cool, and they support your ankle if you lace them to the top.
There's a clear upside to investing in a pair of durable shoes which you can wear during the day and for weight training sessions, but there are a few things to keep in mind. During exercise, your feet are likely to get sweaty to some degree, and the insole takes a while to dry, which can cause a build up of odor. And pulling double duty means the shoes are going to show signs of wear quicker.
What the users say
As they double as everyday sneakers, it's not surprising that the Converse Chuck Taylor All Star High-Top sneakers achieve a 4.7 rating out of five on Google Reviews from over 30,000 reviews.
For training experiences, it's best to turn to the Reddit community, where people rate the All Stars highly for lifting, with one user commenting that "it feels good to lift heavier than the person next to you that paid 10x the price for their shoes."
---
Best cross training shoes for HIIT
Specifications
Best for: Gym workouts, weightlifting, HIIT
Available for men and women: Yes
Reasons to buy
+
Great for explosive movements
+
Cushioning for comfort
Reasons to avoid
-
Expensive
-
Design won't appeal to everyone
The best gym shoes don't need to be stylish; they just need to be supportive and comfortable. The Under Armour HOVR Apex 3 have a relatively unique and possibly polarizing design, but we found that they offer a stable base for weightlifting and general gym workouts. The grey and white fabric body is accented with neon-colored 3D-print wraps for added support.
During testing, we noticed that the heavily padded tongue complements the rear ankle support, keeping your foot firmly but comfortably in place without feeling overly tight. They are slightly wider than most cross training shoes, but not in a bad way. However, if you have narrow feet, you might find that these slip around a bit during fast-paced workouts.
We wore the Apex 3 for a range of exercises and think they are best suited to functional training like weightlifting, jumping, and powerful movements. We found the rubber midsole and heel meant that they were too stiff for running or fast-paced activities where flexibility is key—however, the HOVR Apex 3 shine as a durable, stable workout shoe.
What the users say
The Under Armour HOVR Apex 3 shoes have a 4.6 rating out of five on Google Reviews. Wearers rate them for comfort and workout stability, while some mention that the fit can be quite snug.
Notably, a few reviewers noted that the soles don't offer much grip when wet, so they don't make a great choice for outdoor workouts.
---
Best cross training shoes for runners
Specifications
Best for: Gym workouts, short runs
Available for men and women: Yes
Reasons to buy
+
Suitable for short runs
+
Secure fit
Reasons to avoid
-
Stiff design
-
Not ideal for explosive exercise
Although it's best to have a set of running shoes and a separate pair of cross training shoes, the HOKA Kawana offer the best of both worlds for runners. If you're a regular runner who enjoys a few casual gym sessions, these flexible shoes might be right for you. We didn't find them suitable for longer runs, but they're lightweight, supportive, and comfortable enough for a 7-mile run.
We found that the upper design was a real highlight, as the durable mesh material keeps your feet cool and is made of recycled materials. The padded tongue means that you shouldn't get any discomfort on the top of your foot as you run. HOKA shoes generally keep you quite high off the ground, and the Kawana are no different, so this might not be to everyone's preference.
However, because the soles offer a lot of stability, we tried wearing them to the gym. If you like to keep your workouts cardio-focused with HIIT CrossFit or other high-intensity training, then these shoes offer a flexible, sweat-free base for your exercise. The raised heel means that they're not suitable for weightlifting, but the HOKA Kawana are a great cross training shoe for runners.
What the users say
The HOKA Kawana have a 4.4 rating out of five on Google Reviews from 65 reviews. Most wearers rate the shoes a perfect five out of five, but the rating is skewed by a handful of one-star reviews related to comfort, fit, and delivery issues.
The shoes get a lot of praise for their versatility, with many reviewers saying that they wear them during the day, at the gym, and out on a run.
---
Best budget cross training shoes
Specifications
Best for: HIIT
Available for men and women: Yes
Reasons to buy
+
Budget-friendly price
+
Durable materials
+
Supportive
Reasons to avoid
-
Design won't appeal to everyone
-
Mid-foot area is quite narrow
There aren't many affordable cross training shoes, with most retailing at over $100/£80. The Puma Fuse buck this trend, offering a supportive, comfortable workout without breaking the bank. The shoes are available in several colors, although we weren't a fan of the busy design, and there's a men's and women's edition.
The shoes were comfortable to wear over long periods, but our favorite feature was the cushioned internal midsole. It uses a shock-absorbing rubber to reduce the impact of your foot hitting the floor, which is ideal for high-intensity workouts like HIIT or CrossFit. We also found that the rubberized outer sole helped during rope climbs.
Puma says that the Fuse shoes have a wider fit, but we actually felt that the mid-foot was narrower than average for cross training shoes. That, plus the 4mm heel drop, make them less suited to weight lifting (as you're slightly raised off the floor), but the shoes were impressively supportive during HIIT workouts.
What the users say
The Puma Fuse are currently rated 4.1 out of five stars on Amazon from almost 150 reviews. Most wearers were impressed with the grip, stability, and supportive design, with one reviewer noting: "I recommend [these to] everyone who is [a] serious trainer and looking for perfection."
Some people criticized the production quality, with one user finding that the sole came unglued, while another noticed that the ankle support rubbed and caused their skin to break just above their heel. However, most appreciated the more budget-friendly price and generally high-performance design.
---
How to choose the best cross training shoes
Cross training is a broad, catch-all term that encompasses high-energy HIIT sessions, intense cardio routines, gym workouts, and weights-based resistance training. These all move your body in different ways, so you'll need an adaptable shoe for support.
As personal trainer Rachel Penrose of F45 Training (opens in new tab) says, finding a shoe that can "cross over between a strength workout to a cardio workout, all the while supporting your foot correctly, benefits your body enormously."
But the best cross training shoe for you will depend on which types of training you'll do most. So whether you're into building muscle with weights or raising your heart rate with HIIT, there are several vital points you need to look out for.
Drop
When looking into cross training shoes, many brands reference the drop—the difference in height between the heel and the toe. As a guide, a 4mm drop means the shoe is relatively flat, while an 8mm drop would imply the heel is raised.
Running shoes tend to have a higher drop, while cross training shoes often show up on the flatter end of the scale. This reflects the fact that you need cushioning in the heel for running and a more level shoe for HIIT, gym workouts, and weight training.
But a lower drop doesn't mean that you'll feel like your feet are hitting the ground with every step. Most cross training shoes come with lightweight cushioning and are designed to give you a stable base for your workouts.
Fabrics and materials
Cross training shoes need to be flexible, and a large part of that is down to the materials. The shoe upper is usually made of a lightweight, breathable fabric that'll keep your foot in place and help you stay cool during exercise.
The shoes often have supportive elements around your ankles, which you'll need if you're quickly hopping between exercise in a HIIT session or want to lift weights. This could be extra cushioned material, but it isn't always.
Instead, some shoes have wrap-around designs with rubberized or plastic inserts to add extra support. These are particularly common around the heel area to improve stability, too.
To keep a seam-free construction so that the shoe is supportive all around your foot, the sole is often glued to the upper fabric portion. Historically, shoe manufacturers have used glues which have animal-derived products, although this is less common now.
Many brands have moved to vegan-friendly glues, and stopped using as many animal materials. Some trainers are made of leather, but modern cross training shoes are designed with mesh, breathable fabrics, rubber, and plastics.
These animal-free materials mean that you can find vegan-friendly cross training shoes from smaller brands and major manufacturers. Some companies make specific vegan editions, while others have committed to vegan-friendly manufacturing for all their products.
Sole construction
The sole is divided into three parts; insole, midsole, and outsole. When you slip your foot into the shoe, it'll be in physical contact with the insole. The midsole is where most of the cushioning is, and this is often made of foam-based materials.
As Lucy Arnold, a personal trainer and founder of Lucy Locket Loves (opens in new tab), says, "cushioning in the heel and forefoot is important to enable you to spread your weight evenly when lifting weights and for extra balance."
Although cross training shoes are suitable for almost everything, some pairs may have modifications to the midsole for better performance in certain areas, such as HIIT or CrossFit.
The outsole is the part of the shoe that comes in direct contact with the ground. Similarly, different designs are better for specific uses. If you're mainly going to be doing weightlifting, a flatter outsole might be best.
However, for activities that require fast movements, like HITT or basketball, you can find the best cross training shoe for the job by choosing an outsole with enhanced grip, often made of carbon rubber.
How we tested the best cross training shoes
Before we recommend a set of the best cross training shoes, we put them to the test to see whether they offer the right level of support you need for multi-activity workouts. Before we even lace up a pair, we look at whether the shoe has a men's, women's, or unisex edition.
One of the most important factors is how comfortable they feel, so we evaluate the overall fit, the types of materials used, and whether the shoes need to be worn before they soften. Similarly, we check to see if the fabrics are breathable to help you avoid sweaty feet.
As we use them for our own workouts, we consider how supportive they feel during different exercise styles. To see if they're best suited for certain activities, we wear them during HIIT workouts, quick cardio sessions, and resistance training and weight lifting.
We take note of essential design considerations like the amount of lift around your heel, how much cushioning is in the sole and where on your foot it is, and if there's sufficient support around your ankle.
FAQs
Will Griffiths has eleven years' experience in sports retail, with a focus on footwear. For the past five years he has specialized in training apparel with cross training and CrossFit specialists WIT Fitness, working with most major sportswear brands and other training specialists as the company's retail manager. Through this, he has become an expert on training apparel, footwear, and accessories.
Are cross training shoes good for CrossFit workouts
A one word answer might suffice for this one: yes, cross training shoes are good for CrossFit workouts. However, we wanted to give you a slightly more in-depth response, so called on the expertise of Will Griffiths, retail manager at cross training specialists Wit Fitness (opens in new tab).
"Most of them are actually built specifically with CrossFit in mind," he explains. "This is because most cross training shoes owe their heritage to CrossFit, and as such have been designed with those demands in mind."
He said that, in conjunction with CrossFit's growing popularity as a sport and training method over the last decade or so, an ever-growing variety of cross training shoes have hit the market.
And, with CrossFit's mission statement of providing workouts with "constantly varied functional movements executed at high intensity", cross training shoes have had to become increasingly versatile and robust to handle the diverse demands athletes throw at them.
What activities are cross training shoes designed for?
Cross training shoes are designed with the sole purpose of not having a sole purpose. Instead, they're supposed to be able to turn their hand (or feet) to almost any gym-based activity.
"Cross training shoes are designed for a massive range of activities, they should be able to handle anything from a short run to a max back squat," says Griffiths. "In essence they're designed for versatility, so (can be worn) if you're doing any form of training or working on your fitness."
So, who can benefit from investing in this flexible form of footwear? In Griffith's opinion, it's more a question of who can't benefit from picking up a pair. "Everyone that trains in a gym or fitness class should absolutely have a pair of cross training shoes," he says.
How often should you buy new cross training shoes?
This is a hard question to respond to without knowing a bit of background information first. For example, the answer will largely depend on the number of times the wearer is training each week, as well as the intensity and nature of their workouts.
However, as a ball-park figure, Griffiths estimates most people can expect between one and two years of solid use out of a quality pair of cross training shoes. Although, he adds, "a new color or style will likely take your fancy before you actually need to replace your shoes."
Is it okay to walk in cross training shoes?
Although a pair of cross training shoes are tremendously versatile, there may be better footwear options for other physical activities you do. For example, are cross-training shoes a good choice if you like walking?
According to Wendy Batts, a regional master instructor for the National Academy of Sports Medicine (opens in new tab), "when it comes to shoes, versatility typically comes at the expense of specificity."
"The design of many cross-training shoes is such that there is a limited drop — meaning the heel of the shoe is relatively even in height to the forefoot of the shoe — and possibly limited cushioning in the midsole."
"Both of [these features are] intended to make them more stable during strength training and other high-intensity activities. For walking, this limited heel drop can be okay, provided ankle mobility is sufficient."
"However, limited cushioning could pose issues depending on how frequently, intensely, or far you plan to go," she adds. Batts also points out that it depends on your exercise routine.
For example, if you plan to primarily strength train with some walking or the occasional run thrown in, then wearing a pair of the best cross training shoes should be fine for shorter walks.
Whereas, if walking is your primary means of exercise, it will be worth your while checking out shoes specifically for this activity, like our roundup of the best shoes for walking (opens in new tab).
Wendy Batts is a regional master instructor for the National Academy of Sports Medicine (NASM) and an assistant professor for the exercise science programs at Pennsylvania Western University (PennWest). Wendy holds a Master's degree in Exercise Science and Health Promotion and is a licensed massage therapist specializing in neuromuscular therapy.
James is a London-based journalist and Fitness Editor at Fit&Well. He has over five years experience in fitness tech, including time spent as the Buyer's Guide Editor and Staff Writer at technology publication MakeUseOf. In 2014 he was diagnosed with a chronic health condition, which spurred his interest in health, fitness, and lifestyle management.
In the years since, he has become a devoted meditator, experimented with workout styles and exercises, and used various gadgets to monitor his health. In recent times, James has been absorbed by the intersection between mental health, fitness, sustainability, and environmentalism. When not concerning himself with health and technology, James can be found excitedly checking out each week's New Music Friday releases.
With contributions from