Best adjustable dumbbells: The top at-home space-saving weights for all fitness levels
The best adjustable dumbbells are an economical way to build muscle and tone up
Included in this guide:
1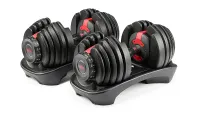 Bowflex
SelectTech 552
2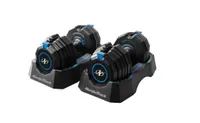 NordicTrack
Select-A-Weight Dumbbell Set
3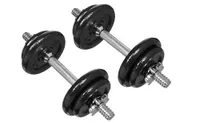 Amazon
Basics Adjustable Barbell Dumbbells
4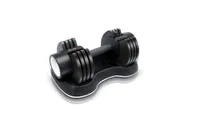 Ativafit
Adjustable Dumbbells
5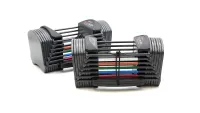 Power
Block Sport 24 Adjustable Dumbbells
6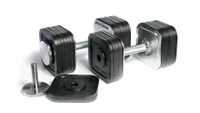 Ironmaster
Quick-Lock Set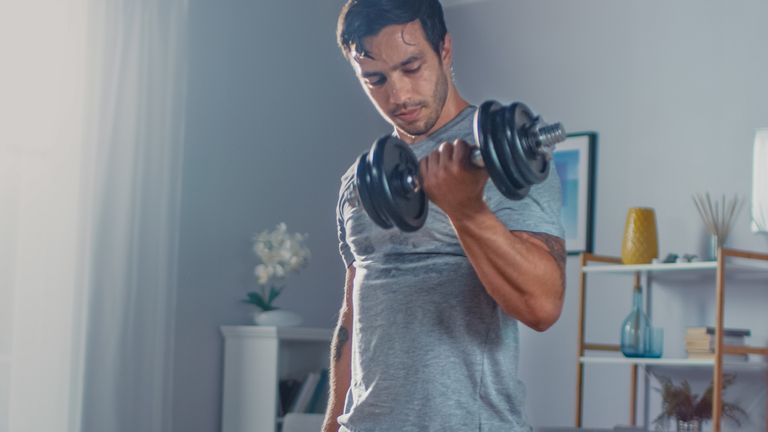 (Image credit: Getty Images)
By Lee Bell
The best adjustable dumbbells are customizable, portable, and offer a super-convenient way to train at home. You can adjust these weights to suit your strength level and the intensity of your workout, and the very best models can quickly change the load with a simple twist of a dial.
These weights are great whether you're planning on working specific muscles with focused exercises, such as targeting your back with dumbbell rows, or you want to add resistance to bodyweight or cardio routines with lighter weight. No matter your workout discipline, investing in the best adjustable dumbbell set is a great choice.
Fixed-weight dumbbells are standard at gyms and fitness centers all over the world, but they come with one big problem for home use: they need large racks for storage. The best adjustable dumbbells eliminate that worry by packing plates able to slide or clip onto a central handle, allowing you full control of your workout without taking up reams of room.
We recommend the Bowflex SelectTech 552 adjustable dumbbell weights. These come as a pair and include a stand for storage. The dials let you adjust them up to 52.2lbs/23.8kg per dumbbell, and they come with a one-year subscription to the JRNY digital workout app. Fortunately, they're discounted in Best Buy's excellent Black Friday deals—see below to save $100:
Bowflex SelectTech Dumbbells (pair) | was $399, now $299 at Best Buy
Bowflex SelectTech Dumbbells (pair) | was $399, now $299 at Best Buy
These premium adjustable dumbbells have a durable design that reduces the noise of your workout making them ideal for at-home sessions, no matter the time of day. Save 25% on these 52.2lb weights before the deal ends!
If it's a choice you're after, we've found the best adjustable dumbbells for all workouts, fitness goals, and budgets. Our on-page technology automatically finds the cheapest deals available right now, so you don't have to spend hours looking for the lowest prices.
It's also worth checking out our Black Friday weights deals for all the best discounts on home training equipment. For a budget-friendly way to support your muscle-building goals, fill your cupboards with the best Black Friday protein deals too.
The best adjustable dumbbells you can buy right now
1. Bowflex SelectTech 552
Best adjustable dumbbells for most people
Specifications
Weight spread: 5-52.5lbs/2.3-28.3kg
Reasons to buy
+Easy to use+Dial-based adjustments+Includes one-year access to JRNY workout app
Reasons to avoid
-Expensive-Mechanism can be damaged if dropped
If you're after a comprehensive set of adjustable dumbbells with everything you need to strength train at home, the Bowflex SelectTech 552 set is the ideal choice. The dumbbells, which come as a pair, can be adjusted between 5 and 52.5 pounds (2.3-28.3kg) using the bar's dial.
This mechanism means less downtime between sets, and you don't have to mess with weights plates either. If you use the storage tray to change the load, the unused weights remain in the tray. The adjustable dumbbells are made of steel, plastic, and rubber for durability.
The SelectTech 552 dumbbells are also backed by a two-year warranty and a six-week money back guarantee if you find they aren't right for your training. If you begin to find this set too light, the Bowflex SelectTech 1090 adjustable dumbbells are functionally similar but can be configured up to 90lbs/41kg.
As of November 2021, Bowflex also offers a one-year subscription to its JRNY workout app with your purchase, valued at $149 (£110). The app includes on-demand classes and guided routines for SelectTech dumbbells.
2. NordicTrack Select-A-Weight Dumbbell Set
Best premium adjustable dumbbells
Specifications
Weight spread: 10-55lbs/4.5-25kg
Reasons to buy
+Adjustable up to 55lbs/25kg+30-day access to iFit classes+2.5 and 5-pound micro-adjustments possible
Reasons to avoid
-Premium price-Weight selection mechanism prone to damage-Plastic grip can get slippy

The NordicTrack Select-A-Weight Dumbbell Set combines 15 weights into each dumbbell, offering you a space-saving way to build muscle at home. You can adjust each between 10 and 55 lbs (4.5-25kg).
These dumbbells don't use dials or individual weights plates. Instead, they come with an adjustable pin, while a small slider on the bar lets you add up to 5lbs extra per plate. To change the weight, you'll need to put the dumbbell into the included storage tray.
The tray is a great way to store the workout equipment when not in use, but there's also a more practical reason. It houses any unused weights but is also essential for aligning them when you want to increase the load.
While the weights are made of steel, the handlebar's grip is plastic. Most customer reviews note that this isn't too much of a problem, but the Select-A-Weight dumbbells can get slippy if your hands get sweaty, though you can wear gloves to get around this.
Like other premium options, the NordicTrack adjustable dumbbells come with access to a virtual training platform. With your purchase, you'll get a 30-day subscription to iFit's live and on-demand workouts.
Importantly, you can add multiple users to a single Family account, so your whole household can get customized workouts without having to purchase multiple memberships. Once your free 30 days is up, the iFit Family Membership costs $39/£29 per month.
3. Amazon Basics Adjustable Barbell Dumbbells
Best budget adjustable dumbbells
Specifications
Weight spread: 3-19lbs/1.36-8.6kg
Reasons to buy
+Incredible value+Carry case included
Reasons to avoid
-Cheap design-Manual weight adjustment

During the pandemic, demand sent adjustable dumbbells prices rocketing. Fortunately, the Amazon Basics Adjustable Barbell Dumbbells are a budget-friendly set for no-frills resistance training.
It's rare to find a single adjustable dumbbell for less than $100 (£75), let alone a set. They come with several weight plates, including four 2.5lbs plates, four 5lbs plates, and four 0.5lbs collars.
If you add the bars themselves, which weigh 3lbs each, you can get up to 19lbs per dumbbell. Compared to the competition, it's not a lot, but they are the most affordable option around.
Amazon also includes a carry case for easy storage or transport if you want to take them with you to a park or other workout space. The textured grips are not the most comfortable, so a pair of gloves might be a good idea for longer workouts.
4. Ativafit Adjustable Dumbbells
Best adjustable dumbbells for comfort
Specifications
Weight spread: 5.5-27.5lbs/2.5-12.5kg
Reasons to buy
+Nicely designed+Comfortable soft-grip handle
Reasons to avoid
-Only a single dumbbell-Relatively low maximum weight
Some weights can be uncomfortable to grip, and this becomes more noticeable as you increase the load. The Ativafit Adjustable Dumbbells have a more sleek, hand-friendly design.
The iron weights plates are pretty slim and aesthetically pleasing but still allow you to customize the weight from 5.5 pounds to 27.5 pounds. For in-exercise comfort, the handle comes with a soft-grip material.
Although the price is attractive, it's for a single unit rather than a set. So, if you're looking for a complete package, you'd need to buy two, so the total is more equivalent to some of the sets included in our list.
5. Power Block Sport 24 Adjustable Dumbbells
Best adjustable dumbbells for design
Specifications
Weight spread: 2-24lbs/1.4-10.9kg
Reasons to buy
+Compact+Decent weight spread+Easy to adjust weight
Reasons to avoid
-Unusual design
With a patented compact design that keeps workout area neat and organised, these quite frankly strange-looking dumbbells from Power Block do their job well. Reducing eight pairs of traditional weights into one contraption that allows you to change the weight in seconds with a selector pin, like a weight stack machine at the gym, these dumbbells are like nothing else out there.
They might be a little limited in terms of weight spread – only up to 24lbs/10.9kg per dumbbell – but they're incredibly space saving and well built. They can rattle a fair bit during use which might make you feel a little uneasy, but once you get used to these unique dumbbells, they're great.
6. Ironmaster Quick-Lock Set
The best traditional adjustable dumbbells
Specifications
Weight spread: 4.4-75lbs/2-34kg
Reasons to buy
+Wide weight spread+Easy to use+Robust
Reasons to avoid
-Slower to change weight
Where some adjustable weights such as the Bowflex boast very efficient plate change mechanisms, others can fall by the wayside a little bit when it comes to speed. IronMaster's Quick-Lock adjustable dumbbells do fall into this category, but at the same time, they feel much more robust than any other weights in this category.
You could throw them around when you feel like playing that guy, and they'll hold it together. They are also way more swift when it comes to altering the weight than awkwardly spinning a collar off and on again for time, and much more compact, too.
While IronMaster's kit is pretty pricey, the quality you'll get in return will feel well worth it. These beasts will last you a lifetime. And with a 68kg total weight, you're getting a good spread even at that price.
HOW TO CHOOSE THE BEST ADJUSTABLE DUMBBELLS FOR YOU
There are various factors to take into account when weighing up the pros and cons of the best adjustable dumbbells. Below we have listed a few helpful considerations.
Weight range
The first thing anyone will want to consider is what weight range you want to go for. This will vary for individuals. If you use weights for gaining muscle mass you will want to look for adjustable dumbbells with a higher range in order for you to perform fewer reps with a heavier weight. Alternatively, you might prefer cardio, fat burning workouts and adding a little weight can up the intensity. You will benefit from dumbbells of a lower weight range for high-rep sets.
Practicality
You also will want to consider the practicality of adjusting the dumbbells. Some sets feature an adjustable plate system enabling you to adjust the weights with a dial which is said to be most convenient. Whereas others are more traditional in their setup and require a screw feature for removal. The latter is good for feeling confident about the weights being securely placed but will take up more setup time during your workout.
Material
it is handy to know that different adjustable dumbbell sets are made of different materials. Some are more steel based and could cause damage to a wood or tiled surface. If this is a concern for you, a set with less hardy materials i.e. more rubbery in form, will be ideal.
Are adjustable dumbbells any good?
Often when it comes to exercise people want their workouts to be as efficient and effective as possible hence why you will want to know if adjustable dumbbells are good for home lifting. We all have personal fitness goals and often the equipment we have access to can contribute to how we go about achieving our targets.
Online personal trainer Scott Laidler recommends choosing adjustable dumbbells for your home gym. He says, "Adjustable dumbbells are the most elegant way to bring scalable fitness equipment into your home".
They make a very small footprint in your living space while most importantly ensuring that you are able to match your strength improvements with increased resistance. You shouldn't have to feel like you are limited working out from home and this is why an adjustable dumbbell can be a valuable investment for your home gym.