Best adjustable dumbbells: Build muscle without the gym with these home weights
Build strength at home while saving on space with the best adjustable dumbbells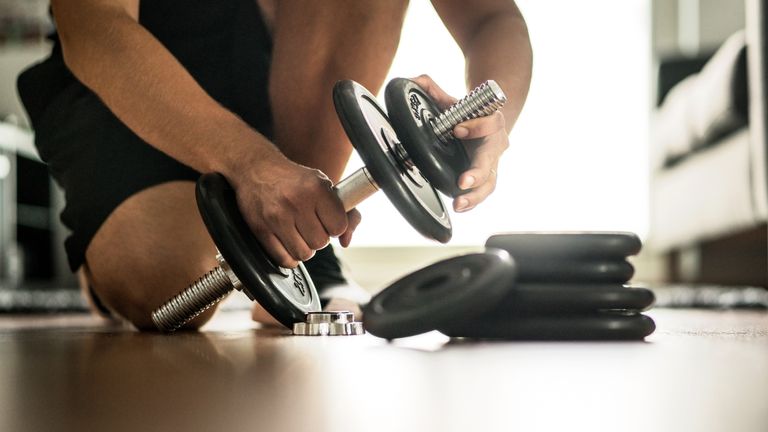 (Image credit: Getty Images)
By Lee Bell
You're going to need the best adjustable dumbbells you can find if weight training is your bread and butter when it comes to fitness – especially given that home workouts are here to stay. Thankfully, I'm here to help you do just that. 
My top pick is the Bowflex SelectTech 552, a nifty set of adjustable dumbbells that is best for most people, based on their size, weight range and ease of use. In fact, these are the best home weights you can buy hands-down, in my view.
But why buy adjustable specifically? Firstly, it means you don't have to splurge extra cash unnecessarily on a range of different sized fixed-weight bells. Secondly, they'll take up much less space. The downside here, however, is that your workouts might be interrupted while you take the time to adjust the weight on each side, but as long as you factor this into your rest periods, that shouldn't be too distracting from the task in hand. 
How to choose the best adjustable dumbbells for you
So, what should you be mindful of when buying the best adjustable dumbbells? The weight range is the most obvious thing, and this comes down to what kind of exercise you plan on using the weights for. If you're more into body building and putting on muscle mass then opt for some adjustable dumbbells with a higher range, as you'll be performing fewer reps but at a heavier weight. On the flip side, if you're a fan of aerobic, fat-burning exercises, then you'll be better off with lower weight range dumbbells as you'll be using them as part of more high-rep cardio workouts.
There's also the matter of dumbbell type. Whereas some dumbbells feature an adjustable plate system that enables you to alter the weight via an easy-to-use dial, the other, more traditional kind requires you to remove the weight through a screw mechanism. The latter is clearly more of a pain in the behind - especially if you're having to perform this mid-workout, but the upside is that they are usually much cheaper. 
Speaking of price, you can expect to pay anything from $50 / £40 right up to $900 / £700, depending on the tech involved. 
Lastly, consider the material of the dumbbells you're buying. Anything that you're planning to use on a wood or tiled floor that you don't want smashing to bits should definitely have a rubber coating. This is opposed to a sheer metal finish as found on many of the options currently available. 
The best adjustable dumbbells you can buy right now
1. Bowflex SelectTech 552
Best adjustable dumbbells – in fact the best home weights you can buy
Specifications
Weight spread: 2-22.5kg or 4-41kg (per dumbbell)
Reasons to buy
+All the weights you need…+…In a compact footprint
Reasons to avoid
-Need to be put down with a little care
With a weight selection as easy as spinning a dial, these champion adjustable dumbbells from Bowflex make mid-workout weight changes fast, efficient and a damn sight less frustrating than having to unscrew a metal spin collar to change the plates when you're in the flow of a good weight sesh.
Coming in two models, one with a 2-24kg range per dumbbell and one with a heavier 4-41kg range, the SelectTech 552 don't require a weight changing rack to house them so will save you an awful lot of space if your home gym is essentially a converted pantry. 
The plastic stand that is included means changing the weights sets is smooth, although with no colour coordination you do have to pay careful attention to certain configurations. Despite the brow-mopping RRP, these adjustable dumbbells will give weightlifters everything they need, especially those into more intensive 'drop set' workouts. Although don't actually drop them – they need to be placed back into their stand when put down.
2. Ironmaster Quick-Lock Set
The best premium adjustable dumbbells of a more traditional design
Specifications
Weight spread: 2-34kg (per dumbbell)
Reasons to buy
+Wide weight spread+Easy to use+Robust
Reasons to avoid
-Slower to change weight
Where some adjustable weights such as the Bowflex boast very efficient plate change mechanisms, others can fall by the wayside a little bit when it comes to speed. IronMaster's Quick-Lock adjustable dumbbells do fall into this category, but at the same time, they feel much more robust than any other weights in this category. You could throw them around when you feel like playing that guy, and they'll hold it together. They are also way more swift when it comes to altering the weight than awkwardly spinning a collar off and on again for time, and much more compact, too.
While IronMaster's kit is pretty pricey, the quality you'll get in return will feel well worth it. These beasts will last you a lifetime. And with a 4-68kg overall weight range, you're getting a good spread even at that price.
3. Domyos Weight Training Dumbbell Kit
Best cheap adjustable dumbbells
Specifications
Weight spread: 2-10kg (per dumbbell)
Reasons to buy
+Stunning value+Handy carry case
Reasons to avoid
-Decathlon's ropey website
Where would we be without Decathlon when we're in need of some cheap and cheerful gym equipment? Considerably poorer, most likely. The French sporting goods retailer has done it again with the Domyos Weight Training Dumbbell Kit, offering a pair of adjustable dumbbells with a quick-fix collar for snappier plate changes for under £40. 
Obviously the quality isn't going to be anywhere near what you'd find with some of the others on this list, but with two 2kg bars, plus eight 1kg and four 2kg plates - not to mention a handy carry case you can pack it all away afterwards - who cares. Weight range is a little lacking, however, as the set comes with a warning that the collars will only take 6kg of weight on each side, but for £20 per dumbbell, it's still an excellent choice for beginners or those looking to add low weight to their cardio workouts. 
The only problem with Decathlon is that its website is very bad at telling you if something is in stock or not – good luck with this one, as it sells out as fast as it comes in.
4. Bodymax Deluxe Hammertone Dumbbell Kit
Reliable, old school-style adjustable dumbbells at an affordable price
Specifications
Weight : 2-15kg (per dumbbell)
Reasons to buy
+No nonsense+Affordable+Easy to store
Reasons to avoid
-Usually sold out right now
If it's a good old school-style set of dumb dumbbells you're after, then the Bodymax Deluxe will sort you right out. These bad boys are extremely durable, plus the handles are covered with rubber for a super comfortable grip. 
There's also a spin-lock collar mechanism for changing the weight discs, which - while isn't as fast and efficient as the Bowflex or IronMaster dumbbells - will secure them firmly in place.
As for the weight spread, you can work with up to 15kg per dumbbell, with eight 2.5kg weight plates, four 1.25kg weight plates and four 0.5kg weight plates, plus two 16" bars.
5. Power Block Sport 24 Adjustable Dumbbells
Unusual but impressive design
Specifications
Weight spread: 0.5-10kg (per dumbbell)
Reasons to buy
+Compact+Decent weight spread+Easy to adjust weight
Reasons to avoid
-You have to say it looks a little odd
With a patented compact design that keeps workout area neat and organised, these quite frankly strange-looking dumbbells from Power Block do their job well. Reducing eight pairs of traditional weights into one contraption that allows you to change the weight in seconds with a selector pin, like a weight stack machine at the gym, these dumbbells are like nothing else out there. 
They might be a little limited in terms of weight spread – only up to 10kg per dumbbell – but they're incredibly space saving and well built. They can rattle a fair bit during use which might make you feel a little uneasy, but once you get used to these unique dumbbells, they're great.