Best adjustable dumbbells 2023 to build muscle and boost your metabolism
Discover the best adjustable dumbbells to keep on top of your fitness goals without a trip to the gym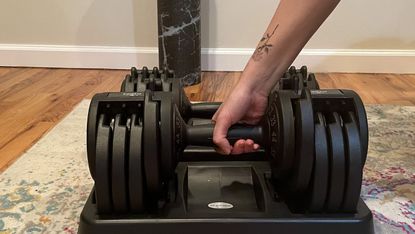 (Image credit: Brielle Diskin)
Investing in a pair of the best adjustable dumbbells is a great way to build muscle and boost your metabolism at home. These space-saving weights combine several dumbbells, and you can quickly change the load, even mid-workout.
This makes them an ideal companion for following the progressive overload technique, where you gradually increase the weight as you get stronger. But it can be hard to decide which set to buy when there is so much choice out there.
To help you out, we've tested many of the best adjustable dumbbells, putting them through their paces for strength and high-intensity workouts and looking at how easy the adjustment mechanism is, the weight's durability, and any extra features, like access to a workout app.
Some, like the Amazon Basics Adjustable Dumbbells, are ideal if you're looking for a great value pair with changeable weight plates. At the same time, the JAXJOX DumbbellConnect are a great choice if you want to track your workouts automatically.
Whatever your preferences, we'll take you through the best adjustable dumbbells you can buy right now, from premium weights to budget-friendly options to help you hit your fitness goals without cluttering your house with fixed-weight dumbbells.
The best adjustable dumbbells you can buy right now
Best adjustable dumbbell for most people
Specifications
Weight spread: 5-50lbs/ 2.25kg-22.5kg
Reasons to buy
+
Incredibly easy to use
+
Feels like a traditional dumbbell
+
Secure grip
Reasons to avoid
-
Slightly cumbersome
-
Flimsy construction
The Core Home Fitness Adjustable Dumbbells will change the way you workout. Not only are they incredibly stylish looking (the aluminium cradle lets them down a bit) but they have a versatile weight spectrum.
Each dumbbell ranges from 5lbs (2.2kg) to 50lbs (22.6kg) and goes up in increments of 5lbs which gives you a ten-piece dumbbell set in a single dumbbell. The contoured hand-hold feels incredibly comfortable and the TwistLock technology means it's a simple rotation right or left with the hand-hold — a click will tell you when it's complete — to change weights.
It takes just seconds to change weight during a workout and this made our sessions seamless when switching between upper and lower body exercises. We also loved that the weight plates are a little larger than other models and that they sit at the ends of the barbell. This meant that we could easily grab hold of them when we wanted to execute moves like a sumo squat or single leg RDL.
They're relatively well priced, costing $250 less than the popular BowFlex models. This makes them seem like a no-brainer to us, as they offer all the benefits of this big-name brand at a smaller price. You'll also get a two-year warranty when you buy this product.
The model did occasionally need a little extra coaxing out of its cradle (we occasionally had to lever it out using our foot) but we think this minor inconvenience doesn't detract from the model.
What the users say
The Core Home Fitness adjustable dumbbells have netted a score of 4.6 out of five stars on Amazon. Users praise the weight-changing mechanism, which is quick and easy to use, along with the slick look of the product.
Some negative reviews cite problems with the model, claiming that the plates slip out of position. However, most of these date back to last year.
---
Best budget adjustable dumbbells
Specifications
Weight spread: 3 - 19lb/1.3 - 8.6kg
Reasons to buy
+
Budget-friendly price
+
Comes with a case for storage and transport
Reasons to avoid
-
Adjustable screws aren't quick to undo/redo
-
Handlebar grip can be uncomfortable
The Amazon Basics Adjustable Dumbbells are a more budget-friendly way to work out at home. These weights don't come with smartphone apps, quick-release toggles, or fancy designs, but they offer a decent weight range at a lower price. The US retailer's dumbbells come packed into a carry case, so you can store them between workouts or take them away while traveling.
There's no cradle, though, and the weight plates are round, so they are liable to roll around while on the ground. There are two handlebars with a textured grip, but we found that it was quite rough and uncomfortable to hold, so we'd definitely recommend using a set of workout gloves with these weights.
You'll need to do manual adjustments to the dumbbells by unscrewing the collars and switching or removing weights. It's a bit more time consuming, but these traditional-looking weights cost significantly less than other models, so it might be worth the trade-off. Especially since we used them across a range of exercises and thought they were a reliable, sturdy set of adjustable dumbbells.
What the users say
The Amazon Basics Adjustable Dumbbells currently hold an average 4.6 out of five on Amazon. Lifters are particularly impressed with the affordability of these beginner-friendly weights, especially for a pair. Most users found them easy to assemble and maintain, too.
Some people were disappointed with the finish, as their sets had rough or jagged edges on the weight plates which could cause injury. Others found the storage case broke after only a few uses. That didn't stop most reviewers heaping praise on these budget dumbbells.
---
Best premium adjustable dumbbells
Specifications
Weight spread: 8lb-50lb / 3.8kg-22.7kg
Reasons to buy
+
Robust design
+
Change weight in seconds
+
Small weight jumps of 6lbs
Reasons to avoid
-
Need to be recharged fairly regularly
-
Small screen on the base can be hard to see
-
Premium price tag
The JAXJOX DumbbellConnect are, in our eyes, the crème de la crème of the adjustable dumbbell world. They come as a pair and cram eight different weights (on each dumbbell) into one compact package, allowing you to increase the load as your strength improves — making the most of the progressive overload principle.
You can also switch between the different weight settings in seconds thanks to intuitive buttons on the docking stations. These need to be charged up from a mains outlet, which is a slight drawback, but when a full tank lasts over five days you don't have to remember to plug them in very often.
You're also able to use Bluetooth to connect them to an app which can count your reps for you and provide follow-along exercise classes (for a monthly fee) if you really want to take the guesswork out of your workouts. However, we found these futuristic free weights really excelled when used as part of our at-home strength training routine.
They're sleeker than most adjustable dumbbells, making them less cumbersome for exercises like bicep curls and goblet squats, and they feel more secure too. The plates slide neatly together and sit flush against one another with none of the usual rattling or metallic clanging, leaving us to press them overhead without fear of a stray plate coming loose.
What the users say
The JAXJOX DumbbellConnect Adjustable Dumbbells have an average rating of more than four stars on the brands website, though at the time of writing only 35 reviews have been submitted.
The majority of people have left four and five star feedback, with buyers describing them as "easy to use" with a "great weight selection". One one-star review says the dumbbells have "too many errors" and they could not adjust the weight, but this isn't something we encountered during our tests.
---
Best adjustable dumbbells with detachable plates
Specifications
Weight spread: 5lb-25lb/ 11lb-55lb
Reasons to buy
+
Simple to adjust
+
Secure and safe design
+
Compact build
Reasons to avoid
-
Only 5 weight options
-
Round shape means weights roll
If you're in the market for some fuss-free weights to boost home workouts, then the Flybird Adjustable Dumbbell set is a good option. The dumbbells offer a sleek, easy-to-use design that only requires a simple twist of the handle to shift between weights, making workout transitions remarkably painless.
The handle is quite long at 14.6 x 7.9 x 6.7 inches and makes the dumbbells feel balanced, with an anti-slip coating for a sturdier grip. The set also has a lock design for weight changes, with the added bonus of a satisfying click when the plates have locked into place — we never found ourselves worrying about our toes or hardwood floors.
We like that you can use the weights separately; we used them for things like plate lunges and squat presses. We didn't like that they have a round shape, which makes them susceptible to rolling away during a workout. This could have been avoided if they'd been designed with at least one flat side, like the Core Home Fitness models.
You've got two buying options to choose from — the 25lb/11kg model, which starts at 5lb/2.3kg and increases by 5lb/2.3kg each twist, or the 55lb/25kg model which begins at 11lb/5kg and increases by 11lb/5kg. Unfortunately, the bigger jumps in weight make it trickier to build strength steadily.
These dumbbells definitely sit at the top-end of the price scale, alongside brands like Bowflex and NordicTrack, but you can usually find them cheaper or buy them as singles to save a bit of cash. All in all, a solid option for most home-based strength training and speedy drop sets.
What the users say
The Flybird dumbbells have an impressive 4.7 out of five on Amazon, which suggests most people are very happy with the items. Positive reviews claim that the weight shifts easily and quickly – users are also happy with the good quality grip.
Some four star reviews claim that the weights aren't ideal if you want to lift really heavy dumbbells, but the vast majority of comments left in the reviews section are positive.
---
Best adjustable dumbbells for steady weight progression
Specifications
Weight spread: 10-55lbs/4.5-25kg
Reasons to buy
+
Comes with 30 days of iFit workouts
+
Drop or increase the weight by 2.5 or 5 pounds
Reasons to avoid
-
On the expensive side
-
Difficult to shift between weights
-
Plastic parts
-
Bulky
Whether you train in a home gym or your spare bedroom, the NordicTrack Select-A-Weight Dumbbells are a solid bit of kit if you're looking to save some space without compromising on weight selection.
The weights range between 10lb/4.5kg - 50lb/22.5kg and use a pin for plate selection and an inner plastic dial to add on smaller weights of 2.5lb/1kg or 5lb/2kg, which makes them perfect for just about any training style – especially gradual strength training.
There's a lot to enjoy with these dumbbells — the octagonal plate shape prevents the weights from rolling around and creates stability and versatility, and they feel sturdy overall. You also get a free 30-day iFit family membership trial which offers plenty of classes incorporating the dumbbells.
They're among some of the best adjustable dumbbells we've tested, but they're still not quite perfect. The weight-changing mechanism is fiddly and time-consuming, which isn't ideal when you're trying to catch an uninterrupted sweat. The design also relies quite heavily on plastic — including plastic handles — and we got small blisters on first use.
NordicTrack Select-A-Weight dumbbells are also not cheap at $499 — although you'd be hard-pressed to find many sets offering this sort of weight range. Unfortunately, these dumbbells aren't shipping to the UK, but other models are available from the company. They are big at 16.5 x 8-inches, and getting the dumbbells into our apartment proved a challenge, but this is less hassle than the 30 or so sets you'd otherwise need.
What the users say
We couldn't find the same model that we tested on Amazon - however, these weights are on Dick's Sporting Goods, where they've netted 3.7 out of five stars. Happy customers praise the compact design and the convenience of the adjustable dumbbell format.
Negative reviews cite some issues with plates falling out — it's worth highlighting that a lot of negative reviews here also cite issues with delivery, rather than the product itself.
---
Best adjustable dumbbells for grip
Specifications
Weight spread: 5-52.5lbs/2.3-28.3kg
Reasons to buy
+
Sleek design
+
Connects to the brand's app with free workouts
+
Great variety of weight adjustments
Reasons to avoid
-
On the expensive side
-
Has the potential to break
Arguably the most well-known adjustable dumbbells on the market, the Bowflex SelectTech 552i Adjustable Dumbbells are a premium set with a super-sleek design. They also boast an incredible weight range offering 15 sets of dumbbells (30 actual dumbbells!) in one piece of kit.
They can adjust from 5lbs (2kg) to 52.5 lbs (24 kg) with a varied setting range which only misses out a few kg markers. These are quite cumbersome in design and might be best for resistance-savvy trainers who would make full use of the range, of which there is real versatility for your training.
The adjustment dials are located at the end of the barbells and incredibly easy to move and click into place, however, you need to turn both the dials in opposite directions for the weights to align (ie right hand turns clockwise to reach the 20lb weight marker and your left hand turns anti-clockwise to reach the same marker).
This can be a little bit of a faff and if you don't align the same markers you end up with an uneven barbell distribution. Watch out for moves like burpees and press ups though as the instructions clearly state not to lean on them. Like the Core Home Fitness model, these come with a two-year warranty.
We did like the hand hold here though — it has a soft rubber coating. Add that to the well-sized barbells and it makes for an easy grip.
What the users say
There are only a few user reviews available for the 552i dumbbells, as they are a relatively new product. As such, it's hard to gauge how popular they are with customers.
However, the older 552 dumbbells are well-reviewed on Amazon, with a 4.8 star rating and people praising the fast-switch weight mechanism.
---
Best heavy adjustable dumbbell set
Specifications
Weight spread: 5.5 - 55lb/2.5 - 25kg
Reasons to buy
+
Easy to use
+
Comfortable soft-grip handle
+
Heavy weight
Reasons to avoid
-
Less premium design
-
Button adjustment can be fiddly
The Ativafit 55lbs Adjustable Dumbbell Set would suit most households as they offer a weight range of 5.5lbs (2.5kg) to 55lbs (25kg). These are a mid-range set that mimic the premium models and yet are about $100/ £100 cheaper.
While they don't have as much versatility in the weight range, they are a ten dumbbell set in one, they do offer the heaviest weight plate we tested at 55lbs (25kg). They are also pretty compact and would be best for serious trainers who have limited space.
They certainly look the part despite the grey plastic-looking barbell, which lowers the tone slightly and they have a hand-hold that feels like it is moulding into your hand as you perform an exercise.
For a weight adjustment you simply press a little red safety button on the top of the barbell and turn the single weight dial at the end of the dumbbell at the same time – a click tells you when it's complete.
The weight cannot be changed without both of these actions. The weights are evenly distributed along the barbell but sadly they do rattle a bit when removing/inserting them into the cradle and also when performing exercises.
What the users say
These dumbbells have a 4.5 out of five rating on Amazon, with some users saying they're disappointed in the build quality of the product. Some reviewers have even stated that the plates become loose over time.
However, the vast majority of consumers are happy with the items, stating that they are durable and relatively well-priced.
---
How to choose the best adjustable dumbbells
There are various factors to take into account when weighing up the pros and cons of the best adjustable dumbbells. Below we have listed a few helpful considerations.
Weight range
The first thing anyone will want to consider is what weight range you want to go for. This will vary for individuals. If you use weights for gaining muscle mass you will want to look for adjustable dumbbells with a higher range in order for you to perform fewer reps with a heavier weight.
Alternatively, you might prefer cardio, fat burning workouts and adding a little weight can up the intensity. You will benefit from dumbbells of a lower weight range for high-rep sets.
Practicality
You also will want to consider the practicality of adjusting the dumbbells. Some sets feature an adjustable plate system enabling you to adjust the weights with a dial which is said to be most convenient.
Whereas others are more traditional in their setup and require a screw feature for removal. The latter is good for feeling confident about the weights being securely placed but will take up more setup time during your workout.
Material
it is handy to know that different adjustable dumbbell sets are made of different materials. Some are more steel based and could cause damage to a wood or tiled surface. If this is a concern for you, a set with less hardy materials i.e. more rubbery in form, will be ideal.
What the experts say
Personal trainer Jolene Stammers (opens in new tab), who specializes in online and one-to-one coaching, has shared her tips on what makes the best adjustable dumbbells and why.
"For me and my clients, my first priority when buying adjustable dumbbells ideally is buying them just once," Stammers tells us. "So, consider how versatile they can be, starting as light as you need them by adding and removing plates, or turning a dial.
Then being able to make good progress as you take on your fitness and strength journey by working a bit harder with progression. Think of the material of the dumbbells. Some are full of sand – if that escapes, it can be messy. Some are metal – so wooden flooring could get marked."
FAQs
Are adjustable dumbbells any good?
Often when it comes to exercise people want their workouts to be as efficient and effective as possible hence why you will want to know if adjustable dumbbells are good for home lifting. We all have personal fitness goals and often the equipment we have access to can contribute to how we go about achieving our targets.
Online personal trainer Scott Laidler (opens in new tab) recommends choosing adjustable dumbbells for your home gym. He says, "Adjustable dumbbells are the most elegant way to bring scalable fitness equipment into your home".
They make a very small footprint in your living space while most importantly ensuring that you are able to match your strength improvements with increased resistance. You shouldn't have to feel like you are limited working out from home and this is why an adjustable dumbbell can be a valuable investment for your home gym.
What exercises can adjustable weights be used for?
"This is where the beauty lies," Stammers explains. "This should be a question of: what can you not use dumbbells for? There are so many exercises you can use with a pair of dumbbells.
For example, pushing or any type of press exercises work well. While pulling – so rowing or lifting – is another example. All upper, lower and core body parts can be targeted with dumbbells – you just need to know how."
How to keep dumbbells in good condition
"Keeping them in doors and ideally away from the wet weather will help them last longer," Stammers says. "When you are using them, consider placing them down on a gym mat or carpet to keep the surfaces clean. And, when you are not using them, put them away. You don't want to be stubbing your toes on them."
What are the benefits of using adjustable dumbbells?
Stammers says, "You can start really light and even use the plates that come off some dumbbells as small hand weights. If you want to go heavy, you just add more plates as you progress.
"Also think about how little space they consume, almost like a tiny toolbox you can store anywhere, making them convenient to get out and put back again.
"Plus, they are time saving. With adjustable dumbbells, you'll have no traveling time to the gym and back."
Are Bowflex dumbbells worth it?
During testing, we found that the Bowflex SelectTech 552i are some of the best adjustable dumbbells you can buy right now. However, they're also some of the most expensive, so it's right to question whether Bowflex dumbbells are worth it.
The weights look and feel like a premium set of dumbbells, with an all-black design for the cradle and weights plates, a chrome handle, and a black grip with a soft rubber coating.
The SelectTech 552i have a weight range of 5lb/2.3kg to 52.5lb/24kg, which is about in line with other models like the slightly more basic Core Fitness Adjustable Dumbbell, although that weight retails for about $200/£150 less.
But you can get similar features and weight range with the NordicTrack Select-A-Weight Adjustable Dumbbells for $100/£75 less. Both brands also offer access to a companion smartphone app for virtual workouts and session tracking (iFit and Bowflex, respectively).
However, Bowflex dumbbells are Bluetooth-enabled and connect to the smartphone app to record your workout, including repetitions, load, and duration. If you're keen on tracking your progress, then the Bowflex SelectTech 552i are a great value set of durable weights.
Can you build muscle with dumbbells only?
"In short, yes," Omar Mansour, coach for audio-led fitness app WithU (opens in new tab) tells us. "In order to build/gain muscle with just dumbbells, you need to be increasing the weight over time. This process is known as progressive overload (opens in new tab).
"Over time, you will notice that the same workouts become easier. I'd suggest every four-six weeks to switch up your program and create a new stimulus for your body to respond to and to expose your muscles to different rep ranges.
"Overall, dumbbells can help you gain muscle mass, and even correct muscle imbalances and help you gain strength."
And it's not just in your biceps or triceps where dumbbells can help you add muscle. Thanks to the best dumbbell ab exercises (opens in new tab), you can also build a stronger core by adding extra resistance to exercises like crunches, cycles, and even planks. But first, if you're wondering what dumbbell weights should I use (opens in new tab), be sure to follow our handy guide.
Vicki-Marie Cossar is a UK-based freelance journalist who has more than 20 years experience writing across the topics of health, fitness, fashion, beauty and wellbeing. She was formerly responsible for the Life & Style section of Metro's features department (now called Trends) and currently writes Metro's weekly Wellbeing supplement.