The 7 best protein powders for weight loss
We've taste-tested a range of the best protein powders for weight loss – here are our favorite options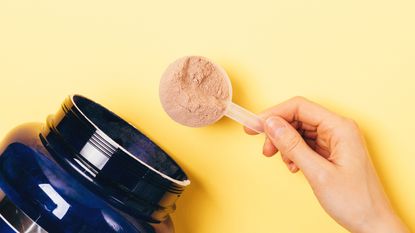 (Image credit: Getty)
Discovering the best protein powders for weight loss can be a little confusing, especially if you're new to the world of supplements. Really, there are just two things you need to look for in a product: a low-sugar content and whey-based ingredients.
A low-sugar powder will usually have fewer calories, which can help if you're trying to create a calorie deficit for weight loss (opens in new tab). And a whey-based product is your best bet if you want to feel fuller for longer – randomized control trials (opens in new tab) have found that it's better than casein or soy when it comes to satiety.
Bear in mind that protein powder isn't a magic ingredient for weight loss. Kacie Vavrek, a registered nutritionist at The Ohio State University Wexner Medical Center, explains: "Protein powder itself does not cause weight loss, but if you use protein powder to meet your protein needs while maintaining a small calorie deficit, then it can help."
Vavrek also says that protein powder isn't better or worse than any other lean plant or animal source, but it can be a convenient way for some people to meet their daily protein needs.
With that in mind, we tested a bunch of different low-sugar protein powders to see which ones were best for taste, value and mixing consistency. Here's what we found.
Expert input from
Expert input from
Kacie Vavrek
Kacie is a licensed and registered dietitian and a Board Certified Sport Specialist in Dietetics. She holds a bachelor's degree in Nutrition and Dietetics and a Master's degree in Nutrition and Exercise Science. While her background is in medical nutrition therapy and exercise science, she also has experience in education, serving as a classroom instructor for nutrition education programs.
---
Best protein powders for weight loss
Why you can trust Fit&Well Our expert reviewers spend hours testing and comparing products and services so you can choose the best for you. Find out more about how we test.
1. Optimum Nutrition Gold Standard Whey Muscle Building and Recovery Protein Powder
The best protein powder for weight loss overall
Specifications
Serving size: 30g
Protein per serving: 24g
Carbs per serving: 1.3g
Sugar per serving: 1g
Fat per serving: 1.2g
Reasons to buy
+
Unflavored
+
High-quality ingredients
Reasons to avoid
-
Not suitable for vegans
-
Can't easily recycle tub
This is an excellent unflavored protein powder that is both decent value for money and also incredibly adaptable. We loved how easily it mixed into liquid, leaving no lumps or grainy bits, and creating a smooth texture that was neither too gluey nor too thin. It ticks the boxes for being completely whey-based and having a low-sugar content, too.
In our testing, it impressed with its pleasantly neutral, milk-like flavor that vanished when mixed in with even the lightest flavors. When we tested it with flavor drops it created a lovely shake, and it stirred easily into mashed potatoes to add a welcome shot of protein.
It's popular amongst reviewers, earning mostly positive reviews. Users are mostly happy with the price (with just a few pointing out recent rises in the cost) and like the quality and texture — they also note that it doesn't have an aftertaste. Reviewers would prefer recyclable packaging, but that's just a small issue compared with the widespread enthusiasm.
What the users say
Averaging 4.5 stars out of five on Amazon, this protein powder has been praised for its flavor, quality, and value for money. According to reviewers, this whey protein works well with water or milk and is ideal for giving you a boost just before your workout. However, if you do order this protein in sachet form, be sure to double-check the number of sachets you receive. A handful of buyers claimed they ordered 24 sachets and only received 23.
---
2. Transparent Labs 100% Grass-fed Whey Protein Isolate
The purest protein powder for weight loss
Specifications
Serving size: 1 scoop (39.96g)
Protein per serving: 28g
Carbs per serving: 1g
Sugar per serving: 0g
Fat per serving: 0g
Reasons to buy
+
Zero fats and sugars
+
Great range of flavors
Reasons to avoid
-
Relatively expensive
-
Not suitable for vegans
If you're after a low carb, high protein supplement that's clean and tasty, Transparent Labs Whey Protein Isolate is sure to tick your boxes. It contains a whopping 28g of whey protein isolate per scoop, which is easily digestible and provides an ideal ratio of amino acids to increase muscle protein synthesis. Meanwhile, it contains just 1g of carbs and zero grams of fat or sugar.
But the main draw is that Transparent Labs Whey Protein Isolate is sourced from grass fed, hormone-free American cows. It's also free from artificial sweeteners, food dyes, gluten and preservatives, making it one of the cleanest protein powders we've tested.
The powder is available in eight great flavors. We tried the Cinnamon French Toast flavor and found it moreish without being too sickly. We didn't feel sluggish or bloated after drinking it either. In terms of mixability, we found the powder mixed really well with milk or water, with no lumps or chalky aftertaste.
The downside is the price — Transparent Labs is the most expensive protein powder for weight loss we've tried, at $59.99 for a 2.2lb (989g) container. Having said this, we can see why it's slightly pricier because of the quality of the ingredients, so if you're after a premium product, this might be the product for you.
What the users say
Transparent Labs Whey Protein Isolate scores 4.7 stars out of five based on over 1900 reviews. Lots of customers seem to really rate the taste and the fact that it's free from artificial ingredients, with one noting, "tastes and feels like a high quality supplement".
---
3. PhD Nutrition Diet Whey Protein Powder
The best budget protein powder for weight loss
Specifications
Serving size: 1 scoop
Protein per serving: 17g
Carbs per serving: 2.8g
Sugar per serving: 1.3g
Fat per serving: 1.4g
Reasons to buy
+
Low in carbs and sugar
+
Good value
+
Additional fiber content to promote feelings of satiety
Reasons to avoid
-
Slightly artificial sweetener aftertaste
-
Bag can be difficult to seal
Launched in 2010, PhD Diet Whey is one of the original weight loss management shakes, and it's still going strong — for good reason. This whey-based, low-calorie powder is macro-friendly, great for anyone trying to lose weight on the keto diet, and diabetics too.
We tried the strawberry option. Despite only using water in the mix, the shake was lovely and thick, bordering on smoothie-like. It does contain flaxseed grains (which are full of fiber and useful for satiety) but we couldn't actually taste or feel these in the drink.
Flavor wise, it has a lovely berry taste that isn't too tart, but not overly sweet either. The slow-release protein blend helps curb cravings in between meals. For sensitive tummies, it also digests very well. Plus it's available in 13 flavors, so even if strawberry is not your thing, you won't get bored.
It contains some added ingredients that are supposed to help boost fat loss, like green tea, CLA and L-carnitine. The evidence for these ingredients helping with weight loss is fairly mixed; at best, they might provide a modest weight-loss aid. They certainly won't do any harm.
What the users say
On Amazon, this protein powder scored 4.5 stars out of 5 from more than 8,000 global ratings. A total of 71% of all reviewers gave the protein powder 5 stars, with many praising the product for helping them lose weight and its 'delicious taste'. However, a handful of buyers disagreed and marked the protein powder down for its 'artificial' flavor and its packaging.
---
The best vegan protein powder for weight loss
Specifications
Serving size: 35g
Protein per serving: 28g
Carbs per serving: 2g
Sugar per serving: 1g
Fat per serving: 1g
Reasons to buy
+
Mix of protein sources
+
Large number of flavors
+
Additional fiber content to promote feelings of satiety
If you're vegan, then you'll want to avoid whey-based products – and this Protein Works powder is a great option. Made up of five different sources of protein, it offers a complete amino acid profile. For a vegan powder, it compares well to whey-based products in terms of protein content, providing 28g per serving. And while the soy-based powder might not be as good as whey for satiety, this option does still have a relatively low sugar content and packs in plenty of vitamins and minerals.
The powder comes in a variety of flavors, from apple cinnamon swirl to classic smooth vanilla. We tested the chocolate silk and found the taste mild, pleasant, and not overpowering. It scores highly with most reviewers too, although anyone who likes sweet and strongly-flavored shakes might find it a touch on the bland side.
We found the consistency thick and a bit claggy. The texture is always the biggest challenge with vegan protein powders, so we had expected it to be less smooth than a whey powder. Because the powder contains flax (to promote satiety) there were also some grainy bits in the mixture.
However, the product is available in three different sizes (14, 28 and 57 servings) which is definitely a draw. It's also GMO free, palm oil free and gluten-free.
What the users say
Reviewers who like this protein powder (which is most of them) rave about the flavors. "Tastes like heaven", says one. Some reviewers also appreciate the high protein content per serving and the addition of digestive enzymes. A few reviewers consider it quite expensive, though most believe it's worth the investment.
---
5. Innermost The Lean Protein
The best protein powder for supporting fat metabolism
Specifications
Serving size: 40g
Protein per serving: 29g
Carbs per serving: 4.5g
Sugar per serving: 1.1g
Fat per serving: 1.2g
Reasons to buy
+
High protein, low calories per serving
+
Contains ingredients to promote healthy and sustainable fat loss
Reasons to avoid
-
Only two flavors
-
Only available in one size (18.3oz/520g)
Innermost's The Lean Protein is formulated to "encourage healthy fat loss, reduce cravings and maintain energy levels". One serving packs in an impressive 1oz (29g) of whey protein, made from a blend of whey concentrate and isolate, and just 0.2oz (4.5g) of carbohydrates. It also contains 1g inulin, a type of dietary fiber that can help to keep you fuller for longer and encourages the growth of good gut bacteria linked to lower levels of fat.
Because The Lean Protein blend is specifically designed to help you reach your ideal weight, it also contains ingredients to support fat metabolism. These include acetyl l-carnitine, pomegranate extract, yerba mate and bilberries.
It's worth noting that there's limited evidence to prove the effectiveness of these 'fat-burning' ingredients. However, a small randomized control trial published in the Nutrional & Metabolism (opens in new tab) journal indicates that inulin could have positive effects on weight loss.
The Lean Protein is vegetarian friendly, gluten-free, soy-free and GMO free. The downside is it only comes in two flavors — creamy vanilla or smooth chocolate. We tried the creamy vanilla flavor. It's slightly bitter, so it won't be to everyone's liking. This being said, we liked that it didn't taste synthetic. It also mixes into oatmeal well, although due to the nature of being a whey protein, it can make the consistency a little runny. We'd recommend mixing it into the oatmeal and cooking it for a couple more minutes.
What the users say
On Amazon, the protein powder scores 4.2 stars out of five. Many praise how easily the powder mixes, with one customer noting, "Love how easy it is to shake up…not a single lump and not grainy at all". Another says, "Tastes great and doesn't make me bloat either". More negative reviews, although few and far between, say that the taste is slightly too sweet for them.
---
6. Isopure Whey Isolate Protein Powder
The best protein powder for low carb and sugar content
Specifications
Serving size: 2 scoops (62g)
Protein per serving: 50g
Carbs per serving: 0g
Sugar per serving: 0g
Fat per serving: 1g
Reasons to buy
+
25g of protein in each 31g serving
+
No sugar or carbs
+
Boosts immune system
Reasons to avoid
-
Contains milk and soy and nuts
-
Very grainy
With 25g of protein per each 31g serving and zero sugar, carbs, and fat, Isopure protein powder is a great match for those who want to watch their calorie intake while retaining lean muscle.
But that's not the only plus point to this whey protein powder. It will work wonders for people who want their protein shakes to work as hard as they do. That's because it's also packed with Vitamin C, Zinc, Vitamin E, and naturally occurring BCAAs. All of which can provide immune support and optimum muscle health.
According to the manufacturers, the protein blend will help you stay full between meals to help you support your weight management efforts.
The reason that it's not sitting higher up in the guide? It mostly comes down to taste. We found that it was incredibly grainy, even when mixed into oatmeal. We also made the mistake of opting for the strawberry flavor, which is an unnervingly artificial pink color.
What the users say
More than 7,000 buyers have reviewed this protein powder on Amazon, with 77% giving it five stars. Positive points from the reviews touch on the ingredient quality, blending power, and the sheerness of the shake. While a handful of dissatisfied customers commented on the 'unpleasant flavor', and its chalky texture.
---
7. Optimum Nutrition Gold Standard 100% plant based protein
The best vegan protein powder for smoothies and bakes
Specifications
Serving size: 36g
Protein per serving: 24g
Carbs per serving: 5.2g
Sugar per serving: 1.6g
Fat per serving: 2.2g
Reasons to buy
+
Fine powder which mixes well
+
Complete amino acid profile
Reasons to avoid
-
Only two flavor options
-
Vanilla flavor is very sweet
Optimum Nutrition is a well-respected, reputable supplement brand. Its Gold Standard 100% Plant is made from 100% vegan ingredients with no artificial colors or flavors. In fact, it's Vegan Society approved and Informed Choice certified.
The powder is a blend of pea and rice protein, packing in 24g of protein per serving and a complete amino acid profile. In fact, it contains 4g of branch chain amino acids. Alongside this, it contains 91mg of vitamin C (114% of your daily recommended intake) and 0.52μg of vitamin B12 (21% of daily intake), the latter of which supports a vegan diet.
Gold Standard 100% Plant Protein only comes in two flavors — chocolate and vanilla. We tried the vanilla flavor and were surprised at how fine the powder is for a vegan protein powder. But don't let this deceive you. We mixed a scoop with 300ml of water and shook it in a protein shaker for 30 seconds. It was surprisingly thick, and a little gritty. In fact, we found 500ml of water to be a more ideal ratio, so this powder definitely lends itself better to smoothies and bakes instead. Another thing to note is that the flavor is definitely on the sweeter side, and could be a little sickly for some people when drunk as a liquid. It did, however, mix really well into oatmeal and the flavor is pleasant topped with sliced banana.
What the users say
Optimum Nutrition Gold Standard 100% Plant Protein scores 4.2 stars out of five on Amazon. Reviewers seem to love it in their post-workout smoothies, and rate the high protein content for a plant-based powder. However, one (and we agree) reviewer notes that the smell isn't too appealing, while a few people note the grittiness when mixed with just water.
---
FAQs
How effective is protein powder for weight loss?
A diet high in protein can help stave off feelings of hunger, which may result in fewer snacks and lower calorie intake at mealtimes. A 2021 article in the Journal of Obesity & Metabolic Syndrome found it can also increase metabolism, the rate at which food is turned into energy. If you're dieting, getting enough protein will help you sustain muscle mass while you lose weight.
If you take protein powder to lose weight, having it in the morning may be more beneficial. Studies, such as this 2019 study into meal timing and obesity, find that higher energy intake in the morning is associated with lower levels of obesity.
Many people also replace a meal with a protein shake to speed up their weight loss. However, the Mayo Clinic advises against doing this in the long term, as it can mean that you miss out on nutritional benefits that foods contain, such as vitamins, minerals and iron.
Vavrek agrees, "Protein powders generally contain fewer nutrients than whole food protein options; so, while protein powders can help you meet your protein needs, they might not give you as many nutrients as a lean plant or animal protein source. Protein powders and shakes can be an easy source of high-quality protein, but it's preferable to get most of your protein from whole foods. We do not need protein powders for weight loss."
What to look for in a protein powder for weight loss
Varvrek says third-party testing is one of the most important things to look out for in a protein powder. "Supplements are not regulated by the U.S. Food and Drug Administration (FDA), so labels can be inaccurate, or supplements can contain ingredients not found on the label. Third-party certification is obtained when an independent organization evaluates the supplement and vouches for its quality. You will see a certification stamp on the product if a supplement is third-party tested."
Vavrek advises looking for a powder lower in added sugars and artificial flavors. In fact, some of the most popular protein shakes and powders have high levels of sugar or sweeteners mixed in, so it's worth comparing ingredient labels before you purchase.
Here are some more factors to take into consideration when choosing a protein powder for weight loss:
Whey protein or whey isolate may be best for weight loss: Whey is one of the highest quality and most used protein powders, says Vavrek. "It contains essential amino acids and is the highest in leucine; an amino acid thought to trigger muscle building." In addition, some trials, such as this randomized controlled trial from 2015, have found that adding whey protein to a regular diet could reduce appetite by increasing satiety.
Choose a protein powder with the right protein level for you: While it's essential to meet your protein needs, it's also possible to overdo it. The recommended daily allowance (RDA) of protein is 0.36g per pound of body weight, so the average 200lb man needs around 72g of protein daily. The Dietary Guidelines for Americans say that men between the ages of 19 and 59 are already eating too much protein.
On the other hand, if you're training to build muscle, the International Society of Sports Nutrition advises eating up to 1.36g of protein per pound of body weight, to optimize muscle growth
Look for added fiber: Fiber added to your protein powder can help you stay full for longer, maximizing your weight loss. If you can't find an affordable protein powder with added fiber, you can add your own by including a spoonful of flax seeds.
Don't be fooled by 'magic' weight-loss ingredients: Specific 'weight-loss' ingredients added to protein powder are not a magic bullet, according to Vavrek. "Additives, such as acetyl l-carnitine, don't have any proven weight loss benefits. No supplements or additives will increase metabolism or burn fat."
Finally, Vavrek's advice is to pick a protein powder with a taste that you actually like. There's no point gulping something noxious back every morning in a bid to lose weight, as you're more likely to seek out sweet or high-fat foods to make yourself feel better. A protein powder should always be an aid to weight loss, not a solution.
Maddy is a freelance journalist and Level 3 personal trainer specializing in fitness, health and wellbeing content. She has been a writer and editor for 22 years, and has worked for some of the UK's bestselling newspapers and women's magazines, including Marie Claire, The Sunday Times and Closer. She also manages Fit&Well's Instagram account.
Maddy loves HIIT training and can often be found running on her treadmill or working out while her two young daughters do matching burpees or star jumps. As a massive foodie, she loves cooking and trying out new healthy recipes (especially ones with hidden vegetables so the kids eat them). She makes a mean margarita and has twice won awards in previous staff jobs as the "office feeder".
With contributions from