Best protein powder for weight loss: Top supplements to eat clean and stay lean
Looking to shed some pounds? Our pick of the best protein powder for weight loss can help you meet your goals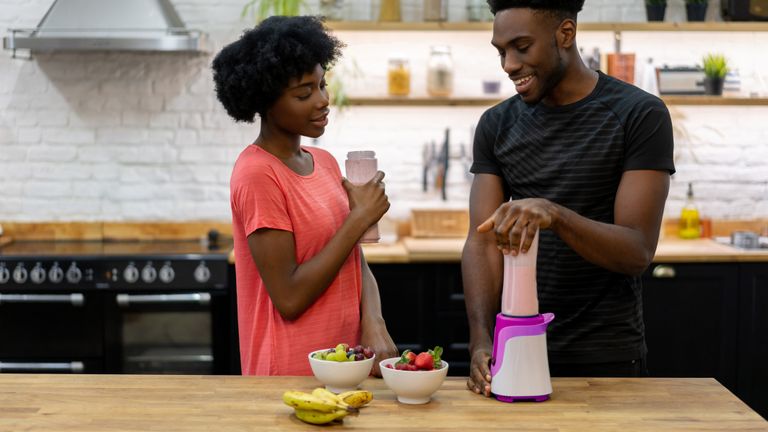 (Image credit: Getty Images)
If you're looking for the best protein powder for weight loss, you've come to the right place. With a smorgasbord of supplements out there, many of them pack a lot of protein into each serving, but some of them are suited for slightly different goals – for example, many of them are high in carbohydrates in order to help gain more mass in general, or others might be high in sugar in order to make them more palatable. 
They say abs are made in the kitchen. So if you're trying to lose weight it really doesn't matter how long you spend in the gym or doing home workouts. The truth is, if your diet isn't on point, it's going to take a lot longer to reach your weight loss goals.
If you're looking to blast fat, following a healthy, balanced diet of lean protein and fresh vegetables, combined with a protein powder specifically designed to help you drop pounds, is one way to do this.
Our top recommendation goes to Optimum Nutrition Gold Standard Whey Muscle Building and Recovery Protein Powder. This no-frills, dependable powder is well priced, tastes great and is one of the best-selling brands on the market.
We also take our hats off to RSP Nutrition AvoCollagen Protein Powder. With Collagen Peptides and Avocado Oil, this killer combo of metabolism-boosting, appetite-suppressing collagen and fat-blasting avocado oil really works. It's also full of wrinkle-busting, anti-ageing ingredients that support strong bones, hair and nails.
How to choose the best protein powder for weight loss 
Let's face it, the choice of protein powders on the market can be pretty overwhelming, but knowing what to look for from your protein powder makes things much easier.
Take a look at the nutritional info before making a purchase, and the first thing you need to do is check the nutritional content. Most powders will obviously be high in protein per serving – that magic ingredient that studies have proven helps you feel fuller for longer and fights sugar cravings. However, if you're looking for the best protein powder to lose weight, you need to be checking for total calories in addition to a more well-rounded macronutrient profile. 
Macronutrients, essentially, are protein, carbohydrates and fat. Lots of dedicated fitness enthusiasts calculate their ideal "macro count", or the ratio of protein, carbs and fat required to hit their body goals, and eat to that. You can use free online tools to help give you a rough idea of how to get started. Therefore, you're going to be interested to know not just how much protein is in your powder, but how many carbohydrates and fats are also included in order to give you a more thorough idea of just what's in it. 
If the protein powder has 15g of protein per serving, for example, and 10g of carbs, you might use it for a different reason than a protein powder which provides 25g of protein per serving and only 5g of carbs. Take the time to read the labels and nutritional information, and compare it to your goals and current diet, to find the supplement that's right for you. 
Lots of brands also include natural fat-burning ingredients in their weight loss protein powders, such as green tea and metabolism-boosters, L-carnitine and CLA. Spot these on the label and you're onto a winner.
Finally, one of the most important factors to consider is the taste. Just because a brand has a million different options, it doesn't mean they are all delicious! Play around with flavors, and try different milks and milk alternatives to see what works for you. Identifying a mix of flavors will help keep you on track and maintain your progress - boredom will only lead to seeking out satisfaction in the fridge.
The best protein powder for weight loss you can buy right now
1. Optimum Nutrition Gold Standard Whey Muscle Building and Recovery Protein Powder
The best protein powder for weight loss for most people
Specifications
Fat per 100g: 3.2g
Carbs per 100g: 7.75g
Sugar per 100g: 4.5g
Protein per 100g: 78.5g
Reasons to buy
+Tasty flavour choices+High protein content
Reasons to avoid
-Contains the sweeener acesulfame potassium-Not completely lactose-free 
One of the most popular and well priced on the market, this no-frills protein powder does what it says on the tin. It's low fat, low sugar and high protein per scoop. It comes in loads of flavours (chocolate lovers are particularly catered for), tastes good, mixes well and has great energy-boosting macronutrients.
What's more, whey protein has been scientifically proven to aid weight loss – a study of overweight people supplementing their diet with it found that they lost more weight and gained muscle mass than those who didn't. The same research revealed that whey protein users also enjoyed a reduction in their blood pressure and cholesterol!
Whey is effective in boosting weight loss because of its ability to decrease appetite and make you feel fuller, meaning you're less likely to overeat.
One potential downside is that this protein powder contains acesulfame potassium (sweetener), said to be 200 times sweeter than sugar - but it's relatively harmless at low levels.
2. Supreme Nutrition Diet Whey
The best premium protein powder
Specifications
Fat per 100g: 8.5g
Carbs per 100g: 11.5g
Sugar per 100g: 4.6g
Protein per 100g: 69.6g
Reasons to buy
+Full of natural fat-burning ingredients+High protein content
Reasons to avoid
-Slightly lumpy texture-Limited choice of flavours
Supreme Nutrition Diet Whey uses natural fat-blasting ingredients green tea (equivalent to five cups per serving!) and flaxseed to help you reach your weight loss goals.
It's also low in calories and high in whey protein, which we already know has been proven to help people drop pounds, according to studies. One user said having 2.5 scoops twice a day as a meal replacement had helped them lose 4kg in two weeks!
We tried the strawberries and cream flavour, which wasn't as overly sweet as it might sound. It's best taken after a workout when the body's metabolism is lifted, as this makes it easier to absorb. 
With only 123 calories per serving, it's a good all-rounder for anyone trying to lose weight, stay lean or naturally burn fat.
3. PhD Nutrition Diet Whey Protein Powder
The best budget protein powder
Specifications
Fat per 100g: 5.5g
Carbs per 100g: 11g
Sugar per 100g: 5g
Protein per 100g: 68g
Reasons to buy
+Low in carbs and sugar+Good value
Reasons to avoid
-Slightly artificial sweetener aftertaste-Bag can be difficult to seal
Launched in 2010, PhD Diet Whey is one of the original weight loss management shakes, and it's still going strong - for good reason. This high protein, low carb, low calorie powder is macro-friendly, great for anyone trying to lose weight on the keto diet ,and diabetics too.
It contains added nutrients to help boost fat loss and energy such as green tea (thought to help the body's metabolism be more efficient), CLA (which helps the body mobilise stored fat), L-carnitine (another metabolism booster that moves more fatty acids into your cells to be burned for energy, increasing your ability to burn fat and lose weight) and flaxseed (the high protein content suppresses appetite and prevents overeating).
It mixes well with no lumps, although can be grainy thanks to the flaxseed. The slow release protein blend helps curb cravings and keeps you full. For sensitive tummies, it also digests very well. Plus it's available in 13 flavours, so you won't get bored.
4. RSP Nutrition AvoCollagen Protein Powder
The best protein powder for people wanting to target tummy fat
Specifications
Fat per 100g: 20g
Carbs per 100g: 20g
Sugar per 100g: 5g
Protein per 100g: 50g
Reasons to buy
+Anti-ageing properties+Bone-building ingredients
Reasons to avoid
-Only three flavours: chocolate, vanilla, unflavoured-Slightly synthetic, bitter aftertaste
This protein powder is just 90 cals per serving and blends collagen and the nutrient powerhouse that is avocado oil – a double whammy of magical ingredients that help the body lose weight faster.
Avocado oil is rich in monounsaturated and oleic fatty acids, which scientists believe can help reduce abdominal fat. People who consumed three tablespoons of high-oleic oils every day for a month reduced belly fat by 1.6 per cent, compared with those who consumer a flax/safflower blend (which is high in polyunsaturated fat), a Penn State study found. 
Coupled with collagen – known to suppress appetite, increase feelings of fullness and boost metabolism – this is a killer combo. Collagen has the added benefit of minimising wrinkles and fine lines, thickening hair and nails, and the peptides in it are gut-friendly and help bones stay strong. 
Our only grumble is we'd love some more interesting flavours to choose from, but the chocolate one in particular gets the thumbs up from us.
5. SlimFast High Protein Shake Powder
The best protein powder for short-term weight loss
Specifications
Fat per 100g: 1.1g
Carbs per 100g: 13g
Sugar per 100g: 7.6g
Protein per 100g: 5.3g
Reasons to buy
+Inexpensive +Great range of tasty flavours
Reasons to avoid
-Not recommended as a long term use as highly processed-Can cause excess wind
This budget-friendly meal replacement shake comes in six flavours, has no added sugar and every serving is packed with 15g protein and 23 essential vitamins and minerals. 
It's designed to be used as part of the SlimFast 3-2-1 Plan, which involves limiting your diet to three 100-calorie snacks, two SlimFast shakes and one low-calorie (600 or less) meal a day.
Whilst there's nothing fancy about it, these shakes work well for people who don't want to count calories and want to lose weight with minimum effort. Studies have shown that people burn fat faster when they eat portion-controlled meals or meal replacements.
The reviews speak for themselves, with one user claiming to have lost 4lbs in two weeks - no wonder it's one of Amazon's best-selling protein powders for weight loss.
If you're looking for a tried-and-tested method to kick-start your weight loss journey, then SlimFast is a great place to start - although it's not necessarily a great long-term option.
Maddy Biddulph is a national journalist and content creator specialising in lifestyle, fitness, health and wellbeing.