Best protein powder for weight loss: stay lean whilst your muscles recover and grow
Adding the best protein powder for weight loss to your diet can help boost your metabolism and build lean muscle mass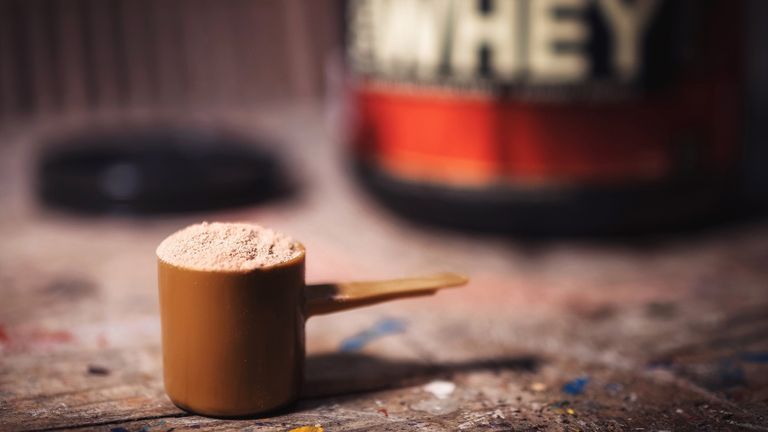 (Image credit: Getty Images)
It's worth adding one of the best protein powders for weight loss to your diet if you're looking to build a lean physique, as protein is great for reducing hunger and increasing satiety in between meals. These powders are best suited to anyone embarking on a weight loss journey as they avoid being high in calories, carbohydrates, and sugars and instead tend to be high in fiber and, of course, protein.
Just like with one of the best protein powders for women, the best protein powders for weight loss are not for substituting your meals with but will help you increase your protein intake when added to a shake, smoothie or bowl of oats. Consuming plenty of lean protein from foods like chicken, turkey, tofu, tempeh, cod, beans and lentils as well as having one of the best protein shakes for weight loss will help keep you feeling full and satisfied, helping you avoid fatty or sugary snacks that can make you want to crash. Plus a high protein diet will help you build and maintain muscle, which is essential for burning fat even after your workouts.
There's a few things you'll want to look out for when finding yourself a suitable protein powder for weight loss; the unsweetened options are best or at least ones low in sugar or naturally sweetened, you might be vegan and require a plant-based supplement, the number of calories per serving will matter and some will offer different flavors. We've taken these factors into consideration below in our best protein powder for weight loss guide so take a read and find what fits your diet and goals best.
Best protein powder for weight loss: What the experts say
Registered Dietitian, Jasmine Carbon (opens in new tab) says, "Protein powders are an easy way to fortify your meals with amino acids (the building blocks of protein) which are essential for muscle growth and muscle maintenance.
"Since these amino acids aren't wrapped around tissue or plant fibers, they can be quicker to digest and utilized by the body much quicker making protein powders an ideal pre or post-gym ingredient. They also have the added benefit of satiety meaning that a higher protein meal should leave you feeling fuller for longer. And feeling fuller means you're less likely to reach for those high sugar, salt, and fat convenience foods."
Jasmine Carbon, a nutritionist and registered senior specialist dietitian, is the founder of professional nutrition service Carbon Nutrition & Dietetics (opens in new tab). With years of clinical experience in the NHS and health education fields, she's well-placed to give us the lowdown on the best protein powders for weight loss.
Carbon says: "If weight loss is the aim, I would recommend opting for the sugar-free varieties. That way you're getting the benefits of the additional protein without the (sometimes) unnecessary additional calories."
"If you are dairy intolerant or allergic you should avoid protein powders with whey, casein/sodium caseinate, galactose, or lactose in the ingredients list. Similarly if you are gluten intolerant or have coeliac disease (an allergy to gluten) then – you guessed it – avoid gluten if that's in the ingredients list.
"Some people prefer to avoid protein powders with added fiber or artificial sweeteners because it can cause stomach upset. This is not the case for everyone so there is no harm in trying and seeing how you tolerate it."
The best protein powder for weight loss you can buy right now
1. Optimum Nutrition Gold Standard Whey Muscle Building and Recovery Protein Powder
Best protein powder for weight loss if you don't like flavored protein
Specifications
Fat per 100g: 3.2g
Carbs per 100g: 7.75g
Sugar per 100g: 4.5g
Protein per 100g: 78.5g
Reasons to buy
+
Unflavored
+
High-quality ingredients
Reasons to avoid
-
Not suitable for vegans
-
Can't easily recycle tub
Optimum Nutrition Gold Standard 100% Whey Protein unflavored is an excellent unflavored protein powder that is both decent value for money and also incredibly adaptable. We loved how easily it mixed into liquid, leaving no lumps or grainy bits, and creating a smooth texture that was neither too gluey nor too thin.
In our testing, it impressed with its pleasantly neutral, milk-like flavor that vanished when mixed in with even the lightest flavors. When we tested it with flavor drops it created a lovely shake, and it stirred easily into mashed potatoes to add a welcome shot of protein.
It's popular amongst reviewers, earning mostly positive reviews. Users are mostly happy with the price (with just a few pointing out recent rises in the cost) and like the quality and texture - they also note that it doesn't have an aftertaste. Reviewers would prefer recyclable packaging, but that's just a small issue compared with the widespread enthusiasm.
What the users say
Averaging 4.5 stars out of five on Amazon, this protein powder has been praised for its flavor, quality, and value for money. According to reviewers, this whey protein works well with water or milk and is ideal for giving you a boost just before your workout. However, if you do order this protein in sachet form, be sure to double-check the number of sachets you receive. A handful of buyers claimed they ordered 24 sachets and only received 23.
---
2. MuscleTech Nitro-Tech Ripped
The best protein powder for weight loss and boosting metabolism
Specifications
Fat per 100g: 6.9g
Carbs per 100g: 9.3g
Sugar per 100g: 4.6g
Protein per 100g: 69.7g
Reasons to buy
+
High-quality whey protein content
+
Includes scientifically-tested weight loss ingredient C. canephora robusta
Reasons to avoid
-
Not vegan-friendly (contains milk, eggs and fish)
-
Not suitable for allergies (soy, tree nuts, wheat)
MuscleTech Nitro-Tech Ripped is super high in whey protein (one of the purest forms) and packed with fat-burning ingredients including scientifically tested weight loss ingredient C. canephora robusta, a non-stimulant green coffee bean.
It also has L-carnitine in it – a favorite with athletes who credit it for helping them burn fat and prevent muscle fatigue.
This amino acid derivative plays a significant role in boosting the body's metabolism, which in turn can aid weight loss. It does this by transporting fatty acids into your cells for energy.
Offering a high-quality form of whey protein, this supplement is designed to not give you that bloating feeling that some powders create.
What the users say
On Amazon, this product scored 4.6 stars out of five. Positive reviews praise its 'out of this world flavor' and many buyers said the high-quality whey protein means it is easy on the stomach and doesn't cause bloating. Negative reviews cited include 'a bad aftertaste'.
---
3. PhD Nutrition Diet Whey Protein Powder
The best protein powder for weight loss and those on a budget
Specifications
Fat per 100g: 5.5g
Carbs per 100g: 11g
Sugar per 100g: 5g
Protein per 100g: 68g
Reasons to buy
+
Low in carbs and sugar
+
Good value
Reasons to avoid
-
Slightly artificial sweetener aftertaste
-
Bag can be difficult to seal
Launched in 2010, PhD Diet Whey is one of the original weight loss management shakes, and it's still going strong - for good reason. This high protein, low carb, low-calorie powder is macro-friendly, great for anyone trying to lose weight on the keto diet, and diabetics too.
It contains added nutrients to help boost fat loss and energy such as green tea (thought to help the body's metabolism be more efficient), CLA (which helps the body mobilize stored fat), L-carnitine (another metabolism booster that moves more fatty acids into your cells to be burned for energy, increasing your ability to burn fat and lose weight) and flaxseed (the high protein content suppresses appetite and prevents overeating).
It mixes well with no lumps, although can be grainy thanks to the flaxseed. The slow-release protein blend helps curb cravings in between meals. For sensitive tummies, it also digests very well. Plus it's available in 13 flavors, so you won't get bored.
What the users say
On Amazon, this protein powder scored 4.5 stars out of 5 from more than 8,000 global ratings. A total of 71% of all reviewers gave the protein powder 5 stars, with many praising the product for helping them lose weight and its 'delicious taste'. However, a handful of buyers disagreed and marked the protein powder down for its 'artificial' flavor and its packaging.
---
4. RSP Nutrition AvoCollagen Protein Powder
The best protein powder for weight loss with collagen
Specifications
Fat per 100g: 20g
Carbs per 100g: 20g
Sugar per 100g: 5g
Protein per 100g: 50g
Reasons to buy
+
Anti-aging properties
+
Bone-building ingredients
Reasons to avoid
-
Only three flavors: chocolate, vanilla, unflavored
-
Slightly synthetic, bitter aftertaste
This protein powder is just 90 calories per serving and blends collagen and the nutrient powerhouse that is avocado oil—a double whammy of magical ingredients that help the body lose weight faster.
Avocado oil is rich in monounsaturated and oleic fatty acids, which scientists believe can help reduce abdominal fat. People who consumed three tablespoons of high-oleic oils every day for a month reduced belly fat by 1.6%, compared with those who consumed a flax/safflower blend (which is high in polyunsaturated fat), a Penn State study found (opens in new tab).
Coupled with collagen – known to suppress appetite, increase feelings of fullness and boost metabolism – this is a killer combo. Collagen has the added benefit of minimizing wrinkles and fine lines, thickening hair and nails, and the peptides in it are gut-friendly and help bones stay strong.
What the users say
Scoring 4 stars out of 5 on Amazon, buyers rated many positives about this protein powder including its bone benefits, its ability to 'curb your hunger', and how well it dissolves. One of the only grumbles was about the protein powder's flavor and its ability to stay mixed. However, many other users didn't find these niggles to be a problem.
---
5. Optimum Nutrition Gold Standard Casein Powder
The best protein powder for overnight muscle gain
Specifications
Fat per 100g: 2.5g
Carbs per 100g: 5.8g
Sugars per 100g: 3.4g
Protein per 100g: 74g
Reasons to buy
+
24g of protein
+
Very little sugar/carbs
+
Time-release protein, ideal for overnight
Reasons to avoid
-
Not good for immediate post-workout consumption or meal replacement
This protein powder is another milk-based powder made from casein protein, a "time-release" protein that is digested slower than whey. This means that protein is slowly absorbed into your muscles rather than being "dumped" all at once.
Sleep is extremely important for helping your muscles recover after a demanding resistance training session. Drinking a casein shake before bed will aid your muscle's recovery throughout the night – or, in fact, during the day and should keep you full until your next meal.
If you're looking for a casein shake, you can't go wrong with the Optimum Nutrition brand. The Gold Standard whey is our all-rounder best shake, and this one is just as good, with a selection of tasty flavors including Chocolate Supreme and Cookies and Cream, very little sugar, few carbs, and 24g of slow-release protein per 33g serving.
What the users say
This protein scores an impressive 4.5 stars out of 5 with more than 2,500 ratings. A total of 73% scored the protein five stars, while only 4% gave the product a 1-star rating. The positive ratings praised the protein for its great value for money and flavor. While one dissatisfied customer claimed their protein turned up half full and another one said the overall thickness is 'ridiculous'.
---
6. Isopure Whey Isolate Protein Powder
The best protein powder for weight loss and immune system support
Specifications
Fat per 100g: 0g
Carbs per 100g: 0g
Sugars per 100g: 0g
Protein per 100g: 80g
Reasons to buy
+
25g of protein in each 31g serving
+
No sugar or carbs
+
Boosts immune system
Reasons to avoid
-
Contains milk and soy and nuts
With 25g of protein per each 31g serving and zero sugar, carbs, and fat, Isopure protein powder is a great match for those who want to watch their calorie intake while retaining lean muscle.
But that's not the only plus point to this whey protein powder. It will work wonders for people who want their protein shakes to work as hard as they do. That's because it's also packed with Vitamin C, Zinc, Vitamin E, and naturally occurring BCAAs. All of which can provide immune support and optimum muscle health.
According to the manufacturers, the protein blend – which appears clear when you mix it with water – will help you stay full between meals to help you support your weight management efforts.
What the users say
More than 7,000 buyers have reviewed this protein powder on Amazon, with 77% giving it five stars. Positive points from the reviews touch on the ingredient quality, blending power, and the sheerness of the shake. While a handful of dissatisfied customers commented on the 'unpleasant flavor', and its chalky texture.
---
How to choose the best protein powder for weight loss
First up, study the ingredients list and nutritional content. Most powders will be high in protein, but if weight loss is your goal ideally you also need a product that is low in sugar and calories.
But of course, there's more to weight loss than just calories – food and its macronutrient composition can influence how hungry or full you are, so just because 100 calories of kale and 100 calories of cake contain the same amount of energy, they affect your body and food choices differently.
What we mean is in order to lose weight, the protein powder needs to have a balanced macronutrient profile – essentially the right mix of protein, carbs and fat to hit your body goals. Google 'macro calculator for weight loss' and you'll find lots of free online tools to help you work out the right amount of carbs and fat you need to achieve your weight loss goals.
But there's no need to get too bogged down with your "macro count" as lots of brands pack their powders with natural weight loss-boosting ingredients. If you see green tea, L-carnitine or CLA in the ingredients list, then it's a good sign.
Let's not forget the importance of taste. Just because a brand has lots of weight-loss boosting elements, doesn't mean it's going to be tasty, or have a good texture. Experiment with flavors and mix it up occasionally so you don't get bored.
Common protein powder misconceptions
Protein, along with carbohydrates and fat, are one of the three main macronutrients that make up everything we eat. Proteins are amino acids that help maintain, build and repair damaged muscle tissue. The more you exercise, and the more you work your muscles, the more protein it's thought you need.
When we exercise, the reason our muscles get sore is that we create small tears in our muscle fibers. Proteins, which are comprised of amino acids, help mend and repair those tears. Over time, this causes muscles to build up and swell as they're repeatedly used, torn, and come back stronger.
Contrary to popular belief, protein powders are entirely unrelated to steroids. Unlike steroids, protein powders aren't chemicals. Instead, they are derived from food, whether that's animal products such as whey or a vegetarian alternative such as pea protein. We get protein every day from sources such as meat, eggs, dairy, pulses, legumes, nuts and seeds: protein powder is just a concentrated form of that.
But protein isn't only for building muscle and bulking up. The best protein powders can play a critical role in helping you shed some pounds – especially whey protein.
This comes after researchers at the Geisel School of Medicine (opens in new tab) concluded that: "whey protein is a low-cost and readily available nutritional supplement that can be integrated into a weight loss intervention."
While another study (opens in new tab) found that drinking a protein shake immediately after exercise reduced energy intake from food at your next meal, suggesting we consume fewer calories overall. Again, all of which can help you to shed some pounds.
How do protein shakes help you lose weight?
But how do protein shakes help you lose weight? "Shakes with a high protein content can boost metabolism because of the number of calories needed to digest them. Up to 30% of calories from protein are burned compared with around 10% of calories from carbohydrates," explains nutritionist and chef Dee Momi (opens in new tab).
"High protein drinks are also filling, and make us feel satisfied, which is essential when trying to lose weight and means you are less likely to give in to sugary cravings or mindless snacking."
"To get the most out of your protein powder, treat it like a balanced meal by combining it with carbohydrates and fat, such as frozen bananas, oats, berries, nut butters, avocado, or coconut milk, and consume within 30 minutes after a workout for optimal benefits," says Dee.
Pea protein powder can be used as a weight loss supplement as it increases metabolism, reduces appetite and helps regulate blood sugar levels – so it can help reduce cravings and help people feel fuller for longer. One study by the British Journal of Nutrition (opens in new tab) found that 20g of pea protein consumed 30 minutes before eating pizza reduced the average number of calories consumed by about 12%.
How much protein powder should I take?
The American College of Sports Medicine (opens in new tab) (AMSM) recommends that people who lift weights or take part in endurance training regularly, such as running or cycling, need between 1.2 or 1.7g of protein per pound of body weight every day, in order to build muscle and get stronger.
In general, according to AMSM, it's recommended that 10-35% of your daily energy intake comes from protein. This means if you consume 2,000 calories per day, this would work out to be between 200 to 700 calories of protein per day.
That's a lot and it can be hard to get that much protein from three square meals a day. But thanks to protein shakes, you can have a convenient and affordable way to help pack some more protein into your diet.
Maddy is a freelance journalist and Level 3 personal trainer specializing in fitness, health and wellbeing content. She has been a writer and editor for 22 years, and has worked for some of the UK's bestselling newspapers and women's magazines, including Marie Claire, The Sunday Times and Closer. She also manages Fit&Well's Instagram account.
Maddy loves HIIT training and can often be found running on her treadmill or working out while her two young daughters do matching burpees or star jumps. As a massive foodie, she loves cooking and trying out new healthy recipes (especially ones with hidden vegetables so the kids eat them). She makes a mean margarita and has twice won awards in previous staff jobs as the "office feeder".