Black Friday weights deals: The hottest discounts on dumbbells, kettlebells and more
All the Black Friday weights deals you need to know about, from barbells and dumbbells to discounted multi-gym setups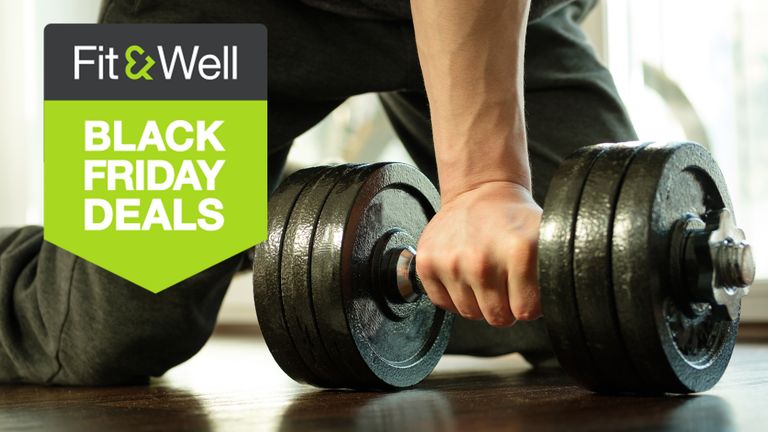 (Image credit: Getty Images)
By Matt Evans
The Black Friday weights deals for 2021 are almost upon us. Last year saw huge discounts across loads of amazing fitness equipment, and adjustable dumbbells, barbells and other resistance training kit were among some of the biggest surprise discounts.
For Black Friday and Cyber Monday last year, there were huge discounts on larger pieces of home fitness equipment such as the best elliptical machines and treadmills. You can see a few examples of these deals in our Black Friday elliptical deals and Black Friday rowing machine deals pages. However, we were surprised to see so many discounts extend to resistance training equipment, especially the best adjustable dumbbells and barbells for home use. With gyms closed because of the pandemic, everything from full home multi-gyms to resistance bands (check out our best resistance bands guide for more details on what to buy) and kettlebells (we also have a best kettlebell guide, if you're looking at this versatile kit) small dumbbell sets became wildly popular.
Now it's that time of year again, and we're gearing up for action. If you're looking to build muscle this winter, this (and our Black Friday protein deals page) is the place for you. We'll cover all the best deals on barbells, dumbbells and associated kit, from workout benches and stations for larger bases to hotel-room-friendly resistance bands, right here.
Black Friday weights deals 2021: Everything we know so far
This year, Black Friday is falling on Friday November 26, 2021. However, you can expect deals to ramp up in the weeks prior to the big date, so it's worth coming back to this page in the lead-up to the Black Friday bonanza, as we'll be covering all the early-bird weights deals we can find.
The Black Friday fitness deals are set to last all the way through the weekend up until midnight on Cyber Monday, November 29. Don't worry if you come to this page having missed all the action: some of the very best discounts don't occur until later on in the weekend, or on Cyber Monday itself.
Cyber Monday as a concept has grown into as big a deal as Black Friday itself. It began as a spill-over, a way to get rid of unsold BF stock, but has since ballooned into a buffet of retail deals all on its own. Keep your eyes peeled on the 29th, as we're expecting to see some top-tier discounts quite late in the day.
Black Friday weights deals: What can we expect in 2021?
Last year saw a boom in home fitness, for obvious reasons. With gyms closed as a result of the global pandemic, people flocked to grab pull-up bars, adjustable dumbbells, barbells and resistance bands from top brands like York, Bowflex, Bodymax, Ironmaster and more.
Resistance bands in particular saw enormous popularity spikes. Because of the versatility of the bands, especially if you can get hold of a set with multiple-strengths of band with handles and door hooks, a set of the best resistance bands is almost like having a home gym in your pocket. For those without space, it's a real life-saver, and we can expect big discounts on these again.
However, big discounts on resistance bands, as relatively cheap items to begin with, is rather relative. We can expect to see hundreds of dollars and pounds off bigger-ticket items such as barbells, weight racks and multi-gyms like the Tonal Multi-Gym and Bowflex Extreme 2. These are high-value, high-cost products, so if you were planning on making the jump in the near future, we recommend you keep an eye on this page to help you save big.
Black Friday weights deals: Sample deals we saw in 2020
Below are a few deals to give you an example of the sort of discounts we were seeing last year. These are sample deals from last year only, so are no longer live, and we'll be replacing them with the real thing once Black Friday is well and truly underway. Don't click yet!
ER KANG Adjustable Fitness Dumbbells Set | was $189.79 | Black Friday 2020 price: $108.99 at Amazon
As well as up to $44lbs of adjustable dumbbells, the connecting rod can transform the set into a barbell, providing even more versatility to your workouts. The special locking nut design prevents you from the risk of weight plates falling off during the workout.
Flybird Adjustable Dumbbell,25/55lb Single Dumbbell for Men and Women | was $129.99 | Black Friday 2020 price: $88.39
This 25lb adjustable dumbbell set is packing a non-slip handle, convenient stand and easy turning-handle weight selection. No more spinlock rearranging between sets: simply insert the handle into the unit and twist to set your desired weight. Save $41.60 if you're a Prime member (or you get a free trial).
Bodyboss 2.0 Full Portable Home Gym Package | was $179.99 | Black Friday 2020 price: $119.99 at Walmart
The Body Boss system uses your own body weight to weigh the platform down, and you use the resistance bands to push away from the platform, as if lifting a barbell away from terra firma. The platform and bar both collapse for easy transport and storage. It's a complete gym setup in one easy portable package.
EnterSports 6-in-1 Ab Roller Kit | was $39.99 | Black Friday 2020 price: $22.93 at Amazon
Get push up bars, a resistance band and an ab roller. This trio of exercise equipment can be used independently or combined for an even harder workout in tons of different ways. It's practically a whole gym for under $25.
Black Friday weights deals: Retailers to watch in 2021
US retailers
Target
Target may not be your first port of call, but the selection for the price is frankly amazing at the moment. Heavy adjustable dumbbells? Check. Soft smaller hand weights for aerobics? Check. Adjustable Bowflex kettlebell? Check check. Stand by for discounts.
Dick's Sporting Goods
The US' preeminent retailer of sports stuff, Dick's is guaranteed to have plenty of nice deals on resistance training kit amongst the specialist stuff and larger fitness pieces like treadmills and elliptical machines.
Amazon US
Of course, there's no denying the influence of the biggest store in the world. Amazon is chock-full of great deals on everything from resistance bands to dumbbells and pull-up bars. We saw a few big-ticket fitness discounts last year on items like exercise bikes, so we've got our eyes peeled for a wild multi-gym deal.
Bowflex
Bowflex's own global site is the one-stop shop for its range of equipment, including weights (both dumbbells and barbells) and some of the best cable multi-gyms and weights benches around. A brand to watch over the next few weeks.
UK retailers
Decathlon
The sports store contains a full range of kettlebells, dumbbells, barbells and fitness bands, including a huge amount of equipment from top brands such as Domyos, makers of high-quality fitness kit. Keep an eye on Deathlon for apparel and a whole range of fitness kit, but weights might just be the big winner category this year.
Argos
One of the UK's biggest general retailers for fitness kit, Argos is packing a surprising amount of deals on weight plates for barbells, dumbbells, even wrist and ankle straps. Expect some phenomenal discounts across all its fitness kit.
Sweatband.com
Little-known outside of dedicated fitness circles, Sweatband has come into play as a preeminent one-stop shop for discount fitness goodies, including whole sections on weight plates, barbells, dumbbells, multi-gyms, calisthenics bars and even medicine balls.
Very
Very might not be the first place you'd think of for gym kit, but lots of hand weights, both light and heavy, kettlebells, resistance bands, benches, cable machines and multi-gyms can be found on Very's online store – which is usually excellent for BF discounts. Watch this space!
Fitness Superstore
One of the biggest providers for fitness kit both small and large-scale. Here is where we expect to see weights racks and benches, cable machines, multi-gyms and free-standing pull-up stations alongside barbells and dumbbells. 
Matt Evans is an experienced health and fitness journalist and Channel Editor at Fit&Well. He's previously written for titles like Men's Health and Red Bull, and covers all things exercise and nutrition on the Fit&Well website. Matt originally discovered exercise through martial arts: he holds a black belt in Karate and remains a keen kickboxer and runner. His top fitness tip? Stretch.