How to go vegan: Tips on avoiding meat, cooking, good nutrition and more
Deciding to go vegan? Here's how to be the healthiest, happiest vegan you can be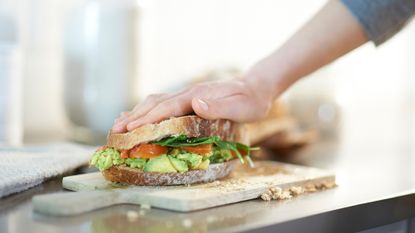 (Image credit: Getty Images)
So, you've taken the plunge into veganism– good for you! But whilst there are numerous health benefits to going vegan, a vegan diet doesn't always equate to a healthy one. There are challenges in knowing what your body needs and how to best get it, but they can be overcome with a little bit of nutritional know-how. Here's the low down on what you should (and shouldn't) be eating to make the whole transition a bit easier.
Good nutrition: The micronutrients you need (and how to get them)
A well-planned vegan diet is key to avoiding nutrient deficiencies. A study from the University of Ioannina Medical School in Greece showed that vegans are at a higher risk of having low levels of vitamin B12, vitamin D and long chain omega-3 fatty acids. Another study published in the journal Frontiers in Nutrition (opens in new tab) found that levels of calcium, zinc, protein, selenium, and iron are low in vegan diets.
Fortunately, there are plenty of ways to top these nutrients up through supplements and veggie alternatives.
Vitamin B12: Vegan friendly dietary sources include plant milks, vegan butter and nutritional yeast. It's hard to get enough vitamin B12 from plant sources alone, so it would be worth considering supplementation.
Vitamin D: The best source is exposure to sunlight, but if this is in short supply mushrooms are an excellent alternative. Try sticking them on the windowsill before consuming - they'll deliver a bigger 'D' hit. To ensure you meet the recommended 10mcg daily, you may also consider supplementing – particularly during the autumn and winter months.
Long chain omega 3 fatty acids: You can get short chain fatty acids from foods like nuts and seeds, but the longer chain ones (EPA and DHA), usually found in oily fish like mackerel or salmon, can be harder to come by. According to a study published in the journal Marine Drugs (opens in new tab), algae is a great source of both DHA and EPA. You may also wish to consider a supplement such as Vegetology Opti 3 Omega 3 EPA & DHA - which is on our list of the best fish oil supplements.
Calcium: Good vegan sources of calcium include kale, cavolo nero, red kidney beans, chickpeas, okra, oranges, almonds and non-dairy yoghurt. Some plant milks will also supply a top-up of calcium.
Zinc: Plant sources include dark green leafy vegetables, beans, chickpeas, lentils, tofu, walnuts, cashew nuts, chia seeds, ground linseed, hemp seeds, pumpkin seeds and avocados.
Protein: Research (opens in new tab) by the Institute of Food Technologists in Chicago concluded that quinoa, legumes and algae are some of the best wholefood plant-based protein sources. Nuts, nut butters, seeds, and buckwheat are also good choices. You may also consider a vegan friendly protein powder such as the Garden Of Life Raw Organic Fit Powder or the Bulk Pea Protein Isolate, which both make our list of top protein powder entries.
Selenium: Brazil nuts are an excellent source of selenium. According to a study published in the American Journal of Clinical Nutrition, just 2-3 a day can help meet your body's need.
Iron: Good plant sources of iron include lentils, chickpeas, beans, tofu, cashew nuts, chia seeds, ground linseed, hemp seeds, pumpkin seeds, sunflower seeds, kale, and quinoa. To maximise the absorption of the iron in these foods, pair them with vitamin C. In a study published in the American Journal of Clinical Nutrition (opens in new tab), iron and vitamin C food pairings increased absorption by up to 600 per cent.
You could also try supercharging your next green smoothie with some top health-boosting and vegan-friendly ingredients like camu camu powder, which studies have shown has one of the highest vitamin C concentrations of many fruits.
Common (and surprising) allowed & forbidden foods
It can be tricky to tell which foods get the green light. If in doubt, check the label or contact the brand to be sure. Some foods to watch out for include:
Alcohol – Most unflavoured spirits are vegan, but studies show that some non-vegan components such as isinglass, a gelatine-based substance derived from fish, are often used in the production of beers and wine. If you're a fan of stout, Guinness is vegan friendly - plus it's a source of iron, so another win!
Chocolate – Whilst cocoa is vegan, some chocolates contain milk or milk products. Fortunately, many brands of dark chocolate are dairy-free and vegan.
Red-dyed foods – Skip the food colouring. Studies (opens in new tab) show that the bright red colour in some foods and drinks comes from the extract of crushed and boiled insects.
Condiments, dressings, sauces – Store-bought pesto often contains cheese, mayonnaise contains eggs and Worcestershire sauce contains anchovies. If you're looking for a sauce to go with your next fry-up, try vegan-friendly HP's Brown Sauce. The divisive yeast spread, Marmite, is also suitable for vegans and contains vitamin B12 too.
For some culinary inspiration, see our guide to the best vegan cookbooks. Plus, to get the most vitamins and minerals from your food, try steaming them. See our guide for the best steamers on the market right now.
Whether you're a veteran vegan or are new to veganism, these easy food swaps should come in handy:
Cheese for nutritional yeast – It still has a cheesy, nutty taste and is rich in protein and vitamins.
Yoghurt for cashew cream – Easy to make and is great with a fruit salad.
Ice cream for frozen, blended bananas – No milk, no cream, plus it counts as one of your five-a-day.
Milk for plant/nut milks – Perfect for smoothies and rich in vitamins and minerals.
Minced meat for lentils – Once you've added your spices the resemblance is uncanny. Lentils are kinder on your wallet too.
Mayonnaise for houmous – The chickpeas deliver a thick texture that is similar to mayonnaise.
Cream for coconut cream – Add to curries and casseroles or whip up for a dessert
Angela has been a health writer for over 10 years, contributing to a range of online and print publications including Women's Health, Women's Fitness, Your Fitness, Top Santé, Healthy, and Good Housekeeping. She writes about all aspects of health and wellbeing, with a special interest in nutrition and the therapeutic application of food. A qualified nutritionist and a recipe developer, she is the founder of Dara Dara Nutrition and has developed recipes for titles including GoodtoKnow. In her spare-time she likes to throw netballs, hula hoops and yoga poses (or what poses as yoga!) and has recently taken to the bass guitar. Fortunately for her neighbors, she's invested in some headphones.