Best workout earbuds: Top true wireless headphones for sport and exercise
Our best workout earbuds are the wireless headphones you need to push your exercise to the next level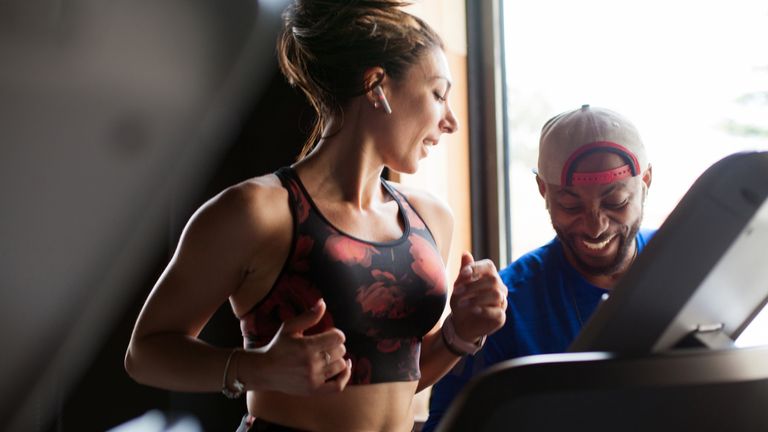 (Image credit: Getty Images)
By Lee Bell
The best workout earbuds are considered an essential gym bag purchase. No more do you need to worry about wires tangling up or catching on your kit, or rubbing against your skin under your shirt – just pop the buds in, pair them with your phone and enjoy next-level sound quality to pump out the tunes during your workout. 
Whether you like a big, bassy beat to lift weights to or a podcast to distract you during a long run, the top-performing workout earbuds can take you there. Music has even been shown in some studies to delay fatigue and increase our energy capacity during workouts. 
Researchers from North Bengal Medical College write: "Music captures attention, triggers a range of emotions, alters or regulates mood, increases work output, heightens arousal, induces states of higher functioning, reduces inhibitions and encourages rhythmic movement. 
"Music has ergo-genic effect as well, it increases exercise performance, delays fatigue and increases performance and endurance, power and strength."
However, identifying the best workout earbuds to buy - and trying to navigate the huge range of true wireless earphones available - is no easy feat. Just trying to do the research on the latest and greatest audio tech can feel like a full sweat session in itself.  
Buzzwords include the distinction between a 'wireless' and 'true wireless' set of headphones, a water-resistant or waterproof set, or the total battery life, which will sometimes give you two figures: with and without the case. The list goes on. 
If all this leaves you feeling confused, don't be. I will answer all these questions and more as I round-up the best models out there, no matter what your workout entails. 
When considering the best workout earbuds, my advice is usually to go true wireless, as you're going to feel more freedom in movement. Wireless is a pair of earbuds connected to each other by a cable or band, but not connected to the phone or broadcasting unit. True wireless, on the other hand, are two pairs of earbuds that are not attached by anything. They sit in a case which charges both buds separately: they are removed, and subsequently placed in both ears. Fortunately, they're designed to fit rather snug.
My ultimate pick in this category is the Jaybird Vista earbuds, which will prove a hit for any type of exercise: running, cycling, HIIT workouts and more. For around $180/£160, they have great all-round sound quality and are the most comfortable truly wireless earbuds I've ever worn. 
However, if you're prone to easily losing things or you're likely to be pulling your buds out every two minutes to chat to someone at the gym, then the wireless variety - connected by a single wire around the back of your neck - are a good bet. They can simply hang there when not in use, ready to be picked up and shoved in your earholes again. My top pick on this front is the Nura NuraLoop for their incredible sound quality.
How to choose the best workout earbuds for you
Anyone that's made an attempt to even break a sweat will know how important music is when it comes to working out. Not only does it help distract you from the task in hand, but it's been scientifically proven to help keep you motivated and increase exercise performance when the going gets tough. 
But do you really need to blow top dollar on a pair of wireless buds for simply kicking around in the gym or bounding down the street on your run? Not necessarily, but in my experience, you really get what you pay for when it comes to Bluetooth earphones, so it is really worth the investment. Scrimp on a pair of cheap buds and you're only going to wind up frustrated as the features that make a pair of workout earphones great are likely to be missing. 
So what are these essential features, I hear you ask. Well, there are three: water- or sweat-resistance, clingability and sound quality. Basically, a badly-fitting, poor-sounding pair of buds that are prone to water damage when you work up a sweat will quickly become your worst nightmare. 
Water (and sweat) resistance
The most important feature for exercising should be waterproofing. If you're going to be wearing them while working out, they at least need to be resistant to sweat to ensure that they last. And if you like to workout whatever the weather outdoors, they need to be rain-resistant too.
One measure to look for is whether the earbuds have an Ingress Protection (or IP) Code. This indicates that the product has been independently tested for its resistance to water, amongst other things.
IP ratings in relation to waterproofing are written as IPX followed by a number, ranging from 0-9. The higher the number, the better the rating. For example, IPX4 offers protections from splashes of water, and are therefore sweat-proof. Meanwhile, products with an IPX7 rating are protected against immersion of up to one meter - good options if you're into swimming.
Yes, I made that word up. But more often than not, exercise involves lots of moving about and if your sports earbuds aren't staying in while you're flailing your limbs to and fro, then they're just not worthy of your hard-earned dosh.
Last and certainly not least in the list of must-have qualities is the audio experience. Tinny, absent sound just won't cut it when you're in the mood to burn some killer kcals. But a dynamic and juicy audio will help keep you engaged in whatever exercise you're doing.
Indeed, a study published in the journal of Psychology of Sport and Exercise found that listening to music whilst working out resulted in "higher-than-expected levels of endurance, power, productivity, or strength."
Essentially, the best pair of earphones you can buy for working out won't feel like you're wearing earphones at all. On that note, we've also picked the best running headphones, which features models that will feel that bit more secure than true-wireless earbuds when you're slogging it out on the treadmill or out in the world.
And so, here is my pick of the best workout earbuds…
The best workout earbuds you can buy right now
Best true-wireless earbuds for workouts overall
Specifications
Waterproof: Yes (IPX7)
Battery life: 6 hours
Noise cancellation: No
Weight per bud: 6g
Reasons to buy
+Lightweight & comfortable design+Compact charging case+IPX7 water resistance
Reasons to avoid
-Battery life a little on the short side-Don't feel as 'premium' as similar models
The JayBird Vista are the best earbuds out there for nearly all workout types. Whether you're cycling in the wind or doing star jumps in the rain, they cling on to your ears without ever failing to deliver excellent quality audio. They're also some of the most comfortable I've ever tried, and especially suited to extended workouts, such as long runs and rides. What's more, their IPX7 waterproof rating makes them suitable for all-weather workouts and the sweatiest of sessions.
I've only two small gripes: the look and feel isn't quite as premium as other models on the market, and the battery life could be better (in testing, we averaged just under six hours of use between charges). However, it's an improvement on the brand's previous model, the Jaybird Run XT plus the charging case will provide an additional 10 hours of charge, making these minor grumbles. 
2. Bose SoundSport Free
Best premium true-wireless workout earbuds
Specifications
Waterproof: Yes (IPX4)
Battery life: 5 hours
Noise cancellation: No
Weight per bud: 9g
Reasons to buy
+Unbeatable comfort +Great sound quality +Reliable connectivity
Reasons to avoid
-A little on the bulky side
The size of these things and the way they protrude might make you look a bit of a twit but if you can live with this, you'll be rewarded with superb comfort and sound quality. They're the perfect accompaniment for a good ol' weights sesh, although I wouldn't use them during a really vigorous workout or for running outdoors on a less than still day, as their shape makes them highly susceptible to wind noise. 
As you'd expect from Bose, you'll find a great, full-bodied sound with deep, powerful bass. They are some of the best-sounding wireless earphones I've tested, in fact, though it's a shame they don't feature the brand's fabulous noise-cancelling tech. Still, they're really well made, feeling robust and like they'll last you a good while. 
3. Mifo O5 PLUS
Best budget true-wireless workout earbuds
Specifications
Waterproof: Yes (IPX7)
Battery life: 7 hours
Noise cancellation: No
Weight per bud: 4.6g
Reasons to buy
+Great battery life+Lightweight yet rugged
Reasons to avoid
-Not the greatest audio
A quality set of true wireless earphones that won't break the bank, Mifo O5 Plus might be the cheapest true wireless earbuds in this lineup, but that doesn't make them subpar. Far from it, in fact. 
They've been widely received as some of the best out there for sports, mainly due to their excellent battery life – a good seven hours of continuous use in a single charge, and a massive 100 hours of total use with the charging case, which is handy for ultra marathons, and also for people who habitually forget their charging cables. 
The aluminium design with blue and red rings might be a little cheap looking, but if you can look past that, you've got yourself a superb pair of truly wireless earphones for the price.
True-wireless workout earbuds that can handle anything you throw at them
Specifications
Waterproof: Yes (IPX7)
Battery life: 7.5 hours
Noise cancellation: No
Weight per bud: 5.5g
Reasons to buy
+Superb battery life+Excellent sound+Unshakeable fit
Reasons to avoid
-Can become uncomfortable after an hour or so
If your workout routine usually involves you moving around a lot - sometimes in more extreme environments - then opt for the Jabra Elite Active 75t. They're the only earphones on this list that are IP57-rated, meaning they're fully waterproof and sweatproof and resistant to dust. So, yes, you could go for a run on the beach in them, jump in the sea and then roll around in the sand and they'd survive. That sounds like fun, too.
Jabra's compact buds also cling onto your ears like a limpet, failing to fly off no matter how dramatic your hair flick. Offering motion detection, voice control, and a stylish look, Jabra's buds almost have it all, apart from a cheap RRP – but you get what you pay for here. 
The best wireless earbuds for sound quality during workouts
Specifications
Waterproof: Described as 'Sweat resistant'
Battery life: 16 hours
Noise cancellation: Yes, active
Weight per bud: 25g
Reasons to buy
+Very long battery life+Sound amazing+Excellent, comfy fit
Reasons to avoid
-Not true wireless
A personalised audio experience that sounds like no other, Nuraloop are very clever AI earbuds that automatically assess and adapt to your hearing, creating a sound personalised to you. Via an app, Nuraloop 'listens' to your ear canal and creates a listening profile just for you. The resulting sound is simply stunning and highly immersive. 
Accompanying this is a thoughtful design that touts adjustable ear-hugging bands for a more comfortable fit, as well as touch controls. Nuraloop even comes with an analogue cable that can be cleverly attached, magnetically, to a proprietary charging contact so you can use the buds as non-wireless earphones when you need to. I'm not sure how useful that is for most people but it is, again, very clever.
Lee Bell is a freelance journalist & copywriter specialising in technology and health and how the latest innovations are shaking up the fitness space.