Best shoes for walking: comfortable shoes for your next hike
Simplify your steps with the best shoes for walking, featuring soft soles, breathable designs and ample support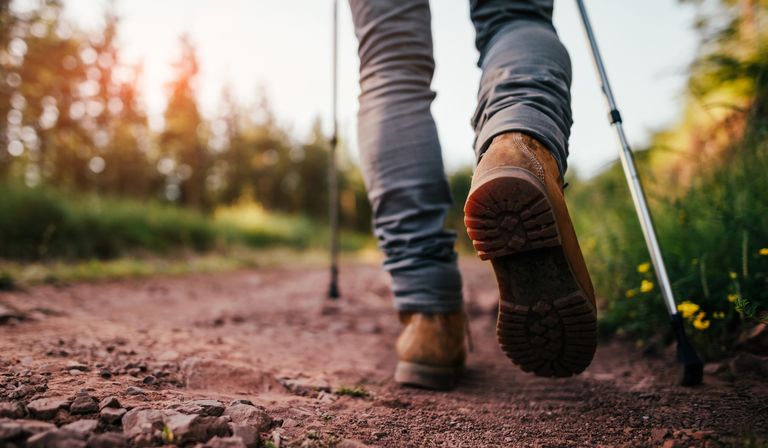 (Image credit: Getty Images)
The best shoes for walking will make time on your feet more comfortable, whether you're carrying out chores, getting in your morning steps, or doing a job that requires you to stay active.
While it may be tempting, it's not a good idea to wear your basic sneakers for walking at length. Instead, a supportive, cushioned sole will keep the pressure off your feet and make sure that your feet and ankles don't start to feel sore as the day goes on.
If you're walking to lose weight or keep fit, the best shoes for walking are also key because breathability is even more important during long walks or when you're spending more time on your feet. That's why the best shoes for walking all day often have mesh fabric to boost the airflow and keep things breezy. On the other hand, if you're going to be spending a lot of time outdoors and exposed to the elements, you'll find greater walking comfort in a shoe that's waterproof, something mesh designs struggle with.
Whether you're looking for a men's or women's shoe, the best shoes for walking are available for a range of budgets, as well as different colors and styles so that no fashion doesn't have to be compromised. One of the most important things for the best walking comfort, however, is the cushioning of your shoe. That's why the best shoes for walking all day usually have a rubber sole to add extra comfort and protect your feet from the rugged ground, such as our top pick, the On Cloud shoes.
If you're more into running than you are walking, our guides to the best running shoes for men, the best running shoes for women, or the best trail running shoes will be a better fit, while the best cross training shoes will come in handy for frequent gym-goers too.
How to choose the best shoes for walking for you
There are three main things to consider when considering how to choose the best walking trainers for you: cushioning, support and breathability.
Cushioning
You need a trainer with plenty of cushioning to help relieve the pressure on your feet when walking, and ideally this will be zoned to provide extra where you need it. Some shoes also use foam that provides rebound; once compressed, it will spring back into place that can help give your feet a little energy boost.
Support
Support is also important, ensuring that both the sole and the whole foot are able to move but without moving about within the trainer. If you're walking all day, also check for internal seams which can cause hot spots or rub and produce blisters. The best walking trainers will often have a seam-free construction to avoid this.
Breathability
Breathability is especially important for walking in hot weather, or if you're prone to hot feet. That said, this often comes at the cost of weatherproofing, so if you'll be walking in wet conditions you may prefer a shoe that provides a little more weather protection.
The best shoes for walking you can buy right now
1. On Cloud
The best shoes for walking for most people
Specifications
Gender: Men's and Women's
Closure: On's 'speed-lacing'
Sizes (women): US 5 - 11 / UK 3 - 9
Sizes (men): US 7 - 14 / UK 6.5 - 13.5
Upper: Antimicrobial mesh
Sole: Zero-Gravity foam and CloudTec outsole
Reasons to buy
+
Cushioned support for fatigue-beating comfort
+
11 color options
+
Breathable mesh upper keeps feet cool
Reasons to avoid
-
Tread can pick up and trap gravel
The On Cloud is named for the cushioning, impact-absorbing 'cloud' like elements that make up the outsole. These little bumpers, equipped with a grippy, traction-providing rubber layer, dissipate the force of foot strikes providing a very comfortable walking experience that keeps feet feeling fresh after hours on them.
Added to this, On have built in a midsole designed called 'Speedboard' which helps translate energy aft to fore while walking, further supporting the foot. But the sole is also designed to be flexible enough to allow great traction and natural foot movement without compromising comfort and it does this supremely well.
The upper is soft, breathable and antimicrobial making these an excellent choice for hot weather wear. The area around the toe and heel is reinforced, and a toe bumper protects the foot (and shoe) from rock strikes.
Ideally suited to pavements, forest roads, urban rambles and park wanders, they're chic enough not to look out of place day-to-day or at your cafe stop.
2. Hoka One One Stinson ATR 6
The best premium shoes for walking
Specifications
Gender: Unisex, Men's & Women's
Closure: Lace up
Sizes: US M5/W6 - M14/W15 / UK 4.5 - 13.5
Upper: Engineered mesh with recycled polyester fibers
Padding or insole: CMEVA midsole
Sole: Vibram Megagrip rubber outsole
Reasons to buy
+
Super-cushioned sole
+
Rocker design particularly good for plantar fasciitis
+
Stylish aesthetic
Reasons to avoid
-
Traction in mud not great
They look unusual, but they feel great! The Hoka One One Stinson ATR 6 are the latest iteration of what's become a classic shoe for the brand.
Featuring the signature chunky sole, you'd be forgiven for thinking these shoes would feel precarious, but the wide base means they're stable so you can focus on just how much cushioning that stack height allows for. These are like walking on mini foot mattresses - though are also surprisingly light for their apparent bulk.
Built into the design is a rocker, which makes the transition from heel to toe smooth and efficient and further adding to the comfort these shoes provide. In fact, they've become particularly popular with walkers suffering from plantar fasciitis.
4mm lugs provide great off-road grip while the mesh upper, partially constructed from recycled polyester, is breathable in hot conditions while also being reinforced with a toe bumper to make it robust enough to handle rough terrain.
3. Nike Revolution 5
The best budget trainers for walking
Specifications
Gender: Men's and Women's
Closure: Lace up
Sizes (Men's): US 6 - 14.5 / UK 5.5 - 14
Sizes (Women's): US 4.5 - 11.5 / UK 2.5 - 9.5
Upper : Synthetic knit
Padding or insole: Light foam midsole
Sole: Rubber outsole for traction
Reasons to buy
+
Great range of colours
+
Simple, comfortable cushioning
Reasons to avoid
-
Little support around the foot
-
Not weather proof
Simple comfort without spending a fortune? That's what the Nike Revolution 5 offers.
The breathable mesh upper is ideal for hot conditions or anyone prone to hot feet, allowing sweat to wick away and air flow to cool the foot. A lace fastening system means you can easily pull the upper as close around the foot as you need for comfort and support, while the stitch-free construction means no bulky seams that could rub or irritate.
Both the sole and midsole are simple but effective. Soft foam for the midsole provides cushioning and support, absorbing the force of the foot striking on pavement, while the rubber outsole offers both traction and durability. The tread itself is in sections which allows the sole to move and bend with your foot, supporting it's natural movement. A great shoe for the price.
4. Allbirds Tree Runners
The best sustainable shoes for walking
Specifications
Gender: Men's and Women's
Closure: Recycled polyester laces
Sizes: US 8-14 (M), 5-11 (W) / UK 7-1 (M), 2-8 (W)
Upper: Eucalyptus tree fiber
Midsole: Brazilian sugarcane midsole 'SweetFoam', the world's first carbon negative green EVA
Sole: Carbon-negative rubber
Reasons to buy
+
Machine washable
+
Strong environmental credentials
+
Plenty of color options including limited editions
Reasons to avoid
-
Not super robust or rugged
-
Poor sole traction
Allbirds may not be one of the best-known brands (yet), but they have a solid word-of-mouth reputation for producing very comfortable trainers.
The AllBirds Tree Runners are a lighter version of it's popular Wool Runners and are designed to be breathable, low-maintenance, comfortable and eco-friendly.
The 'tree' part of their name hints at their stellar sustainability credentials. The upper on these shoes is constructed from knit eucalyptus tree fibers, sourced from FSC Certified forests - and that's just part of the green picture. The rubber in the soles is from carbon negative sources, the insole cushioning is a foam constructed from merino wool and plant sources rather than petroleum, and the laces are recycled polyester.
Available in a range of muted tones (11 for women and a up to a whopping 17 for men), these shoes are a great choice if you're looking for something for all-day wear, urban exploration or park rambles.
5. Skechers Go Walk 5
The best trainers for walking in hot weather
Specifications
Gender: Men's and Women's
Closure: Lace up
Sizes (Men's):
Sizes (Women's): US 4 - 12 / UK 2 - 10
Upper: Synthetic knit
Padding or insole: Skechers Air Cooled Goga Mat™
Sole: Dual density outsole
Reasons to buy
+
Insole and upper designed for temperature management
+
Machine washable
Reasons to avoid
-
Upper provides only light support
-
No weather protection
The Go Walk 5 from Skechers is a trainer that has been designed from the ground up for all-day comfort when walking or while on your feet generally.
It has all the winning elements; cushioning foam in the sole that's also designed to provide rebound to give you a literal spring to your step, and a dual-density outsole that provides durable protection for the sole, along with stability and support.
One of the big sellers here is breathability. If you suffer from uncomfortably hot feet, you'll find the evocatively named 'Air Cooled Goga Mat' insole right up your street. Combined with the mesh upper, they're designed to help wick moisture and heat away, helping to keep your feet fresh and cool.
The crochet mesh upper features a pull-on design, for ease of use. There's also a soft padded collar around the heel, plus a slight heel raise. Perhaps most useful of all, these shoes are washable - so if they get dirty or a bit smelly, you can pop them in the laundry and they'll come out fresh and clean.
6. Vans UltraRange EXO
The best-looking shoes for walking
Specifications
Gender: Unisex
Closure: Lace-up
Sizes: US 3.5 - 13 (Men), 5 - 14 (Women) / UK 2.5 - 12
Upper: Synthetic knit
Padding or insole: Skechers Air Cooled Goga Mat™
Sole: Dual density outsole
Reasons to buy
+
Great street style
+
Lightweight comfort
Reasons to avoid
-
Lower sole support
-
Less fitted around the foot
Let's face it: a lot of trainers that are great for walking aren't particularly stylish. But if you want comfort but don't want to compromise your street style, then skate brand Vans have just the thing.
Its UltraRange EXO line is specifically designed for walking, traveling and general adventuring. Key features include an UltraCush Lite midsole, which provides noticeable cushioning and support for a surprisingly light weight. Meanwhile the tough and robust classic Vans rubber waffle sole provides plenty of grip on a range of surfaces.
A sockliner-style upper helps support the foot, and there's a range of materials available - from lightweight, breathable synthetic mesh to more durable suede and even waterproof leather. So whatever your style, there's a pair to suit.
Aoife Glass is a keen outdoorswoman, with a love of hiking, cycling, camping and wildlife. She is an editor with Red Bull Global team and has written for T3, BikeRadar, and Trek UK. Aoife studied Geology at the Royal School of Mines at Imperial College and earned a masters degree in Science Communication at the University of the West of England.