The 9 best shoes for walking in 2022
These are the best shoes for walking if you're on your feet all day – or if you're planning a long distance hike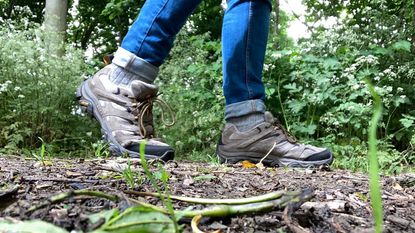 (Image credit: Harry Bullmore)
We've spent the past year testing out the best shoes for walking, putting models from Skechers, New Balance and Danner through their paces. What we've found is that different shoes match up with different styles of walking. For example, you simply can't beat Skechers Arch Fit models if you're going to be on your feet all day or if you're tackling a concrete, city-based walk. However, they're hardly appropriate for a mountainous hike – you'd be much better off with something like a Danner Trail shoe in that scenario.
With this in mind, we've compiled a list of the best walking shoes with models that should suit everybody. Whether you're looking for a light travel shoe, a comfortable sneaker that can also be used for running, or a solid boot for long distance hikes you can find your ideal match below. Just make sure that you've carefully considered what type of walking you're going to do before you commit to buying.
The best shoes for walking
1. Danner Trail 2650
Best walking shoe overall
Specifications
Gender: Men's and Women's
Closure: Lace-up
Sizes (women): US 5 - 11
Sizes (men): US 7 - 14
Upper: Suede and mixed textiles
Sole: Lightweight EVA midsole and Vibram® 460 outsole
Reasons to buy
+
Clever EXO Heel System keeps shoe in place
+
Excellent stability despite low weight
+
Perfectly balanced amount of cushioning
We've only been testing the Danner Trail 2650 model for a couple of weeks, but it's already shot up this list thanks to its clever balance of comfort and sturdy support. Its chunky Vibram 260 outsole provided excellent grip in slippy, ice-covered conditions. And we're fans fan of the EXO heel system, which essentially moves a big part of the heel counter to the outside of the shoe. This makes it feel roomier inside and more secure on the foot, plus the reinforced exo-heel design should help with durability.
The shoe is primarily designed for weekend or day hikes, but we'd argue that it would support you fairly well across longer three or four day walks. For us, the cushioning hit that sweet spot of being just cushy enough to provide some comfort, without making it feel like you're sinking into the shoe. They're also incredibly lightweight, coming in at just 18 oz; it's impressive that they still manage to feel so solid and supportive.
They aren't waterproof (unless you opt for the pricier Gore-Tex versions, but even these aren't fully waterproof) and anyone who's looking for a city-walking shoe will want more arch support. But if you're looking for a lightweight trail companion, this is the best option we've tested.
What the users say
Reviews are overwhelmingly positive for this shoe on Danner's site, with it netting an average of nearly five out of five stars from 388 bits of feedback. Most people praise the lightweight design and outsole grip. A handful of reviews raise issues with the fit of the shoe, but there's no consensus on whether it's too wide or too narrow. A lot of people have also raised issues with the colorways available for women, which skew towards lilacs, baby blues and pinks.
Editor's note: we are currently in the process of testing this shoe and will update this guide when our full, in-depth review goes live.
---
Best walking shoe for comfort
Specifications
Gender: Men's and Women's
Closure: Lace-up
Sizes (women): US 5 - 12 / UK 3 - 9.5
Sizes (men): US 6 - 16 / UK 6.5 - 15
Upper: Pig suede leather and breathable mesh
Sole: Lightweight EVA foam midsole and Vibram® TC5+ outsole
Reasons to buy
+
Out-the-box comfort
+
Robust and supportive
+
Cushioned
Reasons to avoid
-
Heavy
-
Not great for everyday wear
The Merrell Moab series has long been popular with walkers – and for good reason. At around $110/ £90, they're fairly reasonably priced, but their tough pig suede leather makes them very durable. When we tested them, we also found them to be supremely comfortable from the get-go; there were no niggling issues or rubbing sore spots on our feet.
At just over 2lbs, they are heavier than some modern walking shoes, but we found that this was counteracted by the springiness of the shoe. We actually found the fit to be almost like a sneaker; snug, comfortable and responsive, rather than clunky and restrictive.
They were at the top of this guide for a long time, only recently knocked off the number one spot by the Danner 2650, which we prefer for its slightly lighter weight and durable heel counter design.
What the users say
Reviews of this shoe are broadly positive – it's netted 4.4 out of five stars on the Merrell site. People praise the out-of-the-box comfort, along with the shoe's waterproof qualities. However, a very small handful of negative reviews state that the shoes feel narrow.
---
Best walking shoe for arch support
Specifications
Gender: Women's
Closure: Lace up
Sizes (Women): US 5 - 11 / UK 3 - 8
Upper: Breathable engineered mesh
Midsole: ULTRA GO®
Outsole: Dual-density traction
Reasons to buy
+
Soft midsole
+
Gentle arch support
+
Breathable upper
Reasons to avoid
-
Not waterproof
-
Squeaky soles
The Skechers Go Walk Arch Fit series is popular for a reason; it features podiatrist-certified arch support that keeps you comfortable on your feet. We specifically tested the Motion Breeze model, which is a women's design – but the midsole technology and arch support is the same across the men's series.
We were blown away with the comfort of these shoes. After a long day spent racking up more than 22,000 steps, we still didn't have any of the dull aches and pains you usually get at the end of a long walk. What's more, the springy GO WALK midsole kept us feeling fresh throughout our hike. The upper isn't substantial enough to protect you from knocks and brambles and they're not waterproof, so these shoes are best suited to urban environments.
What the users say
There aren't many reviews for this specific model (Motion Breeze). One user claims that the shoes cured the pain she was feeling in her left heel; another user complained that the shoes were too squeaky. Reviews of the broader Go Walk Arch Fit series are plentiful though, with most people giving the shoes dazzlingly positive reviews.
---
Best walking shoe for serious grip
Specifications
Gender: Men's and women's
Closure: Secure Navic Fit lacing
Sizes: Women: 5-12 Men: 7-15
Upper: 3D printed mesh
Midsole: Techlite+™ Single density foam
Outsole: Adapt Trax™
Reasons to buy
+
Durable
+
Very comfortable
+
Accurate fit
Reasons to avoid
-
Unsuitable for everyday use
-
Collect mud underfoot
These are sturdy hiking boots rather than gentle walking shoes, so they offer plenty of rigid support to prevent twisted ankles. We found the shoes were impressively waterproof, yet they felt light and breathable. There's some serious grip underneath the boot too, thanks to Columbia's Adapt Trax technology (a special rubber pattern on the outsole). This is ideal if you're scrambling over mountainous ground, but beware that the design did seem to collect a lot of mud.
The shoes also boast something called 'Navic Fit,' which is essentially a really secure lacing system that locks the shoe to your foot. There's plenty of cushioning here too, in the form of 'Techlite' (a single-density foam) that kept us feeling light on our feet during testing.
What the users say
As this is a newer model, there are very few reviews available. We did find a couple on Columbia's website though, which were largely positive. One reviewer described the shoe as lightweight and comfortable. Another complimented the traction and waterproofing, but said that they felt the material wasn't very breathable.
---
5. Hunter Men's Explorer Insulated Lace-Up Commando Boots
Best vegan-friendly walking shoes for winter
Specifications
Gender: Men's and Women's
Closure: Lace-up
Sizes (Men's): US 7-13 / UK 6-12
Sizes (Women's): US 5-11 / UK 6-12
Upper: Recycled polyester and microfiber
Midsole: Moulded TPU and rubber
Outsole: Rubber
Reasons to buy
+
Thick sole makes it easy to walk across all terrains
+
Comfortable enough to wear all day
+
Vegan-friendly materials
Reasons to avoid
-
Would be too warm for summer temperatures
-
Laces can feel a bit rough in your hands
We were expecting these vegan-friendly boots from hunter to be similar to other walking boots, with a rigid upper and a bit of a clomp. But they are surprisingly lightweight, with a breathable upper and substantial but versatile rubber sole. They were even flexible enough to quickly run back to the house to pick something up — though, we wouldn't suggest going for a run in them!
The first thing you notice once you've got them on is that they are fairly warm. Hunter even mentions that these are winter boots, and on milder days, we found our feet get quite hot. Though it did mean that they were great on dog walks in fall, adventures in the snow, and during brief downpours.
Many walking shoes use leather to add water resistance, but as these are vegan boots, Hunter has used alternative materials like rubber and plastic instead. However, the upper part of the shoe isn't water resistant, as we found out while walking through wet long grass after some heavy rain.
What the users say
The Hunter Explorer Insulated Lace-Up Commando Boots currently score 4.9 out of five on Hunter's website. One reviewer summed up the consensus, noting they are some of the "warmest and most comfortable boots [they've] ever bought." Most owners found their feet stayed warm even in cold temperatures and the boots were sturdy enough for long winter walks.
Editor's note: we are currently in the process of testing this shoe and will update this guide when our full, in-depth review goes live.
---
Best walking shoes for inclines
Specifications
Gender: Men's and Women's
Closure: Lace up
Sizes (Men's): US 4 - 16 / UK 6.5 - 13.5
Sizes (Women's): US 5 - 12 / UK 3 - 10
Upper : Synthetic/mesh upper with zonal TPU threads
Midsole: Fresh Foam
Sole: Vibram® outsole
Reasons to buy
+
Great range of colours
+
Expert cushioning from New Balance
Reasons to avoid
-
Restrictive to toe box
-
Not weather proof
The Fresh Foam Hierro V6s are trail running and hiking shoes, which feature a lot of rugged support to keep your feet safe from debris. There's a rigid edge around the toe cage, to stop anything crushing your digits, along with a little 'rudder' at the back of the shoe to help with stability on uphill and downhill paths.
These mighty shoes have a wide landing area for your feet during fast paced walks and we were impressed with how much stability they provide. The Vibram outsole is cleverly designed to provide grip in all situations and the rugged synthetic mesh will protect you from brambles and undergrowth. The shoes aren't quite perfect; they're a narrower fit than previous versions, which means that some people might find they pinch around the toes. And we found that the material wears away quite quickly around the toe protection at the front. Plus, all the padding on the shoe means that it can feel quite warm in there.
What the users say
Reviews of the shoe are fairly positive; they've been awarded 4.2 out of five stars on the New Balance site. Most people praise the comfortable feel and arch support in the shoe. However, quite a few people flag that the shoes run small and feel narrow, so order up a size for a good fit.
---
Best walking shoes for travel
Specifications
Gender: Men's and Women's
Closure: Recycled polyester laces
Sizes: US 8-14 (M), 5-11 (W) / UK 7-1 (M), 2-8 (W)
Upper: Eucalyptus tree fiber
Midsole: Brazilian sugarcane midsole 'SweetFoam', the world's first carbon negative green EVA
Sole: Carbon-negative rubber
Reasons to buy
+
Lightweight
+
Flexible sole
+
Eco-friendly
Reasons to avoid
-
Minimal cushioning
-
Not waterproof
These lightweight, environmentally-friendly sneakers are great for travel, thanks to their breathable upper. This is made out of sustainably sourced eucalyptus fiber – everything else on this shoe is also eco-friendly, from the sugarcane midsole to the recycled shoelaces.

There is very little cushioning here, so the shoes might not suit people who like a thicker layer of support. However, we found that there were certain benefits to having a lightweight, more flexible design. We enjoyed that you could flex the shoe around rocky surfaces, which sometimes helps on uneven terrain. And there is something refreshing about feeling the earth beneath your feet, when you've been testing chunky walking shoes for a long time.

What the users say
Reviews are overwhelmingly positive for this shoe, with users raving about its eco-friendly credentials and comfortable fit. The model has earned itself a respectable 4.6 out of five stars on the Allbirds site, with only a handful of people finding fault with the shoe. The negative reviews focus on the lack of arch support and issues with the sizing.
---
Best walking and trail shoe hybrid
Specifications
Gender: Unisex
Closure: Lace-up
Sizes (Men): US: 6 - 15
Sizes (Women): US: 5 - 12
Upper: GORE-TEX
Midsole: Dual density EVA
Sole: Continental™ Rubber
Reasons to buy
+
Hardy and durable
+
Superior grip
+
Spongy, cushioned midsole
Reasons to avoid
-
Lack of breathability
-
Toe box tip quite stiff
-
Unlikely to suit everyday use
The sustainable Adidas Terrex AX4 hiking shoe unites trail-running sneakers with hiking boots to produce a versatile, durable, and bouncy walking shoe. Adidas didn't hold back when crafting this model, and you'll stand out from the crowd in the eye-catching orange, beige, and amber design we tested (there's a range of colors available).
The AX4s are low-cut just below the ankle, which improves the range of motion around your ankle but creates less stability than mid-rise designs. But a thickly ridged continental rubber outsole added grip underfoot and provided us with a solid base in wet weather. EVA (foam) midsoles bring the shoe together and absorb shock while creating a cloud-like bounce that elevates comfort to the next level. We did, however, find that solid waterproofing was lacking in this shoe – our toes got wet on rainy walks.
What the users say
The Adidas Terrex AX4 GORE-TEX hiking shoe pulls in a respectable 4.3 stars on the Adidas website. Buyers rated 4.4 for quality and 4.2 for convenience. Many commented on the sizing and advised other shoppers to consider a half or full size.
---
Best walking and road-running hybrid
Specifications
Gender: Men's and Women's
Closure: Lace up
Sizes: Women: 5-13, Men: 7-15
Upper: 3D printed mesh upper
Midsole: DNA LOFT cushioning
Outsole: Rubber
Reasons to buy
+
Super cushioned
+
Lightweight (9 oz women/10.2 oz men)
+
Ideal for running, walking and everyday wear
Reasons to avoid
-
Size runs slightly small
-
Some achilles irritation the first few wears
-
Not great for rough terrains
If you're after a road running shoe that can double up as an everyday walker, then this is your best option. They're designed for longer runs, so come with extra cushioning – while not all walkers need this level of soft support, some people with joint issues have reported mild benefits.

We like that the mesh upper is 3D printed, so it feels like it spreads across your foot snugly. And in general we found that walking and running in these feels like you're moving across air. We did, unfortunately, find that they took a couple of runs to 'break in' properly. We also found them to be quite a snug fit, so we'd recommend bumping up a half size if you have wider feet.
This is the slightly older model; you can opt for the Brooks Glycerin 20 if you want a newer look, but there's very little difference between the designs.
What the users say
There's some difference in reviews between the women's and men's models of this shoe. The men's models have 4.5 out of five stars on the Brooks website, while the women's shoes have only netted 4.
This is perhaps down to issues with sizing. Several reviewers of the women's shoe have complained about sizing, saying the shoes feel tight and narrow. There are a handful of reviews complaining of similar issues on the men's site, but it seems to be less of an issue.
FAQs
How should walking shoes fit?
The heel collar at the back of the shoe should sit comfortably against your foot and not rub as you walk. And there should be a little space within the design; never opt for walking shoes that feel too tight when you try them on.
George Hill, a podiatrist at Fleet Street Clinic, told Fit&Well that you might want to size up in walking shoes to accommodate thick hiking socks. This might not be necessary if you're planning on wearing the shoes for light walking activities and don't need thick, padded socks, but if you're going up a mountain you'll need that extra protection.
Hill advises that you make your own decisions about some design elements of the shoe: "Rocky terrain will require a stiffer, boot-style shoe to shield the arch from stone or uneven ground and higher ankle support to protect the ankles from rolling." However, some people may prefer a lightweight, well-cushioned shoe if they are walking across flat, concrete surfaces.
How long do walking shoes last?
This will depend on the shoe itself along with your walking habits. Some manufacturers suggest replacing walking shoes every 350 - 500 miles, but there are reports online of users hiking with Merrell shoes past the 1000 mile mark. What's important is to look for signs of wear on your shoes; if there is extensive damage to the upper, or the cushioning feels 'flat' when you walk on it, then it's time to buy yourself a new pair.
Is it ok to wear running shoes for walking?
Most running shoes are made with similar design features to walking shoes so will be suitable for keeping you comfy on walks. But as with the best shoes for walking, running shoes will vary, so a pair that have been designed for speed and helping you bound through that 5K finish line won't be best suited to lasting a long hike on rough terrain. This is why it pays to cover the groundwork of what kind of walking you do and tailor a pair of shoes for walking to this.
How to choose walking shoes
There are three main things to consider when considering how to choose the best walking trainers for you: cushioning, support and breathability.
Cushioning
You need a trainer with plenty of cushioning to help relieve the pressure on your feet when walking, and ideally this will be zoned to provide extra where you need it. Some shoes also use foam that provides rebound; once compressed, it will spring back into place that can help give your feet a little energy boost.
Support
Support is also important, ensuring that both the sole and the whole foot are able to move but without moving about within the trainer. If you're walking all day, also check for internal seams which can cause hot spots or rub and produce blisters. The best walking trainers will often have a seam-free construction to avoid this.
Breathability
Breathability is especially important for walking in hot weather, or if you're prone to hot feet. That said, this often comes at the cost of weatherproofing, so if you'll be walking in wet conditions you may prefer a shoe that provides a little more weather protection.
---
Want more guidance on footwear? Have a look through our round-up of the best cross-training shoes available.
Ruth Gaukrodger is the fitness editor for Fit&Well and its sister site Coach, responsible for editing articles on everything from fitness trackers to walking shoes. A lot of her time is spent setting up testing protocols for our in-depth buying guides and making sure everything is reviewed to a set standard, so you can be confident we only recommend the best products on the market.
When she's not wrestling with equipment in our dedicated testing centre, you can find her pursuing running PBs around the streets of London or improving her yoga skills from the comfort of her living room. She's a keen believer in working out for enjoyment first and is always open to hearing about new, fun ways to exercise.
With contributions from