Best shoes for walking 2022: tried and tested footwear for fully supported walks
These are the best shoes for walking if you are looking to stay comfortable and stable while clocking your daily steps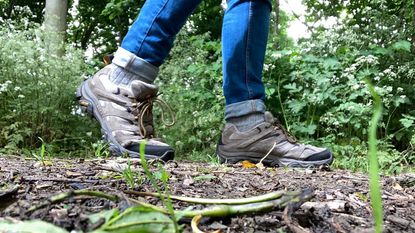 (Image credit: Harry Bullmore)
Finding the best shoes for walking is no easy task, especially when everyone has different needs from a shoe. But when you do find the right pair, your comfort levels, walking performance, and overall health can feel totally transformed. To save you hours of searching, we've tested each and every one of the shoes in this guide and included the good, bad, and surprising information about each model.
Perhaps you enjoy running and have felt the huge difference a pair of the best running shoes for women or the best running shoes for men can have on your running quality and you wish to enhance your walking experience the same. Others may be wearing their everyday footwear out on their walks, and due to lack of support or poor levels of durability, you aren't experiencing the many benefits of walking without ample walking comfort.
Scientific findings published in the Journal of Foot and Ankle Research (opens in new tab) suggest that nearly one in five people suffers from foot pain, so it's especially important for people to prevent and combat this by wearing supportive footwear. But how do you identify a supportive pair? Well, it all depends on your personal walking conditions.
If you find yourself predominantly walking on softer terrains, you might find that extra cushioned shoes don't provide enough stability and you should instead look for a more protective pair of walking shoes, like the Terrex Swift R3 Gore-Tex Hiking Shoe. Meanwhile, city dwellers may lap up the relief that additional padding and cushioning offers when stomping on hard, concreted ground. They'll also want some breathability for those stuffy summer days in the city and should look further into a pair like the Skechers Go Walk Arch Fit Motion Breeze shoes, they offer up both breathability and comfort.
We know it's not just the design that either makes or breaks finding the best shoes for walking for people. Style and budget are also important. Our roundup aims to cater to everyone, so keep on reading to suss out which is your best shoe for walking.
The best shoes for walking you can buy right now
The best shoes for walking for most people
Specifications
Gender: Men's and Women's
Closure: Lace-up
Sizes (women): US 5 - 12 / UK 3 - 9.5
Sizes (men): US 6 - 16 / UK 6.5 - 15
Upper: Pig suede leather and breathable mesh
Sole: Lightweight EVA foam midsole and Vibram® TC5+ outsole
Reasons to buy
+
Out-the-box comfort
+
Robust and supportive
+
Cushioned
Reasons to avoid
-
Heavy
-
Not great for everyday wear
The Merrell Moab series has long been popular with walkers – and for good reason. At around $110/ £90, they're fairly reasonably priced, but their tough pig suede leather makes them very durable. When we tested them, we also found them to be supremely comfortable from the get-go; there were no niggling issues or rubbing sore spots on our feet.
These shoes really hit the sweet spot for walkers. They have just a little bit of flex under the ball of your foot, which allows you to get to grips on rocky terrain, but they also pack in a nylon arch shank to keep your foot secure and upright.
We were surprised at just how bouncy and springy they felt, despite being a robust and sturdy build. And we were also delighted with the Vibram TC5+ outsole, which provides excellent grip in all kinds of situations.
At just over 2lbs, they are heavier than some modern walking shoes, but we found that this was counteracted by the springiness of the shoe. We actually found the fit to be almost like a sneaker; snug, comfortable and responsive, rather than clunky and restrictive.
What the users say
Reviews of this shoe are broadly positive – it's netted 4.4 out of five stars on the Merrell site. People praise the out-of-the-box comfort, along with the shoe's waterproof qualities. However, a very small handful of negative reviews state that the shoes feel narrow.
---
The best shoes for walking with arch support
Specifications
Gender: Women's
Closure: Lace up
Sizes (Women): US 5 - 11 / UK 3 - 8
Upper: Breathable engineered mesh
Midsole: ULTRA GO®
Outsole: Dual-density traction
Reasons to buy
+
Soft midsole
+
Gentle arch support
+
Breathable upper
Reasons to avoid
-
Not waterproof
-
Squeaky soles
The Skechers Go Walk Arch Fit series is popular for a reason; it features podiatrist-certified arch support that keeps you comfortable on your feet. We specifically tested the Motion Breeze model, which is a women's design – but the midsole technology and arch support is the same across the men's series, too. The only difference in the designs is the upper.
We were blown away with the comfort of these shoes. After a long day spent racking up more than 22,000 steps, we still didn't have any of the dull aches and pains you usually get at the end of a long walk. What's more, the springy GO WALK midsole kept us feeling fresh throughout our city hike.
These shoes don't feature all the rugged support found in the Merrells and New Balance models, but they feel a lot lighter and the cushioning is softer. The arch support is the key feature here; it's subtle enough to not feel intrusive, but you'll be grateful for its presence at the end of a long day.
The upper isn't substantial enough to protect you from knocks and brambles and they're not waterproof, so these shoes are best suited to urban environments. But the dual-grip outsole provides plenty of grip on slippery surfaces.
What the users say
There aren't many reviews for this specific model (Motion Breeze.) One user claims that the shoes cured the pain she was feeling in her left heel; another user complained that the shoes were too squeaky.
Reviews of the broader Go Walk Arch Fit series are plentiful though, with most people giving the shoes dazzlingly positive reviews. Happy customers praise the comfortable fit of the shoes. There are a few complaints that the sizing is unpredictable across the range of models.
---
The best walking shoes for rugged environments
Specifications
Gender: Men's and Women's
Closure: Lace up
Sizes (Men's): US 4 - 16 / UK 6.5 - 13.5
Sizes (Women's): US 5 - 12 / UK 3 - 10
Upper : Synthetic/mesh upper with zonal TPU threads
Midsole: Fresh Foam
Sole: Vibram® outsole
Reasons to buy
+
Great range of colours
+
Simple, comfortable cushioning
Reasons to avoid
-
Little support around the foot
-
Not weather proof
The Fresh Foam Hierro V6s are trail running and hiking shoes, which feature a lot of rugged support to keep your feet safe from debris. There's a rigid edge around the toe cage, to stop anything crushing your digits, along with a little 'rudder' at the back of the shoe to help with stability on downhill paths.
These mighty shoes have a wide landing area for your feet during fast paced walks and we were impressed with how much stability they provide. The Vibram outsole is cleverly designed to provide grip in all situations (even during rainy seasons) and the rugged synthetic mesh will protect you from brambles and undergrowth. New Balance's famous fresh foam material is also packed into the midsole, which means that the shoes feel relatively springy while you walk.
The shoes aren't quite perfect; they're a narrower fit than previous versions, which means that some people might find they pinch around the toes. And we found that the material wears away quite quickly around the toe protection at the front. Plus, all the padding on the shoe means that it can feel quite warm in there.
But if you're a speedy walker who needs something to shield your feet as you hike, these are a solid choice.
What the users say
Reviews of the shoe are fairly positive; they've been awarded 4.2 out of five stars on the New Balance site. Most people praise the comfortable feel and arch support in the shoe. However, quite a few people flag that the shoes run small and feel narrow, so order up a size for a good fit.
---
The best travel shoes for walking
Specifications
Gender: Men's and Women's
Closure: Recycled polyester laces
Sizes: US 8-14 (M), 5-11 (W) / UK 7-1 (M), 2-8 (W)
Upper: Eucalyptus tree fiber
Midsole: Brazilian sugarcane midsole 'SweetFoam', the world's first carbon negative green EVA
Sole: Carbon-negative rubber
Reasons to buy
+
Lightweight
+
Flexible sole
+
Eco-friendly
Reasons to avoid
-
Minimal cushioning
-
Not waterproof
These lightweight, environmentally-friendly sneakers are great for travel, thanks to their breathable upper. This is made out of sustainably sourced eucalyptus fiber – everything else on this shoe is also eco-friendly, from the sugarcane midsole to the recycled shoelaces.

There is very little cushioning here, so the shoes might not suit people who like a thicker layer of support. However, we found that there were certain benefits to having a lightweight, more flexible design. We enjoyed that you could flex the shoe around rocky surfaces, which sometimes helps on uneven terrain. And there is something refreshing about feeling the earth beneath your feet, when you've been testing chunky walking shoes for a long time.

Allbirds encourages you to wear these sneakers without socks, which we tried out a few times. We found that this helped our feet to breathe – and we didn't notice any lingering odors after doing this, either. If you're traveling, it's nice to have the option to forego socks and save some space in your packing.

At $95, they're not the priciest shoe on this list, and you can rest assured that you're being an eco-conscious buyer when you purchase a pair.

What the users say
Reviews are overwhelmingly positive for this shoe, with users raving about its eco-friendly credentials and comfortable fit. The model has earned itself a respectable 4.6 out of five stars on the Allbirds site, with only a handful of people finding fault with the shoe. The negative reviews focus on the lack of arch support and issues with the sizing.
---
Best running and walking shoe
Specifications
Gender: Men's and Women's
Closure: Lace up
Sizes (Men's): US: 7 - 15/ UK: 6 - 14
Sizes (Women's): US 5 - 13 / UK 3 - 11
Upper: 3D printed mesh upper
Midsole: DNA LOFT cushioning
Sole: Rubber
Reasons to buy
+
Super cushioned
+
Lightweight (9 oz women/10.2 oz men)
+
Ideal for running, walking and everyday wear
Reasons to avoid
-
Size runs slightly small
-
Some achilles irritation the first few wears
-
Not great for rough terrains
If you're after a road running shoe that can double up as an everyday walker, then this is your best option. They're designed for longer runs, so come with extra cushioning – while not all walkers need this level of soft support, some people with joint issues have reported mild benefits.

You can actually get two versions of this sneaker: the 'neutral' or the 'support' model. The support version features added GuideRails technology in the midsole; this basically means that there are denser sections of foam around the sides of the foot, which should effectively hold your foot in a neutral position.
We like that the mesh upper is 3D printed, so it feels like it spreads across your foot snugly. And in general we found that walking and running in these feels like you're moving across air.

We did, unfortunately, find that they took a couple of runs to 'break in' properly. We also found them to be quite a snug fit, so we'd recommend bumping up a half size if you have wider feet.
What the users say
There's some difference in reviews between the women's and men's models of this shoe. The men's models have 4.5 out of five stars on the Brooks website, while the women's shoes have only netted 4.
This is perhaps down to issues with sizing. Several reviewers of the women's shoe have complained about sizing, saying the shoes feel tight and narrow. There are a handful of reviews complaining of similar issues on the men's site, but it seems to be less of an issue.
Broadly, though, reviews are positive, with most people praising the high level of cushioning found in the shoe.
---
6. Terrex Swift R3 Gore-tex Hiking Shoes
Most durable walking shoes
Specifications
Gender: Unisex
Closure: Lace-up
Sizes (Men): US: 5.5 - 15/ 5.5 - 14
Sizes (Women): US: 5.5 - 10/ UK: 5.5 - 11
Upper: GORE-TEX
Midsole: Lightstrike EVA
Sole: Continental™ Rubber
Reasons to buy
+
Excellent grip
+
Waterproof
+
Lots of stability
These shoes hit the sweet spot between lightweight walking sneakers and rugged mountain boots. Their design is definitely influenced by a mix of trail running and hiking models, with Lightstrike EVA cushioning in the midsole providing some support and springiness.

Like the New Balance Hierro model, these shoes have a solidity about them. They are lined with a sturdy Continental Rubber outsole that provides easy grip across rugged terrain. The robust exterior combined with the soft midsole cushioning should provide a nice contrast for walkers, which lets you feel protected from the elements but still springy in your step.

They run a little big, which means that users can stuff them with thick hiking socks. But if you prefer to have a snugger fit, you might actually have to go down a size, which is unusual in a walking shoe.

The rugged rubber lugs and tough exterior on this shoe means that you'll be protected during off-map hikes – and they should be fairly durable, too, thanks to their hardy materials.
Note: This shoe is currently being tested and reviewed and this buying guide will be updated once the review is complete.

What the users say
The reviews are broadly favorable for this shoe, with most customers praising the light weight and grippy outsole. However, some people have complained that the GORE-TEX material makes their feet sweaty and that there is some heel slippage too.
FAQs
How should walking shoes fit?
The heel collar at the back of the shoe should sit comfortably against your foot and not rub as you walk. And there should be a little space within the design; never opt for walking shoes that feel too tight when you try them on.
George Hill, a podiatrist at Fleet Street Clinic, told Fit&Well that you might want to size up in walking shoes to accommodate thick hiking socks. This might not be necessary if you're planning on wearing the shoes for light walking activities and don't need thick, padded socks, but if you're going up a mountain you'll need that extra protection.
Hill advises that you make your own decisions about some design elements of the shoe: "Rocky terrain will require a stiffer, boot-style shoe to shield the arch from stone or uneven ground and higher ankle support to protect the ankles from rolling." However, some people may prefer a lightweight, well-cushioned shoe if they are walking across flat, concrete surfaces.
How long do walking shoes last?
This will depend on the shoe itself along with your walking habits. Some manufacturers suggest replacing walking shoes every 350 - 500 miles, but there are reports online of users hiking with Merrell shoes past the 1000 mile mark. What's important is to look for signs of wear on your shoes; if there is extensive damage to the upper, or the cushioning feels 'flat' when you walk on it, then it's time to buy yourself a new pair.
Is it ok to wear running shoes for walking?
Most running shoes are made with similar design features to walking shoes so will be suitable for keeping you comfy on walks. But as with the best shoes for walking, running shoes will vary, so a pair that have been designed for speed and helping you bound through that 5K finish line won't be best suited to lasting a long hike on rough terrain. This is why it pays to cover the groundwork of what kind of walking you do and tailor a pair of shoes for walking to this.
How to choose walking shoes
There are three main things to consider when considering how to choose the best walking trainers for you: cushioning, support and breathability.
Cushioning
You need a trainer with plenty of cushioning to help relieve the pressure on your feet when walking, and ideally this will be zoned to provide extra where you need it. Some shoes also use foam that provides rebound; once compressed, it will spring back into place that can help give your feet a little energy boost.
Support
Support is also important, ensuring that both the sole and the whole foot are able to move but without moving about within the trainer. If you're walking all day, also check for internal seams which can cause hot spots or rub and produce blisters. The best walking trainers will often have a seam-free construction to avoid this.
Breathability
Breathability is especially important for walking in hot weather, or if you're prone to hot feet. That said, this often comes at the cost of weatherproofing, so if you'll be walking in wet conditions you may prefer a shoe that provides a little more weather protection.
---
Want more guidance on footwear? Have a look through our round-up of the best cross-training shoes (opens in new tab) available.
Ruth Gaukrodger is the fitness editor at Future Plc. She covers everything from fitness trackers to dumbbells for sites like Live Science, Fit&Well and Tom's Guide. When she's not reviewing equipment in our dedicated testing centre, you'll find her racing round the streets of London in her favorite running shoes or working on her yoga skills from the comfort of her living room.
Originally a print journalist, Ruth worked across national newspapers and popular tech sites before coming to Future. She has worked as a commissioning editor across other Future titles too, including Space.com and Top Ten Reviews. Now focused solely on fitness topics, she hopes to demystify the world of exercise with honest, straightforward content.