Edifier Neobuds Pro review: high-quality audio without the price tag
Our Edifier Neobuds Pro review takes a look at the audiophile-friendly earphones so you can decide if they're the right workout earbuds for you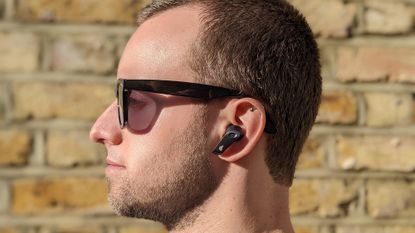 (Image credit: Future/James Frew)
The Edifier Neobuds Pro are workout earbuds aimed at lovers of high-quality audio. The support for high-res formats makes them ideal for audiophiles, but with a divisive design, poor battery life, and difficult touch controls, they aren't a well-rounded choice for most people.
Reasons to buy
+

Impressive Active Noise Cancellation (ANC)

+

First true wireless earbuds with Hi-Res Audio certification

+

Buds stay firmly in place during intense exercise

+

Great value headphones for impressive sound quality
Reasons to avoid
-

Bulky design won't appeal to everyone

-

Short battery life, especially compared to the competition

-

The companion app doesn't offer much customization

-

On-bud touch controls are difficult to use accurately
With our Edifier Neobuds Pro review, we'll help you decide whether these workout earbuds are best for you. The most exciting feature here is that the wireless headphones prioritize sound quality but without breaking the bank.
Like many of the best workout earbuds, the Neobuds Pro stay neatly in place, even during vigorous exercise. This is due to the lightweight design and the range of seven silicone tips you can choose from.
There are plenty of features we've come to expect of wireless headphones; noise cancellation, integrated mics for handling calls, a pocket-sized charging case, and a companion smartphone app.
But there's one area the Edifier Neobuds Pro still manage to stand out; sound quality. These affordable earbuds are the first to gain Hi-Res Audio certification, making them ideal for audiophiles on a budget.
There are a few rough edges—the bulky design, complicated and inconsistent touch controls, poor battery life. But, if you can get past these, the Neobuds Pro are a great value set of wireless headphones for audio lovers.
Edifier Neobuds Pro: Price and features
The Edifier Neobuds Pro retail for $130/£110, making them almost half the price of the Apple AirPods Pro, but only $40 cheaper than our top-rated workout earbuds, which you can read more about in our Jabra Elite 7 Active review.
Consequently, they sit comfortably around the budget-friendly end of the market but are not substantially less than better-known alternatives. However, their unique selling point is high-resolution audio.
These headphones are among a few to have been given Hi-Res Audio certification and the first stereo true wireless earbuds to achieve this status. The onboard software supports several technical audio standards, allowing the buds to receive larger audio files quicker than many other sets. Generally, the more data in an audio file, the better it'll sound.
While audio quality is definitely an essential factor, it's often more practical features that make a set of great workout earbuds. The most important is fit, and the Neobuds Pro do well here.
They come with seven different silicone tips, rather than the usual three, to help you find the best size for your ears. This helps them stay in place and also supports the onboard Active Noise Cancellation (ANC). But when you're exercising outside, it's important to hear what's going on around you, which is why the Neobuds Pro offer an Ambient Sound mode to boost surrounding noises.
You can adjust the ANC, sound modes and tweak audio settings using the Edifier Connect companion smartphone app for Android and iPhone. You can also customize the touch-enabled buttons in the app.
An essential factor for any workout earbuds is whether they can survive intense training. The Neobuds Pro are IP54-rated for dust and water resistance, so can withstand sweaty or rainy exercise too.
Edifier Neobuds Pro: Sound quality
The Edifier Neobuds Pro are aimed at audiophiles, listeners who enjoy high-resolution audio. Impressively, but unsurprisingly, the sound quality is far beyond what you'd expect at this price point.
This includes bass performance, an influential factor for any set of workout earbuds. The low end is prominent but never overwhelming, and I didn't come across any distortion during testing.
The trebles don't veer into tinny territory on the higher end, and they complement the overall sound. I did find that mid-tones were slightly muddier than I'd have liked, though.
Edifier markets these towards audiophiles, but I can't truthfully say they sounded better than other sets like the Jabra Elite 7 Active. The main difference here is cost; the Neobuds Pro are $50 cheaper.
While they tick all the proper technical boxes, sound is quite a subjective topic. You might prefer a heavier bass, while another wearer enjoys more sparkling trebles.
You can adjust this to a degree in the Edifier Connect app, but there's a more pressing reason that these audiophile headphones might not meet expectations; your streaming service.
Apps like Spotify stream music at a maximum of 320kbps, the equivalent of CD quality. However, the audio is still compressed, so it won't sound as the artist heard it in the studio.
For that, you'd need a high-resolution streaming service like Tidal HiFi. In effect, the sound you get out from the headphones is only as good as the audio files you use and whether your phone supports them.
If you own an iPhone and use Apple Music, this Edifier set are an affordable alternative to the AirPods or AirPods Pro, as the Neobuds Pro also support Apple's lossless AAC format.
Edifier Neobuds Pro: Design and comfort
The Edifier Neobuds Pro are a set of true wireless headphones, so there are no cables to get tangled up while working out. They also support single-bud use, so you can leave an ear free if you prefer.
Some people find this more comfortable, but it also helps you hear what's going on around you. These earbuds also come with an Ambient Sound mode, which means you can still hear background noises like traffic, sirens, and other people when out exercising.
You can customize this feature using the Edifier Connect app and cycle between High Noise Cancellation, Low Noise Cancellation, and Ambient Sound modes by double-tapping the left earbud.
Most other controls work in a similar way, using a combination of taps on either the left or right headphone. But the area where you need to place your finger is tiny relative to the overall bud. This makes it a pretty frustrating experience, as you can never be quite sure if you did the right amount of taps to pause, skip forward, or turn on the low latency Game Mode (three taps on the left earbud).
The thick stem with an angled end is far too large for those with smaller ears, and compared to the svelte Apple AirPods, these look chunky and dated. It doesn't help that the low-cost materials feel cheap as well.
They are, however, extremely light to wear. Once I'd found the correct size tip for my ear from the seven options included, they were far better at staying in place than you'd imagine by looking at them.
The in-ear portion of the headphone is angled so that it sits firmly but comfortably in the grooves of your ear. When coupled with the tip, it also forms an effective seal for noise cancellation.
Meanwhile, the charging case, which opens like a clamshell, is quite neat. Magnets keep it closed, but it's still easy to open. This is thanks to the cut-out for your fingers to grip when prying the shell apart.
Considering that it houses a battery too, the case is light, so it shouldn't weigh down your training bag or lay heavily in your pocket. There's an easy access USB-C port on the rear for charging as well.
Edifier Neobuds Pro: Battery life
The company states that you should get six hours from the earbuds, topped up to 24 hours with the charging case. But that's without ANC turned on and under ideal conditions. Add noise cancellation, and the earbuds last just five hours.
While testing, I achieved something closer to three hours with the ANC on while listening to a combination of music and podcasts. Although this should be plenty to get you through your workout, it's still disappointing, especially compared to the competition.
As we found in our Honor Earbuds 2 Lite review, the AirPods-style headphones are almost $60 cheaper yet have better battery life and support ANC and HearThrough, an equivalent to Ambient Sound.
So while it might not impact how you use them day to day, it does mean that other sets of workout earbuds offer better performance for the price.
Edifier Neobuds Pro: Pairing
It's relatively straightforward to set up the Edifier Neobuds Pro. They automatically enter an initial pairing mode when you open the case. Then you only need to select the set in your phone's Bluetooth settings.
From then on, whenever you open the case and remove the headphones, they'll automatically connect to your phone. You can also use a single earbud by leaving the other one in the case. When you want to connect to another device, it's easy to pop them back in and press the small button to place them back into pairing mode.
Edifier Neobuds Pro: User reviews
Before investing, you'll want to be sure that these earbuds are worth the money in the long run. The Neobuds Pro currently have a 4.3/5 rating on Amazon. Most reviewers found that the headphones are excellent value, particularly when it comes to sound quality.
Similarly, the ANC performance gets a lot of praise. The noise cancellation isn't just seen as good for the price, but it also competes well with more expensive, premium sets of workout earbuds. One reviewer, Mark, even wrote that "I would describe the ANC as truly excellent if you have a tight seal."
Where many users agree, though, is that the battery life is too short, particularly when compared to equivalently-priced sets like the Anker Soundcore Liberty Air 2 Pro. Likewise, the on-bud touch controls come in for some criticism, with some wearers preferring to use their phones to adjust the volume or pause playback rather than struggle with insistent tapping.
Edifier Neobuds Pro: Verdict
The Edifier Neobuds Pro are a satisfying set of workout earbuds. They come with ANC, Ambient Sound and Game modes, and you can adjust audio settings in the Edifier Connect app.
They're designed for high-quality audio, so your music, podcasts, and phone calls will sound great. But with lackluster mid-tones and limited audio settings, these aren't quite audiophile-standard earbuds.
Still, it's not surprising at this affordable price, and you do get a lot for your money. But with questionable battery life, poor touch controls, and bulky design, there are better value alternatives out there.
Also consider
Honor Earbuds 2 Lite
The Honor Earbuds 2 Lite are incredible value, coming in at almost half the cost of the Neobuds Pro, but with similar features. The Apple AirPods Pro clearly influences the design, and they come with ANC, Awareness Mode, and 32-hour battery life. The Earbuds 2 Lite also have the same water resistance rating as the Neobuds Pro.
Jabra Elite 7 Active
The Jabra Elite 7 Active are the most recent workout earbuds from the respected audio manufacturer. The new ShakeGrip design means that the stemless buds don't fall out during exercise. They are IP57-rated and last up to 30 hours. The ANC performance, with HearThrough, is almost unparalleled for the price.
Anker Soundcore Liberty Air 2 Pro
The Anker Soundcore Liberty Air 2 Pro are an excellent alternative to the Neobuds Pro. They come with ANC, personalized sound profiles, and 26-hour battery life. The practical twist and lock mechanism keeps the earbuds in place for workouts. Notably, they ship with support for LDAC so that you can enjoy your high-res audio straight away.
James is a London-based journalist and Fitness Editor at Fit&Well. He has over five years experience in fitness tech, including time spent as the Buyer's Guide Editor and Staff Writer at technology publication MakeUseOf. In 2014 he was diagnosed with a chronic health condition, which spurred his interest in health, fitness, and lifestyle management.
In the years since, he has become a devoted meditator, experimented with workout styles and exercises, and used various gadgets to monitor his health. In recent times, James has been absorbed by the intersection between mental health, fitness, sustainability, and environmentalism. When not concerning himself with health and technology, James can be found excitedly checking out each week's New Music Friday releases.