Best steamers: the healthiest way to cook vegetables, fish and more
Discover our pick of the top steamers on the market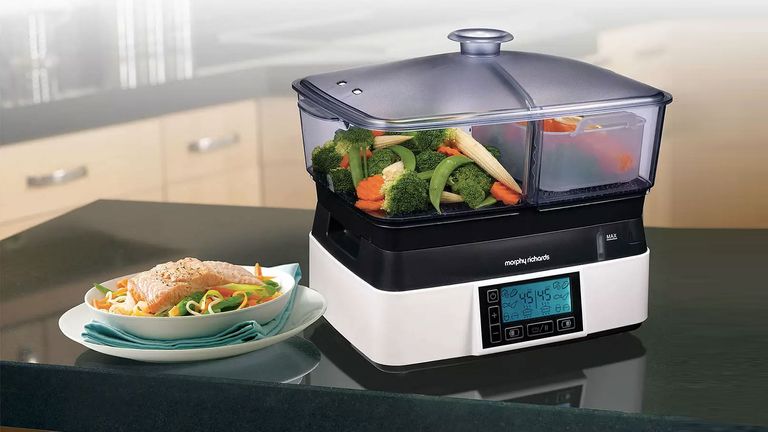 (Image credit: Morphy Richards)
On the hunt for the best steamer around? We're here to help with our pick of the best products on the market right now.
Steaming your food is widely held as the healthiest way to cook – particularly when it comes to vegetables. Generally speaking, the more gently you cook something, the more nutrients and minerals you retain; cooking with steam limits you to a heat of 194-212ºF / 90-100ºC (depending how far the steamer basket is from the boiling water), and that gentle heat locks in vitamins and minerals, as well as preserving color, flavor and texture.
If you're looking for our pick of the bunch, it has to be the Morphy Richards Intellisteam Compact (opens in new tab). It's one of the cheaper steamers available but it boasts a chunky capacity of around six liters, and it'll happily steam two different things simultaneously to different presets. On top of that, it has a tiny footprint that means it'll sit happily in a small kitchen without eating into your worktop space.
Still, there are lots of other options available – manual steamers, stackable steamers and more – that might suit you better. Read on for our pick of the best steamers, plus what to look for when making your purchase.
How to choose the best steamer for you
The first question you might find yourself asking is 'do I really need a dedicated steamer?' As long as you have the most basic of saucepans you can start steaming your food – you can buy a steaming basket for almost any size of saucepan you like and it'll do the job for most things. If you need more room, steaming baskets are usually stackable so you can have multiple things on the go over the same pan of water.
However if you're a dedicated steamer, you might want something more capable. The steamers we're looking at today support a variety of other features, from timers and temperature controls to digital presets for different food types. If you're looking for something that will handle all the cooking for you once you press a button or set a timer, these steamers might be better suited.
Some of these steamers also have automatic settings for defrosting and reheating food, so they offer a bit more flexibility and versatility than your classic hob steamer.
Beyond features, the most important thing to look out for is capacity. Steamers vary widely in size and capacity – some are small but have steaming baskets that stack for extra space, whilst others have one large steaming basket. These different options give you more or less versatility but primarily, more space means you can feed more mouths at once.
Finally, look out for appliances that have dishwasher-safe parts, as it's much easier to be able to stick everything in a dishwasher once you're done.
With those things in mind, let's take a look at some of the best options available.
The best steamers you can buy right now
1. Morphy Richards Intellisteam Compact
The best steamer for most people
Specifications
Dimensions: 9.6 x 14.2 x 11.6 in / 24.5 x 36 x 29.5 cm
Capacity: 6 liters
Weight: 3.3kg
Dishwasher safe: Yes
Reasons to buy
+
Compact footprint
+
Programmable presets
+
Efficient
The Morphy Richards Compact Intellisteam gives you lots of reasons to ditch your pan steamer for something a bit smarter. The first thing we love is the size – the Intellisteam really is compact and only takes up a fraction of the space of other steamers, yet it still boasts 6 litres of steaming capacity, which is plenty for 2 people. The digital display is simple to use and provides access to presets for cooking vegetables, fish, poultry, rice, eggs and a variety of other things, which you can adjust to your liking. Everything is smartly designed, right down to the water reservoir, which beeps at you it needs refilling. Take into account the price and the Intellisteam is a worthy winner here.
2. Cuisinart Cookfresh Professional Glass Steamer
The best premium steamer
Specifications
Dimensions: 13.2 x 13.7 x 9.37 in / 46 x 40.4 x 27 cm
Capacity: 5 liters
Weight: 5.7 kg
Dishwasher safe: Yes
Reasons to buy
+
Top build quality
+
Speedy reheating
+
Intuitive controls
Rickety plastic kitchen appliances are ten a penny these days, but Cuisinart can always be relied upon for great build quality and design, and the chrome-and-glass Cookfresh Steamer certainly doesn't disappoint on this front. There's plenty more to appreciate under the surface too – a clear digital display, intuitive controls, and reheat and keep warm functions that make this great for leftovers as well. The glass dish that houses the steaming compartment doubles up as a useful serving dish and everything comes apart to go in the dishwasher afterwards. All in all the Cookfresh Steamer is a very nifty bit of kit, though we wish the steam tray was a bit larger.
3. Salter EK2726 Healthy Cooking 3-Tier Food Steamer
The best budget steamer
Specifications
Dimensions: 7.8 x 9 x 1.1 in / 19.8 x 22.8 x 41 cm
Capacity: 7.5 liters
Weight: 1.62kg
Dishwasher safe: Yes
Reasons to buy
+
Amazing value
+
Stackable steaming
Reasons to avoid
-
Not the best looking
-
No extra features
Salter's 3-Tier Food Steamer isn't the best looking of the bunch, nor does it have any of the bells and whistles that others do, but for the price it's a dependable steamer with a surprising amount of space. It more or less works exactly like a hob steamer – you fill the reservoir with water then stack your food on top – but there's a timer built in that will shut off the heat as soon as it expires, so you can set your timer and walk away. It's quite tall but the footprint is deceptively compact, and the stackable baskets mean that it's easily stored away as well.
4. Instant Pot Duo 7-in-1 Cooker
The most versatile steamer
Specifications
Dimensions: 11.5 x 10.2 x 11 in / 29.2 x 25.9 x 27.9 cm
Capacity: 3 liters
Weight: 5.14 Kilograms
Dishwasher safe: Yes
Reasons to buy
+
Incredibly versatile
+
Good value
If you find yourself cooking regularly but you want something a bit more versatile than a dedicated steamer, the Instant Pot Duo might be the way to go.
If you pour a drop of water into the Instant Pot and sit a trivet and steam basket on top, it becomes a perfectly acceptable steamer capable of most basic tasks. On top of that, it works as a pressure cooker, slow cooker and rice cooker, and it'll handle most other cooking tasks you throw at it too.
The smallest three liter model is suitably compact for single users or couples, whilst the eight liter option is big enough to feed most families. Throw in an array of smart cooking presets for different meals and the Instant Pot is great value for what it does.
5. Magimix multifunction steamer
Another top premium steamer option
Specifications
Dimensions: 11.6 x 15.4 x 10.3 in / 29.5 x 39 x 26.1 cm
Capacity: 12.2 liters
Weight: 4.54kg
Dishwasher safe: Yes
Reasons to buy
+
Great build quality
+
Versatile
+
Loads of capacity
There's a lot to like about Magimix's mighty steamer. For starters, you can fit a colossal amount of food in the two metal steaming baskets – they're around six liters each in size, so if you stack them on top of each other, you can easily feed a family of four on the results.
The brushed steel makes this look much more sophisticated than other models, and the build quality is equally impressive. The Magimix lets you adjust temperature in 20ºC increments from 40 up to 100, which allows for a lot of versatility – as well as steaming you can reheat, defrost, even make your own yoghurt if you want. It all goes in the dishwasher too. Definitely worth a look if you don't flinch at the price.
6. Bella Two Tier Food Steamer
The best steamer for big families
Specifications
Dimensions: 11.6 x 8.9 x 11.8 in / 29.5 x 22.7 x 30cm
Capacity: 7 liters
Weight: 2.2kg
Dishwasher safe: Yes
Reasons to buy
+
Fantastic value
+
Versatile
With capacity to spare and a very friendly price point, the Bella Two Tier Steamer is a great shout for large families working on a budget.
The wide, flat steam trays are stackable, dishwasher-safe, and will fit most foods inside comfortably, making the Bella pretty versatile. On top of that, there are some neat features that make this a worth consideration – the quick start heating system means you can get the steamer going in about a minute, then just set the timer and away you go. When the timer finishes, Bella shuts off automatically.
There's no smart programs but for this price, that's to be expected. This is a great budget option.
7. Oster Double Tiered Food Steamer
The best steamer for tiny kitchens
Specifications
Dimensions: 8.2 x 8.2 x 8.8 in / 21 x 21 x 22.4cm
Capacity: 4.7l
Weight: 0.5kg
Dishwasher safe: Yes
Reasons to buy
+
Small footprint
+
Compact storage
With stackable, dishwasher-safe steam trays, nearly five liters of capacity and a 60 minute auto shut-off timer, the Oster Double Tiered Food Steamer does what most other budget options do but in a much smaller frame.
A footprint of 8.2in / 21cm squared makes it the smallest steamer in this list and it's the lightest too, so it's easily stashed in a high cupboard and brought out for meals. That said, it's not very well built and suffers from low power output – it can take a good 10 minutes for the water to start boiling. If you don't mind all that, it might be worth taking a look at this miniature alternative.
Launched in 2020, Fit&Well.com is all about helping you meet your health and fitness goals in ways that are fun and achievable. With news and features on fitness, weight loss, running, nutrition, yoga, wellness and more, we're committed to helping you wherever you are on your fitness journey. We break down the best fitness tech, with reviews, buying guides and the latest deals on fitness and wellness kit, from dumbbells to diffusers.
We cater for all difficulty levels here. It doesn't matter if you're a beginner in the world of fitness or you're gearing up for your tenth marathon: we're all moving towards the same goal – creating a healthier, happier you. From guides on getting started doing walks around the block, to creating the perfect work-from-home space, to eating to fuel your first triathlon. It's all here.