Best food steamers for healthy, hassle-free cooking
Cooking with one of the best food steamers makes it easy to create tasty low-fat, and healthy meals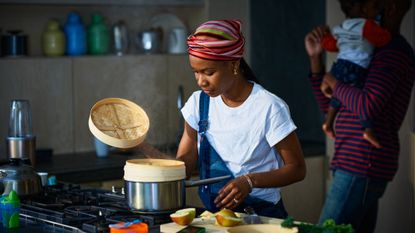 (Image credit: Getty Images)
Investing in one of the best food steamers will allow you to create healthy, nutritious, and flavorsome meals. Steaming is a gentle cooking method that locks in vitamins and is a healthy way to prepare vegetables. And there's no need for any added oil when steaming meat and fish, making it an excellent low-fat cooking method.
You can buy many different steamers; these include traditional bamboo steamers that sit on a pot on the stove, tiered stainless-steel pots, and electric steamers with multiple tiers. So whether you're looking for the best food steamers for vegetables or you're new to steaming, there's something to suit everyone.
Creating healthy food needn't be expensive, though. Even the best food steamers aren't too pricey—they start at as low as $30/£25 for basic electric steamers, steamer pots, and bamboo steamers. For more premium electric steamers with a larger capacity, you're looking at around $80/£70, but there's usually no need to spend over $100/£85.
When choosing the best food steamer for you, it's essential to consider what capacity you might need. A smaller steamer is likely to fit the bill if you're cooking for up to two people or you only plan to use it for vegetables. Whereas if you want to steam whole meals or cook for a family, bigger is probably better.
Helpfully, most tiered steamers are flexible, allowing you to remove tiers if you're not using them. Other essential factors to consider are price and the warranty length for electric steamers. And many of the best food steamers come with dishwasher-safe parts, too, for easy cleaning.
Helen is an experienced home appliances reviewer, with over eight years testing kitchen essentials like blenders, air fryers, and steamers. After training as a Home Economist, she joined Good Housekeeping and began reviewing home appliances. She's now a freelance writer specializing in cooking tools to help you make delicious, nutritious, and convenient meals at home.
The best food steamers for your home
1. Bella Two Tier Food Steamer
The best food steamer for most people
Specifications
Capacity: 7.4 quarts / 7 liters
Number of settings: 1
Extra features: Water inlet drawer
Warranty: 2 years
Reasons to buy
+
Straightforward to use
+
Dishwasher-safe parts
+
Boil dry protection
Reasons to avoid
-
Small numbers on the dial
-
Difficult to set the mechanical timer accurately
With just a simple dial to set the time and no other complicated controls to master, the Bella Two Tier Food Steamer is about as user-friendly as an electric steamer can be. It allows even the most reluctant cook to create tasty, steamed, healthy foods easily.
With two separate steamer baskets, you can create a whole meal consisting of steamed fish or chicken accompanied by steamed vegetables. Or, if you're in need of some post-workout carbs, the rice bowl allows you to steam-cook rice.
The 7.4-quart capacity will easily cater to a couple or smaller family, and the manual claims there's room to fit four chicken breasts. All the removable parts can go in the dishwasher for easy cleaning. Plus, at less than $35, this steamer offers fantastic value for money.
What the users say
The 4.6 out of 5 rating on Amazon speaks for itself, and most reviewers praise this steamer for allowing them to create delicious, steamed foods with ease.
They also note how easy cleaning is, but some people think repeated dishwasher cleaning can weaken and eventually crack the trays. Additionally, the numbers on the dial are small and difficult for some users to read.
---
2. Ovente Electric Food Steamer
The best budget food steamer
Specifications
Capacity: 5 quarts / 4.7 liters
Number of settings: 1
Extra features: Auto shut-off
Warranty: 1 year
Reasons to buy
+
Simple to use
+
Budget-friendly
+
Compact design
Reasons to avoid
-
No water level window
-
No timer alarm
If you want to create healthy steamed foods for up to two people and you're not looking for any fancy settings, the Ovente Electric Food Steamer is an inexpensive electric steamer that'll get the job done. The easy-to-use mechanical timer dial can be set for up to 60 minutes, but there are no other settings, making this a perfect entry-level steamer for those new to healthy steamed foods.
This model may be frustrating if you want an exact timer since the dial only has markings at five-minute intervals. Another challenge is the lack of a water gauge window, so it's difficult to tell when the water is running low. Thankfully, the auto shut-off will turn off the heat if the water dries up.
It's not the most powerful steamer you can buy, but it'll still work well for steaming your favorite healthy veggies, and with dishwasher-safe parts, clean-up shouldn't be a problem. However, the compact size will limit what you can steam in it. There may not be enough space for particularly long vegetables, and larger vegetables like artichokes may need to be cut in half.
What the users say
Reviewers on Amazon have given this steamer 4.4 out of five stars. Several users comment on the compact size, making it easy to store away, and they love the low price too. They also like that it's easy to use, but some people comment that it's not very robust.
---
3. Secura Electric Food Steamer
The best large-capacity food steamer
Specifications
Capacity: 8.5 quarts / 8 liters
Number of settings: 3 temperatures, 5 cooking modes
Extra features: Delay start, Keep warm
Warranty: 1 year
Reasons to buy
+
Stainless steel cooking baskets
+
Boil dry protection
+
Preset cooking modes
Reasons to avoid
-
An expensive option
-
Lid handle prone to loosening
Many people are trying to move away from plastics when cooking for a healthier lifestyle. This Secura Electric Food Steamer is a good option if you're looking for a non-plastic electric steamer. It is, however, one of the most expensive of the best food steamers, but it's also the one with the largest capacity and the most functions.
The two stainless steel cooking baskets offer a generous 8.5-quart cooking capacity ideal for steaming larger quantities. So, you can batch cook chicken breasts if you're loading up on protein or create mountains of healthy steamed veggies for a low-fat dinner. Each basket has two large handles for easy lifting, and the glass lid completes the move away from plastic; plus, everything is dishwasher safe.
Not only does it have a delay start timer and a keep warm function, but this model also offers five preset cooking modes for chicken, fish, rice, veggies, and grains. The preset modes take the thinking out of steaming and provide a good starting point, especially if you're new to steam cooking. What's more, it also has three different steam power levels, giving you plenty of control over how your food cooks.
What the users say
This steamer has a rating of 4.4 out of 5 stars on Amazon, with many users praising the lack of plastic and how easy it is to clean. One owner summarized the consensus; "Works great, looks good, and is pretty easy to clean." However, some have experienced issues with the lid handle breaking over time.
---
4. Three Way Cut Bamboo Steamer
The best bamboo steamer
Specifications
Capacity: Two 10 x 2.4-inch tiers
Number of settings: n/a
Extra features: Heatproof handles, Stainless steel pan adapter, Four heatproof liners
Warranty: n/a
Reasons to buy
+
You can use it on a variety of pot sizes
+
Made of natural bamboo
+
Heatproof handles
Reasons to avoid
-
Not dishwasher safe
-
Have to monitor water in the pot
If you're not keen on an electric appliance, this Three Way Cut Bamboo Steamer sits on top of a pot of boiling water on the stove and is just as effective. The steamer is made of natural bamboo and costs about the same as an entry-level electric model.
It doesn't have the same large capacity as the electric steamers on this list. But the two 10-inch baskets have about 2.4-inch depth, which is plenty for steaming healthy fish dinners and most chopped vegetables you might want to steam, as long as you're not cooking for a crowd.
The benefit of steaming over water is that you have far greater control over the amount of steam produced from the pot since you can turn the stove up or down accordingly. But the downside is that for safety reasons, you can't walk away and leave it cooking in case it boils over or boils dry.
This steamer has a stainless steel adapter for added versatility, so you're not limited to 10-inch diameter pots—it can sit on anything from a 6-inch saucepan to a 12-inch skillet. Although you can't put it in the dishwasher, it comes with four heatproof liners, which can be used to avoid food sticking to the bamboo.
The Three Way Cut Bamboo Steamer has 4.6 stars out of 5 on Amazon, and reviewers are universally impressed with the steamer's quality and ease of use. They recommend it for steamed buns as well as veggies and steamed fish.
---
5. Hamilton Beach Digital Food Steamer
The best small capacity food steamer
Specifications
Capacity: 5.5 quarts / 5.2 liters
Number of settings: 1
Extra features: Delay start, Keep warm
Warranty: 1 year
Reasons to buy
+
Low water warning
+
Bowls nest inside each other for compact storage
+
Includes a rice bowl
Reasons to avoid
-
Steamer bowls are not dishwasher safe
-
Plastic parts may feel cheap
The Hamilton Beach Digital Food Steamer has a similar capacity to the Ovente steamer below, but it's more expensive and, as such, offers a few handy extra features. This two-tier steamer has a digital timer which allows for precise time settings.
Furthermore, it has a delay start timer which you can set for any time between 30 minutes and 24 hours. This allows you to set it up before you go out and have food ready as you walk in the door. It's a handy feature for those times when you know you will come home hungry, like after a gym session, hike, or swim.
The keep-warm function automatically switches on at the end of the cooking time and will keep food warm for up to an hour. Although to avoid overcooking foods, which can lead to nutrient loss, we'd advise only relying on this as a last resort. And, if it runs out of water, the steamer will automatically switch off for safety.
The oval shape is useful for longer vegetables such as asparagus. For anything bigger, like a whole head of cauliflower, you can remove the base of the upper bowl to create one large steaming zone. And with a bowl for steaming rice included in the box, you can use this versatile countertop steamer to create a varied menu of healthy meals.
What the users say
With a respectable rating of 4.5 out of 5 stars on Amazon, users love this steamer for steaming healthy vegetables, with one person commenting, 'veggies come out crisp and tender. Full of flavor'.
However, there's one downside that bugs most reviewers, and that's having to hand wash the steamer bowls and lids. They also find the water reservoir tricky to clean.
---
How to choose the best food steamers
Before you decide on the best food steamer for your home, it's important to consider how you plan to use your new appliance. You'll need to think about how many people you intend to cook for, whether you need timers and auto-shut off, and whether an electric countertop machine is really what you need.
Capacity
The capacity of electric steamers are generally limited to the size of the machine's base. To prevent hazardous overhangs, the baskets and tiers don't extend past the base, so a larger machine will have a larger capacity for steaming too.
So, if you're looking for a family or plan to host people regularly, you might want a larger capacity steamer. Likewise, if you're often steaming longer vegetables like asparagus, then a wider steamer would be ideal, unless you don't mind cutting your veggies before cooking.
Settings and extras
Some machines offer the core streaming service and little else. There might be an alternative pot or bowl, and that might do for some people. However, there are steamers with extra features like timers, auto shut-off, and delayed cooking.
Depending on your lifestyle and the types of foods you plan to steam, these features might be essential or unnecessary; so it's important to spend time working out what you want to use the steamer for the most.
If you like steaming rice, then a dedicated rice bowl to prevent sticking would be a useful addition. And some steamers, like the Secura Electric Food Steamer, have different temperature settings and preset cooking modes for conveniently steaming specific foods.
Materials
We're used to many kitchen appliances using plastic parts, and if you're on a budget, plastic-based steamers are some of the most budget-friendly, but cooking with plastic can have unintended side effects.
Heating plastic food containers may leach chemicals into your food, according to Harvard Medical School. To avoid this, you can opt for a stainless steel steamer like the Secura Electric Food Steamer, although this can significantly increase the cost.
Switching to a bamboo steamer is a more budget-conscious way to avoid plastic, though these are designed to sit on top of a bowl or pan of boiling water and are entirely non-electric. Depending on your needs, this might be fine, but steaming with bamboo baskets is a more manual process.
Helen is a freelance writer and kitchen appliance reviewer. She has written for TechRadar, Tom's Guide, and some of the largest home-related titles. Helen has over eight years experience reviewing small electrical appliances like blenders, juicers, air fryers, and multi-cookers. After training as a Home Economist, Helen started her career in the food industry but moved into product testing and reviews when she took a job at Good Housekeeping. Here, she developed her skills in testing and reviewing hundreds of kitchen and home appliances.
She is now a freelance writer specializing in home appliance reviews and draws on her home economics background as well as a love of cooking to write about and review products for several online publications, including Real Homes, Tech Radar, Homes & Gardens, and Fit&Well. Helen lives in a small village in the UK and, after moving house, spends her spare time planning new interiors and visiting antique stores to find one-off items to fill her home. She also loves to work out and attends a local bootcamp class, practices yoga at home, and enjoys regular rides on her Peloton. She's a novice gardener and hopes to start a veggie patch soon so she can enjoy delicious healthy home-grown veggies. When she's not testing the latest food gadgets, she's busy upholstering furniture.