We've tested the best hiking backpacks for short walks and long hikes
From Vaude to Patagonia, we tried the best hiking backpacks to suit a range of budgets, activities, and styles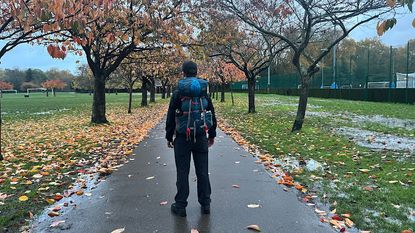 (Image credit: Future / James Frew)
Get the Fit&Well Newsletter
Start your week with achievable workout ideas, health tips and wellbeing advice in your inbox.
Thank you for signing up to Fit And Well. You will receive a verification email shortly.
There was a problem. Please refresh the page and try again.
The best hiking backpacks are a great way to support your latest outdoor adventure, whether it's wandering in the woods or scrambling over peaks. These bags can store your essentials like food and water and often have loops and clips for any walking equipment.
But it can be difficult to choose without actually trying them out in person. To help you out, we've tested a range of the best hiking backpacks, taking them on day-long hikes through boggy fields and technical walks up stony hillsides.
We also tried them out on daily commutes on the train, family picnics, and trips to the swimming pool to test out their versatility. So, whether you're after a budget-friendly option for day-long hikes or a practical, comfortable backpack for shorter strolls, there's an option for you.
The best hiking backpacks you can buy right now
The best hiking backpack for most people
Specifications
Weight: 1,150g
Fabric: Polyamide and polyester
Capacity: 30 liters
Reasons to buy
+
Great ventilation
+
Easily adjustable supports
+
Quick access to compartments
Reasons to avoid
-
On the heavier side
-
Can be tricky to adjust the height initially
-
Narrow internal spaces
The Vaude Brenta 30 is one of the most versatile hiking backpacks with everything you need for short walks and extended hikes. I found that the top drawstring and bottom zip made it easy to reach inside the main compartment, even while out on a hike.
It also has several additional storage areas, including two generously sized hip pockets plus a rain cover. It is excellent for different body types because it can be adjusted to various heights, and the ergonomic spring steel frame is not only airy but helps to distribute the weight.
As a result, wearing this all day long, hiking 2000m of elevation never felt uncomfortable or burdensome. This was helped by the wide padded shoulder straps which are narrower at the front and under your arms to fit snugly without constricting your movements.
Out of all the hiking backpacks I tested, these were definitely the most comfortable shoulder straps. Plus, there's lots of room to adjust the chest straps, so I could easily slide it up and down, rather than move it through a series of fixed height positions.
The only minor criticism is that the space inside is a little narrow (although not as narrow as the Osprey Talon Earth 22), especially when compared to the wide space of the 30-liter Helly Hanson Transistor.
---
The best hiking backpack for taller hikers
Specifications
Weight: 1,100g
Fabric: Recycled nylon
Capacity: 22 liters
Reasons to buy
+
Can adjust the length
+
Recycled materials
+
Lots of compartments
Reasons to avoid
-
Not waterproof and has no cover
-
Stiff back panel
-
Slightly heavy
The Osprey Talon Earth 22 is a spacious but narrow pack that seems to emphasize length over width. There are four layers of vertical compartments which, while useful for separating gear, can be a bit tricky to access because they are long and thin.
However, the main selling point here is the AirScape back panel — a stiff board covered by a breathable mesh fabric with curved indents to encourage airflow.
On hotter days, this definitely helped to reduce sweating and kept me cool, but I did find the suspension back panel far too firm. All the weight appeared to be pressing into my lower back rather than spread across my hips, back, and shoulders.
Conversely, my husband, who is about five inches taller than me, found the bag extremely comfortable and praised the stiff back support. This appears to be a bag designed for the taller walker because the height of the back can be adjusted by lifting the reservoir section, which is attached via Velcro.
This creates a more comfortable fit for taller hikers and is supported by the flexible harness and hip belt, which allow for lots of movement. But if, like me, you prefer something softer and more suited to a smaller frame, then the Patagonia Altvia Pack is a more comfortable option.
---
The best hiking backpack for day hikes
Specifications
Weight: 447g
Fabric: Recycled nylon and polyester
Capacity: 14 liters
Reasons to buy
+
Spacious with good top access
+
Light, comfortable, adjustable fit
+
Made from recycled materials
Reasons to avoid
-
Only water resistant
-
Hip belt pockets are small
-
Side pockets are a little shallow
If you are looking for something more compact which still has enough room for daily hiking essentials, then the Patagonia Altvia Daypack is a fantastic little backpack. Despite being only 14 liters, it appears much bigger, and the soft outer shell means it is flexible enough to cram in lots of gear.
I managed to fit food, water, a spare jacket, and a top inside for a six-hour hike and still had room to spare. The waterproof rain cover meant I didn't get caught out when the heavens opened, either.
Most of the space is given over to the main compartment, which is easily accessible via a wide zip, but there are a few smaller pockets to stash cellphones, small snacks, and spare batteries. There are also enough external loops and strapping to hang on helmets, trekking poles, and other hiking gear.
It was really comfortable to wear thanks to the lightly padded shoulder straps and additional support of the hip belt, plus the breathable back panel. Meanwhile, the chest straps have five adjustable heights, although the clips to move them up and down are rather fiddly.
One slight quibble is the side meshes for water bottles are rather shallow, meaning larger bottles can fall out. The hip pockets are also rather small, making them slightly redundant.
As a straightforward, spacious, but small backpack, this is a fabulous all-rounder and would suit a variety of day activities like hiking, biking, or scrambling. But if you are looking for a lot more capacity, then the Helly Hansen Transistor is a great alternative.
---
The best hiking backpack for organization
Specifications
Weight: 900g
Fabric: 100% nylon
Capacity: 30 liters
Reasons to buy
+
Very spacious
+
Handy for attaching poles
+
Comfortable fit
Reasons to avoid
-
Seams are not waterproof
-
Limited ventilation
-
It may be too short for some users
At first glance, the Helly Hansen Transistor looks like a relatively simplistic backpack, but its secret weapon is its size. Out of all the packs tested, it could store the most items, and there always seemed to be room to squeeze in one last piece of clothing.
Whether you want to fill it with ropes for a day of trad climbing or need to take multiple layers and camping gear for an overnight hike, the Transistor has more than enough space.
The combination of light material and support around the hips means even when full; it never feels heavy as the weight is evenly distributed all day long. The shoulder and hip straps are well padded and covered in an aerated mesh which helps to limit sweat and improve comfort.
My main frustration with this bag is the lack of waterproofing, especially since it has lots of features designed for carrying ice climbing equipment. The material lets water in pretty rapidly, and there is no waterproof cover.
To use this pack in any season other than the summer would require buying an additional dry bag. Another slight downfall is the back length of 45cm, making the backpack slightly short for taller hikers.
A more versatile alternative is the Vaude Brenta which has an adjustable height. But as a summer hiking pack that is comfortable to wear for hours on end and can carry everything you need, this is an excellent choice.
---
The best hiking backpack for commuting
Specifications
Weight: 900g
Fabric: Waterproof Bergshell with recycled nylon
Capacity: 30 liters
Reasons to buy
+
Handy organizational pockets
+
Sleek design
+
Great waterproofing
Reasons to avoid
-
Fit won't suit everyone
-
You can only access it from the top
-
Not well ventilated
The Fjällräven Ulvö 30 is a great-looking bag designed to be practical and stylish. It has many handy compartments, making it ideal for storing laptops, cellphones, chargers, and other electronic devices, while keeping paperwork, books, or magazines separate.
I found the waterproofing is fantastic, so dashing through the rain to hop on the bus or train is not a problem, and you could even wear it on a cycle. It has a spacious main section, although it's not as wide or flexible as the Helly Hansen Transistor, which is cavernous inside.
The main reason it is most suited to shorter commutes rather than longer hikes is that it is not supportive enough to wear all day. The straps are relatively slight, and although there is a hip strap, it is not as robust as the hip belt on backpacks such as the Osprey Talon Earth 22.
The unisex design also means it doesn't suit all body types, and the chest straps can bow and dig in. However, if you need a bag that'll store plenty, look good, and be comfortable in short bursts, you can't go wrong with the Fjällräven Ulvö 30.
---
The best hiking backpack for short breaks
Specifications
Weight: 1,440g
Fabric: Recycled nylon
Capacity: 33 liters expanded, 27 liters compressed
Reasons to buy
+
Durable design
+
Plenty of storage
+
Carry-on approved
Reasons to avoid
-
Not suitable for longer trips
-
Slightly heavier than similarly-sized alternatives
-
Not supportive enough for hiking
The Peak Design Travel Backpack is a brilliant, compact travel bag for weekends away on business or leisure. It's small enough to carry onto a plane but big enough to store everything you need for a long weekend break.
There's a large main compartment that unzips around three sides, making it perfect for lying on the bed like a suitcase to pack with clothes. If you're keen to add some more organization, you can also buy additional packing pouches designed for the bag, although these are pricey.
Plus, there's the option to expand the bag with a simple zip to create more storage space. The versatility of the back means you can carry it in multiple ways. There are straps at the side, back, and top to hold it like a suitcase, but also shoulder straps to wear on your back.
The carbon-neutral material is incredibly tough, meaning it should have a long lifespan and support years of trips. Although when upright, it looks like a backpack, the lack of sufficient shoulder and hip support and the weight of the bag means it is uncomfortable to carry all day on a hike.
Instead, it is ideal for hopping on and off public transport switching between wearing it on your back and carrying it at your side. If you are looking for a comfortable bag to carry your hiking gear all day, the Vaude Brenta and Osprey Talon Earth 22 are far more suitable.
---
The best expandable hiking backpack
Specifications
Weight: 1,200g
Fabric: Ripstop nylon
Capacity: 25-40L, 40-60L, 60-75L
Reasons to buy
+
Lightweight design
+
Comfortable to wear even when fully loaded
+
Expandable storage using the front straps
Reasons to avoid
-
Nowhere to tuck excess waist strap
-
No organization in the internal pocket
-
Wide hip straps make it hard to reach into your pant pockets
The Sierra Designs Flex Capacitor is a comfortable and lightweight expandable backpack available in three capacity options; 25-40L, 40-60L, and 60-75L. There's quite a lot of range on each bag, but you'll still need to decide on the types of outdoor trips you're interested in before choosing a size. I tested the 25-40L and often loosened the straps to increase the storage.
While the Flex Capacitor was great at accommodating larger loads, but if you don't pack it to the top, it becomes limp and the top-loading zip is hard to access. However, if you're looking at a hiking backpack, there's a good chance you're after a bag that can be flexible around your plans with a larger capacity than a standard rucksack anyway.
There's a Y-shaped suspension bracket inside along the back panel, which you don't feel while wearing the bag thanks to the padded shoulder and lower back supports. There are two body straps; one just above chest height and a waist strap. These are easy to clip and disconnect, but the only way to stop the waist belt from dangling after tightening is to tie the ends together rather messily.
The two hip supports have easy-access pockets with zips, which were convenient for storing what you'd normally put in your pocket. This is handy since the wide straps can make it difficult to reach into your pant pockets. The mesh sleeve inside the main compartment is designed to house hydration packs but there's no other internal organization.
However you like to pack, the most important thing is that the bag feels comfortable to wear across a range of terrains, and this is where the Sierra Designs Flex Capacitor excels. I found you could wear it for hours, even packed with heavy items, without any discomfort and the straps distributed the load perfectly so you weren't taking the strain on your back. [Reviewed by James Frew]
---
How to choose the best hiking backpack
Although choosing the right hiking backpack can be hugely individual, there are features to look out for and to consider against the cost. You want to make sure that the bag performs well for your body type and is versatile enough to carry the gear that you need.
There will be lots of variables depending on weather conditions and the type of hiking or traveling you will be doing. So take some time to consider exactly what you need the backpack for and consider these factors.
Comfort
If you are planning on hiking for hours at a time, perhaps with a fully loaded backpack, then comfort is going to be key. Things to look out for are how padded the chest straps are, whether the hip belt will provide enough support, and if there are any other features like a suspension frame that will help to take the load.
Adjustability is a key factor in comfort because what may feel snug to one user could dig into someone with a different body type causing discomfort and chafing.
Consider whether the height of the backpack can be altered and if the sternum strap can be moved up and down as well as tightened. Opting for a bag that comes in different sizes or a male or female fit can also be another way to ensure you get the comfort that suits your frame.
Finally, how the bag performs in the heat and when you are hot will also impact the comfort. Look at whether the back panel has an airflow system and if the material is sweat-wicking. Similarly, do the straps have an aerated mesh, or are they likely to suck up a sweat, causing them to rub?
The color of a backpack also plays an important role in the heat, so if you are planning on hiking in hot climates, opt for a lighter color palette rather than black, which absorbs the heat.
Space
Not all backpacks are created equal when it comes to storage space. Two 30-liter packs made by different brands will vary in the amount of gear they can carry depending on their shape and design.
Wider bags are best for awkward-shaped gear, ropes, and overnight clothing, whilst narrower packs may be better suited for paperwork and electrical devices. How you access the space is also really important because you may need quick, easy access via a bottom zip or a wide enough top zip to fit bulky items.
Consider whether you would prefer one large compartment to carry as much as possible or whether it would be more convenient to have several pockets for separating your gear, such as food in one section and clothing in another.
Loops, hooks, meshes, and strapping on the outside of a pack can also provide lots of additional space because they create places to hang helmets, poles, shoes, and stash bottles. If you always carry trekking poles, then having a backpack with Velcro loops may be a necessity, so keep a keen eye out for these kinds of features.
The size of a pack will be measured in terms of its capacity in liters, with a 30-liter bag being suitable for day-long hikes and overnight stays and anything smaller only appropriate for one day or less.
Function
The most important thing to consider is what you actually need a backpack for. If you are looking for something affordable that will suffice for a couple of hours of walking near your home, then you probably don't need lots of storage or fantastic comfort, and price will be the deciding factor.
But if you are planning to trek in unfamiliar terrain with unpredictable weather conditions, then comfort will be a key consideration along with waterproofing. If the backpack is only water resistant, does it have a built-in rain cover, or will you need to buy additional dry bags?
If you are looking for a versatile pack that is great on the trails and comfortable for backpacking but can also be used for commuting on the train, then you may need to pull out all the stops and find a backpack with great waterproofing, storage, and comfort.
Equally, if you think the backpack is unlikely to see the countryside any time soon and will be used for city getaways and walking to the store, then comfort will be less vital, and you might be looking for something more stylish.
How we test the best hiking backpacks
To make our reviews objective, we followed a standard testing process for each, with two testers. There was a female primary tester and a secondary male reviewer. This was important as both wearers had different weights and heights, so could adjust the bag to their body.
Firstly each bag was tested on a hike of up to two hours by each person. This was on local trails over grassy ground. If the bag was comfortable at this distance, it was then tested by each person on a full day's hike further away from home, with a minimum of 1000m elevation.
This included boggy terrain, stony inclines, and woodland paths. We ensured one of the tests was in dry conditions and the other in wet. On the longer hikes, we carried food and water for the day for two people, plus spare clothing, battery, and cell phones.
The final test by the female reviewer was on public transport on a weekly commute via train. This was a three-hour round trip, often on packed trains with standing-room only, to see if the bag was comfortable on longer trips, especially when fully packed with work essentials.
The bags were also used on an ad hoc basis for family activities such as picnics at the local park, swimming lessons, and weekend getaways to gain a sense of the versatility of the backpacks for everyday use.
Get the Fit&Well Newsletter
Start your week with achievable workout ideas, health tips and wellbeing advice in your inbox.
Lily Canter is a freelance money, health and lifestyle journalist with more than 20 years' experience. She writes about fitness for Runner's World and Trail Running magazines and focuses on personal finance for Yahoo! Finance UK, Metro, The Guardian, and the Mail on Sunday. In her spare time she is an ultra-runner, canicrosser and running coach. She also co-hosts the award-winning podcast Freelancing for Journalists.