Best diffuser for essential oils: Relax and sleep easier with our top picks
Looking for the best diffuser for essential oils? These are our tried-and-tested top picks to make aromatherapy easy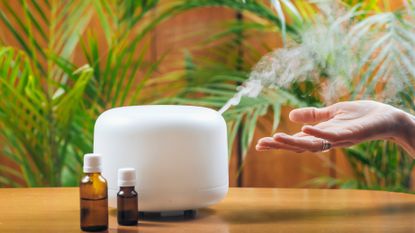 (Image credit: Getty Images)
Relaxing and restorative, the best diffuser for essential oils uses aromatherapy to improve overall wellbeing. Essential oils can help to reduce stress, anxiety, boost sleep and even enhance mental focus.
And with anxiety levels at an all-time high thanks to the coronavirus pandemic, it's no wonder so many of us are turning to these clever gadgets to help wind down and de-stress.
In our eyes, the best diffuser for essential oils is the VicTsing Essential Oil Diffuser. Stylish and sturdy, it has a 300ml water capacity making it perfect for large rooms. It's incredibly easy to set up and clean, has subtle LED lighting and produces a long lasting, humidifying vapor – all this and at a great price too. We're sold!
Special mention must also go to the NEOM Organics Wellbeing Pod Diffuser (opens in new tab), our best premium option thanks to its chic design and extensive features. Meanwhile, for those looking for aromatherapy on the move - in the car, for example - the This Works portable diffuser is a great option.
How to choose the best diffuser for essential oils for you
Why you can trust Fit&Well Our expert reviewers spend hours testing and comparing products and services so you can choose the best for you. Find out more about how we test.
So what exactly is a diffuser and what should you look for when buying one?
Essential oil diffusers use ultrasonic pulses to blend scented essential oils with water, dispersing a fine mist into the air to make your room smell like a spa. Diffusing oils is a great way to boost your mood and enjoy the wellbeing benefits of aromatherapy – try orange oil first thing to energise, peppermint for concentration and lavender at night to relax.
According to research published in scientific journal Scientia Pharmaceutica (opens in new tab), essential oils interact with the brain and nervous system to positively impact on your health and mood. As aromatherapy expert Robert Tisserand (opens in new tab) explains: "Studies have shown that aromatherapy by inhalation can have real benefits for people with anxiety, depression and even menstrual pain."
When choosing a diffuser, take note of the size of the water tank – the bigger it is, the longer it will last in a large room or open-plan space. Noise is another key consideration, as some diffusers have a bubbling sound (which you may or may not find soothing), while others are almost silent.
Many come with extra features like LED lights, which can help you relax or feel energized depending on the setting - but, like the sound settings, it will be a personal preference.
One final thing to note: most - if not all diffusers - do not come with oils, so be prepared to buy them separately to get started.
The best diffusers for essential oils you can buy right now
VicTsing 300ml Essential Oil Diffuser
The best diffuser for essential oils for most people
Specifications
Water capacity: 300ml
Dimensions: 6.7 x 6in
Power supply: Mains
Reasons to buy
+
300ml capacity so perfect for large rooms
+
Turns off automatically when short of water
Reasons to avoid
-
Not spill proof
-
Doesn't release as much mist as competitors
This stylish diffuser comes in a faux-wood pattern that looks just as good in your living room, bedroom or office. It uses ultrasonic technology to ionize essential oils into an extra fine mist to humidify and refresh the air.
It's quieter than a lot of other brands (although is noticeably louder on 'strong' mode). We love the subtle LED lighting, which rather than lighting up the whole device, shines through a thin band in the middle of the diffuser. Choose from seven static colours, or have it run through them automatically.
With a 300ml water tank and four timed settings, it's perfect for large rooms and can cover up to 100 square feet. It even turns off automatically when it's short of water. Easy to set up and clean, it's a competitive price that offers a long-lasting scent.
NEOM Organics Wellbeing Pod Essential Oil Diffuser
The best premium diffuser for essential oils
Specifications
Water capacity: 100ml
Dimensions: 5.6 x 3.6in
Power supply: Mains
Reasons to buy
+
Wide range of setting options
+
Stylish finish in beautiful packaging (a good gift)
Reasons to avoid
-
Gentle water trickling noise might disturb some people
-
Warranty void if used with non-NEOM products
This gorgeous diffuser might be small but it delivers big on style and efficiency. With its low energy LED lights and night light option, it works well for both day and night – and quickly became part of our bedtime wind-down ritual. Like many diffusers, it comes with a timer and humidifies the air as it mists.
The ceramic cover with rose gold trim gives it a premium feel, and it comes in gorgeous packaging, making it an ideal gift. NEOM only recommend using their Essential Oil Blends in the diffuser as they contain 100 per cent natural ingredients so be aware that using other brands of oil will void your warranty. As an ultrasonic diffuser, it's not silent – it has a gentle water trickling noise, which might be distracting for some people.
Criacr 150ml Essential Oil Diffuser
The best budget diffuser for essential oils
Specifications
Water capacity: 150ml
Dimensions: 7.9 x 4.3in
Power supply: Mains
Reasons to buy
+
Competitive price with multiple features
+
Really quiet
Reasons to avoid
-
Small water tank
-
Slightly short cable length
This user-friendly diffuser is one of the bestsellers on Amazon for good reason. It's perfect for small to medium sized rooms and, despite its 150ml water tank, omits a calming vapour for up to five hours. What we love most about this diffuser – apart from the low price – is it's really quiet, at less than 35dB (about the same as a whisper).
It has a high tank to prevent tipping or spilling, and is safe to use while sleeping as it has auto shut-off. With seven LED lights and three mist modes to choose from, it's very easy to use and really works hard for the price.
Esta Ultrasonic Aroma Diffuser
The best eco-friendly diffuser for essential oils
Specifications
Water capacity: 100ml
Dimensions: 6.2 x 3.6in
Power supply: Mains
Reasons to buy
+
Sustainably made with natural bamboo
+
Ambient white LED lighting for relaxation
Reasons to avoid
-
Gentle bubbling sound might be too noisy for some
-
Small water capacity
Sophisticated and stylish, the Esta diffuser brings a touch of aromatic eco-lux to any room with its elegant, sustainably-sourced bamboo finish. The hardwearing plant is cut by hand, making the least impact on wildlife (compared with hardwood logging).
With its gentle bubbling sound, the diffuser has ambient white LED lighting for that ultimate spa experience. It uses ultrasonic tech to create a fine aromatherapy-infused mist, and the gentle, relaxing vapour quickly scents the room.
There's an intermittent, 30-second mist setting, and it turns off automatically when the tank is empty. The lid's night light is a perfect addition to your bedtime routine, and gives a soft, relaxing glow. This diffuser looks lovely, and works hard to deliver on relaxation – without costing the earth.
This Works Scent Well portable diffuser
The best travel diffuser for essential oils
Specifications
Dimensions: 4.9 x 4.3 x 2.2in
Power supply: USB (plug not included)
Reasons to buy
+
Compact, lightweight design
+
Includes USB cable to charge on-the-go
Reasons to avoid
-
Takes a while to notice the smell
-
Not great for large rooms or open-plan offices
Get all the benefits of aromatherapy and enjoy your favourite scents – on the go! The compact, lightweight design of this diffuser makes it perfectly portable and a must-have for travel. It fits easily into your bag or pocket, although be sure to fully close it before storing to prevent leakage.
Charged by USB (cable included but not the plug), it's incredibly easy to use and set up and turns itself off after an hour, to save you the trouble. Due to its size, you can expect to wait a little longer before the aroma develops, but it's a great choice if you travel a lot for work and want to wind-down and relax when you get back to your hotel room.
Maddy is a freelance journalist and Level 3 personal trainer specializing in fitness, health and wellbeing content. She has been a writer and editor for 22 years, and has worked for some of the UK's bestselling newspapers and women's magazines, including Marie Claire, The Sunday Times and Closer. She also manages Fit&Well's Instagram account.
Maddy loves HIIT training and can often be found running on her treadmill or working out while her two young daughters do matching burpees or star jumps. As a massive foodie, she loves cooking and trying out new healthy recipes (especially ones with hidden vegetables so the kids eat them). She makes a mean margarita and has twice won awards in previous staff jobs as the "office feeder".