Best workout music: the top 100 songs to power your sweat session
Does your favourite tune make it onto our definitive list of the best workout music?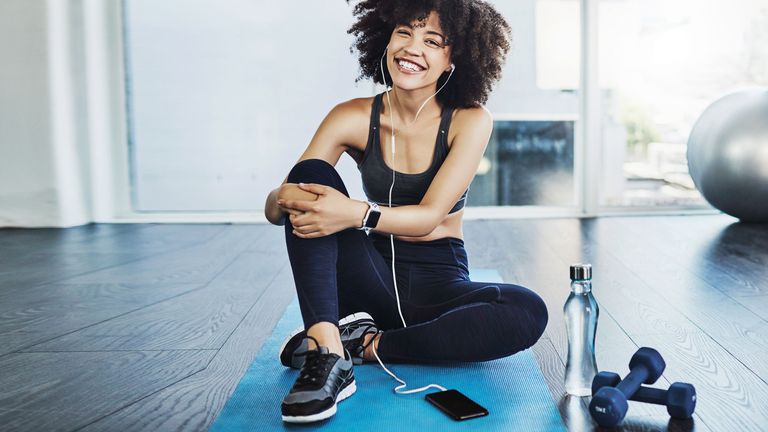 (Image credit: Getty Images)
By Lucy Gornall
Sometimes we all need a little boost when we exercise - and this is where the best workout music comes in. 
What we listen to when we exercise can play a real part in helping us stay motivated, hit personal bests and generally just enjoy the workout. Plus, there's actual proof that workout music can help.
A recent study published in the journal Psychology of Sport & Exercise asked men and women to sprint for 20 seconds at maximum effort as well as cycle at a low intensity. 
The group did this workout three times; once while listening to motivational music (aka more than 120 beats per minute), once while listening to a podcast, and once with no music or sound at all. You can probably guess the results!
The researchers found that when the group listened to the upbeat music, their heart rates and peak power output were both higher than when they listened to no sound or even a podcast.
How to choose the best workout music
So what does it take to make the list of best workout music? Hilary Rowland is co-founder of spin studio Boom Cycle. She explains that while taste in workout music is subjective, there are a few factors that come into play.
'A good workout tune is a track that elicits emotion, stirs a new attitude or evokes energy. A good workout track can put you in a flow state. It can take you into a dream state or a totally new frame of mind, making you forget your limits. It can reset your attitude.'
She adds: 'It's important the music is loud so it can envelope the senses and generally it has a big beat. Ideally a good workout tune sticks in your mind and gives you that skip in your step and a burst of confidence well after your workout.'
If you're a runner, you could match your stride rate with your music's beats per minute (BPM). So if you were to run 130 steps per minute, you'd want to be listening to music that had a BPM of around 130, such as Pink's Get The Party Started (a real pop classic).
If you don't know the BPM of your music, it's easy to find. Try songBPM.com, which has a huge collection of music and their BPM.You can even search on Youtube for BPM-appropriate songs such as this 130 BPM cardio dance workout session.
It's also worth looking for ready-made playlists - Spotify has a great running playlist, for example.
If you're lacking in inspiration for your workout music, here's our pick of the top 100 songs - split into our favourite musical genres - to keep your motivation pumping...
Best workout music: hip-hop songs
Beyonce - Black Parade
Jay Z & Linkin Park - Numb/Encore
Kanye West - All of The Lights
Tyga - Bored In The House
Burna Boy - Way Too Big
Kano - Garage Skank Freestyle
Dizzee Rascal - Bonkers 
Drake - Headlines 
Missy Elliott - Lose Control 
Stormzy - Shut Up 
Pitbull - Give Me Everything 
Chunkz - Vibranium
Eminem - Lose Yourself
Mura Masa ft A$ap Rocky - Love$ick
Snoop Dogg ft David Guetta  - Sweat
Kanye West- Power
Chris Brown - Ayo
Egypt - In the Morning
Sean Paul - Give It Up To Me
Wiley - Heatwave
Akon - I'm So Paid
Nicki Minaj - Truffle Butter
Missy Elliott - Work It
DJ Khaled - All I Do Is Win
Best workout music: rock songs
AC/DC- Thunderstruck 
Survivor - Eye of the Tiger 
Guns N' Roses – Paradise City  
Foo Fighters - Run 
Papa Roach - Last Resort 
Linkin Park - In The End 
Red Hot Chilli Peppers - Give It Away
Iron Maiden - The Trooper 
Guns N' Roses – Sweet Child O' Mine 
Metallica - Rebellion 
3 Doors Down - It's Not my Time 
Queen - Don't Stop Me Now
The Killers - Somebody Told Me
Nirvana - Smells Like Teen Spirit 
House Of Pain - Jump Around 
Guns N' Roses – Welcome to the Jungle
The Darkness - I Believe in a Thing Called Love 
Sum 41- Fat Lip 
The White Stripes - Seven Nation Army 
Fall Out Boy - Sugar We're Goin' Down 
Best workout music: pop songs
Craig David - No Drama 
Charli XCX- Next Level Charli
Christina Aguilera - Dirrty
Dua Lipa - Hallucinate 
LMFAO - Sexy and I Know It 
Jason Derulo - Don't Wanna Go Home 
Destiny's Child - Lose My Breath 
Fuse ODG- Antenna 
Bruno Mars - Finesse 
Spice Girls - Wannabe 
Britney Spears - Toxic 
Gym Class Heroes - Cookie Jar 
Jennifer Lopez - Jenny From The Block 
Justin Bieber - One Time 
Daft Punk - One More Time 
Outkast - Hey Ya!
Justin Timberlake - My Love 
Far East Movement - Like A G6 
Gwen Stefani - Hollaback Girl 
Lady Gaga - Rain On Me
Best workout music: dance songs
Avicii- Levels 
Joel Corry - Head and Heart 
Avicii - Wake Me Up 
Tiesto - God Is A Dancer 
Matrix and Futurebound - Control 
Faithless - Insomnia 
Eric Prydz - Call On Me 
Philip George - Alone No More 
Armand Van Helden - I Want Your Soul 
David Guetta - Sunshine 
Blonde - I Loved You 
Chase & Status - Hurt You 
Loud Luxury - Body 
Alice DJ - Better Off Alone 
Marshmello - Stars 
Temper Trap - Sweet Disposition 
Architects - Body Groove 
Wankelmut - My Head is a Jungle 
Paul Woolford - You Already Know 
Sigala - Lasting Lover
Best workout music: 80s songs
Whitney Houston - I Wanna Dance with Somebody 
Journey - Don't Stop Believin' 
Madonna – Material Girl 
Duran Duran - Hungry Like The Wolf 
Michael Jackson - Billie Jean 
Dead Or Alive - You Spin Me Round 
Frankie Goes to Hollywood – Relax
Depeche Mode – Just Can't Get Enough 
Prince – Kiss 
The B-52's – Love Shack  
Madonna – Papa Don't Preach 
Technotronic – Pump Up the Jam 
Bon Jovi - Livin' On A Prayer
Phil Collins - In The Air Tonight
Dexys Midnight Runners - Come on Eileen
Madonna – Into the Groove
Cyndi Lauper - Girls Just Want to Have Fun 
A-Ha - Take On Me
Pat Benatar - Love Is A Battlefield
Eurythmics - Sweet Dreams