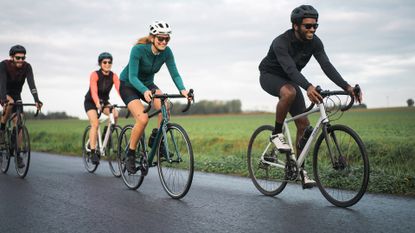 (Image credit: Decathlon)
If you've been wanting to make your health and fitness a priority but have been worried about where to start, the team at Decathlon (opens in new tab) are here to help make sure that 2021 is your year to shine.
Starting any new health and fitness regime can feel overwhelming. What activity should you do? What equipment should you use? Is exercising safely even possible in the midst of a pandemic? But the good news is, staying fit and healthy isn't as daunting as it can appear - and it comes with enormous benefits.
Regardless of your age or fitness level, research (opens in new tab) shows that keeping active can boost energy, help maintain a healthy weight, lower the risk of many health conditions and diseases, improve mood, and promote better sleep. And with so many different forms of exercise available, being active can be a whole lot of fun too.
The COVID-19 pandemic has been a challenge for all of us. Lockdowns, remote working, home schooling, and not being able to connect face to face with those we love have all made it harder to stay active, whilst taking their toll on our mental wellbeing too. You've likely given a lot to others this past year, now it's time to give some of that love back to yourself.
So whether you already lead an active lifestyle or you're a beginner who's keen to find out more, here are six ways to make 2021 your most active year yet - with a little help from Decathlon.
Find the activity for you
Struggling to figure out the best way to fit being active into your day-to-day whilst also finding something you'll actually want to keep doing? Perhaps unsurprisingly, a 2015 study (opens in new tab) found that people were much more likely to stick with exercise programmes that they actually enjoyed - making finding the right activities for you a vital step.
Decathlon PLAY (opens in new tab) can help. Updated daily by Decathlon's team of pros and ambassadors, this extensive platform is home to over 1,500 articles offering tips and advice on every sport imaginable (opens in new tab), from American football to yoga.
You'll find information on tried-and-tested ways of working up a sweat, such as running, hiking and swimming, along with activities you might not have considered. Anyone for in-line skating of stand-up paddle boarding?
A great place to start is the article 'How to find your new sport' (opens in new tab), which considers a range of factors to help you figure out your new hobby, whether you're already pretty fit and active or a complete beginner.
Speaking of which, once you settle on a new activity to try, Decathlon PLAY has a host of handy beginner's guides (opens in new tab) to help you get started, covering everything from bike maintenance for new cyclists to safety advice for budding boxers.
Limited by lockdown? Think again!
There's no denying that a succession of lockdowns have made getting our daily exercise more challenging, but with a little creativity there are plenty of ways to stay active.
The Decathlon PLAY article '25 ideas to keep active in lockdown' (opens in new tab) is full of inspiring (and sometimes unexpected - see: 'build an indoor mini golf course') ideas that can be enjoyed solo or with the whole family. The section dedicated to getting active with kids will no doubt come as welcome relief to anyone wading through homeschooling right now!
For more at-home inspiration, take a look at 'The ultimate guide to working out at home (opens in new tab)' to help you stay fit and strong whilst lockdown keeps gyms and leisure centres closed.
Invest in the right kit
Did you know that what you wear can influence your thinking and behavior? One study in the Journal of Experimental Social Psychology (opens in new tab) suggests this is because clothing has symbolic meaning, resulting in what you wear subconsciously changing how you act.
When it comes to exercising, research shows that wearing activewear when you work out can make you feel more energized and focused. Situational cues, such as laying your workout clothes out the night before, also make it more likely that you'll exercise the next day. But what kind of clothing should you be laying out?
Once again, Decathlon PLAY has you covered - no matter what activity you're into.
If daily walks are your thing (as they've become for so many of us), then check out the advice in 'Walking for beginners - what kit do I need?' (opens in new tab) Meanwhile, walkers, runners and park workout enthusiasts alike will benefit from the expert tips in the article 'A complete guide to layering' (opens in new tab) - because being either too hot or too cold during outdoor pursuits is no fun at all. Like Goldilocks, you want to get it just right.
Be inspired by the experts
When it comes to keeping active, we all need a little motivation now and then. Which is why Decathlon's The Power of 10 podcast (opens in new tab) - hosted by adventurer, journalist and former Olympic skier Graham Bell - is an essential listen.
Each episode features Graham speaking to stars from the world of sports and entertainment, sharing their secrets for a healthy body and mind.
Highlights include Strictly Come Dancing pro Aljaz Skorjanec sharing details of his fitness routine and the sacrifices he made to pursue his dance career, and TV presenter Kirsty Gallagher addressing the pressures of juggling her career, family and her own wellbeing - both physical and mental.
Focus on the full range of benefits
It's all too easy to focus on a singular goal we want to achieve through exercise, such as reaching a target weight or toning a particular body part. But to do that is to forget that being active has so much more to offer us than just calorie burning.
For example, did you know that exercise actively increases the body's production of melatonin, AKA the sleep hormone? It's just one of the often overlooked mental health benefits covered in '5 reasons why fitness and mental health go hand in hand' (opens in new tab).
Further such benefits are explored in the Decathlon PLAY article 'How do I manage my anxiety with exercise' (opens in new tab). It's an essential read, given that Covid-19 has resulted in hugely elevated levels of stress, depression and anxiety (opens in new tab). Penned by a fitness expert with a particular interest in mental health, it details the types and amount of exercise to do for optimum impact.
Take advantage of free resources
An expensive gym membership or personal trainer are no longer the only options for anyone wanting to access a wide range of invigorating fitness activities.
Decathlon's programme of free virtual exercise classes (opens in new tab) provide an extensive timetable of activities you can do from the comfort of your own home, with options to suit every taste.
Heart-pumping options guaranteed to get you sweating include Total Body HIIT and METCON (metabolic conditioning), designed to torch calories and burn fat.
Meanwhile, Bands, Bands, Bands incorporates resistance bands for all-round strength, whilst anyone who regularly pounds the pavement will feel the benefits of Yoga for Runners.
Kathryn is a freelance health and wellness writer. She previously worked for 10 years as an educator in the health care industry before leaving to spend her days indulging her love of writing. An avid meditator and long-distance walker with a passion for mental and emotional wellbeing, she's happiest when she's surrounded by mountains and oceans. When not writing words or thinking about them while walking, she can usually be found brewing a cup of herbal tea from her vast collection or trying to figure out healthy ways of incorporating chocolate and peanut butter into almost every meal.