Want to pass the 'old man test'? Try these expert-approved balancing tips, which helped me master the challenge
You'll need to develop your stability, balance and strength to pass this test with flying colors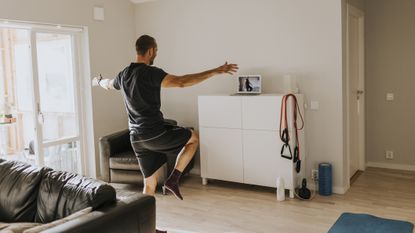 (Image credit: Getty Images)
The viral "old man test" isn't a scientific method for measuring your physical fitness, but it can reveal some weaknesses.
It challenges you to put your shoes and socks on while standing on one leg, testing your leg and core strength as well as your balance—all of which can deteriorate with age and inactivity.
"Changes in your strength and stamina do not decline much between the ages of 20 and 40. However, over 40 there can be a decline of 1-2% in lean mass and 1.5-5% in strength every year, according to Harvard Health," says physiotherapist and Complete Pilates founder Helen O'Leary.
"As you get older, some of the cells that help control your vestibular system—which helps maintain balance—will also change, affecting your ability to adjust your position and balance."
I'm 27 and after seeing many people of a similar age struggle to complete the challenge on social media, I decided to give it a go. I also asked O'Leary for some tips on how to boost your balance and strength, so you can pass the test.
How to do the 'Old Man Test'
Advice from a physiotherapist for passing the 'Old Man Test'
The 'old man test' isn't as straightforward as you might think.
"This balance challenge isn't simply standing on the spot looking forwards or closing your eyes. The changes in height and direction, and the added input of the shoes and socks, challenge you and make it more like a real life scenario," says O'Leary.
"To succeed, you need to use your leg, pelvis and hip strength to stand steadily on one leg. Then hinge down so you can pick your shoes and socks up from the floor. Strength around your trunk is also needed to bring you back up again, as well as mobility in your hips and spine to achieve the necessary positions," she explains.
If you can't do the challenge, it's not necessarily down to your inability to balance— O'Leary says that it's equally likely that your strength and mobility are holding you back. She has shared a few exercises below, which could help you master this challenge.
Exercises for improving strength balance and mobility
1. Single-leg Romanian deadlift
Stand upright on one leg.
Hinge at the hips to tip forwards. As you lean forwards, your back and raised leg should stay in a straight line.
Pause for a second when your torso is parallel to the ground, then return to the starting position.
To do this move, stand upright on one leg. Hinge at the hips to tip forwards. As you lean forwards, your back and raised leg should stay in a straight line. Pause for a second when your torso is parallel to the ground, then return to the starting position.
"You should feel a stretch in the back of your thigh as you tip forward," says O'Leary.
If you want a slightly easier variation, she recommends keeping your back leg lightly touching the floor throughout the movement for added stability. To make this move more difficult, you can perform it with a dumbbell in each hand, reaching these down towards your toes as you lean forward.
2. Standing marches
To do this move, start with your hands out wide, or gently touching a wall or chair. Stand on one leg and lift the other knee as high as you can, maintaining your posture throughout. Repeat on the other side, making sure to get both knees high.
"Challenge yourself with your hands on your hips or moving around to make you more unstable," O'Leary suggests.
3. Tandem stance roll-down
This is a variation on the standing roll-down, shown above. It uses the same movement pattern but your feet are placed one in front of the other for added instability. To do it, stand with your feet one in front of the other like you are walking a tightrope. Slowly roll down as if you were touching your toes before rolling back up again. Alternate the foot you place in front.
"If you struggle, have your feet slightly wider and progress by bringing them narrower," O'Leary says.
My attempt
I do functional strength training multiple times per week, so I think I have good leg and core strength.
I was more worried about my balance as this is something I rarely work on. I started barefooted, lifted my left foot off the ground then hinged down to pick up my first sock. As I did, I could feel my weight shifting around under my planted foot, so I made tiny adjustments to keep me balanced. Luckily my sock slipped right on.
Now I was ready for the shoe.
This was more difficult as I found I had to look at what I was doing, rather than keeping my eyes on a fixed spot ahead. This had a big impact on my balance.
As I slipped on the shoe, there was a heart-in-throat moment in which my weight suddenly shifted off balance and I had to shuffle my standing foot to recover. This quick adjustment meant I survived a near-miss and was able to double-knot my laces.
The right sock and shoe were easier, and I was surprised that I felt more stable on my left leg, which I thought was weaker. Success! Perhaps regular sports (I love running, walking, soccer and padel) alongside my regular strength training and stability-boosting core workouts were enough to maintain my balance after all.
Need help picking your weights? Our guide to the best adjustable dumbbells can help
Get the Fit&Well Newsletter
Start your week with achievable workout ideas, health tips and wellbeing advice in your inbox.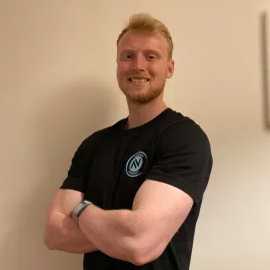 Harry Bullmore is a Fitness Writer for Fit&Well and its sister site Coach, covering accessible home workouts, strength training session, and yoga routines. He joined the team from Hearst, where he reviewed products for Men's Health, Women's Health, and Runner's World. He is passionate about the physical and mental benefits of exercise, and splits his time between weightlifting, CrossFit, and gymnastics, which he does to build strength, boost his wellbeing, and have fun.
Harry is a NCTJ-qualified journalist, and has written for Vice, Learning Disability Today, and The Argus, where he was a crime, politics, and sports reporter for several UK regional and national newspapers.