Arnold Schwarzenegger's inspiring advice for girls getting into weightlifting
The seven-time Mr. Olympia took to his latest newletter to offer motivational guidance for all would-be weightlifters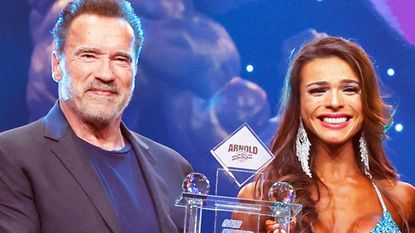 (Image credit: Getty Images)
Whether you know him as The Terminator, the former Governor of California, or one of the world's most famous bodybuilders, Arnold Schwarzenegger has retained his reputation as a personable fitness expert. With such a varied career, many people are eager to hear Arnie's thoughts on a range of topics, including weightlifting.
In his recent newsletter, Schwarzenegger was asked to share some pearls of wisdom on how to lift weights by a female fan, who posed the question: "Do you have any advice for a girl getting into weightlifting?"
And his response was pretty inspiring.
The 74-year-old muscle man wrote: 'First of all, don't get discouraged because of your gender because, remember, fitness is for everyone. If anyone gives you crap about it, let your lifting do the talking.'
No matter what weights you choose to work out with (see our pick of the best adjustable dumbbells and the best kettlebells for some ideas to get you started), Schwarzenegger went on to suggest things steady to begin with, saying: 'Start with lower weights and really focus on your technique. Slow and controlled.'
He also advised against trying to replicate 'the fancy exercises you see on Instagram', instead advocating that beginners start out with 'basic lifts like the squat, deadlift and press until you master them.' Read our guide on how to do squats before progressing to weighted variations, along with our guide on how to deadlift.
The star went on to share the story of Katherine Nye, a female American Olympic athlete that has inspired the seven-time Mr. Olympia himself, writing passionately about her weightlifting journey.
'Until 2014, she was trying to make it into the Olympics in gymnastics. She didn't achieve that dream, but only 5 years after she started weightlifting, she had the United States' best result in over 20 years by winning the silver medal in Tokyo,' he wrote.
'She overcame some tremendous mental health struggles, and I hope she inspires you, because she definitely inspires me.'
Arnie ended with some inspirational words for would-be weightlifters, noting that if you 'stay consistent and stay confident... no one can beat you!'
Powerful words, we're sure you'll agree. If you need us, we'll be lifting weights...
James is a London-based journalist and Fitness Editor at Fit&Well. He has over five years experience in fitness tech, including time spent as the Buyer's Guide Editor and Staff Writer at technology publication MakeUseOf. In 2014 he was diagnosed with a chronic health condition, which spurred his interest in health, fitness, and lifestyle management.
In the years since, he has become a devoted meditator, experimented with workout styles and exercises, and used various gadgets to monitor his health. In recent times, James has been absorbed by the intersection between mental health, fitness, sustainability, and environmentalism. When not concerning himself with health and technology, James can be found excitedly checking out each week's New Music Friday releases.