Best kettlebell: our favorite weights for a full body workout
A must-have fitness tool for any home gym, here's our pick of the best kettlebells available now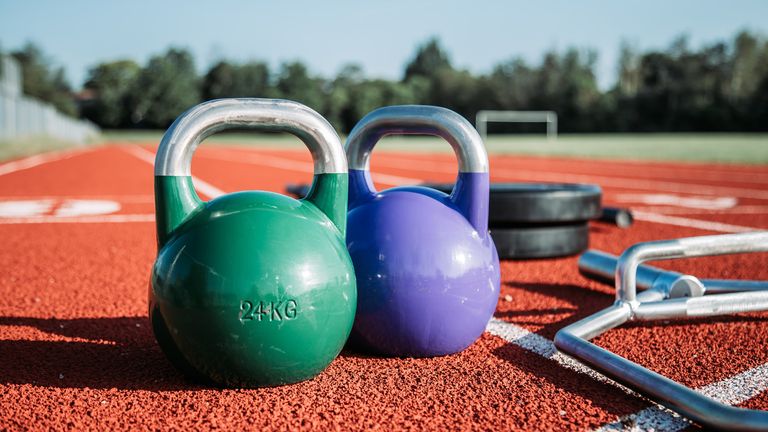 (Image credit: Alora Griffiths on Unsplash)
The best kettlebells are in high demand right now – and for good reason. One of the most effective pieces of home workout equipment, the kettlebell is an all-in-one, full body conditioning tool. Wonderfully efficient, its large, teardrop-like design is perfect for a wide range of exercises, including squats, deadlifts, swings and overhead presses.
If you're new to exercising with a kettlebell, it's important to note that a kettlebell's weight is not evenly distributed (as it is with a dumbbell). So to use it both safely and efficiently, your body needs to be able to counterbalance its weight. That's why they're used in some of the best glute exercises.
While this makes a kettlebell a great tool for building core strength, balance and coordination, it also means it might not be the most suitable equipment for the very young, elderly and physically challenged.
For our money, the best kettlebells overall come from TRX. This quality, cast-iron range features a wide handle for a super-comfortable grip, color-coding for ease of use, and offers excellent value for money. They're not the cheapest on our list, but the overall design and quality, which will last a lifetime, is totally worth the slightly extra outlay.
In this guide we'll take you through these and more of the best kettlebells, as well as providing some advice on how to pick the right option for you. So whether you've never held a kettlebell before or are looking to add to an already established kettlebell collection, we've got you covered.
How to choose the best kettlebell for you
You'd be forgiven for thinking the only thing you need to consider when buying the best kettlebells is what weight to choose. But there's more to these medieval-looking items than meets the eye.
Cast-iron vs vinyl
First up you need to decide on the type of kettlebell you'd like; cast-iron or vinyl. The former requires little explanation – it's simply a solid, cast-iron handheld (specific) weight. The latter, vinyl kettlebells, are very similar, the only difference being an added vinyl coating that covers the weight (and sometimes the handle).
Vinyl kettlebells are a good choice if you're worried about potentially damaging floor surfaces, with the coating providing that little bit of extra cushioning. Vinyl kettlebells also often come in different colors, which makes it super easy to distinguish between different weights. They are usually slightly cheaper than their fully cast-iron only counterparts too. However, vinyl is prone to cracks and splits, and sweaty hands gripping the material can make for a slippery and uncomfortable experience.
No matter what type of kettlebell you decide to go for, watch out for novelty-style molded designs, which break from the traditional ball shape. Themed kettlebells might look great sitting in your gym, but catch yourself on a sharp edge mid-swing or snatch and you'll wish you'd chosen a more original design.
Sizing
Another important consideration is the size of the handle and window (the gap between the top of the bell and the handle). Don't assume they are all the right size for two hand use as some of the best kettlebells are designed specifically for single arm exercises (snatch, push press etc). If you're going to be using your kettlebell predominantly for exercises like deadlifts, goblet squats and swings, you'll want to go for one with a handle and window that can comfortably accommodate two hands.
Weight(s)
Lastly, it's all about what weight (or weights) to pick. If you're new to kettlebell exercises, you want to start with a very low weight so your body can become accustomed to the movements. For efficient training, the idea is for a kettlebell to be light enough that it can be used continuously throughout a workout, but heavy enough that it is still challenging. Too light and it won't work as an effective training tool, too heavy and you'll more than likely end up with an injury. It might not be easy with lockdown in force across the globe right now, but if the chance to visit a gym and try different kettlebell weights arises before you buy, we would highly recommend it.
Right, let's take a look at the best kettlebells around right now.
1. TRX Kettlebells
The best kettlebells overall
Reasons to buy
+Affordable+Good quality+Colour-coded
Reasons to avoid
-Max 24kg
The perfect combination of quality, design and value for money, you'd be hard pushed to find better than TRX kettlebells. The simple black range starts at 4kg, working in multiples of four, all the way up to 24kg. The ball of the kettlebell has a flat base for easy storage and to help prevent any unwanted rolling or wobbling. Each kettlebell is marked with a splash of colour to help easily identify different weights, and the smooth finish of the wide handle makes for a comfortable one or two-handed grip.
It's a shame this range stops at 24KG, but the existing weight choice should suffice for most people. There are cheaper items on this list, but if you want a no frills, quality cast-iron design that will last, well, forever, TRX are the best kettlebells money can buy.
2. Gorilla Sports Competition Kettlebells
The best premium kettlebells
Reasons to buy
+Wide weight range+Colour coded+One size
Reasons to avoid
-Overkill for most people
If you're serious about dedicated kettlebell training, to the point where you might one day want to compete, these Gorilla Sports Competition kettlebells are top notch. In order to adhere to competition regulations, this particular kettlebell range is identical in size, regardless of weight. This is great news if you're short on space, but more importantly, means you won't have to adapt your technique as you build strength and weights change.

As each kettlebell looks identical, Gorilla has colour coded them so you can quickly identify the one you need (should you have more than one, that is). The weight is also imprinted on the coloured surface, should you forget the colour coding system. The handle remains untreated to ensure a non-slip, comfortable, one- or two-handed grip, and a flattened base offers extra stability.

Gorilla Sports has, hands down, some of the best kettlebells around, but these are definitely best suited to real kettlebell fitness enthusiasts. Each unit is sold separately and they don't come cheap. The 32KG kettlebell listed here alone will set you back over £250, however smaller weights are slightly more affordable, with a 12KG option coming in at around £70.
3. Men's Health Cast Iron Kettlebell
The best budget kettlebells
Reasons to buy
+Very affordable+Comfortable to use
Reasons to avoid
-Not colour coded-Rough handle
The team over at Men's Health have created their own kettlebell range, and while the design is nothing groundbreaking, they do the job for a fraction of the price of others on this list. In fact, you could grab both a 12kg and 16kg Men's Health kettlebell for less cash than just one 8kg Gorilla Sports competition bell mentioned above.
The no frills black bell weights start at 8kg and, like most others, work up in multiples of four to 24kg. The window is big and handle wide enough to grip with two hands for swings and deadlifts, but can also be comfortably used with one hand should you want to do some single arm exercises too. The handle is rougher than the smooth finish you'll find on the TRX kettlebells, but not so much to make grip uncomfortable.
There's no colour coding on this range, which is a little frustrating being that they look identical. However, the weight is imprinted on the front of the bell (albeit in rather unhelpfully also in black). This would only be an issue if you're planning on owning more than one, and, even then it's more of a mild annoyance, which is quickly eased by the highly affordable price tag. If you're on a budget but want to get your own home gym started, these are the best kettlebells to go for.
4. Opti Vinyl 10kg Kettlebell
The best kettlebell for beginners
Reasons to buy
+Good quality+Basic design+Cheap
Reasons to avoid
-Limited weight range
If you're totally new to kettlebell training, the Opti Vinyl range is a great range to get started with. Weights start at 2kg, and go in multiples of two up to 10kg. At less than £6 for the 2kg kettlebell, these highly affordable items make it much more possible to invest in a few different weights to help you become accustomed to kettlebell exercises and build strength safely.
With each weight wrapped in a vinyl coating, the material acts like a cushion when touching the floor to help avoid damaging surfaces. The compact nature of the Opti Vinyl range also makes them super easy to store.
The downsides are the material can be uncomfortable to grip, particularly with sweaty hands. And the weight range ends at 10kg, which, if you're using them regularly, may quickly feel a bit too light for most exercises. But if you're just starting out, or don't necessarily want heavy kettlebells, this range is, quite literally, a very solid option.
5. JaxJox Kettlebell Connect
The best smart kettlebell
Reasons to buy
+6 kettlebells in 1+Smartphone app-compatible
Reasons to avoid
-Limited weight range-Expensive-Bulky
Introducing the smart kettlebell. JaxJox is a six-in-one digital kettlebell that enables you to add or remove weight at the touch of a button. How? The kettlebell itself is actually hollow, with five weights stacked inside on a base plate. A toggle button allows you to select one of six weight options between 5kg and 19kg, and the bell will pick up or drop the necessary weight to meet your selection. Clever, huh?
The JaxJox solves the problem of having to choose what weight to buy if you're toying between a few, plus it's great if you're short on storage space (although the unit is itself somewhat bulky).
The design of the JaxJox kettlebell is quite unique in its more oblong-style shape, which might require a bit of practise if you're used to exercising with more traditional bell-shaped designs. Selecting heavier weights also requires the device to 'pick up' more weight plates, which have a tendency to rattle during certain exercises.
The JaxJox is a clever device, and just how is fully reflected in its expensive price tag. But if your budget allows, this is one of the best kettlebells for digital and space-saving enthusiasts.
6. Mirafit Cast Iron Kettlebells
A great all-rounder
Reasons to buy
+High quality+Long-lasting+Stylish design
Reasons to avoid
-Weights have identical designs
When it comes to quality kettlebells, Mirafit's range is up there with the best of them. The cast iron design comes in a range of weights, starting at 4kg and jumping all the way up to 32kg. The flat base eliminates any wobble or rolling when not in use, and a wide, easy grip handle makes it feel comfortable for use with one or two hands.
The designs are exact for each different weight, which is a slight drawback if you plan on buying more than one. But the weight is clearly marked on both sides (in kilograms and pounds) should you get them mixed up. Plus, the coated matte black finish with a splash of orange makes for a stylish addition to any home gym.
Kerrie Hughes is editor of the world's leading design website Creative Bloq, mum of a 'spirited' three-year-old boy and avid/unashamed Crossfit fan. In the rare times she's not in intense negotiations with a small human, you'll find her doing her best impression of Tia Clair Toomey in her less than impressive home gym (aka garage with dumbbells).