Best kettlebell for building strength and muscle at home
The best kettlebell is there to help you build muscle and tone up without going to the gym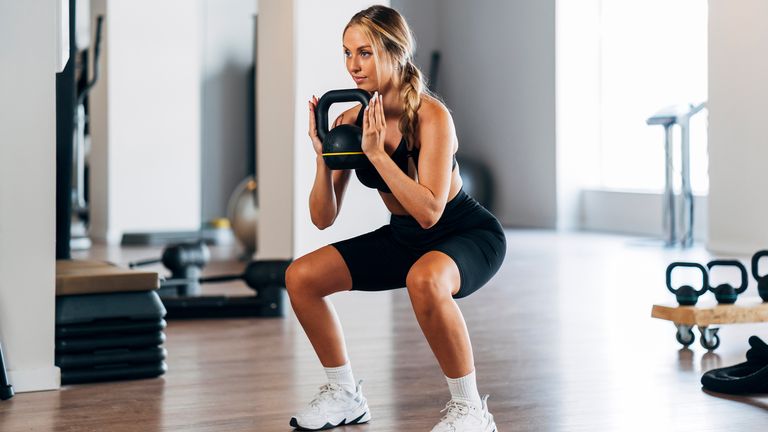 (Image credit: Getty)
Owning the best kettlebell can transform your at-home training. Working out with weight is a great way to build muscle, lose body fat, and tone up. So it's worthwhile investing in a practical and quality weight like a kettlebell so that you are setting yourself up for reaching your fitness goals as effectively as possible.
Whether you're used to training with weights at the gym, you use a set of adjustable dumbbells at home, or you're a complete newbie to working out with weights, you'll need a kettlebell that feels reliable and secure to handle. Fortunately, many of the best kettlebells are made with premium materials to ensure things like grip and comfort are there to support you during your kettlebell training.
Each kettlebell is suitable for home gym spaces so that you won't have to trek to the gym next time you want to get a good muscle pump on. Plus kettlebells don't take up a lot of room and the shape of this space-friendly weight includes a handle so you can easily pick up and store away your equipment if needed.
There are various options out there, so to narrow down your search, we've rounded up the best kettlebells available for different budgets and requirements. Depending on your ability, we have some bells that go up to very heavy weights, some that are light and great for beginners, and even adjustable kettlebells feature on our list for those looking for absolute convenience. We cover the size, material, and cost of each weight to assist you in finding the best kettlebell for yourself.
The best kettlebells you can buy right now
1. Bowflex SelectTech 840 Kettlebell
Best kettlebell overall
Specifications
Weight range available: 6lbs (2.7kg) - 40lbs (18kg)
Dimensions: 8.8 x 7 x 12.5 inches (22.4 x 17.8 x 31.8 cm)
Color: Black with red
Reasons to buy
+
You are getting six kettlebells in one
+
Extremely space-efficient
+
Access to kettlebell-specific workouts
Reasons to avoid
-
The outer shell is plastic
-
The design feels quite large when exercising
-
Can hear the weight plates rattling sometimes
If you want to get value for money, save on space and have flexibility in weight size when you work out, then the Bowflex SelectTech 840 Kettlebell is a premium pick. This kettlebell is adjustable, so you have six weight sizes available to work with from just one bell.
This is a no-brainer for anyone out there with limited free space in their home gym or garage. Rather than purchase multiple kettlebells and a rack to store them on, you can just buy one. The weight options range from 6lbs/2.7kg to 40lbs/18kg. So whether you want to perfect your kettlebell swings and presses by starting off low and working your way up the weights, or want to increase your muscle gains by gradually increasing the weight for reps of lunges and squats, this adjustable kettlebell has you covered.
What's great about Bowflex kettle is that it suits all levels. If you're a beginner it's a great way to start you off with kettlebell training. You can start off with some really low weight and develop your strength at your own pace and this saves you forking out for a heavier kettlebell once you start building more muscle. Or if you're a seasoned kettlebell lifter, you can take full advantage of the different weight sizes for all your favorite exercises.
The main downfall of having various weights packed into one mode is that it is bulkier than other kettlebells on the market. But once you workout with it a few times you will get used to the size it just might mean it doesn't feel as natural to perform certain moves. The outer shell is also made of plastic so you'll want to avoid slamming this kettlebell down too hard and considering the price of this weight this may disappoint some users. The first time you use this kettlebell you might find the open bottom of it and the occasional rattle of weight plates a little discerning but overall it is a well-designed adjustable weight with thorough instructions to ensure you operate the weight safely.
What the users say
The Bowflex SelectTech 840 Kettlebell overall score on Amazon is pretty impressive, receiving an average of 4.8 out of five stars. There's an overarching theme amongst the various reviews left for these weights that is most users loved how versatile and space-saving the kettlebell is, with one person saying that they "Bought two and they take up a tiny amount of space and give me access to countless kettlebell configurations with just a click." Lots of people bought there's during the pandemic and note just how convenient and effective the weight is for home use. Some aren't a fan of the handle suggesting that Bowflex needs to make future models with a wider handle to comfortably fit two hands around it during two-handed exercises.
---
2. TRX Training Kettlebell
The most versatile kettlebell for performing multiple exercises
Specifications
Weight range available: 8.8lbs (4kg) - 88lbs (40kg)
Dimensions: 13.5 x 13.5 x 9.25 inches (34 x 34 x 23 cm)
Color: Black
Reasons to buy
+
Smooth finish
+
Great grip
+
Different weight sizes are color coded
Reasons to avoid
-
Expensive if you want to build a set
-
The coating paint chips
TRX is well known for selling suspension trainers and making staying in shape easier without a gym. The TRX training kettlebell is no exception to this. If you want a very simple kettlebell that offers premium quality and has a sleek aesthetic, we think you'll like one or a few of these.
This kettlebell is made from cast iron, offering you durability no matter how hard you train. Its flat bottom means there will be no rolling when you set the weight down and the finish of this bell is made from a 'gravity cast molding' leaving a smooth finish and sturdy grip to rely on.
There are multiple weight options available so you needn't worry about having to opt for a lighter or heavier option than you'd like. Despite the TRX kettlebell being made from top-quality materials, the weight is quite expensive, especially for the heavier kettlebell options the brand sells. If you want to buy more than one weight you may find yourself going above budget.
What the users say
This cast iron kettlebell has gathered an average rating of 4.7 out of five stars over on Amazon, with lots of reviews commenting on the smoothness of its design. Reviewers have stated that it's comfortable to workout with and grip is good with one noting, "I do notice that the texture of the TRX lets me grip more later in the kettlebell session when I am sweating like an animal." A few say they have noticed paint chipping off their kettlebell but this aesthetic issue seems to be the main bugbear for most people.
---
3. Yes4All Single Vinyl Coated Kettlebell
Best kettlebell for indoor and outdoor training
Specifications
Weight range available: 5lbs (2kg) - 50lbs (22kg)
Dimensions: 8 x 7 x 4 inches (20.32 x 17.78 x 10.16 cm)
Color: Blue
Reasons to buy
+
Suitable for indoor and outdoor training
+
Great value for money
+
Made to last
Reasons to avoid
-
Could have a smoother finish
-
Handle is very thick
If you fancy adding kettlebells to your home strength training but are put off by the price of various options available, you might like to consider the Yes4All kettlebell. This option will leave a much smaller dent in your wallet while still delivering on durability and practicality.
You could say that the most appealing feature of this weight is that it's made from durable cast iron and finished with a vinyl coating. This final finish to the bell not only looks good but it means you needn't worry about disturbing your neighbors with noise during your workout or about damaging your flooring. Plus the solid cast iron makes it built to last long and it's perfectly suitable for training outdoors.
The handle is nice and wide so it's not awkward to train with and most people should be able to fit both hands inside it to perform two-handed exercises. But some may find the thickness of the handle a little too big. Although, some alternative kettlebells may have a smoother finish this Yes4All option offers a good grip with its textured handle.
It also has a flat base so it will sit securely as you rest it down during your workouts and makes storing it away easier.
What the users say
The Yes4All kettlebell has a 4.8 out of five stars rating on Amazon with lots of reviewers agreeing that it is a quality kettlebell for its price. Many people noted how it is a great addition to their strength training at home, with one saying "Great kettlebell, doesn't slip and has a soft rubber bottom so it doesn't mark up your floors." Some people expressed that they now want to buy a heavier Yes4All bell after buying one which clearly shows people have developed strength using this kettlebell.
---
4. JAXJOX Kettlebell Connect 2.0
The best tech-savvy kettlebell
Specifications
Weight range available: 12lbs (5kg) - 42lbs (19kg)
Dimensions: 14.75 X 17.13 X 14.75 inches (37.4 x 43.9 x 37.4 cm)
Color: Cool Gray
Reasons to buy
+
Includes six kettlebells in one
+
Performance tracking and reporting
+
Space-saving
Reasons to avoid
-
Awkward to charge
-
Requires subscription to JAXJOX to access workouts
-
Large in size
The JAXJOX kettlebell comes at a premium price but it takes the already advanced idea of an adjustable kettlebell to another level. Not only does this modifiable weight save you a load of space offering six kettlebells in one model but its been designed electronically. So when you need to change the weight, which ranges from 12-42lbs/5-19kg (going up in 6lbs increments), you only need to press a button and it's equipped with six-axis motion sensors, allowing you to track your weight, reps, and accuracy as you train. This is synced up to your phone via Bluetooth where you can review your workout and performance.
There are JAXJOX classes available in the app but the downside is that you have to pay a subscription fee to access the workouts. Nonetheless, considering there is an abundance of free kettlebell workouts posted to platforms like YouTube every day you can still get your money's worth from this premium kettlebell. Understandably, not everyone will want to pay this after splashing out a lot on the actual weight. But overall you should save buying one of these adjustable kettlebells as opposed to buying multiple different bells and a rack. It's a real winner for anyone looking to be space-savvy and avoid cluttering their home with workout equipment.
The device is designed to charge up fast via a USB cable but when deciding where to place your JAXJOX kettlebell in your home gym or workout space, you will need to find a suitable place to put it on charge. You may not have many or very accessible plug sockets in your gym garage so this is something to bear in mind as the cable isn't overly long. Compared to individual kettlebells this six-in-one model can feel fairly bulky to workout with, this might be more noticeable and challenging for smaller individuals.
What the users say
The JAXJOX Kettlebell Connect 2.0 gets a good rating on BestBuy with a 4.1 score out of five. Lots agreed that the kettlebell is a good way to save on money and space, with one reviewer saying, "The JAXJOX Kettlebell Connect 2.0 comes well packaged and the instructions were easy to follow. The weights are numbered 1 through 5 to aid in stacking them on top of the base." Although they are practical to workout with some didn't find charging them overly practical as the cable was too short for their liking. A few reviewers expressed their dislike for the 'paywall' JAXJOX introduce if you want to use the workouts but places like YouTube are packed with free kettlebell workouts, you can get around this and still get a lot out of this bell.
---
5. Amazon Basics Cast Iron Kettlebell
The best budget-friendly kettlebell
Specifications
Weight range available: 10lbs (4kg) - 45lbs (20kg)
Dimensions: 7 x 4 x 7.5 inches (17.78 x 10.16 x 19.5 cm)
Color: Black
Reasons to buy
+
Budget-friendly
+
Wide handle
+
Painted surface to avoid rusting
Reasons to avoid
-
Not overly smooth
-
Could have better grip
-
Doesn't have a flat bottom
Sometimes the most simple, no-frills, does-the-job kind of equipment is all you need and this Amazon Basics Cast Iron Kettlebell falls under this category. Although its a very basic and traditional kettlebell to look at it does feature a shiny top coat of paint, which is there to protect the weight from any corrosion leaving it with a sleek look.
You can buy this kettlebell in various different sizes starting at 10lbs and ending at 45lbs so there is an option for pretty much everyone when it comes to buying one or more. Plus, they are affordable enough that you won't break the bank too much if you do fancy yourself a set of these cast-iron weights. You might like to buy a rack if so though as they don't have a fully flat bottom, making storage a little awkward and this isn't ideal when resting your kettlebell between sets of a workout.
Overall though the design of this kettlebell allows you to incorporate the weight into various different exercises without it being too bulky or the handle being too narrow for you to fit both hands-on during a strength session. The kettlebell has a textured finish to enhance your grip but the glossy top coat that we mentioned above kind of counteracts hammered texture and does mean your hands may find things a little slippy the sweatier they get. This being said, it's not uncommon for people to work out with a pair of training gloves or use some powder during a kettlebell-based workout.
What the users say
This Amazon Basics Kettlebell gets a 4.8 score out of five across Amazon customer reviews. Most owners say that this kettlebell is great value for money, find the handle wide enough for multiple exercises and find the grip good enough. Some found their kettlebell had a few rough bits on it that disrupted feelings of comfort when training. A couple of users unfortunately said their kettlebell broke after it fell on the floor but it is made from cast iron so hopefully these accidents were just down to the height of the drop.
---
How to choose the best kettlebell for you
When it comes to deciding on the best kettlebell for your home exercise, there are a few things to consider that will help shape your choice. Our roundup above took into account various factors, but everyone will have different workout spaces at home and different levels and frequencies of exercise that are helpful to run over before buying a kettlebell.
Size
The size of your weight plays a key role in how easily you can incorporate it into typical kettlebell exercises such as swings, overhead presses, and rows. The bigger the size of the kettlebell the more awkward and bulky it can feel and risks making your workout feel harder than it needs to be.
Although adjustable kettlebells are extra convenient in many ways, they do tend to be bulkier in size. So if you like a smaller weight, a cheaper, less flashy kettlebell may suit your workouts better.
Weight
This will sound like an obvious point to consider but an easy one to misjudge especially when different fitness retailers list their weights in different weight measurements. For reference, we always list weights in pounds first followed by a conversion to kilograms so you know exactly what you're looking at depending on your region.
If you're experienced with resistance training and regularly train with weight then you should have a good idea of what kind of weight your body can comfortably train with. You also might like to further your strength gains at home by buying a couple more weight options to graduate up into heavier loads and implement progressive overload into your training.
Whereas those who are newer to weight training and just dipping their toes into kettlebell workouts for beginners should try and avoid buying yourself a kettlebell that's too heavy for you to lift safely for the duration of a whole workout. Instead, start light, anything around 11-18lbs (5-8kg) is ideal for beginners and will help you familiarise yourself with kettlebell exercises as you gradually develop your strength.
Adjustable or traditional
The traditional kettlebell is all you need when it comes to the actual strength-building and exercise part. You may be wondering why you would splash out considerably more on the sequel to traditional kettlebells, this being an adjustable one.
An adjustable kettlebell can be a real money and space saver. When you get multiple weights in one weight that can be changed via a dial or button it seems stupid to take up more space with a long rack filled with multiple kettlebells. Buying multiple individual weights gets expensive too. However, they aren't to everyone's tastes. They are an expensive purchase (albeit you won't find yourself buying multiple weights), they can be clunky to maneuver and you might have to buy two if you want to perform dual exercises to be more time-efficient and optimize strength goals. In saying that, single kettlebell exercises are supposed to be better for your core.
Grip
Everyone sweats and kettlebell workouts are intense and demanding, making them a perfect recipe for slippy hands. This is why the grip is so crucial when buying a kettlebell. The finish of the kettlebell is one factor that feeds into the reliability of the grip. You'll notice some kettlebells have a nice, sleek glossy finish to them, this will no doubt look good in your home gym but, this shiny surface may sacrifice how well your hands can keep a hold of the kettlebell. Others may feature a textured sort of hammered finish which helps with grip level. The cheaper you go the more likely you are to find rougher patches on your kettlebell handle and unless you want to file this down yourself, it might be worth your while spending a little more on a kettlebell.
Material
We don't all have floors made of pure steel or neighbors who don't mind the repetitive crash of a kettlebell hitting the floor during a HIIT workout. So if you worry about protecting your floors or about making minimal noise when you train with your kettlebell you should take a look at the ones made from cast iron. This creates a durable kettlebell but also minimizes noise and helps avoid corrosion of floor surfaces.
Another way to ensure your kettlebell avoids rusting or obvious visual faults is to pick one with a powder or vinyl coating as this provides extra protection and will endure outdoor training.
Jessica is Staff Writer at Fit&Well. Her career in journalism began in local news and she holds a Masters in journalism. Jessica has previously written for Runners World, penning news and features on fitness, sportswear and nutrition.
When she isn't writing up news and features for Fit&Well covering topics ranging from muscle building, to yoga, to female health and so on, she will be outdoors somewhere, testing out the latest fitness equipment and accessories to help others find top products for their own fitness journeys. Her testing pairs up nicely with her love for running. She recently branched out to running 10Ks and is trying to improve her time before moving on to larger races. Jessica also enjoys building on her strength in the gym and is a believer in health and wellness beginning in the kitchen. She shares all of this on her running Instagram account @jessrunshere which she uses for accountability and for connecting with like-minded fitness lovers.