Bad back from desk work? Stretching once a week can help, says new study
The hybrid home office setup means people still work from home without a proper desk and chair and are developing back pain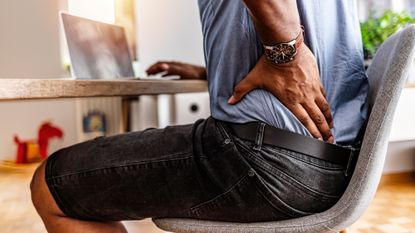 (Image credit: Getty)
Swapping the kitchen table for a proper desk and chair has been welcomed with open arms from many workers. Whether you've carved out a space in your home for a proper workplace setup, or you've gone back to work in an office, the 'hybrid' home-office setup has become the norm for many. Unfortunately six in ten young adults are suffering from what is being called the 'covid back'.
A new study commissioned by Mind Your Back revealed that 64% of 18-29 year olds suffer from back problems as a result of longer working hours and hybrid working conditions. The National Bureau of Economic Research reported last year the average working day has increased by 48 minutes worldwide. With people working considerably longer days than they did pre-pandemic, a decent home-working setup can save your health if you spend part of the week working from home. We recommend you start with our best office chair guide.
Dr Gill Jenkins, a British doctor and advisor to Mind Your Back has said, "For the six in ten Brits who have been mostly or always working from home during the pandemic and are now hybrid working, almost half don't have constant access to a table and supportive chair during their working day.
She added, "And unfortunately, 20 percent have to work while sitting on a sofa or bed. This plays absolute havoc with posture and spine health".
It's no surprise that people will be experiencing back problems when they have to spend up to eight hours a day on a laptop or computer slumped on the sofa. This may sound the ideal setup for some, but trying to carry out work on a computer for this long, with no solid support for your back, will be extremely detrimental to your posture. If the damage is done, trying out one of our best posture correctors could help with the day-to-day pain.
Staying active will help as it maintains mobility in the back. Although a lot of workers feel as they don't have time for exercise, the Mind Your Back study found that a fifth of the participants admitted to not exercising at all during a working week – and only seven percent said they stood up to walk around every hour or so.
Your brain needs regular breaks to work to its full potential. Dr Jenkins said: "Having short but frequent breaks is the most productive way to work. You can coincide these brain-breaks with mini workouts to make the most of your time.
"Get up regularly to have a good stretch and seize any opportunity to get moving. Do some squats while waiting for the kettle to boil or try some wall push-ups and planks."
Even doing something as simple as stretching prior to starting work could help prevent back pain. A study published by the National Institute of Health reported that weekly classes of yoga or intensive stretching are both beneficial for reducing lower back pain and assisting with back mobility.
The weekly classes in this study had a duration of 75 minutes. If you can't spare 75 minutes, as little as five minutes away from your screen can promote circulation and rescue back pain. Give this five minute yoga session a go before, during or after work: all you need is some comfortable clothes and your best yoga mat to get started.
Stretching is also included in The Mind Your Back 5 S.T.E.P.S. programme, which is a simple guide for hybrid workers to easily remember when they are experiencing back pain. The 5 steps are listed below:
Stretch - as we mentioned above, five minutes of stretching or yoga in the morning can help. This will increase mobility and relieve any tensions in the muscles.
Therapy - this kind of back therapy doesn't require a therapist but instead just means using things like anti-inflammatory rubs or spray such as Deep Heat or Deep Freeze can help relieve any pains and they advise alternating from both cold and hot therapies.
Exercise - it is possible to pick up low impact sports such as walking, cycling and running that can assist in the mobilisation of your back muscles and joints.
Posture - stay mindful of your posture, it can be easy to slump more when you are in the comfort of your own home. Propping your desk higher up will encourage you to look ahead and straighten up your back posture.
Strengthen - engaging your core and back in strength exercises will strengthen your back and help prevent unwanted stiffness and pain in that location. Try our best back workout next time you fancy a workout.
Get the Fit&Well Newsletter
Start your week with achievable workout ideas, health tips and wellbeing advice in your inbox.
Jessica is an experienced fitness writer with a passion for running. Her career in journalism began in local news and she holds a Masters in journalism. Jessica has previously written for Runners World, penning news and features on fitness, sportswear and nutrition.
When she isn't writing up news and features for Fit&Well covering topics ranging from muscle building, to yoga, to female health and so on, she will be outdoors somewhere, testing out the latest fitness equipment and accessories to help others find top products for their own fitness journeys. Her testing pairs up nicely with her love for running. She recently branched out to running 10Ks and is trying to improve her time before moving on to larger races. Jessica also enjoys building on her strength in the gym and is a believer in health and wellness beginning in the kitchen. She shares all of this on her running Instagram account @jessrunshere which she uses for accountability and for connecting with like-minded fitness lovers.