Best posture correctors to help improve alignment and minimise pain
The best posture correctors can reset slouching shoulders, reduce neck and back pain, and help you realign your spine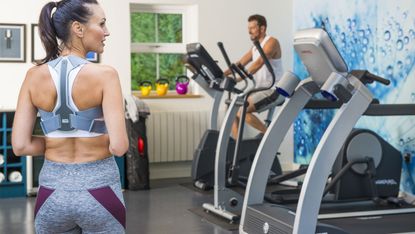 (Image credit: Posture Hero)
Suffer from back pain or slouching shoulders? The best posture correctors have got your back (quite literally) when it comes to correcting posture-related issues.
Poor posture is a common issue that and can lead to persistent pain if not treated. Whilst some people are born with conditions that affect their posture, for many it is the result of various aspects of modern life. These include sitting too long (and in a position that impacts alignment), so-called 'tech neck' - a condition caused by smartphone use - and even the shoes we wear or the bags we carry. These can result in an imbalance in the alignment of the spine and the weakening of the muscles around it, leading to muscle tension and recurrent back and neck issues.
This is where posture correctors can come to the rescue, by strengthening the muscles and amending postural alignment to a more natural spine shape - helping you appear taller, broader and stronger. Yes, they may not look all that attractive and can be fiddly to get on - but the benefits are worth it, helping you develop strength, defined muscles and flexibility, whilst simultaneously combating pain.
However, you will have to commit to a few lifestyle adjustments to support the addition of a corrector in your life: take short breaks to shock your body so you won't get used to a particular seated position, exercise to strengthen your back and and stretch the chest, shoulders and core muscles, which are crucial to lifting your frame.
How to choose the best posture corrector for you
One of the first things to consider is how much you want to spend. The list below contains options ranging from budget - around $10/£10 - right through to a hi-tech premium device that will set you back $90/£90. To help you decide what's right for you, it's worth considering how different posture correctors work - and how they might fit in to your lifestyle and needs.
'Traditional' styles take the form of back braces, typically with straps that go over your shoulders and under your arms that pull your shoulders back, and a central back plate that encourages a straight spine. One of the primary things to consider here is comfort - opt for adjustable styles that can be adapted to fit your shape and size, along with materials designed to keep you cool and comfortable.
Another key question you might ask is 'does my back look big in this?' Some bulkier styles don't offer the most streamlined of looks under clothing - but this might not be an issue if, for example, you work from home and won't be seen by the outside world.
Technology plays an increasingly important role in the health and wellbeing market, and that's true when it comes to the best posture correctors. Tech-integrated options range from a back brace that vibrates when your back bends over 25 degrees, through to the Upright Go 2 - a small, discreet device that sticks to your back and monitors your posture in real time.
Practical considerations are worth bearing in mind too. Some posture correctors can be tricker than others to get on and get into position, so think about how capable you'll feel putting your chosen corrector on every day - otherwise you run the risk of wearing it once before banishing it to a cupboard for the rest of its days.
1. Posture Hero Back Brace
The best posture corrector for most people
Specifications
Sizes: Junior, Small/Medium, Large
Weight: 154g
Recommended wear time: 2-3 hours daily
Reasons to buy
+
Sizing options
+
Superb fit
Developed in conjunction the experts behind the London Spine Clinic (opens in new tab) on the famous medical epicentre of Harley Street, this is by far top of the list when it comes to the best multitasking corrector. If you have found it difficult to find a brace that fits well, the Posture Hero is for you. It comes in a range of sizes to suit all body shapes and is super lightweight to wear, but still feels secure when its velcro straps are in place. When tested, it even stayed put even after a sweaty run - although if you work out a lot, the Posture Hero Sports (opens in new tab) might be more suited to your needs.
Don't expect an overnight miracle - you have to commit if you want to see real results. But wearing it over the course of a week, I noticed I was standing straighter and my niggling shoulder aches had gone.
2. Gritin Posture Corrector
The best budget posture corrector
Specifications
Sizes: One size (adjustable)
Weight: 80g
Recommended wear time: Not stated
Reasons to buy
+
Great value
+
Durable
+
Breathable, sweat-wicking fabric
Reasons to avoid
-
Not very discreet
-
Fiddly to adjust to fit
This is a posture corrector done well: an inexpensive yet effective way to correct posture without spending a small fortune and a functional piece of design. It's easy enough to get on without any assistance, but just be sure that it's properly adjusted; it can rub a little around the shoulders over time if fitted incorrectly. However, after a bit of fiddling our tester adjusted the brace to the perfect fit using the adjustable velcro straps, and there was no more rubbing. They loved the fact that it was breathable to wear, sweat-resistant and lightweight, making it suitable for warmer climates and accompanying you to your fitness class. Even though our tester was asked why they were wearing a backpack under their top, the results were totally worth it - after trialling for 21 days, it lived up to its promise of correcting hunchback shoulders.
3. Upright Go 2 Posture Trainer
The best premium posture corrector
Specifications
Sizes: One size
Weight: 159g
Recommended wear time: Changes daily based on progress
Reasons to buy
+
Discreet to wear
+
Long battery life
Reasons to avoid
-
Pricey
-
Not great to wear in hot weather
This is the most technically-advanced corrector on the market. The sleek device attaches to your back via an adhesive pad, and then reminds you to sit or stand straight by emitting a gentle vibration. With built-in Bluetooth, it syncs to your smartphone via the Upright app, so you can set daily goals to help improve your posture too.
It's super easy to set up, even if you aren't tech-savvy, and provides spot-on measurements and results thanks to six precision-enhanced sensors. Plus battery life has been increased from the original Upright Go model, taking its time between charges from 10 to a massive 30 hours.
One of the Go 2's major plus-points is it's size: at just 48 x 28 x 8.6mm, it's both light and discreet. However, one downside is that in addition to the considerable initial investment, you also have to replace the adhesive stickers. The device comes with nine included, which can last up to 10 days each. After that, they're available to purchase in packs of 10 for around $10/£10. The stickers don't mix too well with hot, humid conditions either, so this option might not be ideal to wear during a sweaty gym session. It could also prove tricky to put in place for anyone with limited mobility - you need to be able to touch your upper back.
Overall though, it's definitely still worth the money, and our tester joined the massive 92% of Upright Go 2 users that reported posture improvement in less than two weeks.
4. Boots Back Support Belt
The best posture corrector for lower back pain
Specifications
Sizes: S-M, L-XL
Recommended wear time: Not stated
Reasons to buy
+
Good value
+
Comfortable to wear
For anyone suffering from severe lower back pain, this back support belt provides fast relief from niggly, persistent aches. At first glance it looks more like a weight-training belt you might wear to the gym rather than a posture corrector, but once it's on you'll discover it helps get you back into a natural posture alignment by relieving the load on the spine and supporting the muscles around it to help them become stronger over time. It comes complete with an adjustable strap that makes it easy to get on and off, and it's very comfortable to wear… so much so you may even forget it's on come dinner time.
5. MeaMae Care Posture Corrector
The best posture corrector for slouching shoulders
Specifications
Sizes: One size (adjustable)
Weight: 85g
Recommended wear time: Two hours daily
Reasons to buy
+
Intelligent design
+
Easy to use
Reasons to avoid
-
Longer wearing time needed for results
The MaeMae Care posture corrector has been designed to provide everyday relief from that not-so-desirable hunchback look by supporting the muscles around the spine, neck and upper back. The harness is wide enough to get on and there's no need to twist to get it into place, plus it is easily adjustable and feels supportive and comfortable once on. A soft vibration alerts you when your back is bent more than 25 degrees, helping to avoid slumping back into old habits (quite literally).
At first, I thought the constant alerts might become annoying, but it ended up being encouraging. The more I wore it, the more I noticed a reduction in vibrations - along with how much better my posture had become after just a week. Over time, wearing it helps you become much more aware of your shoulder muscles, which in turn helps you develop a straight back - although you can easily fall back into bad habits without the harness triggering you not to hunch after the recommended two hours wear.
Kirsty is an accomplished journalist specialising in the wellness industry. She has previously written for titles including Grazia, Popsugar, Metro.co.uk, Elle UK and the Sunday Telegraph. You'll find her running around Windsor Great Park at 6am most mornings (before her toddler, Clementine Lilac, wakes up), followed by a virtual barre class with the team at Psycle London – where that barre burn is just so addictive. Kirsty loves to stock up on new activewear; because, let's face it, you can never have too many pairs of sculpting leggings. She's always keen to try/endure the latest workouts to come to London. Kirsty also enjoys rustling up nutritious family meals and indulging in her newfound hobby: flower pressing.