Beat the festive slump and boost your energy levels with this five-minute stretching routine
Add these five simple stretches to your mornings and reap the benefits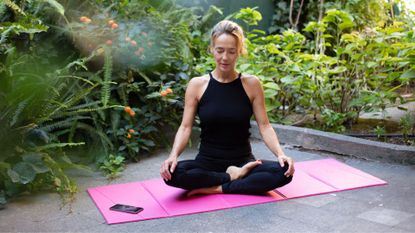 (Image credit: Getty)
There's no such thing as bad posture, but if you maintain any position for a long period of time you could find yourself in some discomfort – whether that's hunched over a desk or slumping in front of the TV.
A small study published in the Medicina (opens in new tab) journal found that slumping for long periods could increase lower back pain, so we'd recommend getting up and stretching fairly regularly if you want to avoid aches and soreness.
If you've found yourself in a bit of a fitness rut over the festive period, we think trying some gentle mobility work is a great way to get back into the swing of things, and these five stretches from yoga, fitness and wellness coach Rhiannon Bailey (opens in new tab) are a great place to start. You don't need any equipment (though the cushioning of one of the best yoga mats (opens in new tab) is always appreciated during kneeling poses) and they take just five minutes to do, so you can easily slip them into your morning routine.
Bailey recommends using these stretches three or four times per week, performing each one for six slow breaths (about 30 seconds) on each side of your body.
Watch her video below to find out how to perform each stretch, then give them a go for yourself. Adapt each position so you can feel a light tension in your muscle, but don't push a stretch to the point it becomes uncomfortable.
Watch Rhiannon Bailey's five daily stretches
Bailey says incorporating these five simple stretches into your morning routine will help increase your range of motion, reduce your risk of injury, improve your posture, boost your energy levels and help improve your sporting performance for activities like running and lifting weights.
The Mayo Clinic (opens in new tab) agrees, adding that stretching can also "enable your muscle to work most effectively" and "improve your ability to do daily activities".
Stretching, yoga and Pilates can all help improve your flexibility and the range of motion in your joints. This is extremely beneficial for resistance training and high-intensity resistance training (opens in new tab) sessions as it allows you to assume the proper form for exercises like squats and deadlifts, enabling you to get the most out of each exercise and reducing your chance of injury.
Harry Bullmore is a fitness writer covering everything from reviews to features for LiveScience, T3, TechRadar, Fit&Well and more. So, whether you're looking for a new fitness tracker or wondering how to shave seconds off your 5K PB, chances are he's written something to help you improve your training.
When not writing, he's most likely to be found experimenting with a wide variety of training methods in his home gym or trying to exhaust his ever-energetic puppy.
Prior to joining Future, Harry wrote health and fitness product reviews for publications including Men's Health, Women's Health and Runner's World. Before this, he spent three years as a news reporter with work in more than 70 national and regional newspapers.