Best yoga mat: top yoga mats for your home or the studio
Browse the best yoga mats to help you improve your practice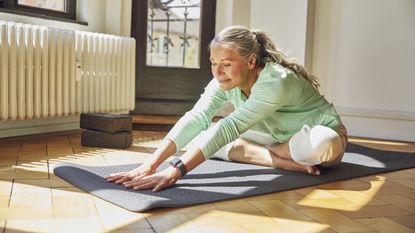 (Image credit: Getty)
We tested the best yoga mats around to bring you a selection of options that are fantastic for home workouts, sweaty sessions, and trying your hand at a downward dog. Having a good quality mat is important not only so it lasts the test of time but also so it provides a supportive base for your joints as you work out.
So what makes the good yoga mats stand out from the rest? Well, we put these mats to the test and rated them for the level of grip they offer, the quality and thickness of the cushioning, the materials they're made from, and the overall design.
Plenty of these mats are also eco-conscious, with materials such as natural tree rubber and 100% natural PU rubber, going the extra mile to make your purchase sustainable. There's also an array of designs and colors to suit all tastes, as well as lightweight offerings for those who like to switch between at-home and studio-focused sessions.
The main aim of the top yoga mats is to help you improve your practice, which is why we've used these mats ourselves to give you a first-hand account of their abilities. So whether you want to make a purchase to help you learn how to do yoga with bad knees, or to try anti-aging yoga, there should be a mat here that's been tested thoroughly in order to help you make your decision.
The best yoga mats you can buy right now
The best yoga mat for all-round use
Specifications
Thickness: 3mm
Size: 183cm x 61cm
Weight: 2.3kg
Material: Natural tree rubber
Reasons to buy
+
Affordable sustainable choice
+
Biodegradable
+
Superior grip
Reasons to avoid
-
Thin for beginners
-
Light colours only
-
Limited cleaning options
Sustainability seekers unite. The Eco Rise Yoga Mat from Yogamatters is every yogi's new eco-friendly, affordable, and biodegradable best friend. Harvested from natural tree rubber, and with a total absence of nasty chemicals and dyes, this mat is marketed at a very reasonably priced $60/£45 (considering its eco-conscious and recyclable roots) and gives even the most highly rated mats a run for their money. In our opinion, this yoga mat is the best of the bunch, which is not an easy feat, we can assure you.
We love the unique textured surface of the mat which has a slightly rubbery and subtle sandy texture and offers a superior grip for grounding and holding your body – regardless of how compromising a position you find yourself in. This, coupled with a thin (3mm) and lightweight (2.3kg) design that's perfect for the keenest of travelers, makes the mat an excellent all-rounder to suit all types of practice.
Yogamatters describe this as a morning yoga mat, reflected in the soft neutral tones that perfectly reflect tranquillity and peace. Unfortunately, the soft hues (while beautiful) do show grubby stains and marks quite quickly, and the mat can't be machine washed or sprayed with chemicals which can also cause some unpleasant smells.
We're seriously in love with this yoga mat. Great quality and design, twinned with an affordable and eco-conscious ethos, shoot this mat straight to the top of the charts to join the big boys of yoga mats.
What the users say
Users rated this mat a 4.6 out of five stars on Amazon and praised its non-slippy texture and design. One user stated "great price and lovely colors too."Negative feedback noted the strong smell of rubber but confirmed that this does wear off after a few days.
---
The best yoga mat for comfort in-studio and on the go
Specifications
Thickness: 4.7mm
Size: 180cm x 61cm / 200cm x 61cm / 200cm x 76cm (three sizes)
Weight: 1.9kgs/ 2.1kg/ 2.7kg
Material: PVC – OEKO-TEX certified
Reasons to buy
+
High-density cushioning
+
Three sizes (standard, long, long and wide)
+
Dark colors
Reasons to avoid
-
Heavy
-
Expensive
-
Can get slippery during sweaty workouts or hot yoga
Manduka has designed the PROlite as a quality lightweight on the go alternative for busy yogis. 'Lite' would suggest that this mat is super thin and compact for easy travel, but the large sizes and thick cushioning signal home use and intensive HIIT workouts. The standard size weighs just 1.9kg, which is considerably less cumbersome to travel with than some of its competitors, although we still recommend having a carry bag handy.
What Manduka has shaved off from weight they've packed on in length, making it the perfect investment for taller users. Those who need a little more support for their joints can rejoice as well, as there's 4.7mm of ample cushioning to see you comfortably through headstand to crow pose. Compared with the color offerings from Yogamatters Eco Rise Yoga Mat (opens in new tab), Manduka has opted for a darker palette consisting of deep blues, greys, and burgundy with equally moody names like Midnight and Indulge. This is a wise design choice that conceals the sweat marks and day-to-day wear and tears commonly associated with frequently pawed yoga mats.
If you struggle with rubber allergies, you'll be pleased to know that this mat is made from PVC which is a polymer of plastic. Although this isn't a natural material, it is OEKO-TEX certified (sustainably produced.) The PROlite also has a closed-cell construction, meaning it's designed to prevent any moisture or bacteria from absorbing into the mat. As a result, you can give this mat a quick post-class wipedown without faffing with sprays or washing machines. On the flip side, the soft and squeaky clean texture doesn't allow for much grip like the grainy textures of high-grip mats like the Sweaty Betty Super Grip Yoga Mat (opens in new tab). You might want to invest in a tip-top grip towel for extra support during your hot yoga classes.
Priced at $99/ £75, it's a bit pricier than the Yogamatters offering, but this is actually cheaper than others of its kind. You can undoubtedly guarantee versatility and durability from Manduka that should make the price tag worth the investment.
What the users say
Users rated the Manduka PROlite Yoga Mat 4.5 out of five stars on Amazon. Satisfied customers raved about the solid, sturdy, and comfortable design, with one person stating that they hadn't noticed any smells or damage after multiple uses. However, some users have mentioned how slippery the mat gets (even after using a regular salt brushing technique suggested by Manduka upon purchase.) All in all, this mat gets a big thumbs up.
---
The best budget yoga mat
Specifications
Thickness: 4mm
Size: 68" x 24"
Weight: 2lbs
Material: PVC
Reasons to buy
+
Lightweight
+
Travel-friendly
+
Great length
Reasons to avoid
-
Thin and narrow
-
Lacks grip
Traveling yogis will love the design of this mat. It weighs just 2lb and folds up into a compact square, so you can slip it into your bag and take it with you wherever you go.
Its PVC material means that it's easy to wipe down, so you can keep it looking fresh, and it's the cheapest mat we tested at less than $20. You can choose from a range of colors too, like Azalia pink and lime green.
We will admit that it feels a little thinner than most mats and when unfolded it retains its creases, which can get underfoot when you're transitioning between poses. But it's a great pick for a beginner who needs something cheap and simple.
It's a nice length at 68-inches, but its 24-inch width might feel narrow to some users (we had to readjust during warrior poses to make sure we stayed on the mat). We found it stuck really nicely to wooden and tiled floors though, without any slippage, which is a plus if you plan on practicing at home or in studios.
What the users say
The Primasole mat scores a decent 4.5 out of five stars on Amazon, with happy customers praising its compact design, light weight and easy foldability. Reviewers do point out that its not the thickest mat, but most of them are happy to accept this given the product's price.
---
The best yoga mat for superior grip and support.
Specifications
Thickness: 4mm
Size: 180cm x 66cm
Weight: 2.5kg
Material: 100% natural PU rubber
Reasons to buy
+
Excellent grip
+
Eco-friendly
+
Thick and supportive
Reasons to avoid
-
Heavy
-
Collects visible marks
The Yogi Bare Wild Paws Natural Rubber Extreme Grip Yoga Mat is a worthy contender if you value bundles of generous grip from your yoga mat. And at a premium price of $104.95/ £74.95, we'd expect nothing less.
Yogi Bare has combined support, style, and thickness into one eco-conscious mat – all while using fully sustainable 100% natural rubber. If that's not enough, for every mat bought, a tree is planted – a total win in our books. Yogi Bare has ensured their mats are biodegradable and recyclable, too.
This mat is all about the grip factor. Yogi Bare has added an extra firm and durable perforated rubber layer to create a sticky non-slip platform ready to challenge even your sweatiest practice. This does mean the mat collects dust and debris, although following Yogi Bare's cleaning guidelines (wiping your mat down with lemon juice diluted in warm water) does the trick.
Weighing 2.5kg, it's a little heftier than others like the Manduka PROlite Yoga Mat (opens in new tab), but the weighty design prevents any curling at the ends when you whip it out ready for class. 4mm of thickness means you can guarantee plenty of cushioning which is great news for those who favor an inversion practice, and with 180 x 66cm of mat space to play with, you've got total freedom to explore your limits.
Yogi Bare expertly exhibits yogi ethos in the print design of these mats, which come in grey, red, and ocean blue and feature subtle Aztec prints layered with rows of tiny trees and birds. An alignment line sliced down the center of the mat also encourages proper positioning and placement during your practice.
The strong smell of rubber when you first roll this mat out is worth noting, so we recommend leaving it for 24 hours to air the initial scent. Overall, it's a spacious and grippy addition to the yoga mat world.
What the users say
This mat gets a good rep overall across the Yogi Bare website. One user praised the non-slip grip, saying that 'my hands didn't move at all even when I pushed deeper into down dog which puts a lot of horizontal force into the mat.' This was backed up by multiple users who praised it as 'super grippy.' Others liked the 'lovely thickness' and the 'good balance between stability and cushioning.' Negative feedback suggested the mat loses its grip with time.
---
The best yoga mat for great value and everyday use
Specifications
Thickness: 5mm
Size: One size
Weight: 2.4kg
Material: Reversible polyurethane and rubber layers
Reasons to buy
+
Great grip
+
Reversible antimicrobial rubber and Polyurethane layers
+
Durable
Reasons to avoid
-
Heavy
-
Collects visible marks
-
Contains latex
The Lululemon Reversible 5mm Yoga Mat can often be found sitting leisurely at the top of many 'best yoga mat' charts – and for a good reason. Lululemon is well-known for luxe fitness apparel that serves as a reminder that solid investments do reap rewards, and this mat is no exception. It offers excellent grip, resilience, and a beautiful design that certainly lives up to the hype; we reckon it's worth the $88/ £68 price tag.
This mat comes in one size and – as the name suggests – is reversible. The polyurethane top layer is designed to absorb moisture and provide super-strength grip to support any type of practice, while the sweat-wicking natural rubber base provides smooth, soft cushioning and a textured grip suited to low-key yin style classes, stretch, or meditation. Laced within the fabric is an antimicrobial additive designed to prevent mold and mildew, making the mat quick and easy to wipe down and roll-up.
The reversible mat isn't entirely eco-friendly and may contain latex, so those looking for a more sustainable foray into the yoga world (or anyone with allergies) might be better suited to a brand like the Yogamatters Eco Rise Yoga Mat (opens in new tab) instead. It's also worth noting that the polyurethane layer tends to scratch and mark easily, although the rubber side is scratch and stain-proof. The classy and understated design comes in a range of swirled marbled colors to choose from using a soft palette that closely resembles Lululemon's activewear.
This mat is 5mm thick and offers plenty of padding for jarring joints. Weighing 2.4 kg, it also slices 0.1kg off the Yogi Bare Wild Paws (opens in new tab) mat, but can still feel quite hefty to carry for some time. We'd recommend trying the Manduka PROlite Yoga Mat (opens in new tab) or Jade Yoga Travel Mat (opens in new tab)if you're hot on travel. We also advise unrolling the mat 24 hours before first use, as the rubber smell is pretty potent and could earn you some curious head turns during more intimate group classes.
What the users say
There are rave reviews for the Lululemon Reversible 5mm Yoga Mat. One customer called it 'the best mat I've ever used', and another claimed the beautiful design turned heads during class. Others praised how comfy the mat was. Negative reviews cited problems with the color compared to website imagery and noted the strong rubbery smell. All in all, this mat is excellent value for money.
---
The best yoga mat for both sustainability and multipurpose grip factor.
Specifications
Thickness: 4mm
Length: 183cm x 61cm
Weight: 2kg
Material: Sustainable natural latex
Reasons to buy
+
Eco-friendly
+
Superb grip
+
Well-cushioned
Reasons to avoid
-
Heavy
-
Marks easily
-
Unsuitable for latex allergies
A mat that's eco-friendly and guarantees generous grip? Count us in. The premium price point of $88/£65 could initially have you squirming, but the Sweaty Betty Super Grip Yoga Mat is biodegradable, eco-friendly, and made from sustainable natural latex – making it well worth your investment. It's suited for all types of yoga practice and vigorous HIIT workouts, so you won't have to worry about repeatedly reinvesting either.
While this mat isn't as thick as the Lululemon Reversible 5mm Yoga Mat (opens in new tab), it still provides support if you're hoping to get creative on your mat. It's also lighter (2kg), making it suitable for on the go yogis and exercise-lovers alike. We love the four calming signature block colors in cornflower blue, mountain green, marina green, and slate, which look clean and classy, but unfortunately (as is the case with most rubber grip mats) it attracts dirt and dust. You might want to avoid rubber mats (in general) if this is a problem for you.
The grip is impeccable, which makes it much easier to hold balances and transition between more challenging poses during hot yoga classes, as well as smash out burpees or mountain climbers during HIIT. We found it a little thin underfoot at times, so it might be worth slipping a towel under more problematic joints for some extra cushioning.
Natural latex does have its pitfalls, and you'll notice a strong rubber smell when you first unroll this mat. This disappears quite quickly once aired out, but you can give it a quick wipe down with warm water and a cloth to speed up the process.
What the users say
Reviewers on the Sweaty Betty website hailed the Super Grip Yoga Mat for having 'just the right amount of stickiness.' Other users praised the colors and quality, while one stated 'very grippy and spongy – great for my sensitive knees.' Negative reviews suggest the mat could be a bit thicker and picked up on the dust and fluff collecting on the top layer.
---
The best yoga mat for travel
Specifications
Thickness: 3mm
Size: Two sizes - 173cm x 61cm/ 188cm x 61cm
Weight: 1.3kg
Material: Eco-friendly natural rubber
Reasons to buy
+
Lightweight and foldable
+
Brilliant grip
+
Sustainable
Reasons to avoid
-
Thin
-
Slippery when wet
-
Unsuitable for latex allergies
The Jade Yoga Travel Mat is the perfect travel companion to accompany any adventure-hungry yogi. This featherweight addition to the yoga mat lineup weighs just 1.3kg and is only 3mm thick, meaning it can be rolled or folded into half the size of a yoga block for easy transportation wherever you are (or plan to go.) This mat costs $58/ £62.72, and while it's cheaper than others in our round-up, this is still an investment for most.
We love the sustainable roots of this mat. It's made from natural rubber tapped from rubber trees without any PVC, EVA, or synthetic fibers, which goes hand in hand with the company's carbon-conscious ethos. In fact, for every mat sold, Jade Yoga even plants one tree. The thinness of this mat is perfect if you prefer feeling grounded and connected during your practice, but you won't benefit from much support or cushioning. We recommend beginners scoop up a thicker mat like the Lululemon Reversible 5mm Yoga Mat (opens in new tab) or the Manduka PROlite Yoga Mat (opens in new tab) for extra padding.
The sticky rubber surface is designed to prevent slipping and boost grip and uses open cell construction to absorb water and sweat more readily. We noticed great traction when transitioning through challenging yoga poses, but sweaty palms prove a little too much for this mat at times and this, coupled with the lack of padding, makes tricker poses – like extended back work or handstands – a tad risky. We recommend solving this with a grippy yoga mat towel (opens in new tab).
We love the four moody shades available in black, midnight blue, purple, and olive green; these darker hues prove useful as the mat attracts dirt and dust on the rubbery exterior. Rubber is known for its durability (great news), but also for its strong smell similar to the other mats we've reviewed. We recommend airing this mat upon purchase.
What the users say
The Jade Yoga Travel Mat caps a very respectable 4.6 out of 5 stars on Amazon, with 76% of reviewers giving it the full five-stars. Users praise the grip and how easy it is to store, as well as the sustainable design. Negative reviews say this mat can be high maintenance and requires a lot of cleaning due to the natural rubber. They also warn sun-worshipping yogis of sun exposure damage to the mat when used outdoors.
How to choose the best yoga mat for you
Trying to nail full wheel when your mat is sliding from underneath your palms is not only frustrating but could also end in injury, so it's crucial to align your mat to your practice.
The main factor to consider is material. Polymer plastic is widely used because of its brilliant grip factor, and polyurethane is often added to the top layers of yoga mats for this very reason – a firm favorite amongst hot yoga lovers. Natural tree rubber and PVC are also widely used in mats; rubber and PVC tend to be less environmentally friendly than cork, but are also more durable and less likely to be thrown away. Either way, it's worth checking whether your brand still uses materials that contain phthalate, as this releases toxins when breaking down.
We spoke to Emma Henry, Director at Triyoga (opens in new tab), for some top advice on finding and maintaining your yoga mat.
"There are so many things to think about," says Henry. "Like how ethical and eco-friendly the company is, the life expectancy of the mat, and whether the mat is for home practice or lugging around town. More general yoga mats are good for beginners and all practices, but if you know what style you like and what suits your practice best, then find a mat that is specifically designed to cater to that to get the most out of your mat," she recommends.
"I always look for a mat with good grip," Henry tells us. "There is nothing worse than sliding around on your mat, especially if you like a dynamic practice. If you prefer a floor-based practice, where comfort and support are more important than grip, then a thick large mat like the Manduka PROlite yoga mat is perfect." She also recommends opting for something lightweight if you like to travel.
How to take care of your yoga mat
"Ideally, you should wipe down your mat after every use," advises Henry. "You can purchase specific yoga mat sprays or make your own by diluting antibacterial tea tree essential oil with water."
Henry also recommends deep cleaning your mat with a mixture of bicarbonate of soda and water and using a soft flannel to get rid of any stubborn grime, oils, or odors. "Try to avoid soaking your mat, as they are porous, and you risk breaking down the materials and shortening its lifespan," she says. "Always lay your mat out to fully dry before rolling it up so it will sit flat the next time you use it for your practice," she adds.
According to Henry, investing in a high-quality yoga mat will pay off down the line. "Roll your mat into its bag and store it somewhere relatively cool. Avoid leaving your mat out in direct sunlight and heat for long periods, as this can affect the flexibility and durability of the mat," she adds.
For more on cleaning your yoga mat, read our article on how to clean your workout gear at home.
Sam Hopes is a level III fitness trainer, level II reiki practitioner, and resident fitness writer at Future PLC, the publisher of Fit&Well. Having trained to work with both the mind and body, Sam is a big advocate of using mindfulness techniques in sport and aims to bring mental wellbeing to the forefront of fitness. She's also passionate about the fundamentals of training and how we can build more sustainable training methods. You'll find her writing about the importance of habit-building, nutrition, sleep, recovery, and workouts.