Best yoga mats 2022: improve your practice with the top yoga mats
All of the best yoga mats for helping to improve your form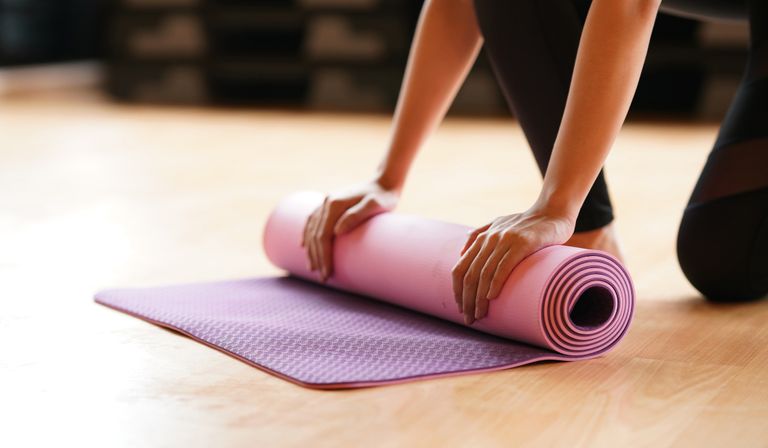 (Image credit: Getty Images)
Investing in the best yoga mat can make a tangible difference to your daily practice, equipping you with more grip to master even the most challenging of poses. Whether you're a regular yogi or you are just beginning your journey, good yoga mats can accompany you for years into the future, and help you perfect your technique and support your body.
Features to look out for in your next mat include a textured, grippy surface to keep you from losing your place mid-pose, as well as an exterior that won't degrade after sweat or oils fall onto it during a hot yoga session, for example. High-end mats often feature alignment cues and the ability to be easily cleaned too so that you can keep them in top condition.
Of course, a yoga mat can be used for so much more than yoga itself. These fitness essentials are great for stretching, HIIT workouts, and ab workouts too. All you need is the best water bottle for the gym and you've got a ready-made workout space.
The best yoga mats vary in thickness so that you can find one that's just right for you. They are also made from different materials, with some formed with latex and others created purely from eco-friendly materials making them a sustainable purchase.
Within this round-up, you'll find all the top yoga mats that suit you and your practice best.
The best yoga mats you can buy right now
The best yoga mat for most people
Specifications
Thickness: 3mm
Size: 183cm x 61cm
Weight: 2.3kg
Material: Natural tree rubber
Reasons to buy
+
Affordable sustainable choice
+
Biodegradable
Reasons to avoid
-
Light colours only
-
Limited cleaning options
This is a fantastic sustainable choice, made from natural tree rubber and biodegradable. The price is great for such an eco-conscious mat. With superior grip and a practical textured surface, this mat provides a strong base for any type of yoga practise. Sadly though, it's only available in light colours which means that grubby stains from sweaty hands and feet (or dirt collected from studio and hall floors) may show over time. Plus you can't wash it in the washing machine or use chemicals to wipe it down meaning it may become rather stinky quickly. That said, it's an affordable, great quality mat that's one of the best we've used - by far.
2. Liforme Yoga Mat
The best premium yoga mat
Specifications
Thickness: 4.2mm
Size: 185cm x 68cm
Weight: 2.5kg
Material: Natural rubber with specially engineered eco-polyurethane
Reasons to buy
+
Alignment cue lines
+
Superb non-slip
Reasons to avoid
-
Heavy
-
Larger than other mats
Talked about as one of the grippiest yoga mats out there, the Liforme yoga mat has lots more to offer alongside its non-slip technology. Toxic glue and plastic free, this mat is made from sustainable natural rubber with an eco-polyurethane top layer making it biodegradable. The alignment lines help to guide you in your practise proving to be especially useful for those practising at home. There really isn't much to dislike apart from it's one of the heaviest on the market and is larger than most. This isn't necessarily a bad thing unless you walk or cycle to your class. And if it's a cramped yoga class, having an extra inch or two width may mean your mat joins your neighbours'. This mat ticks more boxes than others so it's definitely worth the bigger price tag.
3. Yoga-Mad Warrior Yoga Mat II
The best budget yoga mat
Specifications
Thickness: 4mm
Size: 183cm x 61cm
Weight: 1.1kg
Material: Phthalate free PVC
Reasons to buy
+
Long-lasting grip
+
Lightweight for travel
Reasons to avoid
-
Made from PVC (plastic polymer)
-
Mat crumbles over time
Although made from plastic polymer, this budget option has great long lasting grip with ours still holding us strong eight years down the line. In fact, it's one of those mats that gets better with time, starting off a little slippery and rigid (due to the lack of phthalates) but moulding with each practise. It's phthalate-free so fewer chemicals will be released when you send it to the tip at the end of its lifecycle (although PVC will still release some nasties into the environment). It's lightweight, making it suitable for travelling without having to invest in a travel yoga mat. Perfect for beginners and for practitioners of most yoga styles offering sufficient grip and comfort.
4. Lululemon The Reversible Mat 3mm
The best all rounder
Specifications
Thickness: 3mm
Size: 180cm x 66cm
Weight: 1.76kg
Material: Polyurethane top layer, natural rubber
Reasons to buy
+
Great non-slip
+
Reversibility for longevity
Reasons to avoid
-
Marks and stains easily
-
Colour selection a bit bland
The non-slip on the textured side of the mat is a little disappointing, it had us slipping in downward dog after a breath. However, you can get through a hot yoga class with the superb non-slip on the smooth side. The textured side can be used for calmer practises like restorative or gentle yoga without a problem.
The only thing we noticed was that the hotter the practise, the more likely greasy forehead and sweaty hand marks were to stain the mat. These marks don't seem to dry and instead leave a little stain which is a bit annoying. The reason we love this mat is that it's lightweight compared to other mats in the same calibre so better for travel to classes. The reversibility increases its lifespan – you get two mats in one. It's nearly fully eco-friendly apart from the polyurethane top layer but it's the closest you'll get to the Liforme mat for half the price. It's a fantastic all-rounder for the price, non-slip properties and durability.
5. Jade Harmony Mat
The best sustainable yoga mat
Specifications
Thickness: 5mm
Length: 173cm, 180cm or 188cm
Weight: 2.2kg
Material: Natural tree rubber
Reasons to buy
+
Made from renewable source
+
Sturdy, thicker mat
Reasons to avoid
-
Wet stains the mat
-
Non-slip wears off over time
If sustainable buying is your thing, then the Jade Harmony yoga mat will be your go-to. For every mat sold, a tree is planted – so not only is your mat eco-friendly but you are actively helping to reduce carbon emissions with your purchase. Being 5mm in depth gives you extra support when practising on harder floors without making standing or inverted postures difficult. The only downside to this environmentally savvy purchase is that if your mat gets wet it can leave a long-lasting stain so a carrier is an essential if you walk or cycle to your class incase of a downpour. The natural rubber in this product can mean that over time the initial strong non-slip wears off eventually, but we think it's still a mat worth the investment.
How to choose the best yoga mat for you
When choosing which yoga mat to go for, there are two key elements to consider:
Grip, or traction
This is, hands-down (in downward dog) the biggest consideration when it comes to getting a new yoga mat, as there's nothing worse than trying to pull off a complex pose, only to feel your sweaty hands beginning to slide away from you. Grip is a combination of the materials the mat is made from, and the surface of the mat's design, with some carrying small bumps, ridges or other raised surfaces to help you stay put.
Yoga mats are made from various materials, the main ones being; natural tree rubber, polymer plastics (PVC) and polyurethane. Some of the polymer plastics used in yoga mats contain phthalates, the same stuff woven into plastic takeout food containers. It's these phthalates that release toxins when thrown in landfill, so many reputable brands are phasing out the use of phthalates – but still using PVC as a material.
Polymer plastics provide good grip, and until recent years, it was the main material for most mats. However, in my opinion, the best grip comes from mats made from polyurethane, or those that have a top layer of this material. If you're a hot yoga regular, look for this - it's the only one that will hold you when you're sweaty and in downward dog! If you're into restorative yoga then most mats will provide sufficient grip so you have a wider choice of mats to choose from.
Thickness
This is also a big consideration. A thick mat provides cushioning for your knees, elbows, hips, your tailbone and other potentially painful areas. A thinner mat provides less material between you and the floor, opting for a better earth-body connection and less cushioning, which means less imprints on the mat itself and less balance issues, as thicker mats are increasingly unstable. Your thickness of choice depends on where you normally practice, and how comfortable you are during the session.
Yoga mats come in different thicknesses, ranging from 1mm (for travel mats) to 6mm. When choosing your thickness, keep in mind where you practice regularly. For example, do you practice in a yoga studio with wooden floors or on a luxurious carpet at home? Go for a thicker mat if you find harder floors to be uncomfortable on your knees or hips and, conversely, go for a thinner mat if you practice on carpet, otherwise you may find it incredibly difficult to balance.
Cleaning and maintaining your yoga mat
We've obviously become much more conscious of hygiene in recent months. Most workout equipment like weights and exercise machines can take a wipe-down with strong chemicals such as Dettol and other alcohol-based cleaners. However, yoga mats are soft surfaces, so harsh chemicals in alcohol-based cleaners like Lysol could damage your purchase.
Instead, for rubber or PVC mats, you could soak a cloth or sponge in warm, soapy water, wipe down your mat and dry it with a separate cloth. These hard-wearing mats will withstand a more vigorous clean. Alternatively, for foam and softer mats, you could make a mix of white vinegar or dishwashing liquid combined with water in a spray bottle. Spray the mat down between sessions, wiping it clean with a washcloth, or leaving it in the sun to air-dry.
Kat is a yoga teacher with over five years teaching experience with a speciality in supporting injured students. She is qualified to teach Hormone Yoga Therapy and is currently studying to become a Yoga Therapy Practitioner. Alongside this, Kat has written about yoga and mindfulness for T3 and is the founder of Kalindi Yoga.