The US Army fitness test just got way harder, here's how to try it out
The US Army has updated its fitness tests to improve strength and prevent injury among soldiers and it sounds hardcore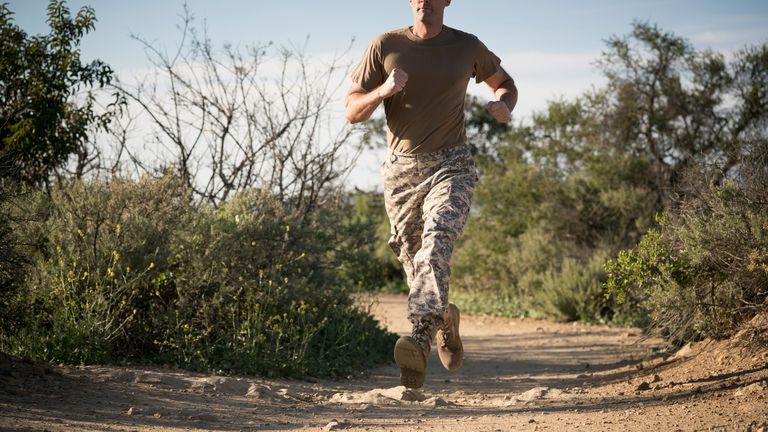 (Image credit: Getty)
By Jessica Downey published
When you hear of the gruesome army fitness tests undergone by many individuals you realize how physically demanding the job must be. To top it off the US Army fitness tests has recently been updated to increase levels of strength, prevent injury, and better prepare soldiers for modern warfare.
The new test requires much greater upper-body and core strength so if you're thinking of trying it out you will want to ensure you are comfortable deadlifting (you can do this at home with a set of adjustable dumbbells, these will allow you to increase the weight) and know how to do a push up properly.
For the first time in 40 years the US Army is switching things up and it isn't to make getting in or staying in any easier. The old test focussed on muscular endurance and cardiovascular fitness, testing if soldiers could complete two minutes of situps, two minutes of pushups plus a 2-mile run.
Bloomsberg Businessweek reported that Colonel Kevin Bigelman, the health and fitness director at the U.S. Army Center for Initial Military Training, said that the old test is a good assessment but: "There are other key physical assets that soldiers need to have for success in combat."
A greater emphasis is now being placed on strength, balance, coordination, and agility.
If you want to prove that your fitness abilities are up to US Army fitness standards then you will have to complete the following exercises:
What's included in the new Army Combat Fitness Test:
Maximum deadlift - Deadlift the maximum (minimum is 140lbs) weight possible three times
Standing power throw - Throw 10-pound medicine ball overhead and backward for distance (minimum 4.5 meters)
Hand release pushup - Complete as many pushups as possible in two minutes (minimum is ten)
Sprint-drag-carry - Five 50-meter shuttles: sprint, sled drag, lateral, medicine ball carry, and sprint (minimum of three minutes)
Leg tuck or plank - Complete as many leg tucks as possible, or hold a plank position for as long as possible (1 leg tuck or two-minute, nine-second plank)
2-mile run - Run 2 miles on a flat outdoor course for a minimum of 21 minutes
The new US Army fitness test has attracted attention from a lot of fitness lovers eager to give it a go. Including CrossFit athlete Demi Bagby who joined the US Army Warrior Fitness Team to try it out.
After pushing through the enduring physical challenge the bodybuilder said, "The army is no joke".
Watch Demi's attempt below...
A big part of the decision to change the fitness assessment was down to injury prevention. According to the 2020 Health of the Force report, over 50% of US soldiers suffered an injury in 2019. Moreover, the US Army spends around $577 million a year on treating musculoskeletal injuries.
Better levels of fitness and strength conditioning will help to lower the risk of injuries and reduce medical bills as well as 'lost-duty' days.
If you're inspired to take on the new fitness test then it might be a good idea to grab yourself a pair of best cross training shoes. This way you'll have trainers suitable for the various exercises included in the challenge.
Jessica is Staff Writer at Fit&Well. Her career in journalism began in local news and she holds a Masters in journalism. Jessica has previously written for Runners World, penning news and features on fitness, sportswear and nutrition. She is a keen runner and is currently sweating her way through a 10k training plan. Jessica also enjoys building on her strength in the gym and is a believer in health and wellness beginning in the kitchen - which she loves sharing with others on her healthy living-inspired Instagram account, @jessrunshere. Despite her love for nutritious cooking, she stands by the saying 'everything in moderation' and is eagerly conquering the London food and drink scene!