Boost your mood and build core strength with this 10-minute stretching routine
Boost your mood, develop your core, and strengthen your body with this short Pilates routine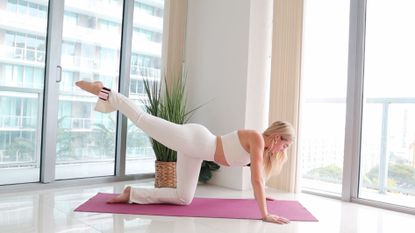 (Image credit: Callie Jardine )
You won't always feel like doing an intense workout, but that doesn't mean you can't add some mood-boosting movement into your day. The practice, which focuses on building core strength, doesn't need to take long, as this 10-minute session shows.
Pilates takes things at a more leisurely pace than a fast run or bout of high-intensity interval training (HIIT). However, it still boasts a whole host of health benefits, from improving your flexibility to strengthening your bones, developing core strength to easing back pain.
"Pilates is such a great way to stay healthy because it's low impact which means the exercises are gentle on the body," certified Pilates instructor Callie Jardine told Fit&Well.
"As a former competitive figure skater who's tried pretty much every form of movement, Pilates is hands down my favorite because it never gets boring, provides a challenge for all fitness levels and is extremely fun."
Jardine created this 10-minute beginner session which "blends foundational Pilates moves with feel-good affirmations to help people feel empowered when starting their Pilates journey".
You don't need any equipment either, so you can do it anywhere (although you might want a yoga mat to provide a grippy platform for your hands and feet).
Follow along with Jardine's class by watching the video below. She'll walk you through each movement, providing technique tips to help you can get the most out of your session.
Watch Callie Jardine's 10-minute Pilates workout
As a form of exercise, you might not be too surprised to learn about Pilates' many positive physical impacts, especially if you take on a Pilates ab workout to target your midsection. But it's not just your body that will benefit.
"Pilates will not only provide physical benefits to consistent practice but also mental health benefits," says Jardine.
"In my classes, I pair affirmations and breathwork with low-impact Pilates moves to help my students boost their mood, lower their stress, and reduce anxiety and depression while improving their total body strength (with an emphasis on core), flexibility and balance."
Some of these techniques overlap with other guided breathing sessions, which can help increase your mental strength in a similar way to learning how to meditate, but without needing to sit still for extended periods.
If you enjoyed this session, you might want to try our Pilates plan for beginners, which will teach you the basics of the practice over the course of four weeks. Or, if you just want another one-off workout, why not give this 15-minute session a go?
Get the Fit&Well Newsletter
Start your week with achievable workout ideas, health tips and wellbeing advice in your inbox.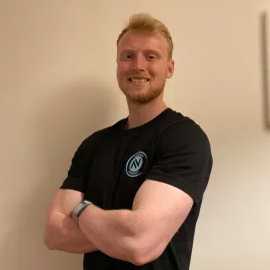 Harry Bullmore is a Fitness Writer for Fit&Well and its sister site Coach, covering accessible home workouts, strength training session, and yoga routines. He joined the team from Hearst, where he reviewed products for Men's Health, Women's Health, and Runner's World. He is passionate about the physical and mental benefits of exercise, and splits his time between weightlifting, CrossFit, and gymnastics, which he does to build strength, boost his wellbeing, and have fun.
Harry is a NCTJ-qualified journalist, and has written for Vice, Learning Disability Today, and The Argus, where he was a crime, politics, and sports reporter for several UK regional and national newspapers.