This kettlebell workout will help you torch fat and tone up in twenty minutes
Short on time but want to fit in an effective workout? Try this 20 minute calorie burning routine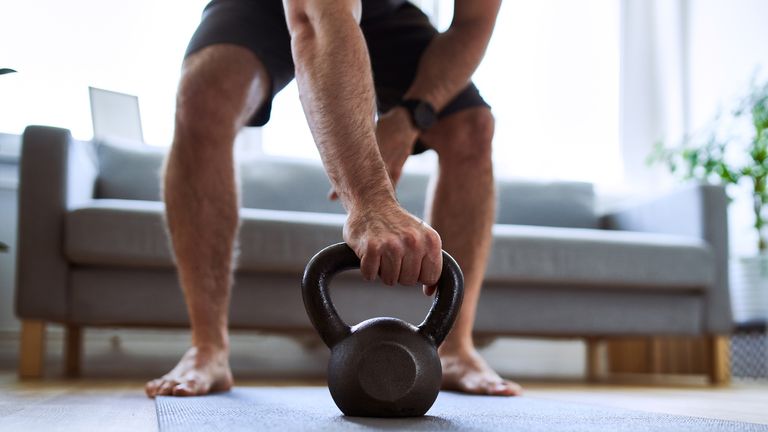 (Image credit: Getty)
By Jessica Downey published
When the festive season well and truly hits our diaries only get busier and exercise tends to fall down our list of priorities. If you want to regularly exercise throughout December but have minimal time all you need is this quick kettlebell workout to have you blasting fat at the gym or from home.
A lot of the time exercising from home is more convenient and one reason why it is worthwhile looking into buying a best kettlebell - this will be a great addition to your home workouts if you want to see and feel results.
Adding weight to workouts helps to build strength in various muscle groups and the bonus of using a free weight like the kettlebell is that it is easily stored away between workouts.
This twenty minute kettlebell workout will have you burning 300 calories or more as it targets the upper and lower body. With just five moves it is an easy routine to remember whenever you choose to pick up the kettlebell to exercise.
The video was posted online by popular fitness coach Will Beckford. Will shared the video to his TikTok page where he is known as @willknowsfitness and currently has a total of 1.1 million likes on the platform.
At the end of the video, Will moves his wrist toward the camera showing that he burned a total of 322 calories just from completing this workout.
Watch WillKnowsFitness kettlebell workout
Some people prefer to use a best adjustable dumbbell when working out from home because you can move up or down weight from one piece of equipment as opposed to multiple dumbells or kettlebells of varying weights.
However, Will only uses one weight of kettlebell in the video. So you won't have to worry about not having a range of weights to work from and you can perform the whole routine with one piece of equipment.
Twenty minutes sounds short and sweet but Will outlines in his TikTok that it is an AMRAP style workout meaning the aim is to complete As Many Reps as Possible or As Many Rounds As Possible within the time given.
For this particular routine, you will repeat each exercise five times and complete as many rounds as possible. Below are the five kettlebell exercises to use in the workout:
5 kettlebell workout exercises
Kettlebell Swings
Kettlebell Goblet Squats
Kettlebell Squat Jumps
Kettlebell Curls/Presses
Kettlebell Single Leg Hinge Romanian Deadlifts
The AMRAP style of workout is a really effective way to train your body plus the addition of light weight (over heavyweight) could be game changing if you want to gain muscle.
A study published in the Journal of Applied Physiology found that lifting lighter weight for more reps is just as effective at building muscle as working out with heavy weight.
If for any reason you can't lift weights or just don't want to include weight into your workouts then you can also integrate AMRAP into your bodyweight training to increase the intensity.
You can try this with the best at home chest workouts and test how many you can manage.
Jessica is Staff Writer at Fit&Well. Her career in journalism began in local news and she holds a Masters in journalism. Jessica has previously written for Runners World, penning news and features on fitness, sportswear and nutrition. She is a keen runner and is currently sweating her way through a 10k training plan. Jessica also enjoys building on her strength in the gym and is a believer in health and wellness beginning in the kitchen - which she loves sharing with others on her healthy living-inspired Instagram account, @jessrunshere. Despite her love for nutritious cooking, she stands by the saying 'everything in moderation' and is eagerly conquering the London food and drink scene!