Best grill: Cook chicken, fish, veggies and more in a healthy way with electric grills
On the lookout for the best grill to help you make healthy choices this year? We rundown our hot picks...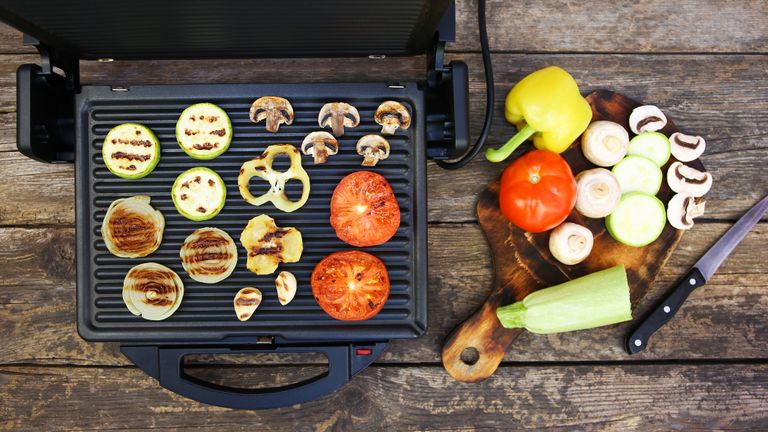 (Image credit: Getty Images)
By Pete Dreyer
If you've spent any time looking for the best grill on the market, you know one name immediately comes to mind: George Foreman. The former heavyweight champ is probably more famous for his Lean Mean Grilling Machines than he was as a boxer, and there was a time when George had the market on the ropes - but these days there are other companies all vying for his crown.
Tefal is George's most serious and consistent competitor in the electric grill stakes, and the Tefal OptiGrill+ is the best option around for our money – it's powerful, there's room to cook plenty of food, all the plates are dishwasher-safe and it's packed with useful auto-cooking features. That said, there are other great options to suit different budgets and needs.
How to choose the best grill for you
For the purpose of this guide, we'll be focussing on electric grills suited to cooking in your kitchen. These grill machines have shot to popularity as a quick, easy and - crucially - healthy way to cook food.
As your food grills between two hot non-stick plates, any fat in the food renders out and drains away, leaving you with a much healthier result than traditional grilling, roasting or pan-frying. Not only that, but because you're grilling from both sides at once, it cuts your traditional cooking times in half – you can have a chicken breast cooked in just 6-8 minutes.
You can nab yourself an good grill for anywhere between $25/£20 and upwards of $400/£300, but there are a lot of factors in between to consider. At the bottom end of the scale, you're generally looking at smaller, less powerful options with nothing in the way of extra functions or features.
These are still perfectly serviceable for single portions and vegetarian cooking, but if you're cooking meat and fish for a number of people, you'll need to upgrade to something bigger and more powerful. More power means more heat, which means a better sear and more flavour on your meat.
Inevitably as the price goes up, so too do the features. The likes of the Sage Smart Grill Pro and Tefal OptiGrill+ have special presets for cooking different types of meat and fish, as well as thickness detection and internal temperature detection for automatic cooking. These are all useful, but not always necessary for the average user, especially if you're paying a premium!
Cleaning is another important factor worth considering. If you've used a regular grill with any regularity, you'll know that it gets dirty pretty quickly. Electric grills are no exception – many of them come with detachable grill plates that are dishwasher-safe for easy cleaning, but this isn't guaranteed, especially with cheaper models. Ultimately, the grill is only as good as it's plates, so it's worth investing in good quality non-stick griddles.
1. Tefal OptiGrill+
The best grill for most people
Specifications
Dimensions: 37 x 36 x 16.5 cm
Weight: 5kg
Cooking surface: 679cm²
Removable plates: Yes
Dishwasher safe: Yes
Power: 2000 watts
Reasons to buy
+Auto-cooking functions+Solid construction
Reasons to avoid
-Doesn't open flat
The OptiGrill+ is a great all-round option for most people. For starters, the build is top quality – die-cast aluminium grill plates are much more wear-resistant compared to cheaper alternatives, and all the cooking surfaces are detachable and dishwasher-safe for easy cleaning.
Under the hood the OptiGrill+ is packed with features too, including automatic programs for burgers, poultry, bacon, sausage, red meat and fish and built-in thickness detection so it will alert you as your meat goes from rare to medium to well done.
If you don't need the bells and whistles, that's fine – just stick it into manual mode and grill away to your heart's content.
2. Sage by Heston Blumenthal Smart Grill Pro
The best premium grill
Specifications
Dimensions: 43.3 x 22 x 44.4 cm
Weight: 9.8kg
Cooking surface: 1650cm²
Removable plates: Yes
Dishwasher safe: Yes
Power: 2400W
Reasons to buy
+Accurate cooking+Huge cooking area
Reasons to avoid
-Big and bulky-Pricey
Heston's Sage range boasts impressive feature sets at high prices and the Smart Grill Pro is no different. At nearly 10kg, this grilling behemoth isn't the sort of thing you can stash in a drawer when you're not using it, but for the money and the size you get a phenomenally professional bit of equipment.
The Smart Grill Pro has a variable height setting on the upper plate so you can use it as a press, but it'll also open flat, making it into a huge electric barbecue. It'll deal happily with anything you throw on it, but meat cookery is where Heston's grill comes into its own – the Smart Grill Pro has dedicated settings for pork, beef, poultry, lamb and fish, and a built in temperature probe monitors the internal temperature of the meat, letting you cook to your desired doneness!
3. George Foreman 25810 Fit Grill
The best budget grill
Specifications
Dimensions: H7.7 x W33.3 x D27.5 cm
Weight: 2.36kg
Cooking surface: 550cm²
Removable plates: Yes
Dishwasher safe: Yes
Power: 1630W
Reasons to buy
+Great value+Compact
Reasons to avoid
-Limited features-No adjustable temperature
George Foreman grills might not be the most advanced out there, but big George is still the guy to go to if you're looking for a quality budget grill that does the simple things right.
The new streamlined design means, unlike the OptiGrill+ and the Smart Grill Pro, the George Foreman 5-Portion will easily slide into a drawer or a cupboard when you're not using it.
When it's time to grill, it ticks all the boxes – it heats up fast, there's enough space to cook multiple portions at once, the drip tray is nice and wide and all the important parts are detachable so you can wipe them down in a jiffy.
4. Cuisinart Griddle & Grill
Best grill for toastie fanatics
Specifications
Dimensions: 33 x 18.5 x 24 cm
Weight: 4.53kg
Cooking surface: 679cm²
Removable plates: Yes
Dishwasher safe: Yes
Power: 1600W
Reasons to buy
+Reversible grill plates+Opens flat
Reasons to avoid
-A little underpowered-Clunky design
The design is a little on the clunky side, but under the surface this Cuisinart grill has some neat little features. The clever floating hinge mechanism makes it very versatile – you can open it out into a flat tabletop grill, but it also works as a very serviceable sandwich press.
The plates inside are detachable for easy cleaning and also reversible, so you can switch between ridged or flat plates depending on what you're cooking. The wattage is a little lower than some of the other options, so the Cuisinart doesn't have the same blazing power as the Sage or Tefal options on this list, but it's still a very capable and versatile option.
5. George Foreman Griddle & Grill
Best grill for feeding a family
Specifications
Dimensions: 13.3 x 31.7 x 57.4 cm
Weight: 3.8 kg
Cooking surface: 439cm² + 613cm²
Removable plates: No
Dishwasher safe: No
Power: 2180W
Reasons to buy
+Two separate cooking zones+Lots of cooking room
Reasons to avoid
-Non-removable plates-Not dishwasher safe
This griddle and hot plate combo grill is a two-in-one marvel, packing two separate cooking zones into one machine each. Both the griddle and the grill are a decent size – four-portion and six-portion respectively – and they have independent variable temperature dials so you can be keeping something warm on the hotplate whilst you're searing meat and vegetables on the griddle.
The construction is solid, but the grill plates aren't detachable – this means they heat up very quickly, but cleaning them afterwards is a bit of a pain. But if you're looking for something with a bit more versatility than the classic grill and enough space to feed a hungry family, the Griddle & Grill might just be the one for you.