Tefal OptiGrill+ review: our top health grill is a great kitchen addition
The Tefal OptiGrill+ packs a lot into a friendly price point, with solid build quality, dishwasher-safe parts and a raft of automatic cooking features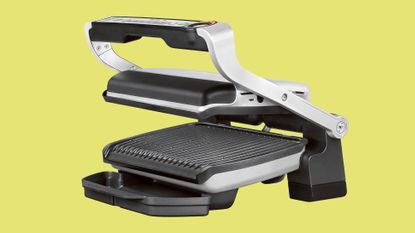 (Image credit: Tefal)
If you're someone who envisages getting daily use out of a grill and you have a large chunk of worktop space for it to live on, you'll find the Tefal OptiGrill+ is a fine addition to your kitchen.
Reasons to buy
+

Easy to clean

+

Automatic cooking

+

Versatile
Reasons to avoid
-

Limited cooking area

-

Doesn't open flat
Welcome to Fit&Well's in-depth review of the Tefal OptiGrill+, one of the leading health grills on the market.
When George Foreman launched his very first Lean, Mean Grilling Machine, who knew we'd end up here? We're used to seeing celebrities and athletes lend their name to products, usually in search of a quick buck - but in George's case, whether by foresight or fortune, it turned out to be a masterstroke. Foreman is one of the greatest heavyweight boxers of all time, but when he partnered with Salton in 1994 to start selling grills, he created a monster that has netted him an alleged $200 million in royalties – a number that completely eclipses his earnings as a boxer.
These days of course, everyone wants a piece of the action. I've compared various grill options on the market to date (check out my best grills edit for more on that), but today we're taking an in-depth look at the Tefal OptiGrill+. For clarity, the same model is titled slightly differently in the USA, thanks to a different brand spelling - there it's known as the T-Fal OptiGrill+. However, for the purposes of this review (and as a British writer) I'll be sticking with 'Tefal'.
Of all the health grills out there, this model is the best of the bunch in my opinion (sorry, George), offering great build quality and a slew of automatic cooking features at a very reasonable price. Read on to discover how and why I arrived at this opinion.
Tefal OptiGrill+: Price and Features
The Tefal OptiGrill+ has a recommended retail price of $129.99/£159.99, although from time to time you will find you can pick up this model for less. Handily, the shopping widget below will always show the most up-to-date pricing information, so you can be confident you're getting the best deal.
As for the features you'll score for that price, they include an automatic cooking sensor that detects the thickness of your chosen food and adapts the grill time accordingly, six built-in cooking programs for meat, fish and more, a useful color-coded display that indicates the progress of your cooking, and - crucially - removable non-stick plates that are dishwasher safe.
Tefal OptiGrill+: Design
First impressions of the Tefal OptiGrill+ are that it's quite bulky. When you're weighing up which grill to drop your cash on, one of the first considerations is size – the larger the grill, the more space you have on the grill plates to cook and the more people you can feed at once. The grill plates on the OptiGrill+ are 30cm by 20cm – that's plenty of room to cook for 2 to 4 people in my estimation, but when you include the housing, large handle and drip tray, the OptiGrill+ is considerably larger than that and takes up quite a lot of space on the worktop.
Aside from that the build quality is solid – the OptiGrill is big but it's sturdy and doesn't feel rickety in the way that some cheaper models do. It's pretty heavy too – around 6kg, which makes it much heavier than the equivalent size George Foreman Grill.
Some grills on the market will open up into a full tabletop grill, giving you the option of more cooking space. The OptiGrill+ does not do this – you're limited to using it as a press, so bear that in mind.
The other important thing to note is the grill plates themselves. This is obviously the part of the grill that gets the most wear, so it's important to look for good quality, hard-wearing plates when you're buying. The Tefal OptiGrill's die cast aluminium plates are very solid, they seem to conduct heat pretty evenly across the grill and perhaps most importantly of all, they're dishwasher safe, which saves you a whole load of hassle after use.
Tefal OptiGrill+: Funtions
Along the front of the thermoplastic handle you have all your buttons – automatic cooking modes for burgers, chicken, bacon, sausages, red meat and fish, as well as manual mode, defrost mode and a doneness indicator, which helps you cook food to your exact doneness. This teams up with the automatic thickness sensor built into the unit itself – when you close the lid on your steak, the Tefal OptiGrill+ registers the thickness of the meat and then adjusts the cook time to compensate. As your meat cooks, the indicator changes colour from blue, to yellow, to orange, to red and gives you an audio cue as it shifts from rare to medium to well done. It's a smart bit of design that I tested with mixed results, but more on that later.
Switching the OptiGrill+ into manual mode lets you use it in a more traditional way, setting a temperature for the plates and then grilling manually. There's not much more to say about this, it works well, and 2000W is plenty of power to get the plates screaming hot if you want to.
The OptiGrill+ also offers a defrost mode that will cook things from frozen in a pinch. Again, I had mixed results here; there's no replacement for defrosting things at room temperature (or in the fridge) but if you want to get some food on the table quickly and you have no other options, the defrost function will work, but don't expect perfect results.
Tefal OptiGrill+: Performance
So, let's get into the meat of this review. Simply put, if you work within the Tefal OptiGrill's limitations, you'll get fantastic, delicious results from it. If you try and make it do things that it's not built to do, you'll find yourself disappointed.
For example, if you buy the OptiGrill+ thinking that you can throw a frozen chicken breast in there and it'll cook it automatically for you, think again. The most important thing to realise is that the OptiGrill+ only works well when cooking things that are an even, consistent thickness. For this reason, it does a fantastic job with steaks. We tested a few different steaks using the automatic steak mode and found the doneness indicator was bang on for rare, medium rare and medium steak cooking. This is a huge plus if you eat a lot of steak – getting perfect results in a pan isn't easy and the Tefal OptiGrill+ takes all the guesswork out.
Similarly for bacon, sausages and burgers, this is an ideal way to cook them. Both sausages and burgers have a relatively high fat content inside, so they stay nice and moist whilst the grill leaves nice bar marks and charring on the outside. Any excess fat drains away into the drip tray at the bottom. This is what this style of so-called 'health grill' was designed to do and it shows.
It's a slightly different story when it comes to white meat and fish. These are both much leaner than sausages and burgers, but unlike a steak, they have to be cooked well done for food safety reasons. As a result, the OptiGrill+ has a tendency to overcook them both, giving you a result that's a little on the dry side.
When it comes to chicken we'd recommend butterflying your fillets so they're a consistent thickness all the way through, then cooking them in manual mode to keep them as juicy as possible.
As for fish, well, this sort of grill just isn't an ideal way to cook fish – it'll work but personally I'll always prefer a more gentle method that gives you more control, like pan-frying or steaming (see our pick of the best steamers for the latter).
As for vegetables, Tefal recommends that you stick to manual mode and actually supplies a little booklet with recommended temperatures for different vegetables. Again, no issues with the grill in manual mode; I found it more than powerful enough to cook everything.
Tefal OptiGrill+: Verdict
The Tefal OptiGrill+ is an ambitious bit of kit. The promise of a kitchen appliance that will take cooking out of your hands is one that will appeal to many, and for the most part, I think the OptiGrill+ delivers. The automatic steak cooking is impressive, and the OptiGrill+ will handle most of what you throw at it, though it does struggle with uneven cuts and the idea of cooking from frozen is perhaps a step too far.
The automatic cooking modes are a big part of the sell, but if you prefer to trust your own judgement the Tefal OptiGrill+ works perfectly well in manual mode, though you may find cheaper options that do a similar job. All in all, this is a great all-rounder with few downsides and build quality to last.
Also consider
Sage by Heston Blumenthal Smart Grill Pro: A professional quality grill at an eye-watering price point
George Foreman 25810 Fit Grill: A smaller, budget option that performs well, without the extra bells and whistles
Get the Fit&Well Newsletter
Start your week with achievable workout ideas, health tips and wellbeing advice in your inbox.
Pete is a journalist, recipe developer and chef, specializing in food, health, fitness and technology. He has written for the likes of T3, TechRadar, Great British Chefs and the BBC about a plethora of topics, from healthy eating on a budget to fitness tech for every sports and fitness activity. He continues to drive forward the message that healthy eating can be delicious, affordable and easy via quick, simple recipes on his blog. In his spare time he's a keen rock climber and boulderer, and spends lots of time running - either on trails, roads or out on the hockey pitch!