Best vegan cookbooks for plant-based inspiration
The best vegan cookbooks are full of delicious meals, whether you're fully plant-based or cutting back on meat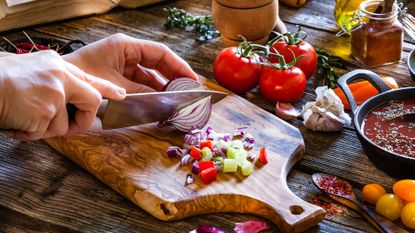 (Image credit: Getty Images)
The best vegan cookbooks are the perfect addition to any home kitchen, whether you're vegan, primarily plant-based, or looking to reduce your meat intake. The books come with accessible ways to cook delicious meals, energetic breakfasts, and tasty snacks for plant-based fuel throughout the day.
Thankfully, each of the best vegan cookbooks offers more than stuffed peppers or grilled mushrooms, the vegan staples of yesteryear. These days, you can make vegan alternatives to your favorite meals, experiment with new ingredients, and save money. And importantly, you won't miss out on all the nutrients you need to stay energized and healthy.
If you aren't a vegan or don't regularly eat that way if you're hosting a get-together or dinner party, it can be hard to know what to cook that'll please everyone. The top-rated vegan cookbooks are a great way to find exciting inspiration, and plenty of the recipe books have sections dedicated to batch cooking or hosting.
Our top pick is The Happy Pear by David and Stephen Flynn, which guides you through some of the core techniques and ingredients that make up a plant-based diet. But there are plenty of choices out there, so we've found a selection of cookbooks to suit all tastes, budgets, and cooking styles to help you on your way to a more plant-based diet.
The best vegan cookbooks you can buy right now
1. The Happy Pear: Vegan Cooking For Everyone
The best vegan cookbook for most people
Specifications
Author(s): David Flynn, Stephen Flynn
Pages: 352
Released: 2020
Created by twins David and Stephen, The Happy Pear aims to help people to live happier, healthier lives. Part of this is about eating more vegetables, plant foods and whole foods, but emphasis is also placed on togetherness and community.
The Happy Pear started out as a small shop, but now spans four cafés, numerous online courses, a farm and a roastery, as well as four cookbooks to date. This book is designed to break down vegan cooking to its basics. If you're looking to get started with vegan cooking, this covers techniques and ingredients to give you a solid grounding in everything you need to know. As well as following the delicious recipes, it will help you grow the confidence to develop your own vegan dishes for any occasion.
2. Vegan(ish)
The best vegan cookbook for buget-friendly recipes
Specifications
Author(s): Jack Monroe
Pages: 224
Released: 2019
More and more of us are starting to reduce our intake of animal-based products and incorporate plant foods. But it's not always easy to know where to start. This book is typical of Jack Monroe's offerings; it's simple, no-nonsense and budget-friendly.
The book presents 100 vegan recipes that are affordable and easy to follow, aimed at both the committed vegan and those looking to introduce plant-based meals for the first time. There are sections on things like soups and sandwiches, which offer practical options for switching up lunches and inspiring new flavour combinations.
The 'ish' in the title doesn't refer to the meals themselves—they are 100% plant-based—but rather her philosophy in the book that even one extra vegan meal makes a big difference.
3. Zaika
The best vegan cookbook for Indian food
Specifications
Author(s): Romy Gill
Pages: 208
Released: 2019
Chef Romy Gill is known for her unique Indian food, combining the best of her West Bengal heritage with the best of British food. As a regular food writer and a familiar face on some well-known cookery programmes, it's clear that Romy knows her spices.
Romy learned to cook from her mother in India, where there was less of an emphasis on meat in their meals. Many home-cooked dishes were naturally vegan, and it's these childhood memories that are presented so beautifully in this book.
From breads and sides, to hearty, warming curries and puddings, every single recipe in this book looks appetising and delicious. If you're craving a bit of spice, this is definitely the title for you.
4. LEON Fast Vegan
The best vegan cookbook for cooking in a pinch
Specifications
Author(s): Rebecca Seal, Chantal Symons, John Vincent
Pages: 304
Released: 2018
LEON is on a mission to get everyone to eat well and live well. The restaurant chain does this by preparing quick, easy, on-the-go foods that are healthy. They want to prove that fast food doesn't have to mean junk food.
The brand has numerous chains in the UK—it's an increasingly common sight in service stations and train stations—but it's spreading around the world, including a branch in Washington, DC.
LEON has now released numerous books, each beautifully illustrated in its unique classic style. They look as good on your coffee table as they are practical in the kitchen. Fast Vegan has over 150 recipes that are exciting, tasty, interesting and quick, covering every meal from breakfast to dinner.
5. Happy Vegan
The best vegan cookbook for family meals
Specifications
Author(s): Ferne Cotton
Pages: 224
Released: 2019
Fearne Cotton might be best known to a certain generation as a radio and TV presenter and music industry (plus the wife of Rolling Stone offspring Jesse Wood).
These days, however, she is more likely to be found discussing topics around healthy eating, wellbeing, yoga and mental health, with a full range of fitness, mindfulness and recipe books under her belt.
This book is her first featuring solely plant-based recipes (and her third cookery book overall), with a focus on foods the whole family will love. All of the recipes are simple and flavoursome, but familiar enough for even the fussiest eater.
Fearne takes a gentle approach to vegan cooking; this book is a good first step for those who want to introduce more plant-based meals into their diet.
6. Dirty Vegan: Another Bite
The best vegan cookbook for muscle fuel
Specifications
Author(s): Matt Pritchard
Pages: 208
Released: 2019
Following in the footsteps of the hugely popular first Dirty Vegan cookbook, this highly anticipated second title lives up to expectations. What Matt does so well is bring vegan food into the mainstream in a relatable and easy-to-understand way.
The Welsh professional skateboarder, stunt performer and endurance athlete broke the mould when he hosted the BBC's first vegan cookery show. Throughout his robust recipes, he proves that vegan food can be big, delicious, and packed with nutrients to serve even the most hardened athlete.
The book is has plenty of clear recipes and lots of personality; it's hard to decide what to cook first! This is a title that, along with the first book, deserves pride of place in any kitchen.
7. Speedy BOSH!
The best vegan cookbook for fast food
Specifications
Author(s): Henry Firth, Ian Theasby
Pages: 288
Released: 2020
The boys at BOSH! have become the unlikely faces of the vegan cooking world.
Unlikely because Henry and Ian both admit to being fairly big meat eaters, and their rise to plant-based fame was something neither of them anticipated. Now, the BOSH! channel on YouTube has over 187K subscribers and the boys are on a mission to prove that vegan food can be tasty and easy.
Speedy BOSH! is their fifth book, with 100 new plant-based meals. Admittedly, the book uses quite a few shortcuts, including plenty of ready-prepared ingredients, which is a departure from their previous 'from scratch' approach. But the book has a specific purpose, and if you're looking for really quick and really easy vegan food for a speedy meal, this is a good investment.
8. Deliciously Ella
The best vegan cookbook for mindful cooking
Specifications
Author(s): Ella Mills (née Woodward)
Pages: 256
Released: 2015
Part-cookbook, part-healthy-living guide, this is the original release from the Deliciously Ella series (there are now six different titles), and the best one to start with.
Before launching into any recipes, Ella talks through her personal experience with food and how she turned to a plant-based diet as a way of managing chronic health conditions. As a result, her approach is very health-conscious.
This isn't a book for simply reducing your intake of animal-based foods, but rather transforming the way you cook and eat entirely. It's holistic, yet balanced, showing how food can be good for your body and yet taste amazing too.
It's clear throughout that Ella has a real passion for food, health, wellbeing and cooking. The recipes are more expensive to recreate than in those in other books, but they are not complicated to follow.
What does vegan mean?
If you've come across vegan food before, but wondered how it was different to other diets, The Veganism Society (opens in new tab) defines veganism as "a philosophy and way of living which seeks to exclude—as far as is possible and practicable—all forms of exploitation of, and cruelty, to animals for food, clothing or any other purpose."
So, as well as ditching dairy, eggs, meat, honey, and other animal products, being vegan also involves watching what you consume in other areas of your life. This might mean eradicating animal-derived materials from your closets, such as leather and fur.
Veganism is different from vegetarianism, which excludes meat, poultry, and fish from your diet, or pescetarianism, where people continue to eat fish but decline meat and poultry.
There are lots of reasons that people go vegan, from fighting cruelty against animals and doing their bit to help the environment or simply embracing a lifestyle that prioritizes natural, plant-based foods.
What's the difference between plant-based and vegan diets?
These terms are two ways of describing a similar thing, but with a few key differences. Veganism is generally a lifestyle change. Whether you've ditched animal products due to ethical concerns, health-related or environmental reasons, it means entirely cutting out meat, animal-sourced ingredients, and consumer goods made from animals, including clothing.
Plant-based food is vegan, but the term signals that you might not be entirely vegan, possibly vegetarian, or even just cutting back on meat or other animal products like dairy. It's also a label that typically only applies to your food choices rather than an entire lifestyle, like veganism.
What's the best vegan cookbook for beginners?

If you're searching for the best vegan cookbook for beginners, the right choice will depend on the types of food you enjoy. Although many recipe books include a variety of cuisines, there's often a particular theme. For example, Zaika by Romy Gill is great for plant-based Indian dishes, while LEON's Fast Vegan cookbook is excellent for when you're short on time.
However, for most people, an ideal choice for beginners is The Happy Pear by David and Stephen Flynn, two brothers with a passion for all things plant-based. Part recipe book, part how-to guide, it's designed to help you get started with vegan cooking and uses a grid format to show the variations you can make with the same ingredients.
Matt Evans is an experienced health and fitness journalist and News Editor at Fit&Well, covering all things exercise and nutrition on the Fit&Well website. Matt originally discovered exercise through martial arts: he holds a black belt in Karate and remains a keen runner, gym-goer, and infrequent yogi. His top fitness tip? Stretch.