Best infrared sauna blanket 2022 to help you relax and de-stress
With the best infrared sauna blanket you can enjoy the benefits of a sweat session from the comfort of your home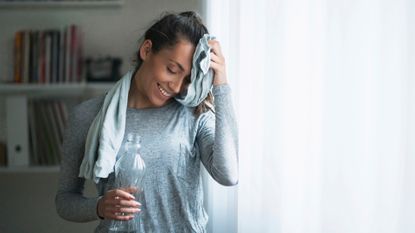 (Image credit: Getty Images)
Get the Fit&Well Newsletter
Start your week with achievable workout ideas, health tips and wellbeing advice in your inbox.
Thank you for signing up to Fit And Well. You will receive a verification email shortly.
There was a problem. Please refresh the page and try again.
Sauna blankets are up and coming wellness items, popular with the likes of Gwyneth Paltrow and Lady Gaga, but how can you choose the best infrared sauna blanket for you? We've put the most popular brands available through rigorous testing to help you decide whether a sauna blanket is right for you, and if so, which one you should buy.
So, how do sauna blankets work — or perhaps you're even wondering, 'what is an infrared sauna blanket?' Over the time we've been testing them, the Fit&Well team has become quite the experts on sauna blanket benefits and the various differences between sauna blankets and larger infrared saunas or traditional saunas. There is even some evidence indicating that you can use sauna blankets for weight loss, although this tends to be a secondary effect, rather than a direct result of the sauna blanket itself.
Sauna blankets offer a great alternative to traditional saunas or multi-person infrared saunas, which can be bulky, expensive to run and impractical for home use. The far infrared technology heats your body, as opposed to the space you sit in like a traditional sauna. This makes it cheaper to run. A sauna blanket also takes things a step further by heating you up within a smaller, insulated space to prevent heat loss, and at 500-600 watts, costs only a few cents per session. Sauna blankets are also far more portable than traditional saunas, so if you travel a lot, you can take your thermotherapy with you.
While there are numerous health benefits to sweating, the most valuable one we found was mental. The time spent in a meditative state, checking in with how your body feels and focusing on your breathing, left us with a sense of calm after each sauna blanket session. Here are the best sauna infrared sauna blankets we've tested.
The best infrared sauna blankets
Best infrared sauna blanket overall
Specifications
Size: 71" (180 cm) x 71" (180 cm)
Material: Solvent free PU leather (EPU) for outer fabric, and waterproof liner inside
Min temp: 25℃/77F
Max temp: 80℃/176F
Reasons to buy
+
Lightest option
+
High top temp
+
Complimentary carry case
Reasons to avoid
-
No optional extras
-
Cautious instruction manual
The Smomar infrared sauna blanket was the best that we tested overall and also had one of the lowest price points (although there is not much between them). It also has one of the highest top temperatures, topping out at 80℃/176F, which is 5℃-10℃ higher than most of the other brands we tested. The blanket is made from a soft, flexible PU leather that is easy to wipe clean and comfortable to lie on for extended periods. We also liked that the blanket had a complimentary carry case, which some other brands didn't offer, as it added to the overall portability and convenience of storage. It was also the lightest option by half a kilogram, which isn't much, but considering some blankets were really heavy and hard to maneuver, it definitely adds a point in Smomar's favor.
The only qualm we had with the Smomar infrared sauna blanket was that the instructions were overly cautious. For someone who has never used a sauna blanket before, this might be useful, but as we were testing out several it seemed like overkill compared to other brands. Smomar recommends starting at a particularly low temperature and building yourself up to the higher temperatures with half hour sessions, which we found unnecessary. However, for someone particularly sensitive to high temperatures or who has underlying medical conditions, this does seem like good advice.
As a brand, all Smomar sells is this infrared sauna blanket. Some of the other brands we've tested sell a range of far infrared products, optional extras to go with the blanket or even full sized infrared saunas. However, Smomar seems to know what they're doing, and this sauna blanket offered the best overall sweating experience of all those we tried.
What the users say
Users on Smomar's website rank the sauna blanket 4.5/5 stars overall, with lots of five star reviews from happy customers. It's worth noting that the sample size is small, however, with only 79 reviews, and it doesn't look you can buy the sauna blanket from anywhere but Smomar themselves. One user settled on the Smomar after a good deal of research and was happy with their purchase. "Brought this blanket after quite a bit of research. It heats well, is comfortable and gets you sweating to a comfortable level," they say.
---
Best sauna blanket for post-workout recovery
Specifications
Size: 71" (180 cm) x 71" (180 cm)
Material: Non-toxic polyurethane leather
Min temp: 25℃/77F
Max temp: 75℃/167F
Reasons to buy
+
Great for delayed onset muscle soreness (DOMS)
+
Great user reviews
+
Optional extras in 'experience' pack
Reasons to avoid
-
No color options
-
'Experience' pack is expensive on top of the cost of the blanket
-
Heavy
We loved the MiHigh experience, and found that it was great for post-workout soreness and relaxation. The MiHigh comes in at just one dollar less than the Smomar sauna blanket, making it the 'cheapest' option of all the sauna blankets we tested. You can also splurge a little and purchase an 'experience' kit for $130, which includes a sweat-absorbing towel, three microfiber towels, one spray bottle, and a headband.
The MiHigh sauna blanket is made from high quality materials, with six layers including the low EMF far infrared heating elements sandwiched between a sweat proof inner layer and PU leather outer layer. It has a velcro closure, which seems to be standard for most sauna blankets, but gives you a bit of adjustability and makes it easy to get in and out of the blanket.
We found that this sauna blanket offered great support for delayed-onset muscle soreness recovery (DOMS) and when we used it after a workout, found that it sped up recovery times. As well as this, the mental health benefits were also noticeable, as the sauna blanket allows you time to completely clock out and experience your body as you sweat. The auto-shut-off function allows you to calmly enjoy the experience without worrying about overrunning once you've set the timer.
What the users say
Several users had made the switch from a full sized infrared sauna to the blanket for its portability and ease of storage, and many say they are never going back! One Trustpilot user said: "I love saunas and have done a fair share of reading in regards to their mental and health benefits. This is a fantastic alternative to a classical sauna. You will feel relaxed, calm and break a great sweat. Helps me recover after a workout or a long day at work and has impacted my sleep positively. Using it almost daily." Most negative reviews were about delivery issues, rather than the actual MiHigh experience.
---
This infrared sauna blanket has the most design options
Specifications
Size: 71" (180 cm) x 71" (180 cm)
Material: Non-toxic, low-VOC, waterproof polyurethane
Min temp: 35℃/95F
Max temp: 75℃/167
Reasons to buy
+
Variety of color and design options
+
Company experienced with infrared saunas
+
Complimentary carry case
Reasons to avoid
-
More expensive option
-
No optional extras
-
Longer heat up time
The Sun Home infrared sauna blanket offers a standard but high quality sauna blanket experience. The elements that set Sun Home apart from its competitors are the extras that come as standard, such as the variety of design and color options, as well as the high quality carry case. Sun Home also makes full sized infrared saunas, so has plenty of experience in the industry and is well placed to provide a high quality product.
The Sun Home sauna blanket was at the pricier end of the spectrum, clocking in at $599, which is equivalent to HigherDOSE. However, as there is only an $80 difference between the cheapest and most expensive option we tested, price isn't the driving factor behind which blanket we think is best. The complimentary carry case is the best we've used as it is larger than the blanket and therefore easy to take out and put away again, and it has a shoulder strap for ease of carrying.
Sun Home doesn't offer any optional extras with its product, which is a shame as some of the extras offered by competitor brands are quite useful. However, the blanket itself is well made, enjoyable to use and easy to clean. It was easy to plug in (something that we struggled with with other brands) and only slightly heavier than the Smomar, which was the lightest blanket we tested.
What the users say
Users really like the Sun Home sauna blanket, with over 200 five star reviews on Sun Home's website, and only two that ranked it lower, at four stars. One user found that the blanket helped her chronic pain. They said: "It's so easy to use, very compact, and very cozy. I have Fibromyalgia and this amazing blanket helps so much, especially on my flare up days. It definitely helps with joint pain and stiffness. I have been using it before bedtime and it's really helped me to relax and sleep deeper."
---
The best infrared sauna blanket for optional extras
Specifications
Size: 71" (180 cm) x 71" (180 cm)
Material: Waterproof Polyurethane (PU) fireproof cotton
Min temp: 20℃/68F
Max temp: 70℃/158F
Reasons to buy
+
Zip closure
+
In-depth instruction manual
+
Several layers of 'healing' materials
Reasons to avoid
-
Low top temperature
-
More expensive option
-
No carry case included
The HigherDOSE infrared sauna blanket is a favorite of health influencers and beauty gurus, but does it really offer anything different to other brands? In short, not really. For $599 (the joint highest price with Sun Home) you get a fairly standard sauna blanket with a lower top temperature than most competitors. There is also no complimentary carry case with this one, so you can keep it in the box or fork out $99 for a branded HigherDOSE bag to store and transport the blanket in.
However, the additional materials offered by HigherDOSE are clearly well thought out, with recommendations on how best to enjoy your sauna blanket experience and some extras like a ginger hot shot recipe to elevate your experience. The HigherDOSE is also the only sauna blanket with a zip closure, which might make it better for those with fine motor problems, as you don't have to pull velcro apart to get in and out. However, the plug was really difficult to get in and out of the blanket, meaning that someone with limited mobility might find the setup difficult to navigate alone.
It is worth noting that HigherDOSE has the most experience with infrared technology of all the brands we tested, with several products available including red light therapy masks, infrared PEMF mats and a full sized infrared sauna. HigherDOSE also offers lots of optional extras, such as topical skin serums, edible supplements, towel inserts, body brushes and cleaning sprays. Additionally, if you want to test out the HigherDOSE experience before you try, the website has a list of locations of spas that use its products.
The HigherDOSE infrared sauna blanket also has several layers of' 'healing' and 'detoxifying' materials, which is why they seem to be such a popular cult brand. As well as the far infrared heating zone, the blanket has an amethyst and tourmaline layer, a clay layer, a charcoal layer and a magnetic layer, all claiming to add wellness benefits to your experience. However, this is not something we can verify.
What the users say
User reviews for the HigherDOSE are overwhelmingly positive, with over 2000 happy customers. Users claim that the blanket has the power to relax them, and help with joint pain and inflammation, with some people using it every day. One user said: "I use this after hard workouts or when I'm feeling low energy and gives me such a boost and feeling of relaxation and release. I love everything about this blanket." The only complaint users had was the lack of carry case, which makes it hard to take it with you on holiday or business trips.
---
This sauna blanket has visible healing crystals
Specifications
Size: 75" (190cm)
Material: Aramid fabric, medical grade PVC, jade and tourmaline stone and Faraday shielding
Max temp: 80℃/176F
Reasons to buy
+
Most size inclusive brand
+
High top temp
+
Free pillow
+
Complimentary carry case
Reasons to avoid
-
Bad smell when heating up
-
Heavy and difficult to maneuver
-
Hardest to clean
The Heat Healer infrared sauna blanket also has several layers of' 'healing' and 'detoxifying' materials, like the HigherDOSE blanket, with visible jade and tourmaline crystals to provide an element of spiritual healing as well as the standard sauna blanket benefits (if such things interest you). There is also a Faraday shield to reduce the EMF (electromagnetic frequency) of the infrared technology — other brands don't mention a shield, but do also claim their tech is low-EMF.
The Heat Healer is different from its competitors in that the outer layer is made of a kevlar material called 'Aramid fabric.' It is less flexible than other brands, but this may be due to the layer of crystals within the blanket and not their choice of outer. The inside is a similar fabric to other brands, a sweat-proof PVC, but the visible layer of crystals under a mesh makes this blanket harder to wipe clean after use. All of these layers also make this the heaviest blanket we tested, making it unsuitable for someone with mobility issues as it is difficult to set up and fold away after use. It was also a struggle to plug in and unplug. For some reason, this blanket had a strong smell when heating up, which was very off-putting and not exactly conducive with the calming spa environment we were trying to achieve.
This is the largest sauna blanket we tested, suitable for people up to 6'6"/198cm and 300lbs, which also makes it the most size-inclusive option. It also comes with a free pillow, which sets it apart from competitors, and a complimentary carry case. Other optional extras include a gua sha/body paddle and towel insert, but these will cost you.
What the users say
Users enjoyed the Heat Healer experience, with 204 positive reviews on the brand's website. There are a few reviews that note difficulty with plugging in and unplugging their blanket, as well as the excessive weight. However, most customers enjoyed their experience, with one saying: "My skin has never looked better," and another praising it for post-workout recovery. One user liked the convenience the blanket provides: "Been using this for about a month now and the time spent in the blanket has really helped me to slow down from an extremely busy life. The warmth radiates through and lasts beyond my sessions inside the blanket."
What is an infrared sauna blanket good for?
Sauna bathing has been undertaken for thousands of years across the globe for a variety of reasons, including as a spiritual practice, for improved mental clarity and for hygiene. Whether you go to the steam room at your gym or settle into a sauna blanket for forty-five minutes, you are likely to feel some of these benefits instantaneously and some cumulatively with continued use. Sauna blankets offer an inexpensive option when compared to full sized infrared saunas or sweat lodges, and allow for personal sweating sessions for those who don't want to use public saunas.
Infrared sauna blankets have a host of potential benefits that may elevate your mood, speed up muscle-recovery after an intense workout, help with joint pain and even sleep. A review in Evidence Based Complementary and Alternative Medicine indicates that sauna bathing can have anti-inflammatory benefits and help to reduce oxidative stress on the body, although more robust evidence is needed overall to support these claims. Inflammation and oxidative stress are leading causes of disease and chronic pain, so anything that works to reduce the impact they have on the body is likely to improve health, if only marginally.
Research in Clinical Rheumatology also tracked improvements seen in seventeen patients with rheumatoid arthritis who regularly used infrared saunas over a four week period. Although the sample size is small, the impacts were significant, with patients seeing a decrease in pain and stiffness, and an improvement in feelings of fatigue.
Infrared sauna blankets can also help athletes with post-exercise recovery, as seen in a small Springerplus study that tested ten men with thirty minutes of infrared heating followed by thirty minutes of rest. The study concluded that deep penetrative heat, as offered by an infrared sauna blanket, was favorable for neuromuscular system recovery.
How to choose an infrared sauna blanket
When looking for an infrared sauna blanket there are several factors you might want to consider. Price may be a key factor for you, (although the sauna blankets we've tested all fall within $80 of each other) and if you're weighing up a sauna blanket vs a full-sized sauna, you'll find the sauna blankets are significantly cheaper.
Top temperature might be another thing to consider; if you're somebody who wants to go really hot, then the Smomar or Heat Healer sauna blankets have the option to go up to 80℃/176F, while other brands come in with a top temperature of 70℃-75℃ (158F-167F).
If you want color options, the Sun Home sauna blanket comes in three different designs and the Smomar offers two variations on the traditional black. Most of the sauna blankets are made of soft PU leather, with some having extra layers of carbon for 'detoxification'. The Heat Healer, however, is constructed of Aramid fabric, which is heat resistant like the PU leather, but means it is heavier and rougher to the touch than other brands. It also contains visible layers of jade and tourmaline stones, which add to the overall weight of the blanket.
Several of the brands we tested offer optional extras, with the MiHigh 'experience' kit coming in at $130, and the Heat Healer offering towel inserts for $80, and a gua sha/sculpting body paddle for $58. Most brands come with a complimentary carry case, with the notable exception of HigherDOSE, which offers a branded bag for $99.
How we test the best infrared sauna blanket
To make sure we're recommending the best sauna blankets on the market, our testing team got their hands on each one and put them through their paces. This involved our team spending a forty-five minute session at 70℃/158F in each blanket and recording their findings.
We made note of the time it took the blankets to reach peak temperature, the weight and overall portability of the blankets, any extras, and any smells during warm up. We put ourselves in the shoes of users who might want to use a sauna blanket to relieve chronic pain or mobility issues, and noted how easy the blanket was to plug in and set up, get in and out of, and closure options. Our team also took into account the design of the sauna blankets, the quality of materials used and value for money, before awarding them an overall score out of five stars.
Get the Fit&Well Newsletter
Start your week with achievable workout ideas, health tips and wellbeing advice in your inbox.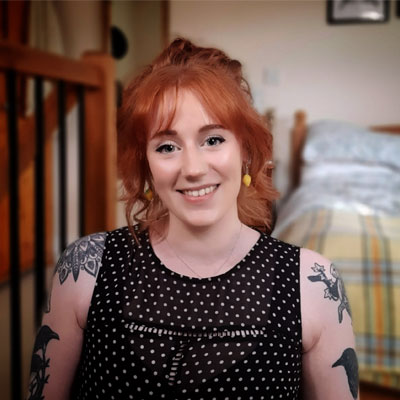 Lou Mudge is a Health Writer at Future Plc, working across Fit&Well, Coach, LiveScience, T3, TechRadar and Tom's Guide. Based in Bath, UK, she has a passion for food, nutrition and health and is eager to demystify diet culture in order to make health and fitness accessible to everybody.
Multiple diagnoses in her early twenties sparked an interest in the gut-brain axis and the impact that diet and exercise can have on both physical and mental health. She was put on the FODMAP elimination diet during this time and learned to adapt recipes to fit these parameters, while retaining core flavors and textures, and now enjoys cooking for gut health.