Amazon Prime Day kitchen deals: Last day to save on grills, air fryers, blenders and more
We're bringing you all the best Prime Day kitchen deals, from air fryers to health grills and more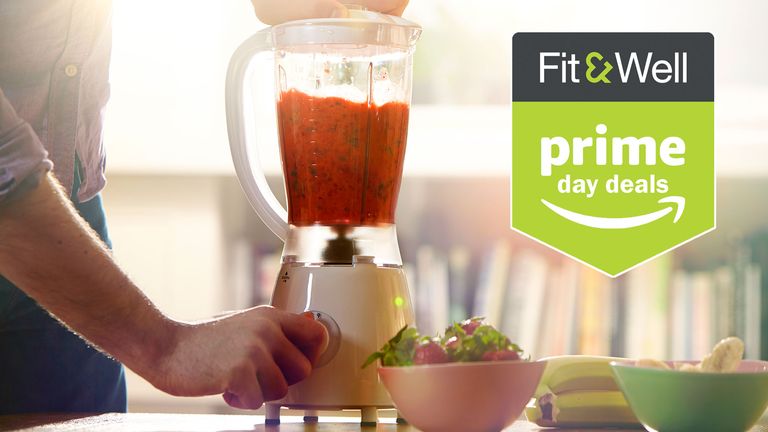 (Image credit: Getty Images)
By Rob Clymo
The two-day Amazon Prime Day deals extravaganza is only halfway through. If you're hoping to score a bargain in the Amazon Prime Day kitchen deals, there's still loads of time, and we're here to do the hard work for you when it comes to finding the top bargains and discounts in both the UK and US.
We'll be keeping a watchful eye on all the deals on offer: Monday saw huge price cuts on everything from blenders, juicers, mixers and meat grinders. Many of those deals are still available, but the new stuff coming through today includes top deals on the best health grills and best air fryers, among other high-demand healthy cooking items. We'll specifically be looking for items that aren't only heavily discounted, but those that will help you in your daily quest to eat healthily.
Amazon Prime Day 2021 is running until midnight tonight, Tuesday 22 June. We're only halfway through, but the event is already on track to be bigger and better than ever, judging by the smorgasbord of deals that popped up yesterday - which is good news if you're looking to bag a bargain in the Prime Day kitchen deals!
Amazon's discounted Prime Day selection will extend beyond kitchenware and appliances, too. We'll be keeping watch on all the best Prime Day fitness deals too, from weights to workout gear and more besides. Or if you're in the market for a fitness tracker, we'll also be keeping an eye on the best Prime Day Fitbit deals.
And if you want to see all the best offers on everything from tech to toys and beyond, head over to the bumper Prime Day deals hub from our excellent colleagues at TechRadar.
Amazon Prime Day kitchen deals available right now (US)
Below you'll find a selection of what we think are the best Prime Day kitchen deals that are already available. Check them out, and remember to return to this page for more Prime Day bargains during the next two days...
Amazon Prime Day kitchen deals available right now (UK)
Amazon Prime Day kitchen deals - what's it all about?
Think Amazon Prime Day was just a one-day kinda thing? Think again.
Since its launch in 2015, Prime Day has evolved into one of the biggest shopping events of the year, and it now runs over two days. It happens in 20 countries: the US, UK, United Arab Emirates, Turkey, Spain, Singapore, Saudi Arabia, Portugal, Netherlands, Mexico, Luxembourg, Japan, Italy, Germany, France, China, Brazil, Belgium, Austria and Australia.
It's aimed at Amazon Prime Members, who have exclusive access to a raft of incredible discounts across all product categories - including the Prime Day kitchen deals.
Not already a Prime member? Fear not! Amazon helpfully offer a free 30-day trial, so you can sign-up to take advantage of the discounts, and then decide whether you want to continue with your membership after the event ends.
There are plenty of reasons to do just that - as a member you'll get access to the likes of Prime Video, Prime Music, Prime Reading services and more. You also get the benefit of Amazon Prime delivery, which is a step-up from the regular options and offers one-day shipping on thousands of products.
If you do decide to continue with your membership, it'll cost you either $119/£79 a year, or $12.99/£7.99 a month if you decide to pay monthly (we're sure you've done the math, and will see that a year's membership gives you two months free compared to the pay-monthly price over the same period).
When will Amazon Prime Day kitchen deals be available?
Amazon Prime Day didn't technically start until midnight PDT (3am EDT) on Monday June 21, and is officially running until 11:59pm PDT on Tuesday June 22.
For that reason, we advise bookmarking this page if you haven't already, because we'll be updating it over the next two days with hot new deals on kitchen equipment and accessories as they become available.
This will help you to be one of the first to bag any bargains that appear. Many items are on sale for a limited period, or stocks may run out, so it's wise to stay organized and be ready to snap up those bargains as soon as they land.
Amazon Prime Day kitchen deals - what to expect
Such has been the impact of Amazon Prime Day that nowadays many other big-name retailers often release deals of their own to try and compete with the Big A.
For that reason, we'll also be keeping an eye on the likes of Walmart, Target, Nordstrom and Best Buy in the US, and Very and Currys in the UK, to bring you all the best Prime Day kitchen deals from across the internet.
So what might those deals look like? Well, judging from what we've seen in previous years, we expect to see big money-off deals across items including the best grills for leaner cooking, the best blenders for fruit & veg-packed healthy smoothies, and the best air fryers for guilt-free fried chicken (hell, yeah!).
We're hopeful that it will also include items from some of our favorite big-name kitchen appliance brands such as KitchenAid, Cuisinart, Nutribullet, InstantPot and Ninja.
Tech expert Rob Clymo covers multiple bases when it comes to both reviewing and staying in shape, tackling everything from cars and bikes to coffee machines, as well as the latest fitness kit. Keen cyclist Rob can often be found working out, usually by manhandling very large kitchen appliances in and out of the house for testing purposes – one notorious incident saw his plasterwork damaged by LG's weighty and steam-powered 'smart wardrobe', the Styler.