7 high-intensity, low-impact exercises to lose weight and build muscle
HILIT training is a great way to lose weight and maintain muscle without harming your joints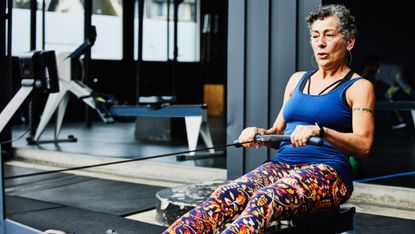 (Image credit: Getty Images)
High intensity exercise - where your heart rate is raised to about 80% of its maximum capacity - has a number of proven benefits. If you want to lose weight, build muscle and improve your cardiovascular fitness, there's nothing better.
But often the best exercises for weight loss (such as burpees and skipping) can be hard on your joints and challenging if you're overweight.
Step forward high-intensity, low-impact exercise, which offers the benefits of intense activity while preserving your joints.
According to Beth Boxall, Clinical Exercise Specialist from Bounce Back Exercise (opens in new tab), "There are plenty of alternative low impact exercises that can bring about the same physical and psychological benefits as high impact exercise whilst possibly creating a more enjoyable and comfortable workout. Low impact exercise involving low load or low weight bearing activity is a great way for people to build up muscular strength, endurance, and cardiovascular fitness without putting too much stress or strain on the joints."
Here are some of our favourites:
1. HILIT
As Boxall explains, "There are plenty of exercises that can bring the heart rate up without involving a high impact element."
High intensity, low impact interval training is basically HIIT without the jumping. It gives you the same sweaty workout, burning fat and building muscle, but avoids lifting both feet off the ground at once. So instead of burpees and squat jumps you'll focus on movements like squats, walking lunges and mountain climbers, in the same short bursts that you'll find in HIIT.
2. Rowing
There are many benefits to the rowing machine. It works your whole body, is low impact and is great for burning calories - according to Harvard Health Publishing (opens in new tab), half an hour of moderate rowing burns between 210 and 311 calories (depending on your weight), and if you go for a vigorous workout, it shoots up to between 255 and 377 calories.
For an effective, high intensity workout, try rowing as hard as you can for one minute, followed by a minute's rest, for as many repetitions as you can manage. To protect your back, focus on keeping your shoulders in front of your hips during the leg drive, and don't put the damper up beyond 5.
3. Swimming
"Swimming is a nice alternative for anyone who struggles with any joint pain or is at a higher risk of injury," says Boxall. "It brings your heart rate up, improves endurance, muscle strength and cardiovascular fitness while also taking the impact off the body."
Rather than just ploughing up and down the pool, try doing 15-30 seconds (or one length of a 25 m pool if you prefer) of your best stroke at maximum effort, before resting for between 30 seconds and a minute. Repeat as many times as you can manage.
4. Barre
Barre incorporates ballet moves into a workout, using high repetitions, small movements and isometric holds. Although there is only a minimal cardio element, it is excellent for improving your balance, flexibility and core strength.
A Korean study in 2020 (opens in new tab) on a group of middle-aged women participating in barre exercises twice a week for 12 weeks concluded that barre had a positive effect on their body composition, physical fitness and posture.
5. Pilates
According to Boxall, "Pilates can be a gentle but effective way of incorporating low impact resistance exercise to your routine to improve muscular strength and balance whilst also helping alleviate feelings of stress and anxiety."
Pilates is suitable for all ages and abilities. "Pilates allows you to exercise safely in all planes of movement," says Boxall, "developing full body strength and flexibility whilst taking the strain off the body. Pilates can help improve posture and counteract the postural challenges of everyday living including rounded shoulders and hip pain caused by desk work."
You might be surprised to see Pilates on a list of high intensity exercises, but by the end of a Pilates class you may feel differently!
6. Spin
Cycling is an excellent, low impact form of exercise. A study published in the Spanish journal, Medicina (opens in new tab), established that indoor cycling improves aerobic capacity, blood pressure, lipid profile, and body composition.
Rather than doing a long, gentle cycle, to get the benefits of a high intensity workout, do strenuous bursts at 80-100% effort, trying to achieve the highest number of spm you can, with short rests in between, or join a spin class which tends to include intervals.
7. Resistance training
The NHS recommends that all adults do strengthening exercises that work the major muscle groups at least twice a week. It doesn't mean you have to hit the free weights in the gym, though. According to Boxall, "Resistance exercises involving small weights (or even cans from the food cupboard) and resistance/Thera bands are suitable for people who don't feel particularly fit or strong. Body weight exercises are a great way to learn the basic movement patterns before adding on additional resistance."
As a beginner, start with squats, wall presses and banded pulls. "It is important to build up slowly and gradually increase the level of difficulty by either choosing to perform more repetitions of the exercise or opting for a slightly heavier weight," says Boxall.
Patricia Carswell is a freelance journalist, specialising in health and fitness. She has written for a huge variety of national newspapers and magazines, including Healthy, Top Santé and Women's Fitness, and writes a monthly column for British Rowing's content hub. She's the founder and host of rowing blog and podcast, Girl on the River, where guests have included Sir Matthew Pinsent and multiple Olympian Frances Houghton MBE.
She won Rowperfect's Rowing Blogger of the Year several years in a row, the Endurance Award in the MyProtein Blog Awards and was runner-up in the Sports & Fitness Category in the UK Blog Awards in 2017.
She keeps fit by rowing, walking and swimming, and is at her happiest when on or in the water.