5 anti-aging exercises to keep your body fit and strong as you age
These anti-aging exercises are designed to slow signs of aging and keep you looking and feeling healthier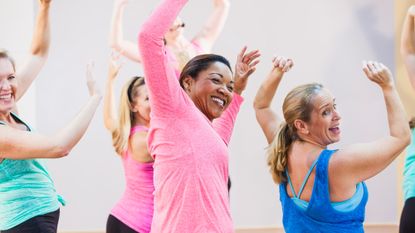 (Image credit: Getty Images)
Get the Fit&Well Newsletter
Start your week with achievable workout ideas, health tips and wellbeing advice in your inbox.
Thank you for signing up to Fit And Well. You will receive a verification email shortly.
There was a problem. Please refresh the page and try again.
Anti-aging exercises are all about maximizing your health as you grow older and ensuring you are able to feel and look good no matter what stage of life you're at. Of course, working out will start to feel different and more challenging the older you get, but thankfully there are plenty of ways to exercise and keep signs of aging at bay.
A lack of daily activity doesn't do anyone any favors and age-related decline only increases with a more sedentary lifestyle. While you can take some of the best vitamins for women over 50 to help improve things like age-related dietary deficiencies, you also need to physically train your body with some anti-aging exercise to enhance your quality of life. According to research published in the Cardiology journal, adults who had exercised between two and eight hours a week from their teenage years through to their 60s, had up to 36% lower risk of dying from any cause.
The exercises below are designed with age in mind so none of the moves are there to overtrain your body or lead to injury. The more you stretch and move your body in activities like yoga, the more your muscle tissue will lengthen and strengthen, increasing your range of motion and helping to avoid injury. Once you've given these anti-aging exercises a go feel free to try some anti-aging yoga moves too.
Best anti-ageing exercises
1. Yoga & Pilates
These full-body workouts will help improve flexibility, strength and posture, all of which can decline with age. It's also calming, so can help keep a lid on high blood pressure, while the focus on deep breathing can lower cortisol levels – the stress hormone that causes your body to age faster than it should.
The best bit is that it's so easy to get started - all you'll need is a mat and a good teacher. For the former, check out our pick of the best yoga mats. And for the latter, look for classes in your local area, head to YouTube or have a read of our yoga over 50 guide.
2. Cycling
Metabolism can slow gradually from the age of 30, so jumping in the saddle is a great way to burn fat and calories – you can ramp through almost 700 in an hour – without putting pressure on your joints.
And, according to a study published in the British Medical Journal, it's also good for keeping your heart youthful – cycling just over 20 miles a week could reduce your risk of heart disease by 50%.
It's up to you how you embrace the pedal power - you can either invest in a road or mountain bike to cycle in the great outdoors, or else jump on one of the best exercise bikes at the gym or the comfort of your own home.
3. Walking
There are plenty of good reasons reason to lace up a pair of the best shoes for walking and head outside. This easy weight-bearing exercise will keep you looking and feeling young inside and outside.
Bones can become weak and brittle as we age, but putting some pressure on them through walking will help them stay strong, while your legs and bottom will benefit from a youthful lift too.
What's more, if you've noticed your body gaining weight more easily or quicker with age then walking to lose weight can be an effective strategy. An English Health Survey study showed that people who regularly walk briskly for 30 minutes, five days a week, are likely to have a lower BMI than people who are less active.
4. Rebounding
If you're not familiar with a rebounder, it's essentially a mini trampoline used to exercise on. There are more youth-boosting properties to this activity than just making you feel like a kid on a bouncy castle!
The energetic trampoline jumping increases muscle strength – including your heart muscle. What's more, it improves circulation through your arteries, which can harden as we age, while also being easy on your joints.
5. Zumba
The connection between your left and right brain deteriorates as you get older. But crossing limbs in coordinated dance routines - as you do in a typical Zumba session - forces both sides of your brain to talk to each other, helping reduce those 'brain delay' moments. Plus, doing something fun will always help you feel a bit younger!
Just be sure to wear the right kind of shoes for this activity in order to avoid injury - and that doesn't include your old running shoes. Zumba requires a good cross-training shoe - helpfully, we've picked the best workout shoes for you.
Top tips for maintaining a regular anti-aging exercise routine
Keep workouts short and sharp. Don't work out for more than 30 minutes at 70% of your maximum effort, as doing more increases inflammation, which is linked to ageing. For this reason, it's also important to take rest days, in order to give your body enough time to recover and exertion. Consider taking one of the best supplements for joints if you're trying to avoid unwanted discomfort in your joints during or after exercise.
Learn how to modify exercises you do regularly to accommodate any age-related issues. For example, if you are starting to struggle with joint pain, it pays to know how to do a squat to accommodate this (the key is to turn your feet slightly outwards. It will line up your hip joints and prevent stress on knees, which can weaken with age and lose protective cartilage). A personal trainer can advise on your individual issues.
Look after your skin. The chlorine in gym showers can be drying, so use moisturizer with retinol (vitamin A), which causes skin to gently peel, revealing a silkier, more supple layer.
A word on running and ageing
'It's unfair to say running is harmful to joints and wears out your body,' says Nuffield Health's senior physiotherapist Paul Kennedy.
'As long as you're not training excessively and your leg muscles are strong (include squats and calf raises in your exercise regime to boost their shock-absorbing ability), running is a great way to keep in shape and stay young. It also increases blood flow, which nourishes your skin for a youthful glow.
'If you're new to it, start slowly, building up training gradually. Listen to your body and if you feel any niggles, stop running until it settles. If pain persists, visit your doctor or physio.'
Bad posture can also be ageing, so before you next go out, stand up against a wall and notice your stance. Try to retain this while running – it will prevent stress on your spine. For tips on what you should be aiming for, see our guide to perfect running form.
As for claims running causes facial sagging, there may be some truth in it – but only if you run long distances over a long period of time. For the average keen runner, the youth-boosting benefits outweigh any risks. But always wear SPF15 or above when running to prevent ageing caused by UV exposure.
Get the Fit&Well Newsletter
Start your week with achievable workout ideas, health tips and wellbeing advice in your inbox.
Natalia is a health and fitness journalist who has written for the likes of Woman & Home and Marie Claire, and likes to practice what she preaches when it comes to staying fit and well. She loves the outdoors and would happily swap the treadmill for the trail at any opportunity. As such, in her free time you'll likely find her up a mountain somewhere. She has hiked eight of the major mountain ranges across four continents, including the Appalachians, the Smokies, the Sierra Nevadas (where she hiked to the top of Half Dome during her honeymoon) and the Atlas Mountains, as well hitting the summits of Snowdon and Pen-Y-Fan (Brecon Beacons), Table Mountain in South Africa and the Blue Mountains in Australia. She was also a fencer for 13 years, wielding an epée for Team GB during her teenage years. Having recently welcomed a baby, Natalia is currently getting back into her fitness routine, and has her sights set on completing a triathlon, something she and her husband started out on before their bundle of joy arrived.