Best resistance bands: top buys to help you build strength
The best resistance bands are a great option compared to pricey, bulky dumbbells or barbells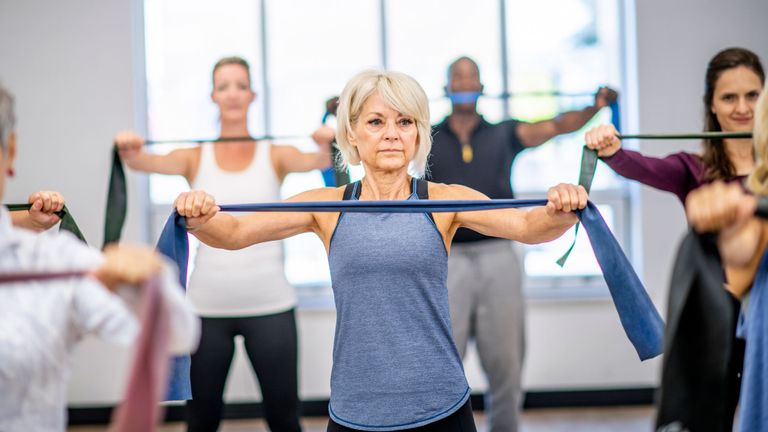 (Image credit: Getty)
By Lee Bell
If you're here because you've been searching for the best resistance bands, you're not alone. Since the spread of coronavirus closed lots of our favorite fitness facilities, resistance bands have massively increased in popularity. 
Why? Simple: resistance bands offer a convenient, space-saving alternative to free-weights. What's more, resistance bands can help you focus your control during condition training while stabilizing your muscles. They're ideal for functional training and they're small enough to store away or take with you to just about anywhere - whether down the park for an al fresco workout or in your bag when you head off on holiday. They're also much cheaper and easier to get hold of than a set of dumbbells, for instance. 
How to choose the best resistance bands for you
For a relatively simple piece of kit, it's not so straightforward when it comes to buying resistance bands. Not only do they come in all shapes and sizes, but there are many different types to suit different activities or workouts you might do. 
To make things easier, I'm going to focus solely on resistance bands for resistance training in this article. That is, bands that can act as an alternative to free weights and provide strength and conditioning exercises in resistance training. 
I'm also going to focus on resistance band sets, as rarely would you be looking for just the one band. Generally, when you're in the market for a resistance band set, you should be on the hunt for bands that come in a set of three or five different resistances. Usually, the color of a band will indicate the resistance level. The higher the resistance, the harder the exercise will be when using it. Normally, yellow bands have the lowest resistance, blue and black bands have the highest and green and red are in the middle. However, there is a lot of variation between brands, and special colors can often be thrown into the mix, such as gold, which are usually very strong.
As for pricing, a set of bands shouldn't cost you more than $25 / £20. Nevertheless, due to the low cost of resistance bands, it's worth having a few different types to hand for your workouts as they can be used in a variety of ways: to build strength, for recovery post-injury, for increasing mobility, and more. 
The best resistance bands you can buy right now
1. Odoland Exercise Resistance Bands Set
Best resistance bands for most people
Specifications
Bands included: Six levels of tube bands, from yellow (2.3kg) to red (11.4kg) Four levels of loop bands, from red (4.5kg) to black (18.1kg)
Length: 24cm loops
Accessories : Carry bag, door attachment, ankle straps, ebook training guide
Reasons to buy
+Everything you need to get you started +A great quality set of bands +Free ebook training guide
Reasons to avoid
-Advanced users could soon outgrow them
This Odoland set is my best pick for resistance bands, mainly for its excellent versatility. With an easy-to-follow pictorial guide to assist your workout, it's not only ideal for beginners but it features enough levels to keep more experienced users challenged long into their training journey. 
While it might not be best suited to more advanced fitness nuts, this comprehensive kit is a definite winner when it comes to all-round performance. All the bands are also colour coded and clearly marked the strength marked on them in pounds and kilos, which is a handy touch. As is the included ebook training guide to get you started, and draw on when you run out of workout ideas.
2. FitBeast Exercise Resistance Set
Best premium resistance bands
Specifications
Bands included: 5 resistance levels: yellow (4.5kg) to red (13kg)
Length: 24cm loops
Accessories : 4 cushioned handles, 2 ankle straps, 1 door anchor, 1 waterproof carrying bag, user guide poster
Reasons to buy
+Up to 45kg stretch  +Super durable
Reasons to avoid
-Relatively pricey
With a total 70kg of resistance, this band set not only caters to all levels, but it's of an exceptionally high quality. It feels strong, robust and likely to stand the test of time.
Complete with a workout poster as well as links to a host of video tutorials showing you all the different ways the bands can help increase strength and gain muscle mass, the FitBeast set has everything you need for a good varied workout, whether you're a first-time user or an expert exercise band user. 
A door anchor and an extra set of handles is included, allowing you to have two different resistances set up without having to stop and change bands – useful for drop sets or moving from one exercise to another.
3. Proworks Resistance Bands
Best budget resistance bands
Specifications
Bands included: Four levels, from light (red) to extra-heavy (black)
Length: 31cm
Accessories : Drawstring pouch and workout guide
Reasons to buy
+Good value for money  +Great extras included
Reasons to avoid
-Only four resistance levels -Can rub on hands
Offering great value for money and decent quality despite the low, low price, you can't really go wrong with the Proworks Resistance Bands set. For a tiny outlay you get four 31cm-long bands: light, medium, heavy and extra-heavy. There's also a workout guide and carry pouch to shove it all into and take to the park, if you fancy. 
Made from 100% pure latex with anti-snap safety design, quality isn't bad, though but the bands have been known to rub a little on the hands after prolonged exercise. Still, they're easy to use and do the job when it comes to quick HIIT or cross training workouts.
4. INMAKER Resistance Bands
The best resistance bands for beginners
Specifications
Bands included: Five levels from yellow (4.5kg) to black (18kg)
Length: 30cm
Accessories : Carry bag, workout manual, ebook and online video access
Reasons to buy
+Includes workout manual and ebook +Great price
Reasons to avoid
-Quality could be better -Heavier bands are an extra purchase
This five-band set comes in two different ranges: the Funda, which is better for beginners due to its slightly lower resistance level, and the Pro.V, which features heavier bands for those looking to progress their training. While it's a little annoying that you have to purchase a second set of bands once your training has progressed, it's worth remembering each set costs very little. 
The other great thing here is that the pack comes with access to a free 40-page ebook that tells you just about everything you need to know about using the bands effectively in your training.
5. Resist Fit Resistance Bands Set
The biggest resistance bands set that has absolutely EVERYTHING
Specifications
Bands included: 5 Resistance stretch wires: yellow (4.5kg) to black (22kg) 5 Resistance loop bands: green (1kg) to black (13kg)
Length: Various
Accessories : 2 foam handles, 2 ankle straps, a door anchor, an instruction manual and a carry bag
Reasons to buy
+10 resistance levels +Long lasting, SGS-tested latex
Reasons to avoid
-Lack of instructions for beginners
This set of resistance bands come complete with absolutely everything you need if you're looking for a complete free-weights workout alternative. With five resistance stretch wires, five loop bands, two handles, two ankle straps, a door anchor and a carry bag, there's up to 10 levels of resistance in one bag which will really help you strengthen your upper body, core, and legs for a full body workout. 
Made from upgraded SGS-tested latex, the Resist Fit exercise bands are also smooth and comfortable when stretched against your skin, not that you'll notice when you're properly sweating.