Best resistance bands - and how to choose the right ones for you
The best resistance bands offer a cheaper and easier alternative to home weights - but still give a great workout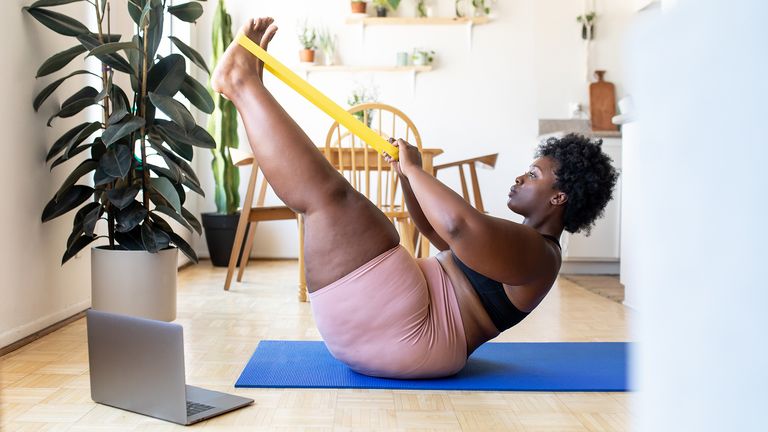 (Image credit: Getty Images)
By Lee Bell , Sarah Finley
Ever since the pandemic started, the best resistance bands have been in high demand as people turned to working out at home.
One of the main reasons for their popularity is just how easy they are to use and - crucially - store. They also offer a great alternative to home weights such as adjustable dumbbells or kettlebells. 
But, with gyms and fitness studios back open – are resistance bands still worth investing in?
The simple answer is yes. Many of us are still adapting to the hybrid way of working out, with home workouts still firmly in the mix - and the best resistance bands are an essential bit of fitness kit in this respect. In addition to being cheaper and easier to store than traditional weights, and have the added benefit of being easy to pack for trips away (now that travel is a thing again).
But why invest? Katie Anderson, Head of Training at FLY LDN, explains that resistance bands are great for muscle activation and active recovery. "By doing high reps and continuous work with little rest while using the bands, you will work on muscle endurance, strength and compound exercises."
Anderson adds that using resistance bands will add more load when you perform an exercise - in turn helping to burn more calories then you would without them. 
"You can use them around the thighs to add load to your squats and glute bridges, as well as lateral banded walks, quadruped leg extensions, quadruped donkey kicks, plank jacks, clams and dead bugs," she says. "When used around the ankles, they are good for single leg stability work standing with lateral or posterior leg lifts."
Our top pick is the Odoland Exercise Resistance Bands Set, a great choice for most people - however you'll find a range of options in our full list below. But first, let's look at what to consider when buying a set of resistance bands.
How to choose the best resistance bands for you
They may seem like a pretty straightforward piece of kit, but many people become a little baffled when shopping for resistance bands, as they come in different colors, shapes and sizes – while some even come with accessories. 
For clarity, this guide will focus on resistance band sets (i.e. more than one band) that are designed primarily for resistance training (meaning they can be used as an alternative for free weights in a strength and conditioning class). Below we explore some of the key factors to think about when considering your purchase.
Color-coded resistance levels
Many of the best resistance bands are sold in a set, typically comprising three to five, bands with different colors representing different resistance.
However there's no set 'code' for what a particular color means. To understand the levels of resistance you'll need to look at the coding of the brand you opt to purchase. At the lower - or 'light' - end of the scale you'll typically find bands with a resistance level of around 5 - 10lbs (2.3 - 4.6kg, whilst the 'heavy' (or even 'extra heavy') bands might sit around the 25 - 30lb (11.4 - 13.6kg) mark.
Different levels of resistance can be helpful in different workout scenarios. For example, Anderson explains: "If you're using the band for stability - to assist your squats, for example - then you can opt for a medium to high resistance.
Alternatively, "If you're pushing against the band with lots of reps, for example leg extensions, I'd suggest a light or medium band."
Type of band
Resistance bands generally take two forms: loop bands, tubes and therapy bands.
Loop bands
Therapy bands
Tubes
Loop bands are probably what first comes to mind when you think of resistance bands. Typically made out of latex or rubber, they form a 'complete' loop with no break in the material. As the name suggests, these types of bands are ideal for looping around your thighs or ankles to add load when performing leg workouts.
Therapy bands are similar to loop bands in that they are made from latex, however they do not form a complete loop - instead they have two ends that can be grasped in the hands. These can be useful when completing shoulder and arm exercises. You can also add an anchor point by standing on the middle of the band or tying it around a fixed object. Therapy bands can also be tied to create a makeshift loop band.
Finally, tubes are thin latex bands that come with carabiner-esque clip at each end. This allows them to be attached to a variety of accessories, such as hand grips, ankle straps and door anchors.
Price
Finally, when it comes to price the good news is that the best resistance bands shouldn't cost the earth - you can expect to pay around $25/£20 for a decent set.
The best resistance bands you can buy right now
1. Odoland Exercise Resistance Bands Set
Best resistance bands for most people
Specifications
Bands included: Six levels of tube bands, from yellow (2.3kg) to red (11.4kg) Four levels of loop bands, from red (4.5kg) to black (18.1kg)
Length: 24cm loops
Accessories : Carry bag, door attachment, ankle straps, ebook training guide
Reasons to buy
+Everything you need to get you started +A great quality set of bands +Free ebook training guide
Reasons to avoid
-Advanced users could soon outgrow them
This Odoland set is our top pick of the best resistance bands, mainly for its excellent versatility. With an easy-to-follow pictorial guide to assist your workout, it's not only ideal for beginners but it features enough levels to keep more experienced users challenged long into their training journey. 
While it might not be best suited to more advanced fitness nuts, this comprehensive kit is a definite winner when it comes to all-round performance. Comprised of both tubes (with the associated accessories) and loop bands, the level of resistance is clearly marked on each band in pounds and kilos, which is a handy touch - as is the included e-book training guide to get you started, and draw on when you run out of workout ideas.
2. FitBeast Exercise Resistance Set
Best premium resistance bands
Specifications
Bands included: 5 resistance levels: yellow (4.5kg) to red (13kg)
Length: 24cm loops
Accessories : 4 cushioned handles, 2 ankle straps, 1 door anchor, 1 waterproof carrying bag, user guide poster
Reasons to buy
+Up to 45kg stretch  +Super durable
Reasons to avoid
-Relatively pricey
With a total 70kg of resistance, this band set not only caters to all levels, but it's of an exceptionally high quality. It feels strong, robust and likely to stand the test of time.
The FitBeast set has everything you need for a good varied workout, whether you're a first-time user or an expert exercise band user. It comes complete with a handy workout poster, as well as links to a host of video tutorials showing you all the different ways the bands can help increase strength and gain muscle mass.
A door anchor and an extra set of handles is included, allowing you to have two different resistances set up without having to stop and change bands – useful for drop sets or moving from one exercise to another.
3. Proworks Resistance Bands
Best budget resistance bands
Specifications
Bands included: Four levels, from light (red) to extra-heavy (black)
Length: 31cm
Accessories : Drawstring pouch and workout guide
Reasons to buy
+Good value for money  +Great extras included
Reasons to avoid
-Only four resistance levels -Can rub on hands
Offering great value for money and decent quality despite the low, low price, you can't really go wrong with the Proworks Resistance Bands set. For a tiny outlay you get four 31cm-long bands: light, medium, heavy and extra-heavy. There's also a workout guide and carry pouch to shove it all into and take to the park, if you fancy. 
Made from 100% pure latex with anti-snap safety design, the quality isn't bad - though the bands have been known to rub a little on the hands after prolonged exercise. Still, they're easy to use and do the job when it comes to a quick cross training or HIIT workout.
4. INMAKER Resistance Bands
The best resistance bands for beginners
Specifications
Bands included: Five levels from yellow (4.5kg) to black (18kg)
Length: 30cm
Accessories : Carry bag, workout manual, ebook and online video access
Reasons to buy
+Includes workout manual and ebook +Great price
Reasons to avoid
-Quality could be better -Heavier bands are an extra purchase
This five-band set comes in two different ranges: the Funda, which is better for beginners due to its slightly lower resistance level, and the Pro.V, which features heavier bands for those looking to progress their training. While it's a little annoying that you have to purchase a second set of bands once your training has progressed, it's worth remembering each set costs very little. 
The other great thing here is that the pack comes with access to a free 40-page e-book that tells you just about everything you need to know about using the bands effectively in your training.
5. Resist Fit Resistance Bands Set
The biggest resistance bands set that has absolutely EVERYTHING
Specifications
Bands included: 5 Resistance stretch wires: yellow (4.5kg) to black (22kg) 5 Resistance loop bands: green (1kg) to black (13kg)
Length: Various
Accessories : 2 foam handles, 2 ankle straps, a door anchor, an instruction manual and a carry bag
Reasons to buy
+10 resistance levels +Long lasting, SGS-tested latex
Reasons to avoid
-Lack of instructions for beginners
This set of resistance bands come complete with absolutely everything you need if you're looking for a complete free-weights workout alternative. With five resistance stretch wires, five loop bands, two handles, two ankle straps, a door anchor and a carry bag, there's up to 10 levels of resistance in one bag which will really help you strengthen your upper body, core, and legs for a full body workout. 
Made from upgraded SGS-tested latex, the Resist Fit exercise bands are also smooth and comfortable when stretched against your skin, not that you'll notice when you're properly sweating.