Best resistance bands for building strength
Switch it up with the best resistance bands and develop your muscles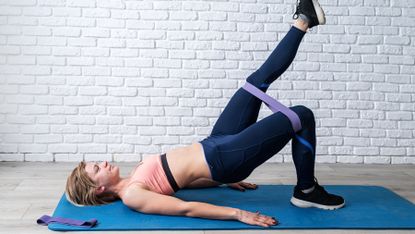 (Image credit: Getty)
Add one of the best resistance bands to your usual routine either in the gym or at home and use your body weight to propel your workouts further. Whether you use exercise bands for training your glutes or for chest day, they are an affordable addition to your workouts that will keep you on your toes.
You can incorporate resistance bands into so many elements of your routine, from warming up to finishers that make you feel the burn. They can also help with preventing old injuries from resurfacing, which is great if you're in recovery. That's thanks to the fact that the best resistance bands are low impact despite the fact that they keep tension on your muscle throughout a full range of motion. This makes them a great alternative to the best adjustable dumbbells or barbells to use at home if you struggle with your joints or conditions like arthritis.
A range of different workouts can benefit from resistance bands too. Pilates practice can be made more challenging in an instant, whilst a routine at the gym can also be made more versatile too. There's no complication to using a resistance band, they simply slip around the part of your body you've chosen to work out, with no need for a complicated set-up.
To explain the different types a little further, therapy bands are another type of resistance band that is held at each end and tied to stable objects. Alternatively, if you need a band for the gym, then tubes are a versatile choice with a clip or handle for exterior attachment. Keep reading to establish which is the best exercise band for you.
The best resistance bands you can buy right now
1. Odoland Exercise Resistance Bands Set
Best resistance bands for most people
Specifications
Bands included: Six tube bands, four loop bands
Length: 24cm loops
Accessories : Carry bag, door attachment, ankle straps, ebook training guide
Reasons to buy
+
Everything you need to get you started
+
A great quality set of bands
+
Free ebook training guide
Reasons to avoid
-
Advanced users could soon outgrow them
This Odoland Exercise Resistance Bands Set tops our list of the best resistance bands thanks to its versatility. It comes with an easy-to-follow visual guide to workout band training, making it an excellent choice for beginners.
The exercise bands are suitable for all experience levels. However, advanced fitness enthusiasts might want to grab a set with higher resistance, as the tube bands offer up to 11.4kg, with the looped bands hitting a maximum of 18.1kg.
The color-coded system used on resistance bands can be a bit confusing, so it's a nice touch that each band in this set is clearly marked in pounds and kilograms, so you can quickly find the right one for your workout.
2. FitBeast Exercise Resistance Set
Best premium resistance bands
Specifications
Bands included: 5 resistance levels: yellow (4.5kg) to red (13kg)
Length: 24cm loops
Accessories : 4 cushioned handles, 2 ankle straps, 1 door anchor, 1 waterproof carrying bag, user guide poster
Reasons to buy
+
Up to 45kg stretch
+
Durable materials
Hitting a maximum of 70kg of resistance, this high-quality resistance band set caters to all levels. The materials are durable, so they'll last you many workouts without running the risk of strapping mid-exercise.
Whatever your experience level, this set has you covered. Notably, there's an image-based poster to guide you through resistance band workouts and several video tutorials if you want to work on your form.
A door anchor and an extra set of handles are included, allowing you to have two different resistances set up without stopping and changing bands, which is helpful for drop sets or moving from one exercise to another.
3. Proworks Resistance Bands
Best budget resistance bands
Specifications
Bands included: Four levels, from light (red) to extra-heavy (black)
Length: 31cm
Accessories : Drawstring pouch and workout guide
Reasons to buy
+
Good value for money
+
Plenty of extras included
Reasons to avoid
-
Only four resistance levels
-
Can cause irritation on your hands
Don't be put off by the low price; the Proworks Resistance Band Set is incredible value for money. You get four 31cm bands in light, medium, heavy, and extra heavy resistances for a budget-friendly amount.
The exercise band set also includes a workout guide to get you started and a convenient carry pouch for storage and transport. The bands are made from latex and have an anti-snap safety design.
Some users have noted that the bands can rub against your hands and cause irritation, so it might be worth investing in a different set if this puts you off. Still, they're easy to use and do the job when it comes to a quick HIIT workout.
4. INMAKER Resistance Bands
The best resistance bands for beginners
Specifications
Bands included: Five levels from yellow (4.5kg) to black (18kg)
Length: 30cm
Accessories : Carry bag, workout manual, ebook, online instructional videos
Reasons to buy
+
Includes workout manual and ebook
+
Great price
Reasons to avoid
-
Quality could be better
-
Heavier bands are an extra purchase
You can pick up this five-band set in two styles; Funda, lower resistances suitable for beginners, and Pro. V for advancing your training. Although this means eventually buying two sets of bands, they are affordable, so it won't break the bank.
The package also comes with a free 40-page instructional ebook to help you get the most from your new exercise bands. Similarly, there are online videos if you prefer visual guidance on your form.
5. Resist Fit Resistance Bands Set
The resistance bands set that has absolutely everything
Specifications
Bands included: 5 resistance stretch wires, 5 loop resistance bands
Length: Various
Accessories : 2 foam handles, 2 ankle straps, a door anchor, instruction manual, carry bag
Reasons to buy
+
10 resistance levels
+
Long lasting, SGS-tested latex
Reasons to avoid
-
Lack of instructions for beginners
This set of resistance bands come with resistance wires from 4.5kg (yellow) to 22kg (black) and loop bands ranging between 1kg (green) and 13kg (black). They're made from SGS-tested latex, so they'll be smooth and comfortable against your skin.
There are five resistance stretch wires, five loop bands, two handles, two ankle straps, a door anchor, and a carry bag. The set offers ten resistance levels, so you can strengthen your upper body, core, and legs for a full-body workout.
How to choose the best resistance bands
Although they seem straightforward, there are several styles of resistance band and many different colors or sizes. Some sets also come with accessories like workout guides or attachments.
While you can buy single resistance bands, it's more common to find a set of bands with varying strengths, so that's what we'll be looking at in this guide. To help you buy the best resistance bands for your needs, it's worth exploring the key factors to consider before making your purchase.
Color-coded resistance levels
When you look at a set of the best resistance bands, you'll notice each band is a different color. These colors represent the band's resistance level, ranging from light to heavy.
There isn't a rule for this, so each manufacturer will approach it slightly differently. However, red bands generally offer the highest resistance level, while black bands are at the lighter end.
The strength you use depends on the move and your goals. As Anderson explains, "If you're using the band for stability... then you can opt for a medium to high resistance." A light or medium band will do the job if you're aiming for a high rep count.
Type of band
There are three styles of resistance band to choose from; loop bands, therapy bands, and tubes. The looped variety is the most common and is usually made of latex or rubber.
As you'd expect, it forms a closed loop, so there are no ends to grab hold of. This makes them ideal for looping around your thighs, ankles, or even your shoulders for intense push ups.
If you're after a variety to hold, therapy bands are your best choice. These are quite like loop bands, but the loop isn't complete, allowing you to take hold of each end.
These are the best resistance bands for shoulder and arm exercises, as you can move them about quite freely or tie them to fixed objects. You can even make them double as loop bands by tying the ends together.
If you prefer a more substantial grip, tube bands tend to be thinner than the other two varieties but come with a clip, handles, or other attachments for the ends of the band.
Price

Another reason the best resistance bands make great dumbbell alternatives is the price. Those weights can cost anywhere from $50 to $200, while you can pick up resistance band sets for around $25/£20.
We've found the best resistance bands around, so they're all high-quality choices, but the prices will vary depending on the extras, like carrying cases, attachments, and exercise guides.
Which resistance band is good for beginners?
Although you can use the best resistance bands as an alternative to free weights, they're also well-suited to anyone just starting out and looking to develop strength in areas like their arms, chest, legs, and core or improve their flexibility.
You'd want to find a lower resistance band, at least initially. There's no standard across brands for marking out specific resistances, but generally, the lighter colored bands are thinner and create the least resistance.
The bands almost always come as a set of varying resistances, so you can increase the thickness as you build strength. You might start with a few stretches and then work your way towards a short session like this low-impact 15-minute resistance band workout.
Are resistance bands worth it?
If you've been considering a set of the best resistance bands, you might be wondering what you can do with them. Aside from stretches, yoga moves, and Pilates classes, it's also possible to use them in your workout.
According to Katie Anderson (opens in new tab), the Head of Training at FLY LDN (opens in new tab), you can add resistance bands into bodyweight exercises like squats, glute bridges, pull ups, plank jacks, and the best chest workouts with resistance bands.
It's best to aim for more repetitions as "by doing high reps and continuous work with little rest while using the bands, you will work on muscle endurance, strength, and compound exercises," notes Anderson.
Lee Bell is a London-based journalist, copywriter, specializing in all things tech and lifestyle. He is also a qualified personal trainer. He started his journalism career a decade ago as a reporter covering the latest gadgets and innovations at tech tabloid The Inquirer. Lee went freelance in 2016 to broaden his expertise, moving into news, reviews and feature writing for a host of national print and online lifestyle titles such as GQ, Forbes, Esquire, Men's Health, Wired, The Metro, and The Mirror. He has an insatiable appetite for travel, Dharma yoga, and the odd outdoor challenge.