Best resistance bands to build muscle without weights
We put the best resistance bands to the test, from looped bands to flat therapy options to help boost your flexibility and build muscle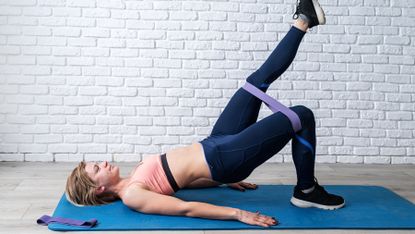 (Image credit: Getty)
Once you've discovered some of the best resistance bands, you'll wonder how you ever lived without them. Budget-friendly, easy to use, and even easier to store away, the best exercise bands are a brilliant alternative to weights.
A resistance band is essentially an elastic band that can be used for strength training or rehabilitation by providing differing amounts of tension. You can get a tube band with handles, a flat therapy option, or a generic loop band.
Each style is available in various resistances, from light to extra heavy, though they can sometimes be referenced by weight equivalent in pounds. Depending on the style and thickness, you can pay $20/£17 to $100/£85 for a set of the best resistance bands.
We've tested a range of budget-friendly and versatile options, and WeGym's resistance bands came out on top thanks to the selection of accessories, quality of bands, and accompanying workout app.
However, no matter whether you're trying to strength train, better your flexibility, or add some extra resistance to your Pilates poses, there's a resistance band for every workout style.
The best resistance bands you can buy right now
1. WeGym Resistance Bands
The best resistance bands overall
Specifications
Material: Nylon
Tension range: Adjustable up to 61lbs/ 27.6kg
Number of bands: 2
Accessories: Wrist bands, ankle bands, door anchor, object anchor, hand grips, smartphone app
Reasons to buy
+
Adjustable resistance system
+
Bluetooth-enabled to track your workouts
Reasons to avoid
-
An expensive option
-
More complicated than standard bands
The WeGym Resistance Bands really do go above and beyond. These resistance bands are super durable and are designed to accommodate all kinds of different exercises. Plus, they connect through Bluetooth to your smart devices so you can track your progress with each workout.
The stylish set includes everything you need for a resistance strap-based strength workout: you'll receive two resistance straps with the easy-to-use slider adjuster (between 40 lbs/ 18kg), a suspension strap, a door anchor, handles, ankle and wrist bands, and a USB charging cable to charge your bands. We liked the bright orange and black design and found that during testing, the products felt sturdy, soft, and well-made.
What really makes this set stand out is the app feature. You can connect your bands to the WeGym app via Bluetooth and instantly access various workouts. These workouts help you build a routine using your straps based on your goals for strengthening or stretching. During testing, we found most workouts feature six to seven timed exercises and a few warm up and warm down moves. Once you get the hang of your straps, you can even build your own workout "playlist" using different moves on the app.
We think that these straps are best for strength training if you're relatively new to resistance training, as the system is very comprehensive and offers a hands-on approach. It's also great for people looking to track their progress digitally.
What the users say
At the time of writing, this resistance band set has 32 ratings on Amazon and an average of 4.6 out of 5 stars. Users commented on the useful attachments, the easy adjustment feature, and the useful app. However, some users rated the bands lower because there is a 'lack of printed instructions. You need to install the app and watch a video to really get the gist'.
---
2. Whatafit Resistance Bands
Best resistance bands for versatility
Specifications
Material: Natural latex
Tension range: 10 - 50 lbs/4 - 22.6kg
Number of bands: 5 looped bands, 5 exercise bands
Accessories: Door anchor, handles, carry case
Reasons to buy
+
Durable, non-slip bands
+
Two styles of bands; looped and flat
Reasons to avoid
-
Door anchor can be difficult to set up
The Whatafit Resistance Bands set is ideal for people who love all kinds of resistance training and know how to use a variety of different types of bands. The set comes with both over-the-door resistance straps and a set of standard resistance bands, so it can be used in all kinds of exercises, from strength training to pilates to physical therapy.
The color-coded bands come with resistances of 10 lbs to 50 lbs/ 4kg to 22.6kg and can be used individually or in different combinations, so you can create a resistance that suits you best all the way up to 150 lbs/ 68kg. The bands are made of natural latex — we found them to be non-slip and relatively durable during our workouts.
The set also comes with a door anchor, a carrying case, and cushioned handles, which makes the experience of using them easy, comfortable, and hassle-free. Our only complaint about this set is that the door anchor is a little tricky to get set up properly.
All in all, this set has everything you need to get started with any kind of resistance training, so it's the perfect option for someone looking to try a bit of everything.
What the users say
Across thousands of reviews on Amazon, this set has a rating of 4.6 out of 5. Most users enjoy the set and its portability, but some noted the bands snapped after a few months.
---
3. Theraband Non-Latex Resistance Bands Set
Best resistance bands for beginners
Specifications
Material: Natural rubber
Tension range: 3 - 4.6 lbs/1.3 - 2kg
Number of bands: 3
Accessories: None
Reasons to buy
+
Thin bands easy to store away or take traveling
+
Latex-free materials
Reasons to avoid
-
Limited tension range
-
No accessories or carry case
If you're looking for a simple, affordable set of resistance bands, the Theraband Non-Latex set is a good place to start. This set comes with three five-foot-long bands for easy, medium, and hard resistance levels. The yellow band offers 3 lbs/ 1.3kg of resistance, the red offers 3.7 lbs/ 1.6kg and the green offers 4.6 lbs/2kg.
These bands are ideal for adding resistance in pilates or barre-style classes. They can be used to tone the arms or when tied in a knot, they can be used wrapped around the thighs to strengthen the glutes and legs.
We loved these bands when we tried them in an at-home pilates class. They were pleasant to the touch and easy to use. Plus, after the class, they were easy to store away.
We recommend this set for people who want to add resistance to their routine — especially people who are already practicing yoga, pilates, or barre at home. We would note that these bands are best suited to beginners so if you're looking for a real challenge, you might be better suited with an alternative set.
What the users say
These resistance bands are a popular choice and there are thousands of reviews from people who've bought them. The Theraband set has a 4.6 rating out of 5. Users commented on the strong material, quality, and simplicity of the set. Others also like that are non-latex. Some users marked the bands down because they would have liked a grip handle and some found the bands a little too wide.
---
4. Living.Fit Resistance Bands
Best resistance bands for building muscle
Specifications
Material: Natural latex
Tension range: 25 - 125lbs/11 - 56kg
Number of bands: 4
Accessories: None
Reasons to buy
+
Large tension range
+
Looped with anti-snap design
Reasons to avoid
-
No accessories included
-
Bands only available in high resistance versions
If you're looking for a variety of resistance bands to add to your workouts, the LivingFit Set makes it easy to mix and match so you get exactly what you need. On Amazon, you can choose which bands you want to try — buy each band individually, or, select the set that suits you best. We tried the set of four bands that range from 25lbs/11kg to 125 lbs/56kg in resistance.
Unlike some other resistance bands, the LivingFit bands are designed in a long loop, which we found made them great for standing on, or looping around your feet during exercises. The company recommends using them with your pull-ups, push-ups, rows, and tricep extensions in particular. What we loved about these bands is that they are versatile, hassle-free, and comfortable.
One of the best features of these bands is their "anti-snap" function. Made with thick material, these bands promise to be extra durable, so you don't have to worry about them snapping in the middle of your workout.
What the users say
This set of resistance bands has an average star rating of 4.7 out of 5 on Amazon. Users said the bands were "extremely strong" and super high quality. Despite the extra length, some users did find the bands too short for performing certain exercises.
---
5. Tru Grit Power Loop
The best budget resistance bands
Specifications
Material: Latex rubber
Tension range: Extra light to extra heavy
Number of bands: 5
Accessories: Carry case
Reasons to buy
+
Looped bands for arm and leg workouts
+
Come with a carry case for storage
Reasons to avoid
-
Resistance levels aren't linked to a specific weight
-
No accessories included
This set of Tru Grit Power Loops comes with five color-coded 7-inch long resistance loops that are perfect for placing around the thighs, calves, or arms. The bands are made with latex rubber and come with a carry case to keep them stored away between workouts.
While these bands are relatively simple and don't come with any fancy add-ons, we love the fact that each band clearly states its resistance — extra light, light, medium, heavy, and extra heavy — with a series of dots. This means you won't need to worry about accidentally grabbing the wrong band and ruining the flow of your workout.
We also love how affordable these bands are and this is the perfect set to choose if you want a basic, reliable product for at-home or gym use.
What the users say
These resistance bands have a user rating of 4.5 stars out of 5. Most users commented on the useful resistance notations on the bands, the range of resistances, the high-quality material, and the durability.
---
How to choose the best resistance bands
Although they seem straightforward, there are several styles of resistance band and many different colors or sizes. Some sets also come with accessories like workout guides or attachments.
While you can buy single resistance bands, it's more common to find a set of bands with varying strengths, so that's what we'll be looking at in this guide. To help you buy the best resistance bands for your needs, it's worth exploring the key factors to consider before making your purchase.
Color-coded resistance levels
When you look at a set of the best resistance bands, you'll notice each band is a different color. These colors represent the band's resistance level, ranging from light to heavy.
There isn't a rule for this, so each manufacturer will approach it slightly differently. However, red bands generally offer the highest resistance level, while black bands are at the lighter end.
The strength you use depends on the move and your goals. As Head of Training at FLY LDN (opens in new tab), Katie Anderson explains, "If you're using the band for stability... then you can opt for a medium to high resistance." A light or medium band will do the job if you're aiming for a high rep count.
Type of band
There are three styles of resistance band to choose from; loop bands, therapy bands, and tubes. The looped variety is the most common and is usually made of latex or rubber.
As you'd expect, it forms a closed loop, so there are no ends to grab hold of. This makes them ideal for looping around your thighs, ankles, or even your shoulders for intense push ups.
If you're after a variety to hold, therapy bands are your best choice. These are quite like loop bands, but the loop isn't complete, allowing you to take hold of each end.
These are the best resistance bands for shoulder and arm exercises, as you can move them about quite freely or tie them to fixed objects. You can even make them double as loop bands by tying the ends together.
If you prefer a more substantial grip, tube bands tend to be thinner than the other two varieties but come with a clip, handles, or other attachments for the ends of the band.
Price
Another reason the best resistance bands make great dumbbell alternatives is the price. Those weights can cost anywhere from $50 to $200, while you can pick up resistance band sets for around $25/£20.
We've found the best resistance bands around, so they're all high-quality choices, but the prices will vary depending on the extras, like carrying cases, attachments, and exercise guides.
How we tested the best resistance bands
We wanted to give these resistance bands a thorough trial run. We tried a variety of different exercises and moves with each set of bands, including Pilates moves, stretching, and resistance training.
We also looked at the specifications for each product, including materials used, portability, durability, grip, set-up, and ease of use. We took into account that many of us want to use resistance bands during a workout so we made sure to see how they coped with sweaty hands and whether they were still easy to grip.
Finally, we also looked at user reviews for each product to see how other people found the bands after months of use.
FAQs
Which resistance band is good for beginners?
Although you can use the best resistance bands as an alternative to free weights, they're also well-suited to anyone just starting out and looking to develop strength in areas like their arms, chest, legs, and core or improve their flexibility.
You'd want to find a lower resistance band, at least initially. There's no standard across brands for marking out specific resistances, but generally, the lighter colored bands are thinner and create the least resistance.
The bands almost always come as a set of varying resistances, so you can increase the thickness as you build strength.
Are resistance bands worth it?
If you've been considering a set of the best resistance bands, you might be wondering what you can do with them. Aside from stretches, yoga moves, and Pilates classes, it's also possible to use them in your workout.
According to Katie Anderson (opens in new tab), the Head of Training at FLY LDN (opens in new tab), you can add resistance bands into bodyweight exercises like squats, glute bridges, pull ups, plank jacks, and the best chest workouts with resistance bands.
It's best to aim for more repetitions as "by doing high reps and continuous work with little rest while using the bands, you will work on muscle endurance, strength, and compound exercises," notes Anderson.
Katie Anderson is a group fitness instructor and Level 3 personal trainer. She works with clients at studios around the UK and at clients homes to help them reach their fitness goals. Katie also teaches Barre and is passionate about dance and different styles of training.
Are thicker resistance bands better?
Resistance bands come in various sizes, ranging from light to extra-heavy. Thicker or extra-heavy resistance bands aren't better or worse than their thinner counterparts. Instead, different types of resistance bands are best suited for different kinds of workouts.
Omar Mansour, coach for audio-led fitness app WithU (opens in new tab), explains: "For example, the thicker the resistance band is, the more resistance you will feel, and it will naturally be harder to use.
"Typically, heavy bands will be used for larger muscles such as legs, and lighter bands are effective for targeting the smaller upper body muscles such as the shoulders. Band selection will be determined by the individual's strength and ability.
"If you are working in strength rep ranges, then you may opt for a thicker band and complete a few reps. However, typically, if you are after hypertrophy and muscular endurance as a training goal, you may choose a lighter band and complete higher repetitions."
Meg is a freelance journalist and features writer based in the UK. She covers culture, entertainment, lifestyle and health. Her writing has appeared in Cosmopolitan, Shondaland, Healthline, HelloGiggles, Reader's Digest, Apartment Therapy, and more. Meg has been interested in fitness for over a decade. She loves trying a wide range of exercise techniques including yoga, hiking, pilates and HIIT.
With contributions from