How Olive Union is disrupting the hearing aid industry
Hearing loss is a condition that's far too easily ignored and often left untreated by many, but a venture-backed startup is aiming to end the stigma surrounding the issue with its revolutionary new true wireless earbud-like solution and digital hearing therapeutics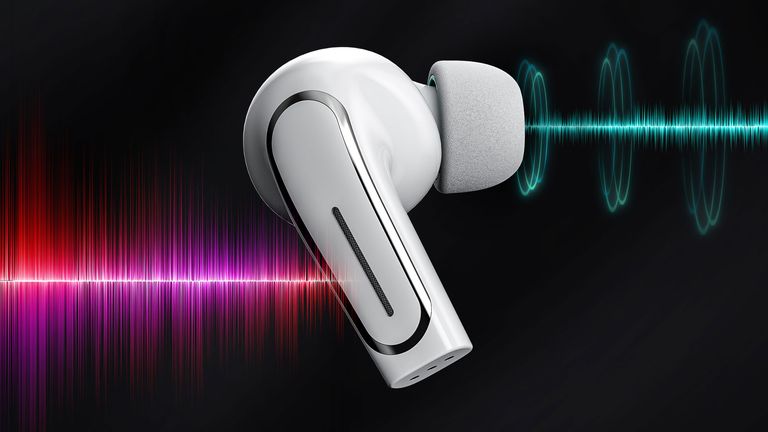 (Image credit: Olive Union)
By Fit&Well
A staggering 48 million people in the United States alone are currently estimated to have some level of hearing impairment. And, with the introduction of mask-wearing and social distancing during the Covid-19 pandemic impacting facial cues and the ability to hear clearly, many people will have only recently realized that they may suffer from some degree of hearing loss.
However, with the associated cost and perceived stigma surrounding conventional hearing aids, avoidance of getting help remains a huge issue for those with symptoms. 
In a recent US study commissioned by Olive Union, more than 1 in 3 adults stated that they would be unwilling to wear a hearing device due to 'feeling elderly'.
The same report also found that more than half of Americans would wait until their hearing ability had declined by 50% or more before considering the use of a hearing aid. That figure marked a sharp contrast to around just over a quarter of those polled who would wait until their eyesight had deteriorated by 50% or more before wearing glasses. 
Olive Union, a new 'hearables' company, aims to end the taboo of wearing hearing aids and in turn eliminate any stigma surrounding hearing impairment.
The company first made waves within the tech world when their Olive Smart Ear device, a single-ear hearing amplifier, won the Best Wearable award at gadget expo CES in 2020, but their latest device aims to take things a step further.
Bridging the gap between an FDA-registered class II medical device and consumer-tech product, their new Olive Pro earbuds combine the look and features of a set of modern Bluetooth earbuds with the functionality of a smart hearing aid system. 
Designed to be seen and not hidden, they look much the same as a conventional pair of popular true wireless earbuds with their short stalks. But, making use of cutting-edge AI algorithms, the earbuds help cut noise, amplify voices, and provide the sort of audio clarity expected of a set of high-end earphones while also doubling up as FDA-registered hearing aids.
The Olive Pros feature two main settings – a Music Mode best suited for audio streaming, and a Hear Mode, which enhances audio from around you, letting you attenuate noise and boost vocals and speech.
The earbuds come with their own dedicated Android and iOS app, giving you total control over your hearing experience by allowing you to tweak EQs, calibrate noise-canceling, and even introduce external sounds into your mix, allowing you to listen to favorite tunes while also letting you hear what's happening around you. Switching to Hear Mode, meanwhile, lets you choose what type of audio you want the earbuds to focus on, with dedicated General, TV, and Conversation presets.
Crucially the Olive Pros are more accessible and significantly more affordable than conventional hearing aids. This is in part thanks to the Over-the-Counter (OTC) Hearing Aid Act, which was passed by US Congress in 2017. Whilst the implementation of the Act is still somewhat tied-up in red tape and FDA regulation of the market is still to be implemented, it has nonetheless helped to break down many of the barriers to owning a hearing device.
Whereas the only option previously was to lay out a hefty fee - sometimes in excess of $5,000 - for a pair of hearing aids as well as follow-up services, the Act aims to allow consumers concerned about hearing loss the option of purchasing devices from in-store and online retailers without the need for doctor appointments, hearing tests or fittings. The Act recognizes the need for consumers to have an affordable,  easily accessible device, and the market and regulations are moving towards exactly that - Olive Union is just way ahead of the game.
The Olive Pro is one of the most exciting recent launches in this new space, and blurs the lines of class II medical device hearing aids and the anticipated OTC hearing aids guidelines. Priced in a similar bracket to premium bluetooth earbuds (the RRP is $299, around £220), you can set up the Pros in just five minutes by following a step-by-step guide to creating your own personalized hearing profile via the app's built-in hearing test.
This data is then used to calibrate the earbuds according to your level of hearing loss, tuning ambient audio to amplify the affected frequencies, and giving you the ability to have crystal clear conversations or watch your favorite shows without turning the TV's volume to full blast.
Despite all of this extra processing power, the Olive Pros also boast a battery life that puts most wireless earphones to shame and are able to last up to 20 hours, with the earbuds also IPX4 water-resistant.
Buy Olive Pro now |RRP from $299 (approx £220) | Now from $199 / £145 for a limited time
Brilliant speech understanding and automated background noise cancellation combined to bring true, ultra crisp sound quality for better music listening, clearer conversations, and less noise. View Deal
To discover more about the importance of hearing health, Olive Union and Olive Pro, visit oliveunion.com.