How the Wattbike Atom smart bike can help you smash your 2021 goals
Experience the outdoors indoors with the innovative and reactive indoor trainer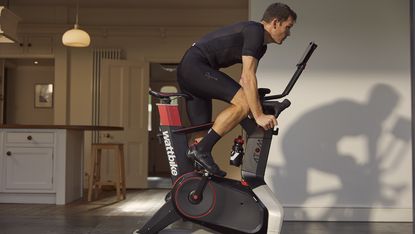 (Image credit: Wattbike)
It's cold, wet and dark outside. Inside, your Wattbike Atom smart bike is glinting in the light, silently beckoning you for an indoor workout, in warm and dry surroundings.
What could be better than having access to a cutting-edge indoor trainer that you can jump on for an uninterrupted workout any time of the day or night?
The latest-generation Wattbike Atom provides just that, and now also offers a more realistic simulation of what it feels like to cycle outdoors on the roads - meaning you'll keep training on it through January and for the rest of the year.
This is due to the smart bike's all-new faster, more powerful and more responsive electromagnetic resistance system. It's designed to make changing through the 22 gears smoother and quicker, creating the sensation that you're riding a bike outdoors rather than in your living space.
This innovative resistance system also means that it reacts instantly and more realistically to changes in power provided by Wattbike's own Wattbike Hub (opens in new tab) training software (which Atom users have free, unlimited access to), as well as in training apps such as Zwift (opens in new tab), TrainerRoad (opens in new tab), The Sufferfest (opens in new tab), Training Peaks (opens in new tab) or Peloton (opens in new tab).
Your training rides are elevated to a level where it feels like you're actually part of a pro peloton cruising the asphalt at speed, when in reality you're at home, dry (well, except for the buckets of sweat) and able to hop off post-ride and get straight in the shower.
Data galore
The Wattbike Atom also provides access to a wide range of workouts to suit every type of rider and fitness level.
If you live with others, each of you can use the easily adjustable Atom at different times and train how you want to, utilising HIIT workouts or virtual mountain climbs on Wattbike Hub, or by connecting to third-party apps in the blink of an eye.
The amount and accuracy of data that the Atom provides will keep even the most metric-mad cyclist happy, and it connects quickly and seamlessly to all your wireless external kit, such as heart-rate monitors or computer systems, via Bluetooth and ANT+.
The smartbike reads your data an unprecedented 1,000 times a second, providing you with hyper-accurate real-time readings and 37 metrics, including power, speed and cadence.
The Atom also measures your FTP (functional threshold power – essentially a measurement in watts of the power you can sustain for an hour) and uses it as a baseline to determine the power and resistance levels for your workouts, so no more turning the lever to add resistance like on some other exercise bikes.
And it measures power up to 2500W, meaning you can push yourself to the limit during those killer leg-sapping sprints.
Making indoor riding fun
What's more, you'll find your indoor training becomes fun. Gone are the days of staring at a blank magnolia wall while you mindlessly spin your legs for an hour. With the Atom, you'll actively look forward to your workouts thanks to the realistic, outdoor riding experience the trainer provides and the sheer variety of sessions available.
Thanks to the Atom's drop bars and aero bars, there are multiple riding positions available, meaning you can train like a pro without the hassle of having to mount your bike on a turbo trainer every time you want to ride indoors.
A wide range of challenges
An additional benefit of the electromagnetic resistance system is that it reacts quickly and realistically to whichever app you train with.
Whether you are racing riders from across the world in Zwift's virtual Watopia universe, joining a live spin class on Peloton or sweating your way up the famous Mount Ventoux on the Wattbike Hub app, the Atom's gradient changes are smooth, and gear-shifting is instant and realistic.
It helps make you a better cyclist
If you've ever felt like your cycling technique could do with a few pointers to make you more efficient, the Atom can help.
By using the groundbreaking Polar View analysis tool and the Pedalling Effectiveness Score, the trainer measures how you apply force through each pedal stroke as you ride, so you can improve your pedalling efficiency in real time.
You can then use the data to fine-tune your pedal strokes, leading to you being able to put more power through the pedals.
It adds style points
The Atom is the indoor smart bike you won't want to hide, wherever you base it in your home.
And it's ready for you to jump on any time, meaning there's no longer any excuses to skip a session due to "having to set the turbo trainer up"…
Whether you're new to the sport or a cycling veteran, the Wattbike Atom will keep you training through 2021, inspiring and motivating you whatever the weather.
The Wattbike Atom is priced at £1999 and can be paid for in instalments, starting at £52 per week. Additionally you can take out 0% interest monthly payments over six months. To find out more, visit wattbike.com (opens in new tab).
Howard is a freelance health and fitness journalist and copywriter. He has written for publications including ShortList, Runner's World, Trail Running, Women's Running, Red Bulletin, Wareable and Cycling Weekly. He enjoys nothing more than lacing up his trail shoes and heading out to explore new trails. He's run ultramarathons everywhere from the French Alps and Canadian mountains to the Welsh coast and Peak District. When not running, he's usually found hitting his local MTB singletrack trails or on a quest to find the country's best cinnamon bun.