How to create a workout split for building muscle
We asked an expert trainer how to create a workout split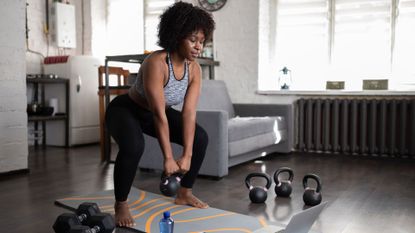 (Image credit: Getty)
If you're eager to learn how to create a workout split for building muscle, stick right here.
You might already follow a grueling full-body workout regime using the best cross training shoes to help you dip, deadlift and dead bug your way through a high-intensity interval training (HIIT) session or slip on these sneakers to support your weight as you move your way through a resistance training class.
But whether you're in desperate need of some new-found motivation to train, you have a specific fitness goal in mind or you just prefer to concentrate on one muscle area/group at a time, a workout split could be the answer you've been looking for.
However — how can you create a workout split for building muscle? How often should you weave in these splits to your workout routine, and where do you start? To help give you an idea of how to create a workout split for building muscle, we enlisted the help of Chris Gagliardi, who is an American Council on Exercise-certified personal trainer.
Here's what Gagliardi had to say about workout splits, how best to structure them and why you might choose this divide-and-conquer approach compared to a full-body workout.
Chris Gagliardi is an ACE Certified Personal Trainer, Health Coach, Group Fitness Instructor, and Medical Exercise Specialist, NSCA Certified Strength and Conditioning Specialist, NBHWC certified NBC-HWC, and NASM Certified Personal Trainer who loves to share his enthusiasm for fitness with others and is committed to lifelong learning.
He holds a bachelor's degree in kinesiology from San Diego State University, a master's degree in kinesiology from A.T. Still University, and a certificate in orthotics from Northwestern University Feinberg School of Medicine.
There are many ways to create a split routine. The key is finding a way to train all the major muscle groups within the number of days you have available to exercise.
"In this regard, split routines can look differently depending on your goals, what works best for your body, and the amount of time you have each week to devote to exercise," Gagliardi says.
To create a personalized workout split for you and your fitness goals, Gagliardi recommends:
Determining how many days per week you can devote to exercising
Dividing the major muscle groups (lower leg, upper legs, hips, core, back, arms, chest, shoulders) between the number of days per week you can train
Organizing your routine in a manner that seems fun and enjoyable
For example, this might look something like the below:
Upper body and lower body split
Monday: Lower body
Tuesday: Upper body
Wednesday: Active Recovery Day
Thursday: Lower body
Friday: Upper body
Saturday: Active Recovery Day
Sunday: Active Recovery Day
Opposing muscle groups
Monday: Front of thigh and back of thigh and lower leg (both sides)
Tuesday: Biceps and Triceps
Wednesday: Lower back, hips and abs
Thursday: Active Recovery Day
Friday: Chest, shoulders, and upper back
Saturday: Active Recovery Day
Sunday Active Recovery Day
Individual muscle groups
Monday: Lower legs and upper legs
Tuesday: Arms
Wednesday: Shoulders
Thursday: Back
Friday: Chest
Saturday: Core and hips
Sunday: Active Recovery Day
Workout split vs full-body workout?
As we've seen, as long as you complete the same volume of training, workout splits and full-body workouts result in similar strength gains.
However, there are a few reasons why you might choose one over the other.
You might tend to choose a workout split if:
You prefer to train five days a week, rather than say two times a week
You love to mix up your training
You love concentrating on just one area/muscle group
You have a specific fitness goal in mind
While you might consider a full-body workout if:
You are short on time
You want to maximize your calorie burn
You want total body conditioning in one hit
How often should I change my workout split?
Research tells us that exercise variation is key when it comes to both motivation to train and muscle adaption.
In fact, a 2019 journal that looked into the effects of exercise variation in muscle thickness, maximal strength, and motivation in resistance-trained men over an eight-week program, found: "That regularly changing exercise selection could help to enhance adherence to resistance training in those who lack the motivation to train. These results were obtained with relatively similar changes in muscular adaptations, although some outcomes appeared to be slightly attenuated from frequent rotation of exercises."
While a more recent randomized controlled trial suggested that auto-regulated exercise (which is a term that describes adjusting your workload within each workout based on how you're performing based on previous sessions) may provide a small advantage in lean body mass and upper body maximal strength in strength-trained individuals.
So, how often should you change up your workout splits?
According to the American Council on Exercise, it could be a good idea to switch up your routine around every six weeks. This change could be driven by frequency, intensity, time and/or type.
But like with any form of exercise, the key is to listen to your body, track your progress and see what is and what isn't working for you and adjust your workout accordingly.
Looking for other fitness inspiration? Try out this cross training workout.
Get the Fit&Well Newsletter
Start your week with achievable workout ideas, health tips and wellbeing advice in your inbox.
Becks is a freelance journalist and writer with more than 7 years of experience in the field. She writes health and lifestyle content for a range of titles including Live Science, Top Ten Reviews, Tom's Guide, Stylist, The Independent, and more. She also ghostwrites for a number of Physiotherapists and Osteopaths.
Health has been a big part of Becks' lifestyle since time began. When she's not writing about the topic of health, she's in the gym learning new compound exercises. And when she's not in the gym, she's most probably reading.