Five easy protein pancake recipes you'll want to make right now
Tired of your usual protein shake? Mix up your breakfast with these easy protein pancake recipes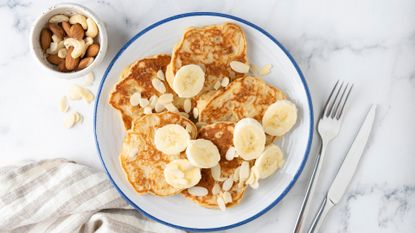 (Image credit: Getty Images)
Protein pancake recipes make it really easy to up your intake, feel fuller for longer and boost muscle growth. We all need protein – in fact it provides the building blocks for everything from muscles to bone mass, skin and hair, so it's really important for overall health.
The Academy of Nutrition and Dietetics (opens in new tab) recommends that the average American needs 0.8g of protein per kilogram or 0.35g per pound of body weight every day. So if you weigh 75kg (165 pounds) you need about 60g of protein daily. If you're hitting the gym hard, your protein needs will increase. This is because when you exercise, you break down muscle and need protein to rebuild it.
We can get all the protein we need from food, but powders are a fast and convenient way to get more into your daily diet, especially when the best protein powder for women and men are readily available.
Read on to find out five easy protein pancake recipes created by registered nutritionist Kirsten Oddy (opens in new tab) that you can try today.
Banana and oat protein pancakes
Serves 2
Ingredients
40g oats
1 small banana
20g protein powder
2 eggs
50ml unsweetened almond milk
1 tsp baking powder
7ml coconut oil
Topping of choice: berries, nut butter, honey, yogurt etc.
Method
Add all ingredients to a high speed blender and blend until a smooth, thick batter forms.
Heat a non-stick frying pan on a medium heat.
Add the butter or coconut oil to the pan.
Once melted, spoon in the batter to make small pancakes. Once starting to firm and/or bubbles form, gently flip and cook on the other side. Make sure to cook these in batches so as not to overload the pan.
Serve with toppings of your choice.
Blueberry and banana protein pancakes
Serves 2
Ingredients
1 egg
24g protein powder
½ tbsp ground flaxseed
1 banana
15ml unsweetened almond milk
20g oats
½ tsp cinnamon
37g blueberries
7ml coconut oil
2 tbsp maple syrup, divided, to serve
Method
In a mixing bowl or blender, mix the egg, protein powder, flax seed, banana, almond milk, cinnamon and oats.
Stir blueberries into the mixture.
Heat coconut oil in a frying pan over medium-low heat. Pour in batter and cook pancakes about two minutes per side, or until they're firm enough to flip.
Serve with maple syrup and an extra sprinkle with cinnamon.
Eggless chocolate brownie protein pancakes (vegan)
Serves 2
Ingredients
13g ground flaxseed
90ml water
46g chickpea flour
49g chocolate vegan protein powder
5g cacao powder
14g baking powder
240ml unsweetened almond milk
60g dark chocolate chips
7ml coconut oil
Method
Combine the ground flax and water in a small bowl. Whisk and set aside to thicken for about five minutes.
In a medium sized bowl, combine the chickpea flour, protein powder, cocoa powder, and baking powder.
Add the almond milk and flax mixture to the dry ingredients. Mix well until a smooth batter forms. Fold in the chocolate chips.
Heat coconut oil in a nonstick skillet over medium heat. Spoon the batter into the pan in 1/4 cup portions. Cook pancakes for about three to four minutes per side.
Plate the pancakes and enjoy!
Lemon and blueberry protein pancakes
Serves 2
Ingredients
60g oats
2 eggs
60g cottage cheese
25g vanilla protein powder
1 tbsp lemon juice (freshly squeezed)
1/2 tsp lemon zest
120ml unsweetened almond milk, or water
85g blueberries (plus more for topping - optional)
7ml coconut oil, for greasing pan
Method
Combine the oats, eggs, cottage cheese, vanilla protein powder, lemon juice, lemon zest, and almond milk water in a blender until smooth and then fold in the blueberries.
Heat a non-stick pan over medium-high heat and add coconut oil.
Once the oil is hot, pour the pancake mixture into the pan to make small pancakes. Cook for 2-4 minutes, or until firm enough to flip.
Flip over and cook for an additional two to four minutes, or until the batter is cooked through.
Repeat with remaining pancakes. You could serve with extra blueberries, lemon, maple syrup or yogurt, or simply enjoy on their own.
Simple banana and vanilla protein pancakes
Serves 2
Ingredients
2 bananas
4 eggs
50g vanilla protein powder
15ml coconut oil
Topping of choice: berries, maple syrup, banana, nut butter etc.
Method
In a large bowl, mash the bananas. Add the eggs and protein powder. Mix well until a batter forms.
Melt the coconut oil in a large skillet over medium heat. Once hot, pour the batter into the skillet, roughly 1/4 cup at a time. Cook for three minutes, or until the top starts to bubble slightly, and flip. Repeat the process until all the batter is used up.
Transfer to a plate and serve with toppings of your choice!
Maddy is a freelance journalist and Level 3 personal trainer specializing in fitness, health and wellbeing content. She has been a writer and editor for 22 years, and has worked for some of the UK's bestselling newspapers and women's magazines, including Marie Claire, The Sunday Times and Closer. She also manages Fit&Well's Instagram account.
Maddy loves HIIT training and can often be found running on her treadmill or working out while her two young daughters do matching burpees or star jumps. As a massive foodie, she loves cooking and trying out new healthy recipes (especially ones with hidden vegetables so the kids eat them). She makes a mean margarita and has twice won awards in previous staff jobs as the "office feeder".