Best protein powder for women to build lean muscle and promote recovery
We've tested the best protein powders for women to help you find a supplement that tastes good and blends well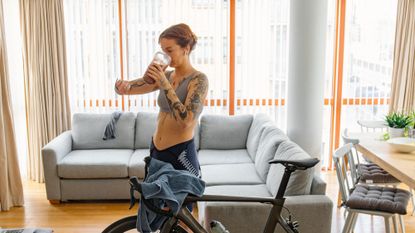 (Image credit: Getty Images)
The best protein powder for women can help you build muscle and support your body to recover after exercise. Although you can get protein from your diet, these supplements help you stay topped up, promote recovery, and help reduce post-workout soreness.
We've tested some of the top protein powders on the market, looking at protein levels, nutritional content, and ingredients. But, importantly, we've also taste-tested them to help you find an easy-to-drink option.
We rated the Dymatize Nutrition ISO100 as the best protein powder for most women, thanks to its pleasant taste, high protein content, and mixability, even with water.
But it's not your only option. We've rounded up the best protein powders for women across various brands and flavors, with dairy-based whey powers and vegan-friendly alternatives.
Best protein powder for women
1. Dymatize Nutrition ISO100
The best protein powder for most women
Specifications
Protein per serving: 25g
Fat per serving: 0g
Carbs per serving: 1g
Sugar: 1g
Reasons to buy
+
Available in a range of flavors
+
Easy on the stomach
Reasons to avoid
-
Tub hard to recycle
-
Relatively expensive
We found that the Dymatize Nutrition ISO 1000 was one of the best all-round protein powders for women. It's got 25g of protein per serving, just a single gram of carbs, and only 110 calories per serving. Plus, if you choose to mix it with water, it's actually quite nice.
It uses a combination of two types of protein (hydrolyzed and whey isolate) which are easier to digest than standard whey protein, so it shouldn't leave you feeling bloated either. And it's packed with all the branched-chain amino acids (BCAAs) your body needs to grow your muscles.
We tried the Birthday Cake flavor (one of 16 varieties) and expected it to be quite sickly and synthetic tasting—but it wasn't. It had the right level of sweetness, and it's a fairly fine powder so mixes well without any lumps or powder residue.
It was tasty stirred into oatmeal too, although we should note that unlike some protein powders that can have a thickening effect, it actually made our oatmeal a little runny. We'd recommend stirring it in before cooking the oatmeal a little longer.
Unlike some other brands, you don't get much else other than protein. It contains 90mg of calcium per serving, but no vitamin D or iron. The tub is also quite large, which is a commitment if you're not sure which flavor to choose.
However, it is suitable for vegetarians, free from gluten and holds the Informed-Choice certification, meaning it has been tested for banned substances by anti-doping lab LGC.
---
2. MyProtein Impact Whey Isolate
The best budget protein powder for women
Specifications
Protein per serving: 22g
Fat per serving: 0g
Carbs per serving: 1g
Sugars: 0g
Reasons to buy
+
High-quality protein content
+
Muscle-building amino acids and BCAAs
Reasons to avoid
-
Thin consistency when mixed with water or plant-based milks
-
Quite sweet
The gluten-free MyProtein Impact Whey Isolate goes through more processing than standard whey powder to reduce the fat and sugar content. It's also packed with essential amino acids and high in BCAAs, which are essential for stimulating protein synthesis to build lean muscle.
It's also easier to digest thanks to this processing, so your body has an easier job of breaking down the nutrients. It's extremely low carb (just 1g per serving) and low sugar, and comes in over 20 delicious flavors including Rocky Road and Salted Caramel, so you'll never get bored. Although the flavors do vary in impact.
We found the standard chocolate was weak tasting, but chocolate brownie was excellent. However, the good news is there's no chalky or weird aftertaste here. It's also good value for money and comes in three tub sizes; 2.2lb, 5.5lb, and 11lb.
---
3. Garden of Life Raw Organic Protein
The best premium protein powder for women
Specifications
Protein per serving: 22g
Fat per serving: 3g
Carbs per serving: 1g
Sugars: 0g
Reasons to buy
+
Packed with tummy-friendly probiotics and digestive enzymes
+
Contains vitamin E and mood-boosting vitamin D
+
Vegan-friendly
Reasons to avoid
-
Limited flavour choice
-
Quite thick consistency
The Garden of Life Raw Organic Protein is a vegan-friendly powder with a high amount of protein per serving (22g). It is also certified as USDA Organic and has plenty of ingredients designed to promote recovery and aid weight loss.
Each serving comes with green coffee bean extract to help you burn fat and maintain your blood sugar, and Ashwagandha which can help to curb cravings. You'll also get a boost of probiotics to aid digestion, so it's a great choice for women with IBS.
We tried the vanilla chai flavor, and were surprised by how delicious it tasted; more like you'd blended it yourself from raw ingredients, rather than the synthetic taste of some brands.
It's available in vanilla, chocolate, vanilla chai, and unflavored varities, so you can experiment to find a flavor that works for you. We found that it dissolves well in liquif and doesn't have a chalky aftertaste, either.
It's quite a thick powder, so if you're stirring it into oatmeal, you may want to add a splash of milk or water, or mix it in before your oatmeal has thickened too much. Otherwise, you'll risk ending up with a cement-like breakfast.
---
5. Form Performance Protein
Best vegan protein powder for women
Specifications
Protein per serving: 30g
Fat per serving: 3g
Carbs per serving: 2g
Sugars: 0.1g
Reasons to buy
+
Sustainable ingredients and packaging
+
Very high in protein
+
Certified B Corporation
Reasons to avoid
-
Limited flavor choice
-
Expensive
Form Performance Protein offers a complete amino acid profile with 5g of BCAAs per serving, and a whopping 30g of protein, supporting the growth and maintenance of muscle mass.
The blend is a mix of organic pea protein with brown rice and hemp proteins. It also contains curcumin and black pepper, both of which have anti-inflammatory properties to help you recover quicker and get back to training faster.
It comes in four flavors; vanialla, chocolate peanut, banoffee, and tiramisu. We tried the vanilla powder, which was nice, but could be a bit too sweet for some people. And it was easy to mix and the texture was smooth after blending.
Alongside this high-quality nutritional profile, Form is also a Certified B Corporation, committed to sustainable, ethical, and environmental standards. There are no added sugars, and the packaging is plastic-free and compostable.
The downside is that there isn't a plastic scoop included, so you need one of your own or have a spoon handy. There's only one size bag (520g), which is just 13 servings — a small portion for the price.
---
6. Vega Protein Made Simple
An alternative vegan protein powder for women
Specifications
Protein per serving: 15g
Fat per serving: 2g
Carbs per serving: 7g
Sugars: 6g
Reasons to buy
+
Short ingredient list
+
Vegan-friendly
+
Certified B Corporation
Reasons to avoid
-
Only 10 servings in the small tub
-
Not a low-sugar option
If it's simplicity you're after when it comes to the best protein powder for women, look no further than the Vega Protein Made Simple. It has just five ingredients; pea protein, organic cane sugar, coconut cream powder, natural flavors, and sea salt.
Whilst it's suitable for vegetarians and dairy-free diets, it is manufactured in a facility that processes milk, egg, soy and tree nuts. Protein Made Simple comes in four different flavors; dark chocolate, caramel toffee, strawberry banana and vanilla.
Despite containing real sugar, the flavor isn't overly sweet. We tried the dark chocolate flavor, and although it wasn't as intensely chocolatey as we would have liked (especially stirred into oatmeal), it definitely didn't have the synthetic flavor that a lot of other brands have.
There are only two tub sizes; small and extra large. If you opt for the small tub, it only lasts 10 servings. Despite this, a big draw is that it doesn't contain any artificial sweeteners, making this an ideal option if you're looking for a no-frills protein boost.
---
7. MyProtein Clear Whey Isolate
The most refreshing protein powder for women
Specifications
Protein per serving: 20g
Fat per serving: 0g
Carbs per serving: 1g
Sugars: 0g
Reasons to buy
+
No milky taste or texture
+
Light and refreshing drink
+
Available in 10 flavors
Reasons to avoid
-
Not suitable for cooking
-
Contains artificial sweetener
The MyProtein Clear Whey Isolate is an ideal choice if you're not of fan of milky protein shakes. Instead of mixing with dairy, you can blend this powder with water to create a light, refreshing alternative that's more like juice than a shake.
As it's designed with water in mind, we skipped the milk during this test and mixed a 26g scoop of this whey powder with 300 ml of water instead and shook it for 15 seconds.
We weren't convinced it would actually work that well (many powders leave lumps when mixed with water), but it dissolved well, so there were no unpleasant bits in the drink.
We tried the peach iced tea flavor, which tasted exactly as you'd hope, but the Clear Whey Isolate is available in 10 flavors, so you've got a lot of choices. The drink had a burst of sweetness but wasn't sickly either. We did think it worked best with a few ice cubes, though.
---
How to choose the best protein powder for women
Alyssa Fontaine is a registered dietitian and nutritionist who specializes in weight loss, relationship with food, and plant-based nutrition. She studied nutrition at McGill University and started working in private practice in 2014. She now runs her own plant-based nutrition business.
We spoke to Alyssa Fontaine, a registered dietitian, to find out how to choose a protein powder that'll support a women's body and help develop lean muscle.
"Women can benefit from protein powder the same way men do," says Fontaine. They can help with muscle growth, speed up post-workout recovery and they can be used for weight-loss purposes too.
But Fontaine also says that women generally need fewer calories and less protein than men, so make sure you're not over-consuming protein if you decide to use supplements.
But first, you need to decide what type of protein powder you're after.
You'll also find protein vegan-friendly powders such as those using a combination of plant proteins (such as pea, soy, hemp and brown rice). "Generally, try to look for a protein powder that is mainly protein and free of artificial sweeteners," Fontaine says.
"Some research shows that artificial sweeteners can increase cravings for sugary foods. Also, most protein powders contain gums which are used as thickeners, but they may be harder to digest and cause diarrhea due to their laxative effect."
FAQs
What is protein powder and how does it work?
Protein is a macronutrient that is essential for building muscle mass. It also makes up your nails, hair and bones. Proteins are built up of amino acid molecules, with the proteins we eat getting broken down in the body to fuel muscle mass and metabolism.
When we do resistance training, we're actually creating 'micro-tears' in the muscle fibers. In order to heal it, the body sends proteins and blood to the muscle, and this healing process helps it to grow back bigger and stronger.
If we don't eat enough protein, the muscle won't grow as well after exercise. For women, it can also hinder metabolism and hormone levels. A safe level of protein ranges from 0.8g per kg of body weight (2.2lbs), up to 2g of protein per kilogram for very active athletes.
This is what makes protein powder so convenient. We can throw a scoop of dry powder into a shaker full of water straight after exercise, so the protein can get to work mending those micro-tears as soon as possible.
You can even throw a scoop of powder into other dishes at home to up the protein content of foods like protein pancakes, oatmeal, or Greek yogurts, making for a healthier breakfast.
One study published in The American Journal of Clinical Nutrition found a high-protein breakfast improved satiety in late adolescent girls, making them feel fuller. This can also positively improve neural pathways in our brain which trigger perceived hunger, causing us to snack less throughout the day.
Is there a difference between male and female protein powders?
All protein powders are different but there isn't a hard and fast rule that separates female-targeted protein powders from male-targeted options.
"The differences between male and female protein powders depend on how the company markets their use," says Christina Dieli-Conwright, Associate Professor of Medicine at Harvard Medical School.
"Manufacturers targeting men typically highlight building muscle mass while for women may highlight weight loss. Nonetheless the powder should achieve a similar goal of providing a protein supplement."
However, some female-focused powders have ingredients to support a women's health, like folic acid, vitamin B6, and iron. This is helpful to stay topped up, but you can get these nutrients from your diet, too.
Christina Dieli-Conwright
Christina M. Dieli-Conwright, PhD, MPH, FACSM, CSCS is an Associate Professor of Medicine at Harvard Medical School. Her research focuses on how exercise can affect cancer patients, specifically related to tumor growth, inflammation, and body composition.
Which is the best protein powder for weight gain for women?
When weight gain is your goal, you want to be looking for a protein powder high in calories, carbohydrates, and protein, says F45 trainer Natasha Ram. She recommends picking up whey, casein, and mass gainer proteins.
"Whey protein is a popular choice for gaining weight as it contains high-quality protein and is quickly absorbed by the body. It also contains a good amount of carbohydrates, making it an excellent choice for post-workout recovery and weight gain," Ram explains.
"Casein protein is also a good option for weight gain as it is a slow-digesting protein that provides a sustained release of amino acids to the body. This helps to prevent muscle breakdown and promote muscle growth."
Finally, mass gainers are protein powders specifically designed for weight gain. According to Ram, these typically contain protein, carbohydrates, fat, vitamins, and minerals. "They are an excellent option for people who struggle to gain weight or have a high-calorie requirement," Ram says.
Natasha Ram is a personal trainer and a trainer at F45 Mill Hill. She specializes in women's health, helping women lose weight, gain strength, develop confidence, and enjoy life.
What is the best protein powder for weight loss in women?
As the best protein powders for weight loss show, a protein-rich diet can help you drop pounds and burn fat. But which is the best protein powder for women to encourage weight loss? According to sports nutritionist Jess Hillard, it comes down to the type of protein.
"There are two types of protein, complete and incomplete," she explains. "Incomplete proteins do not have a complete protein profile, so the body cannot utilize them as efficiently.
"Often, these are plant-based proteins, which need to be consumed with other protein sources to ensure complete utilization from the body. Animal sources of protein are complete."
She suggests choosing a whey-based powder if your goal is to lose weight. "This can be an excellent addition to any weight loss diet, especially if you are trying to gain muscle, increase strength and lose body fat."
Jess Hillard is a nutritionist with Warrior and holds a degree in Nutrition from Oxford Brookes University. After sustaining an injury following overtraining, Hillard used food to aid her recovery, which led to her interest in nutrition.
Can protein powder help reduce PCOS symptoms?
Polycystic ovary syndrome (PCOS) is a hormonal condition that affects how a woman's ovaries work. Symptoms can include infertility, weight gain, irregular periods, excessive hair growth, and insulin resistance. Some people report that increasing their protein intake helps manage some symptoms, but can it really make a difference?
When we spoke to NHS GP and Bio-Synergy ambassador Dr. Gary Bartlett, he mentioned a study published in The American Journal of Clinical Nutrition, which found that a high-protein diet improved insulin sensitivity and lowered testosterone levels in women with PCOS.
"Protein powders can be a convenient way to increase protein intake without consuming too many calories. However, not all protein powders are created equal," Dr. Bartlett warns, noting some powders' high sugar and artificial sugar content.
"This can contribute to insulin resistance and worsen PCOS symptoms. It is important to choose a protein powder free from added sugars and artificial sweeteners," like Myprotein Whey Isolate or Misfits Vegan Protein Powder.
"Additionally, some protein powders may contain soy, which can mimic the effects of estrogen in the body. This can be beneficial for women with PCOS who have low estrogen levels, but may be harmful to women with high estrogen levels."
As with all supplements, it's worth discussing your symptoms and plans with your doctor or medical professional before making changes to your diet to ensure it'll be right for your body.
Dr. Gary Bartlett is a professional athlete and full-time squad member on the British Snowboarding Team, representing Great Britain in the Snowboard cross. He is also a qualified medical doctor and fully qualified as a General Practitioner in August 2015.
How often should women drink whey protein?
According to Jess Hillard, there's not a set amount of whey protein a woman should drink. "I would always state a 'food-first' approach," she says and advises "having meals high in protein and supplementing with protein shakes alongside the diet if needed."
But they can be "a convenient option for those in a rush and looking to boost their protein consumption for the day. Alternatively, someone who is a high-training athlete will need to drink whey protein shakes to ensure they are getting enough protein to aid their recovery."
Hillard does note that the amount of protein needed varies from person to person, however, she recommends not having more than one protein shake in a day.
Is it ok to drink protein shakes without working out?
Drinking a protein shake without working out won't do you any harm, Hillard says. However, it won't always be necessary. She explains the role the nutrient has in the body, noting protein is used to build and repair muscles.
"If we are not working out, exercising, or training and eating a balanced diet, then there is most likely no reason to have protein shakes," she explains. "You could end up turning these extra calories you're consuming into weight gain."
However, some people use the best protein powders for weight loss to increase their protein intake and make them feel fuller for longer, making it easier to avoid snacks and maintain a calorie deficit. So whether you should drink protein shakes on rest days will depend on your body and goals.
Get the Fit&Well Newsletter
Start your week with achievable workout ideas, health tips and wellbeing advice in your inbox.