Best protein powder for women 2023: top supplements to build lean muscle
We've spent the last year trying out the best protein powders for women—these are some of our favorites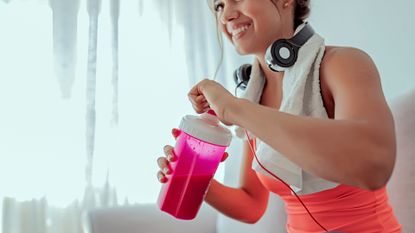 (Image credit: Getty Images)
Once upon a time, protein powders were exclusively marketed towards men who wanted to build muscle. That's not the case any more, as plenty of supplements are now targeted squarely towards women.
But is there any difference between male-focused protein powders and female-targeted brands? Not really. Most of the differences come down to marketing spin; when you're choosing a powder, you should simply be guided by your own tastes and dietary requirements.
"Women can benefit from protein powder the same way men do," says registered dietitian Alyssa Fontaine. They can help with muscle growth, speed up post-workout recovery and they can be used for weight-loss purposes too. But Fontaine also says that women generally need fewer calories and less protein than men, so make sure you're not over-consuming protein if you decide to use supplements.
To help you decipher what protein powder is best, we've taste-tested many of the top brands on the market, looking into their overall protein content, calories, carbs, fat, and sugar per serving. Here are our favorites.
Expert input from
Expert input from
Alyssa Fontaine
Alyssa Fontaine is a registered dietitian and nutritionist who specializes in weight loss, relationship with food and plant-based nutrition. She studied nutrition at McGill University and started working in private practice in 2014. Fontaine managed a team of 70 dietitians for several years and completed an MBA which allowed her to acquire a deep understanding of best practices in nutrition and customer service. She started my online plant-based nutrition business in 2020 and now works full-time with her plant-based dietitian team.
Best protein powder for women
Why you can trust Fit&Well Our expert reviewers spend hours testing and comparing products and services so you can choose the best for you. Find out more about how we test.
1. Dymatize Nutrition ISO100
The best protein powder for most women
Specifications
Protein per serving: 25g
Fat per serving: 0.1g
Carbs per serving: 2.3g
Sugar: 0.5g
Servings per container: 73
Reasons to buy
+
Available in a range of flavors
+
Easy on the stomach
Reasons to avoid
-
Tub hard to recycle
-
Relatively expensive
If you're serious about building lean muscle, Dymatize Nutrition ISO 1000 provides an impressive 25g of protein per serving and only 2.3g of carbohydrate. And at just 120 calories when mixed with water, you don't need to worry about feeling bloated either. Plus, the protein is a combination of hydrolyzed and whey protein isolates, which digest easily and are gentle on the stomach. Because the brand is designed specifically for muscle gain, the powder contains a significant dose of BCAAs – between 5.6-5.8g per serving, depending on the flavor. This includes between 2.6-2.7g of leucine, a BCAA that is directly involved in activating muscle protein synthesis.
Available in over 16 different flavors (including favorites like natural vanilla and chocolate, as well as dunkin' cappuccino and cinnamon bun) there's a taste everyone can enjoy. We tried the birthday cake flavor, expecting it to have a sickly, synthetic taste. However, we were pleasantly surprised that it had just the right level of sweetness. Dymatize ISO 100 is quite a fine powder, and mixes well without any lumps or powder residue at the bottom of your protein shaker. It was tasty stirred into oatmeal too, although we should note that unlike some protein powders that can have a thickening effect, it actually made our oatmeal a little runny. We'd recommend stirring it in before cooking the oatmeal a little longer.
Unlike some other brands, you don't get much else other than protein. It contains 90mg of calcium per serving, but no vitamin D or iron. The tub is also quite large, which is a commitment if you're not sure which flavor to choose. However, it is suitable for vegetarians, free from gluten and holds the Informed-Choice certification, meaning it has been tested for banned substances by anti-doping lab LGC.
What the users say:
Dymatize ISO 100 scores an impressive 4.6 out of five stars on the Vitamin Shoppe. Most users note that the powder blends smoothly and has a good taste. Fruity pebbles, in particular, appears to be a popular choice. Negative reviews focus on the fact that the tub is fairly expensive, and is only available in one size.
---
2. MyProtein Impact Whey Isolate
The best budget protein powder for women
Specifications
Protein per serving: 20g
Fat per serving: 1.8g
Carbs per serving: 1.6g
Sugars: 1.6g
Servings per container: 40 per 1kg bag
Reasons to buy
+
High quality protein content
+
Packed with essential amino acids, including BCAAs, which help build and repair new muscle.
Reasons to avoid
-
Thin consistency when mixed with water instead of milk or milk alternatives.
-
Quite sweet
This gluten-free, vegetarian powder from MyProtein goes through a superior purifying process, which means it has 90% protein content and minimal nasties. It's also jam-packed with essential amino acids and high in BCAA's – especially important as they help stimulate protein synthesis in order to build lean muscle.
Because of the way this product is processed, it has a really fast absorption rate, meaning your digestive system has an easier job of breaking down the nutrients quicker.
It's extremely low carb (just 1.6g per serving) and low sugar, and comes in over 20 delicious flavors including Rocky Road and Salted Caramel, so you'll never get bored.Although the flavors do vary in impact. We found regular chocolate to be fairly weak tasting, whereas chocolate brownie is excellent. The good news is there's no chalky weird aftertaste here. It's also great value for money and comes in three sizes – 2.2lb, 5.5lb and 11lb – so you could trial a couple of different flavors in the 2.2lb pouch if you wanted to. We also found the smaller size ideal for taking on trips.
What the users say:
MyProtein Impact Whey Isolate scores an average of 4.4 stars out of five on Amazon. Positive reviews tend to focus on the fact that you get lots of servings for your money, and that the mixability is fantastic. More negative reviews tend to cite the flavor as just being 'okay', with one user noting, "It could be much better but it could be worse too".
---
3. Garden of Life Raw Organic Protein
The best premium protein powder for women
Specifications
Protein per serving: 22g
Fat per serving: 2.5g
Carbs per serving: 2g
Sugars: 0g
Servings per container: 20
Reasons to buy
+
Packed with tummy-friendly probiotics and digestive enzymes
+
Contains vitamin E and mood-boosting Vitamin D
+
Certified organic, non-GMO and vegan friendly
Reasons to avoid
-
Limited flavour choice
-
Quite thick consistency
This high-protein, vegan protein powder is made with 22 raw sprouted organic ingredients and does all the usual things you'd want to help build lean muscle. But what makes it different is it is packed full of lots of clinically-studied goodies designed specifically for weight loss, including Svetol® green coffee bean extract to help you burn fat and maintain healthy blood sugar, and Ashwagandha, which can help to curb cravings.
It also contains tummy-friendly probiotics and digestive enzymes, which break down our food into nutrients so our bodies can absorb them, making it a great choice for women with IBS or gut problems. As well as this, it contains vitamins A, D, E and K to support immune health, so it's far from just protein you're getting with this product.
Available in four flavors: vanilla, chocolate, vanilla chai and unflavored, it dissolves well in liquid and doesn't have any chalky aftertaste. It's quite a 'thick' protein powder, so if you're stirring it into oatmeal, you may want to add a splash of milk or water, or mix it in before your oatmeal has thickened too much. Otherwise you'll risk ending up with a cement-like breakfast. Taste wise, you can tell this is a premium product. We tried the vanilla chai flavor and were surprised by how deliciously natural it tasted – no synthetic sweetness like some brands.
What the user's say:
Garden of Life Raw Organic Protein scores 4.3 out of five stars on iherb. Users note that it is just the right measure of sweetness, dissolves quickly in water and doesn't feel heavy on the stomach. One user comments, "I like the cleanliness of the ingredients and the added digestive aids. It has a very natural taste. If you are looking for a milkshake type flavor, this won't give it to you." Negative reviews tend to come from those that do prefer a sweetener taste, who find they need to add a splash of stevia.
---
4. Misfits protein powder
The best vegan protein powder for women
Specifications
Protein per serving: 20g
Fat per serving: 2.2g
Carbs per serving: 1.8g
Sugars: 0.4g
Servings per container: 16
Reasons to buy
+
Suitable for vegans
+
Contains added vitamin B12
Reasons to avoid
-
Only available in 500g bag
-
Only four flavors
Containing just 1.8g of carbohydrate and coming in at 113 calories per serving, Misfits is a great option for those looking to build lean muscle while keeping their carb intake to a minimum. It's a great option for vegans too, as it's made from a combination of pea and sunflower protein. It also contains papain, an enzyme found in papaya fruit, which facilitates the breakdown of proteins and stimulates digestion. And that's not all – it contains inulin (a prebiotic) and bacillus coagulans (a probiotic) to benefit digestion and absorption, so you can get the most from the product, as well as vitamin B12, a vital nutrient which is often lacking in a vegan diet. Being naturally vegan, gluten-free, dairy-free and hypoallergenic, it works well with most diets.
Misfits comes in four flavors, double chocolate, salted caramel, vanilla, and cookies and cream. We tested the double chocolate, expecting it to have an over-the-top sweetness. However, we were pleasantly surprised that it was chocolatey, but not to the point of being sickly. We did find that it was a little bit lumpy in shakes however, and stuck to our blender slightly. But we should note that our blender is quite old and sometimes struggles with tougher ingredients.
It's a shame this only comes in a 500g bag, because it will only last you for 16 servings. However, overall this is a quality protein powder for women that helps to build lean muscle, and has the added benefit of being dairy free.
What the users say:
User reviews for Misfits protein powder are largely very positive, with many saying that it doesn't have the grainy texture that a lot of brands have. According to them, the powder mixes well into oatmeal, smoothies and yogurt. Negative reviews tend to focus on the fact that you can only buy 500g bags, so if you get through protein powder quickly, you'll want to double up on your order or opt for a brand that offers a larger tub.
---
5. Form performance protein
The best protein powder for women, ethically speaking
Specifications
Protein per serving: 30g
Fat per serving: 2.9g
Carbs per serving: 2g
Sugars: 0.1g
Servings per container: 13
Reasons to buy
+
Sustainable ingredients and packaging
+
Very high in protein
Reasons to avoid
-
Limited flavor choice
-
Expensive
Form Performance Protein offers a complete amino acid profile with 5g of BCAAs per serving, and a whopping 30g of protein, supporting the growth and maintenance of muscle mass. The blend is a mix of organic pea protein with brown rice and hemp proteins. It also contains curcumin and black pepper, both of which have anti-inflammatory properties to help you recover quicker and get back to training faster, as well as 5g of glutamine and digestive enzymes.
One of the most eco-friendly options, it contains all natural ingredients with no artificial flavors, sweeteners or added sugar. The packaging is also 100% plastic free and compostable. Because of this, no plastic scoop is included, so you will need a spoon handy. The bag is also only available in one size too (520g), which contains just 13 servings. This seems fairly small for the hefty price tag, but given the quality of the product and the company's ethical stance, it's probably justifiable.
Form Performance Protein comes in just four flavors, vanilla, chocolate peanut, banoffee and tiramisu. The texture is smooth and it's easy to mix, although the vanilla flavor that we tested may be too sweet for some tastes. But if it's an ethical, vegan protein powder you're after, this ticks a lot of boxes.
What the users say:
Users note that, compared to a lot of other vegan protein powders, the amount of protein you get per serving is really good. One user wrote: "The main problem with non-dairy protein powders is their chalkiness and thickness – especially if only mixed with water. Form Protein Powder is by far the least thick and chalky non-dairy powder I've found." Negative reviews tend to cite that the powder is fairly sweet, as well as pricey.
---
6. Vega Protein Made Simple
The best fuss-free protein powder for women
Specifications
Protein per serving: 55g
Fat per serving: 15g
Carbs per serving: 6.9g
Sugars: 3.4g
Servings per container: 10
Reasons to buy
+
Short ingredient list
+
Vegan-friendly
Reasons to avoid
-
Only 10 servings per container
-
Higher in sugar
If it's simplicity you're after when it comes to the best protein powder for women, look no further than Vega Nutrition's Protein Made Simple. It contains just five ingredients (and none that you'll struggle to pronounce): pea protein, organic cane sugar, coconut cream powder, natural flavors and sea salt.
Whilst it's suitable for vegetarians and dairy-free diets, it is manufactured in a facility that processes milk, egg, soy and tree nuts.
Protein Made Simple comes in four different flavors: dark chocolate, caramel toffee, strawberry banana and vanilla. Despite containing real sugar, the flavor isn't overly sweet. We tried the dark chocolate flavor, and although it wasn't as intensely chocolatey as we would have liked (especially stirred into oatmeal), it definitely didn't have the synthetic flavor that a lot of other brands have.
There's a lot to love about this protein powder, which is why it's frustrating that it doesn't come in a larger size. One pot will only last you 10 servings. Whilst it's not a hugely costly product, it means you'll have to bulk order. Despite this, a big draw is that it doesn't contain any artificial sweeteners, making this an ideal option if you're looking for a no-frills protein boost.
What the users say:
Protein Made Simple scores 4.5 out of five stars on iherb. Many users comment that the powder is easy to dissolve, and tastes really good, with no artificial flavor or smell. Negative reviews say that the protein should come in a larger size and that it would be useful if a scoop size provided 20g of protein, rather than 15g.
What is protein powder, and how does it work?
Protein is a macronutrient that is essential for building muscle mass. It also makes up your nails, hair and bones. Proteins are built up of amino acid molecules, with the proteins we eat getting broken down in the body to fuel muscle mass and metabolism.
When we do resistance training, we're actually creating 'micro-tears' in the muscle fibers. In order to heal it, the body sends proteins and blood to the muscle, and this healing process helps it to grow back bigger and stronger. If we don't eat enough protein, the muscle won't grow as well after exercise. For women, it can also hinder metabolism and hormone levels.
A safe level of protein ranges from 0.8g per kg of body weight (2.2lbs), up to 2g of protein per kilogram for very active athletes. This is what makes protein powder so convenient. We can throw a scoop of dry powder into a shaker full of water straight after exercise, so the protein can get to work mending those micro-tears as soon as possible.
You can even throw a scoop of powder into other dishes at home to up the protein content of foods like protein pancakes, oatmeal, or Greek yogurts, making for a healthier breakfast.
One study published in The American journal of clinical nutrition found a high-protein breakfast improved satiety in late adolescent girls, making them feel fuller. This can also positively improve neural pathways in our brain which trigger perceived hunger, causing us to snack less throughout the day.
How to choose the best protein powders
With so much choice, just how do you choose a protein powder that meets your dietary requirements and your preferences?
Firstly, you need to decide what form of protein powder you want and there are three different types:
Concentrate — These powders have a protein concentration of between 70 and 80% and they generally contain some lactose and fat.
Isolate — These powders tend to have a protein concentration of around 90%. They're also low in lactose and are absorbed faster than whey protein concentrate.
Hydrolysate — This is an ultra pure form of whey protein which has been highly processed. But because of this production process, they tend to be more expensive.
You'll also find protein vegan-friendly powders such as those using a combination of plant proteins (such as pea, soy, hemp and brown rice).
"Generally, try to look for a protein powder that is mainly protein and free of artificial sweeteners," Fontaine says. "Some research shows that artificial sweeteners can increase cravings for sugary foods.
"Also, most protein powders contain gums which are used as thickeners, but they may be harder to digest and cause diarrhea due to their laxative effect."
Other factors to research include the amount of protein and carb per serving, along with the calorie content, flavor and texture.
Is there a difference between male and female protein powders?
All protein powders are different but there isn't a hard and fast rule that separates female-targeted protein powders from male-targeted options.
"The differences between male and female protein powders depend on how the company markets their use," says Christina Dieli-Conwright, Associate Professor of Medicine at the Harvard Medical School.
"Manufacturers targeting men typically highlight building muscle mass while for women may highlight weight loss. Nonetheless the powder should achieve a similar goal of providing a protein supplement."
That said, several female-focused protein powders claim to contain additional ingredients to support women's health, such as folic acid, Vitamin B6 or iron. But Fontaine doesn't recommend relying on protein powders to meet your daily micronutrient requirements. Ideally, you should get these from your general diet instead.
Christina M. Dieli-Conwright
Christina M. Dieli-Conwright, PhD, MPH, FACSM, CSCS is an associate professor of medicine at the Harvard Medical School and in the Division of Population Sciences of the Department of Medical Oncology at the Dana-Farber Cancer Institute. Her research is focused on examining mechanisms by which post-diagnosis exercise can impact cancer prognosis with a specific focus on biomarkers related to tumor growth, inflammation, metabolic dysregulation, and body composition.
What's the best protein powder for women?
There are hundreds of products in the protein powder market, so choosing just one can quickly become overwhelming. However, there are a few ways you can quickly narrow down your search.
Being able to decipher the nutrition label will help you to understand what's actually going on with your protein powder.
As mentioned previously, first of all take a look at the type of protein that is being used. Common options include whey, casein, collagen, plant-based, pea, and hemp. Each type of protein has its pros and cons, so figure out what type of protein will best support your needs.
Next, take a look at the sugar and sodium levels. Most of us probably want to steer clear of protein powders that are high in sugar or artificial ingredients, especially if we're hoping to build muscle.
Look out for added vitamins and electrolytes that may help to support your workout in other ways. Many products are essentially two-in-ones.
Finally, look for a certification that the product has been tested and approved for public use.
Protein powders come in a wide variety of flavors. While some people prefer tasteless powders, others find it easier to take protein when it tastes like chocolate, vanilla, or coffee.
Finally, make sure that the powder fits your dietary requirements. Not all protein powders are suitable for vegans, for instance. When in doubt, always check with your doctor before trying a new product.
Maddy is a freelance journalist and Level 3 personal trainer specializing in fitness, health and wellbeing content. She has been a writer and editor for 22 years, and has worked for some of the UK's bestselling newspapers and women's magazines, including Marie Claire, The Sunday Times and Closer. She also manages Fit&Well's Instagram account.
Maddy loves HIIT training and can often be found running on her treadmill or working out while her two young daughters do matching burpees or star jumps. As a massive foodie, she loves cooking and trying out new healthy recipes (especially ones with hidden vegetables so the kids eat them). She makes a mean margarita and has twice won awards in previous staff jobs as the "office feeder".