Best protein powder for women to promote recovery and build muscle
The best protein powder for women helps you recover faster and hit your fitness goals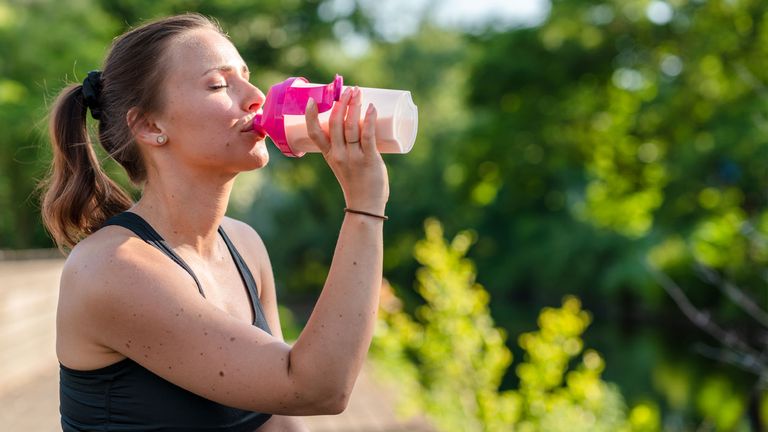 (Image credit: Getty)
Adding the best protein powder for women into your daily routine can help you recover faster after exercise and promote muscle development. While you can get protein from your diet, these powders keep you topped up and are ideal for mixing into post-workout shakes and smoothies.
Whether you use a set of the best adjustable dumbbells or prefer strength training with your bodyweight alone, working your muscles causes small tears in the muscle fibers. Your body uses protein to help repair these tears, which develops strength and increases muscle mass.
Traditionally, much of the best protein powder for women was made from whey, a dairy-based by-product of cheese production. While whey protein is still among the best protein powder for muscle gain, you can now pick up high-quality vegan and dairy-free options.
We've rounded up the best protein powders for women to cover a range of flavors, styles, and budgets to help you reach your fitness goals. Our on-page tech automatically finds the cheapest deals, so you don't have to go hunting around for the lowest prices.
The best protein powder for women you can buy right now
1. MyProtein Impact Whey Isolate
The best protein powder for most women
Specifications
Protein: 75g
Fat: 0.3g
Carbs: 2.5g
Sugar: 2.5g
Reasons to buy
+
High quality protein content
+
Packed with essential amino acids, including BCAAs, which help build and repair new muscle.
+
Tastes delicious and has over 20 flavours to try, including our favourite: Chocolate Brownie.
Reasons to avoid
-
Thin consistency when mixed with water instead of milk or milk alternatives.
-
As whey protein comes from milk, it's not suitable for people who are lactose intolerant.
If it's good enough for the nation's PE teacher Joe Wicks, it's good enough for us! This gluten-free, vegetarian powder goes through a superior purifying process, which means it has 90% protein content and minimal nasties. It's also jam-packed with essential amino acids and high in BCAA's - especially important as they help stimulate protein synthesis and speed up recovery after a workout.
Because of the way this product is processed, it has a really fast absorption rate, meaning your digestive system has an easier job of breaking down the nutrients quicker.
It's extremely low carb (just 0.6g per 25g serving) and low sugar, and comes in over 20 delicious flavours including Rocky Road and Salted Caramel, so you'll never got bored. And there's no chalky weird aftertaste here. It's also great value for money and comes in four sizes.
2. Garden of Life Raw Organic Fit Powder
The best premium protein powder for women
Specifications
Protein: 56g
Fat: 4g
Carbs: 20g
Sugar: 1g
Reasons to buy
+
Packed with tummy-friendly probiotics and digestive enzymes (to help your gut do its job) as well as high amounts of vitamins and minerals including antioxidant-rich Vitamin E and mood-boosting Vitamin D.
+
Contains Ashwagandha, a herb used for stress management, and fat-busting green coffee bean extract, which can help weight loss and balance blood sugar levels.
Reasons to avoid
-
Limited flavour choice
-
High carb content
This high-protein, vegan powder is made with 13 raw sprouted organic ingredients and does all the usual things you'd want to help build lean muscle.
But what makes it different is it is packed full of lots of clinically-studied goodies designed specifically for weight loss, including Svetol® green coffee bean extract to help you burn fat and maintain healthy blood sugar, and Ashwagandha, which can help curb cravings.
It also contains tummy-friendly probiotics and digestive enzymes, which break down our food into nutrients so our bodies can absorb them, making it a great choice for women with IBS or gut problems.
Available in two flavours: vanilla and chocolate, it dissolves well in liquid and doesn't have any aftertaste.
3. Bulk Pea Protein Isolate
The best budget protein powder for women
Specifications
Protein: 80g
Fat: 6g
Carb: 3g
Sugar: 0.1g
Reasons to buy
+
Contains 80% protein content, so an easy way to up your intake.
+
Unbeatable value at just £11.89 per 1kg.
Reasons to avoid
-
Pea protein powder can be relatively high in salt, so best avoided if you are on a sodium-restricted diet or have high blood pressure.
-
Unflavoured, so might not be to everyone's taste.
If you're looking to up your protein intake and boost your muscle mass, this (unflavoured) powder does all the hard work for you. Made from natural yellow peas, it's rich in iron, essential amino acids and BCAAs to improve muscle growth, heart health and help you feel fuller.
It works well with most diets as it's naturally vegan, gluten-free, dairy-free and hypoallergenic. Easily soluble, and with a neutral flavour, it mixes well and can easily be added to sauces, soups, stews and curries for an added protein boost.
And with 80% protein content, it's a fast and convenient way to up your intake.
4. Vivo Life Perform Raw Plant Protein Powder & BCAA
The best protein powder for fast recovery
Specifications
Protein: 70g
Fat: 3.6g
Carbs: 11.5g
Sugar: 0.3g
Reasons to buy
+
Can help reduce the effects of DOMS
Reasons to avoid
-
You have a turmeric sensitivity or allergy
-
Limited flavour choice
Made in the UK with 100% natural ingredients, this raw and fermented protein powder has added turmeric to speed up your post-workout recovery. This powerful antioxidant has long been used by athletes because it's been found to reduce muscle damage and reduce the chance of inflammation - helpful if you're trying to avoid the dreaded Delayed Onset Muscle Soreness (DOMS).
The Vivo Life Perform powder is also enhanced with digestive enzymes, which help the gut function efficiently and are fast to absorb. It comes in five delicious flavours, of which our favourites are Salted Maca Caramel and Acai and Blueberry. It's also gluten-free, has no added sugar (it's naturally sweetened with Stevia), and has hydrating electrolytes from coconut milk and Himalayan salt.
5. Linwoods Hemp Protein+ with Flaxseed, Bio Cultures, Vitamin D and Co-Enzyme Q10
The best heart healthy protein powder
Specifications
Protein: 55g
Fat: 15g
Carbs: 6.9g
Sugar: 3.4g
Reasons to buy
+
High in omega-3 ALA
+
Easy to add to smoothies, yoghurts and drinks
Reasons to avoid
-
Only comes in packs of 100g
-
High levels of fibre can cause bloating
Looking for an instant hit of protein and fibre the natural way? Look no further... Linwoods Hemp Protein+ is a great source of muscle-building goodness, and is jam-packed with energising nutrients like flaxseed, biocultures, heart-healthy antioxidant co-enzyme Q10 and bone-boosting vitamin D.
This powder has the added benefit of hemp protein, which is rich in omega-3 ALA (alpha linolenic acid), a fatty acid that contributes to the maintenance of normal blood cholesterol levels. A 30g serving delivers 1.26g of this essential nutrient, which is above the US National Academy of Medicine's Adequate Intake (AI) recommendations of 1.1g for adult women.
Suitable for vegetarians and dairy-free diets, it also contains added pumpkin and pea protein for an extra fix. We love that the powder has no added sugar, and works just as well in baking as it does in smoothies and drinks. With a family-friendly price, sprinkling the powder over cereals and in shakes is a great way to sneak in some extra nutrients to the kids, too.
What is protein powder, and how does it work?
In some form or other, protein makes up your nails, hair, muscle, and bones. It's one of the key building blocks of organic life. It's composed largely of amino acid molecules, and the protein we eat helps us to repair our muscles after they get damaged during exercise.
When we do resistance training, we're actually creating "micro-tears" in the muscle fibers. In order to heal it, the body sends proteins and blood to the muscle, and this healing process helps it grow back bigger and stronger. If we don't eat enough protein, the muscle won't grow as well after exercise.
This is what makes protein powder so convenient. We can throw a scoop of dry powder in a shaker full of water straight after exercise, so the protein can get to work mending those micro-tears as soon as possible.
You can even throw a scoop of powder into other dishes at home to up the protein content of foods like pancakes, porridge, or Greek yogurts, making for a healthier breakfast. One study found a high-protein breakfast improved satiety, making us feel fuller, and positively improved neural pathways in our brain which trigger perceived hunger, causing us to snack more throughout the day.
Some protein powders are made from animal products such as whey, but this isn't always the case: in the list below, you'll find protein powder taken from peas and hemp, two very natural sources of protein, so they're vegetarian and vegan-friendly.
How to choose from the best protein powder for women
As you can imagine, there's a wealth of choice when it comes to protein powders and a lot of it will come down to your specific dietary needs and taste. Though whey tends to be one of the most popular sources of protein in powders, you can also find ones made from peas, soy and even seeds – making them vegan-friendly.
Once you've picked your protein type, next you want to consider the amount of protein per serving, as well as the carb and calorie content. If you're trying to lose weight or on a restrictive diet like Keto or Atkins, then this is especially important.
Lots of brands have caught onto the idea of adding extra health goodies to their products, from digestive enzymes and probiotics to weight loss boosters like green tea extract and turmeric. If you're looking to up your vitamin and mineral intake, these types of products are a win-win.
Next step (and one of the most important in our opinion): taste and texture. It's all very well having loads of flavours to choose from, but if they don't taste great, or are lumpy and chalky, you won't want to drink or eat them.
Budget is of course a factor but there are so many different price points that you won't struggle to find something to fit your needs.
What's the best protein powder for women?
There are hundreds of products in the protein powder market, so choosing just one can quickly become overwhelming. However, there are a few ways you can quickly narrow down your search.
Being able to decipher the nutrition label will help you understand what's actually going on with your protein powder.
First of all, take a look at the type of protein that is being used. Common options include whey, casein, collagen, plant-based, pea, and hemp. Each type of protein has its pros and cons, so figure out what type of protein will best support your needs.
Next, take a look at the sugar and sodium levels. Most of us probably want to steer clear of protein powders that are high in sugar or artificial ingredients, especially if we're hoping to lose weight and gain muscle.
Look out for added vitamins and electrolytes that may help to support your workout in other ways. Many products are essentially two-in-ones.
Finally, look for a certification that the product has been tested and approved for public use.
Protein powders come in a wide variety of flavors. While some people prefer tasteless powders, others find it easier to take protein when it tastes like chocolate, vanilla, or coffee.
Not all protein powders have the same consistency. Check out the reviews of the product to ensure that the powder will dissolve seamlessly into your drink.
Finally, make sure that the powder fits your dietary requirements. Not all protein powders are suitable for vegans, for instance. When in doubt, always check with your doctor before trying a new product.
Maddy is a freelance journalist and Level 3 personal trainer specializing in fitness, health and wellbeing content. She has been a writer and editor for 22 years, and has worked for some of the UK's bestselling newspapers and women's magazines, including Marie Claire, The Sunday Times and Closer. She also manages Fit&Well's Instagram account.
Maddy loves HIIT training and can often be found running on her treadmill or working out while her two young daughters do matching burpees or star jumps. As a massive foodie, she loves cooking and trying out new healthy recipes (especially ones with hidden vegetables so the kids eat them). She makes a mean margarita and has twice won awards in previous staff jobs as the "office feeder".