Best protein powder for women: The best shakes to build muscle and tone up
The best protein powder for women can help you get lean, burn fat and build muscle - here are our top picks...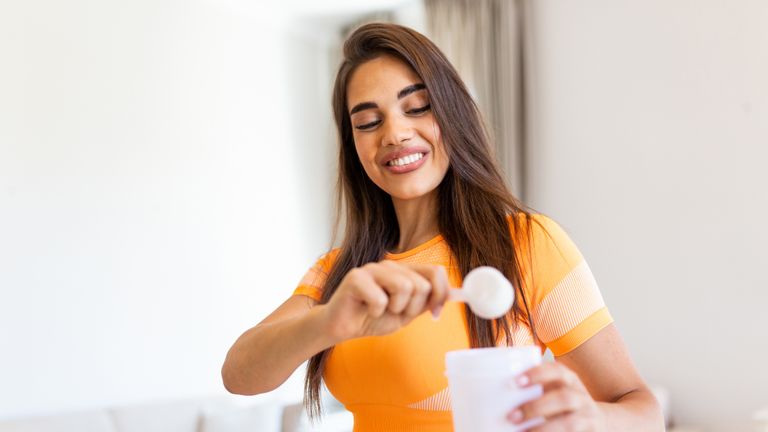 (Image credit: Getty Images)
This is the place to be if you're after the best protein powder for women. As an essential part of a healthy diet, it's often difficult to get enough protein into your diet, as meat is quite expensive (or prohibited if you're vegetarian/vegan) and many people aren't sure where to source quality protein from other sources.
However, we need to. Protein is essential for repairing and maintaining muscle, keeping us feeling full and speeding up recovery after a workout.
In fact, some studies have revealed that taking protein supplements can even increase how big your muscles get and your strength levels, particularly if you do resistance training. As strength training, one of the best exercises for weight loss, relies on breaking down and building up muscle growth, protein is especially important for people looking to start lifting weights.
Other research found that whey protein in particular could help people who are overweight or obese to lose weight and reduce total fat mass (if that's your specific goal, check out the best protein powder for weight loss). It's no wonder so many people are turning to protein powder to get lean, burn fat and build muscle.
Top of the class of our 'best protein powder for women' list goes to MyProtein's Impact Whey Isolate. Joe Wicks is a big fan of this brand, and we can see why. It tastes great and is packed full of goodies - 90% protein content, loads of BCAAs and almost no carbs or sugar.
Special shout-out also goes to the hardworking Garden of Life's Raw Organic Fit Powder, which is enhanced with gut-friendly probiotics and digestive enzymes as well as stress-reducing herb Ashwagandha and fat-busting green coffee bean extract to aid weight loss.
How to choose the best protein powder for you
As you can imagine, there's a wealth of choice when it comes to the best protein powder for women and a lot of it will come down to your specific dietary needs and taste. Whilst whey tends to be one of the most popular sources of protein in powders, you can also find ones made from peas, soy and even seeds – making them vegan-friendly.
Once you've picked your protein type, next you want to consider the amount of protein per serving, as well as the carb and calorie content. If you're trying to lose weight or on a restrictive diet like Keto or Atkins, then this is especially important.
Lots of brands have caught onto the idea of adding extra health goodies to their products, from digestive enzymes and probiotics to weight loss boosters like green tea extract and turmeric. If you're looking to up your vitamin and mineral intake, these types of products are a win-win.
Next step (and one of the most important in our opinion): taste and texture. It's all very well having loads of flavours to choose from, but if they don't taste great, or are lumpy and chalky, you won't want to drink or eat them.
Budget is a factor too, but there are so many different price points that you won't struggle to find something to fit your needs.
With so many products to choose from, we've done the hard work for you and picked the best protein powder for women - discover our top picks below. Note that all nutrient specifications are per 100g.
The best protein powder for women you can buy right now
1. MyProtein Impact Whey Isolate
The best protein powder for most women
Specifications
Protein: 75g
Fat: 0.3g
Carbs: 2.5g
Sugar: 2.5g
Reasons to buy
+High quality protein content +Over 20 flavours to choose from
Reasons to avoid
-Thin consistency when mixed with water instead of milk or milk alternatives-Not suitable for people who are lactose intolerant
If it's good enough for the nation's PE teacher Joe Wicks, it's good enough for us! This gluten-free, vegetarian powder goes through a superior purifying process, which means it has 90% protein content and minimal nasties. It's also jam-packed with essential amino acids and high in BCAA's - especially important as they help stimulate protein synthesis and speed up recovery after a workout.
Because of the way this product is processed, it has a really fast absorption rate, meaning your digestive system has an easier job of breaking down the nutrients quicker.
It's extremely low carb (just 0.6g per 25g serving) and low sugar, and comes in over 20 delicious flavours including Rocky Road and Salted Caramel, so you'll never got bored. And there's no chalky weird aftertaste here, either. It's also great value for money and comes in four sizes.
2. Garden of Life Raw Organic Fit Powder
The best premium protein powder for women
Specifications
Protein: 56g
Fat: 4g
Carbs: 20g
Sugar: 1g
Reasons to buy
+Contains tummy-friendly probiotics and digestive enzymes+High amounts of vitamins and minerals including Vitamin E and Vitamin D
Reasons to avoid
-Limited flavour choice-High carb content-Suitable for vegans
This high-protein vegan powder is made with 13 raw sprouted organic ingredients and does all the usual things you'd want to help build lean muscle.
But what makes it different is it is packed full of lots of clinically-studied goodies designed specifically for weight loss, including Svetol® green coffee bean extract which can help burn fat and claims to maintain healthy blood sugar. It also contains Ashwagandha, an Ayurvedic herb traditionally that can help curb food cravings, according to a 2017 study.
It also contains tummy-friendly probiotics and digestive enzymes, which break down our food into nutrients so our bodies can absorb them, making it a great choice for women with IBS or gut problems.
It dissolves well in liquid and doesn't have any aftertaste. On the down side, it's only available in two flavours: vanilla and chocolate.
3. Bulk Pea Protein Isolate
The best budget protein powder for women
Specifications
Protein: 80g
Fat: 6g
Carb: 3g
Sugar: 0.1g
Reasons to buy
+Contains 80% protein content+Unbeatable value
Reasons to avoid
-Unflavoured so might not be to everyone's taste
If you're looking to up your protein intake and boost your muscle mass, this (unflavoured) powder does all the hard work for you. Made from natural yellow peas, it's rich in iron, essential amino acids and BCAAs to improve muscle growth, heart health and help you feel fuller.
It works well with most diets as it's naturally vegan, gluten-free, dairy-free and hypoallergenic. Easily soluble, and with a neutral flavour, it mixes well and can easily be added to sauces, soups, stews and curries for an added protein boost. And with 80% protein content, it's a fast and convenient way to up your intake.
Pea protein powder can be relatively high in salt - this one has 0.57g per 30g serving - so may be best avoided if you are on a sodium-restricted diet or have high blood pressure.
4. Vivo Life Perform Raw Plant Protein Powder & BCAA
The best protein powder for fast recovery
Specifications
Protein: 70g
Fat: 3.6g
Carbs: 11.5g
Sugar: 0.3g
Reasons to buy
+Can help reduce the effects of DOMS
Reasons to avoid
-You have a turmeric sensitivity or allergy -Limited flavour choice
Made in the UK with 100% natural ingredients, this raw and fermented protein powder has added turmeric to speed up your post-workout recovery. This powerful antioxidant has long been used by athletes because it's been found to reduce muscle damage and reduce the chance of inflammation - helpful if you're trying to avoid the dreaded Delayed Onset Muscle Soreness (DOMS).
The Vivo Life Perform powder is also enhanced with digestive enzymes, which help the gut function efficiently and are fast to absorb. It comes in five delicious flavours, of which our favourites are Salted Maca Caramel and Acai and Blueberry. It's also gluten-free, has no added sugar (it's naturally sweetened with Stevia), and has hydrating electrolytes from coconut milk and Himalayan salt.
5. Linwoods Hemp Protein+ with Flaxseed, Bio Cultures, Vitamin D and Co-Enzyme Q10
The best heart healthy protein powder
Specifications
Protein: 55g
Fat: 15g
Carbs: 6.9g
Sugar: 3.4g
Reasons to buy
+High in omega-3 ALA+Easy to add to smoothies, yoghurts and drinks
Reasons to avoid
-Only comes in packs of 100g-High levels of fibre can cause bloating
Looking for an instant hit of protein and fibre the natural way? Look no further... Linwoods Hemp Protein+ is a great source of muscle-building goodness, and is jam-packed with energising nutrients like flaxseed, biocultures, heart-healthy antioxidant co-enzyme Q10 and bone-boosting vitamin D.
This powder has the added benefit of hemp protein, which is rich in omega-3 ALA (alpha linolenic acid), a fatty acid that contributes to the maintenance of normal blood cholesterol levels. A 30g serving delivers 1.26g of this essential nutrient, which is above the US National Academy of Medicine's Adequate Intake (AI) recommendations of 1.1g for adult women.
Suitable for vegetarians and dairy-free diets, it also contains added pumpkin and pea protein for an extra fix. We love that the powder has no added sugar, and works just as well in baking as it does in smoothies and drinks. With a family-friendly price, sprinkling the powder over cereals and in shakes is a great way to sneak in some extra nutrients to the kids, too.