Relieve tight leg muscles and undo the damage of sitting with this four-move yoga routine
If your legs feel as flexible as a piece of wood, you might want to try stretching out your hamstrings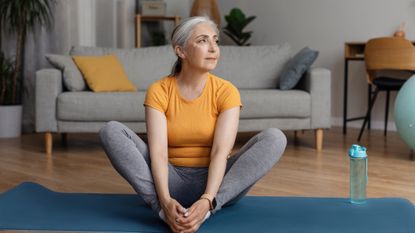 (Image credit: Getty Images)
Want to be able to touch your toes? Then you need to get stretching.
Being able to touch your toes requires you to have limber hamstrings, glutes, calves and back muscles. But these muscles can all feel tight and stiff if you spend long periods sitting down.
That's where this four-move routine from Barrry's trainer Klaudia Lucia comes in. It takes less than five minutes to complete and it could get you closer to your toe-touching aspirations. More importantly, it could also help you stay flexible and prevent workout injuries.
Klaudia Lucia currently works as a trainer for Barry's in the UK. She has also worked as a trainer for F45 and Equinox gyms and is a certified fitness instructor.

1. Seated forward fold
Seated forward fold is a classic yoga hold that relieves stress in the hamstrings and the back of your body
Sitting with your legs straight out in front of you, reach your arms overhead and extend towards the ceiling. Inhale and lengthen your spine.
Exhale and hinge at your hips to lean forward. Bring your arms down and hold on to your ankles or shins, whichever is within reach.
Each time you inhale, lengthen your spine, and each time you exhale deepen your forward fold. Flex your feet and hold for as long as you feel comfortable.
If you are unable to hold onto the legs comfortably during the pose, hold onto a towel or a strap wrapped around your feet.
2. Downward Facing Dog
How to do it:
In a hands and knees position, inhale and spread your fingers apart. Press down through your hands, tuck your toes underneath you, then exhale as you gently lift your knees off the ground and reach your hips towards the ceiling.
Lengthen through your spine and press your hamstrings (the back of your thighs) towards the wall behind you, while stretching your heels towards the ground. Draw your shoulder blades towards your tail bone, relaxing your head and neck. Each time you exhale, sink a little deeper into the stretch and draw your shoulder blades towards your hips.
Stay here for a few breaths, then slowly return to your hands and knees position.
To progress this movement, you can also 'pedal' your feet, gently extending one heel to the ground while bending the other leg to create a deeper hamstring release.
3. Single Leg Straight Stretch
How to do it:
Laying down on the ground, bring your legs to 'tabletop' position, with your knees bent at 90 degrees. Inhale and press your lower back into the floor as you engage your core and lift your head and shoulders gently off the ground. Stretch out your legs so they hover above the ground.
Take hold of your right leg and bring it towards your chest as far as comfortably possible, feeling the hamstring stretch. Try to maintain your upper body curve. Hold this position for two short breaths, using the second inhale to gently pulse the leg an inch or so closer towards you.
Exhale and switch legs, holding your left leg as you repeat the movement. Repeat up to 10 times or as long as is comfortable.
If you find any strain on your neck while doing this exercise, you can also leave your head and shoulders resting on the ground. To modify the movement, keep the knees bent and hold your leg just below the knee. You could also opt to use a towel or band if you struggle to hold onto your leg.
4. Triangle Pose
How to do it:
From a standing position, step your feet out until they are a bit wider than hip width apart. Point your right foot out and turn to face it, slightly bending your right knee and lengthening your arms in front and behind you.
Start to straighten your right leg, while lifting your torso up and over it to hinge forwards. Reach your right hand down your right leg until you feel the stretch through your hamstring, and look towards your left hand (which should be up overhead).
To modify this movement, you could keep your hand higher up the leg, or to progress it you could reach your hand down towards the ground.
Need help choosing a new yoga mat? See our guide to the best yoga mats of 2023
Get the Fit&Well Newsletter
Start your week with achievable workout ideas, health tips and wellbeing advice in your inbox.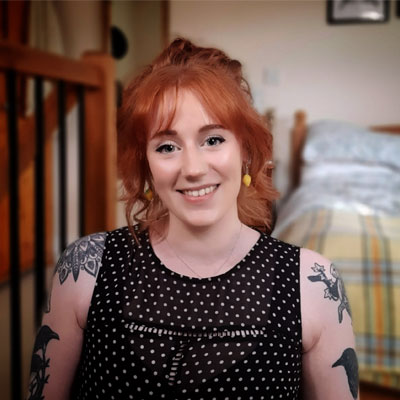 Lou Mudge is a Health Writer at Future Plc, working across Fit&Well and Coach. She previously worked for Live Science, and regularly writes for Space.com and Pet's Radar. Based in Bath, UK, she has a passion for food, nutrition and health and is eager to demystify diet culture in order to make health and fitness accessible to everybody.
Multiple diagnoses in her early twenties sparked an interest in the gut-brain axis and the impact that diet and exercise can have on both physical and mental health. She was put on the FODMAP elimination diet during this time and learned to adapt recipes to fit these parameters, while retaining core flavors and textures, and now enjoys cooking for gut health.