Stef Fit: 'Exercise is so important for your mental health'
Fitness star Stef Fit talks to Fit&Well about her love of exercise, her former battle with depression, and connecting with her fitness community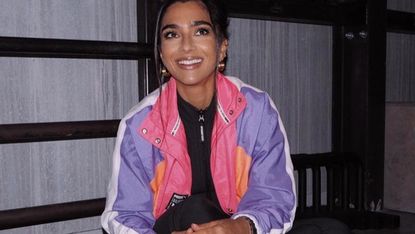 (Image credit: Stef Fit)
Fitness star Stef Fit - known for her online workouts and incredible abs - is a ball of energy. And not just when she is doing her famous workouts! For the 28-year-old, who's real name is Stef Williams, is as lively in person as she is online, and surprisingly not one to take compliments easily – batting away any I give her in a self-defecating way.
Her down-to-earth nature is just one of many qualities that make her so appealing and approachable to her 1.4 million Instagram followers. Whether doing squats on the floor or jumping in the air to demonstrate a lunge, Stef is always hands on; talking through each move in a very simplistic way. It's no surprise her social media account has gained even more popularity in lockdown as people turned to Stef's home workouts, loving the added bonus of motivational tips from the trainer too!
"I have always believed in the concept of mind over matter. That's just one thing I took from my years of being coached as a kid - the trainers would also teach us the importance of mindset along with everything else, as the mind is as powerful as the body".
As one of the most popular online fitness trainers, Stef felt even more responsible during lockdown to keep her followers upbeat.
"I wanted to ensure I provided good health and fitness content to keep them engaged, but most importantly to keep moving their bodies as I know more than anyone just how important exercise is to keep your mental health on track."
By this she is referring to a time as a late teen when she was hit with a bout of depression. It was a dark time for Stef, brought on by what she believes was a sudden stop of exercise.
"I wasn't very academic at school but was super sporty. I was at my happiest playing hockey for the Welsh International team for a number of years. Being out on the pitch was my happy place and I could channel all my energy into the game up until I sustained an injury and had to stop." That is when she first began to feel a sudden wave of despair.
"I suppose I was used to the high you get from sport, being on a team, winning matches. It's an addictive feeling, so having that taken away from me was tough."
After recovering, Stef turned her attention to getting a personal training qualification and started taking on her first clients in 2016.
"Suddenly everything fitted together. I had a job I absolutely fell in love with and used all the advice I'd picked up over the years from my coaches to help others."
As she began training clients and developed her online fitness workouts, Stef's work was so much in demand that she set up her Fit with Stef app, which provides a community fitness programme featuring gym workouts, recipes and nutritional tips. Although she is extremely busy, Stef makes sure that she responds to the mass of fans who reach out to her on social media.
"Connecting with people is so important, I can be there to teach you everything from my favourite leg lifting exercises to how to strength train, but being approachable means I am there as your mentor and friend too."
Liked this?
Get the Fit&Well Newsletter
Start your week with achievable workout ideas, health tips and wellbeing advice in your inbox.
Suzzanne has been writing as a lifestyle journalist for 20 years where they have worked as senior editor across magazines, newspapers and television. As a busy freelancer now they frequently write about lifestyle, health, beauty and fitness for Fit&Well, Hello!, Daily Mail, The Sun, and many others. They also write up product reviews that feature in T3, IndyBest, ES Best and the i.