Stef Fit's abs workout: how to get her feminine six pack
Trainer Stef Fit reveals her simple ten-minute abs workout to get a ripped stomach like hers - get ready to burn!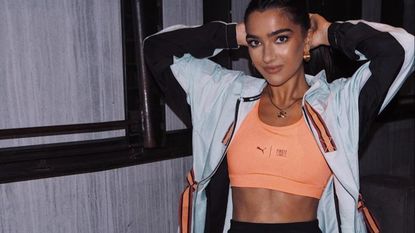 (Image credit: Stef Fit)
If there's one question that fitness star Stef Fit gets asked a lot, it's about her abs workout. And, with 1.4 million Instagram followers and a growing fit-fam community on her Fit with Stef app, she's not short of people to share her body-sculpting training tips with.
"Many wonder how I get my abs," the 28-year-old laughed when Fit&Well chatted to her recently. Her advice? "It's all about switching up your training and knowing which exercises work. And the best thing is not only can you do it in the comfort of your own home, you don't need any equipment either!"
Sound good? Read on to discover the seven exercises Stef recommends you build into your ab workout to get her incredible feminine six-pack. Complete the following routine for 45-seconds per exercise, then – if you can handle it - do another round at 30-seconds per exercise.
1. Toe Touches
Do as many toe touches as you can in the allotted time. Lying on your back, swing your arms toward the ceiling then lift your head and shoulder off the ground and touch your toes, while lifting your pelvis slightly off ground.
2. Leg Raises
Staying on your back, stretch your legs out and raise and lower both legs for the allotted time. Keep breathing throughout to maintain control.
3. Single Leg Raises
Still lying down, bend one leg and do single leg raises on the other. Repeat for each leg. Be sure to do slow and controlled movements.
4. Single Leg Bicycle
Pop one leg down and begin doing a single leg bicycle with the other. Keep your core and belly button tucked in! Repeat on the other leg.
5. Bicycles
Now get into doing this for both legs. Move this into another bicycle movement and really squeeze and core in whilst maintaining speed. From here your core muscles should be burning! Need help? Check out our guide on how to do bicycle crunches.
6. Zombie Sit Ups
Move your body out and begin doing Zombie sit ups. Lie with your legs extended and your feet a little wider than your shoulders. Then stretch out fully and then 'crouch' in - making sure you keep your control at all times.
7. Micro Crunches
Last one! Lift up and do micro crunches continuously for the specified time. These are a great way to tighten the lower abdominals.
Get the Fit&Well Newsletter
Start your week with achievable workout ideas, health tips and wellbeing advice in your inbox.
Suzzanne has been writing as a lifestyle journalist for 20 years where they have worked as senior editor across magazines, newspapers and television. As a busy freelancer now they frequently write about lifestyle, health, beauty and fitness for Fit&Well, Hello!, Daily Mail, The Sun, and many others. They also write up product reviews that feature in T3, IndyBest, ES Best and the i.