Best workout equipment for home: the standout treadmill, multi-gym, dumbbells, and more
Find the best workout equipment for home use with our detailed guide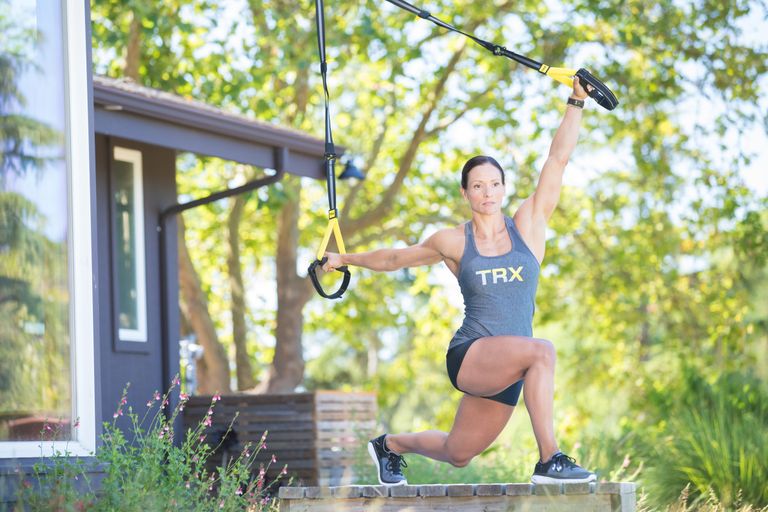 (Image credit: TRX)
With the best workout equipment for home, you'll never have to share your favorite machines with anyone else again, giving you dedicated time to work on your own fitness goals. A great investment for anyone wary of returning to a gym, or who wants to eradicate their after-work commute entirely, these purchases will make your workout station at home perfectly suited to you.
Working out is an activity that is different for every individual, so whether it's a virtual yoga class or weight lifting that makes you feel a little better within yourself, it's important to have the equipment to match your chosen activity.
If you've set up a home gym since the pandemic started, or you want to transition to your own personal setup now you're working from home permanently, this equipment will help to grow your abilities when it comes to fitness and strength. Even better, plenty of the best workout equipment for home has space-saving designs. The best treadmills and the best rowing machines have foldable designs that won't take over your space.
Investing in a piece of equipment like a multi-gym can go a long way too, with the capability of providing a full-body workout thanks to various additional apparatus. If you like the idea of interactive classes to cheer you on, then picks such as the NordicTech 1750 can also work wonders with their endless selection of interactive classes and scenic desintations to virtually transport yourself to.
The best workout equipment for home
1. Gaiam Insta-Grip Yoga Mat
Best yoga mat
Specifications
Specifications: 100% PVC, 6P-free, 6mm cushion
Reasons to buy
+
Dense and durable
+
Non-slip surface
This is an excellent non-slip yoga mat with cushion and durability to enhance your practice. Sometimes yoga teachers tell me I should be trying to 'tear the mat apart' with my feet to achieve a proper Warrior 2 pose. This is common of many poses that require multi-directional force. Cheap mats can ruffle up, become warped, or can cause you to slip and injure yourself. And yes, they can literally tear. That's why a good, solid yoga mat is a sound investment.
Our choice is the Insta-grip 6mm mat from Gaiam. As the name would suggest, it has a textured surface (on both sides) to reduce slippage during sweaty hot yoga classes. It's quite dense, helping to ensure it doesn't shift beneath you and provides plenty of cushion to protect your joints.
Also consider: The Gaiam model isn't exactly demure, so you may prefer the muted pastel tones of the Yogamatters Eco Rise Yoga Mat.
2. TRX Move System
Best resistance suspension bands
Specifications
Specifications: Suspension and door anchor included, adjustable straps
Reasons to buy
+
Resistance training minus the multi-gym
+
Friendly to joints
Reasons to avoid
-
Can feel intimidating at first
Offering 'Total Resistance EXercise' without much gear to weigh you down, the TRX suspension training system is a home training revelation. Devotees love how it helps them achieve a full body workout without the burden of bulky weights and home gym equipment.
The cable-based system combines seven different movements (push, pull, plank, lunge, rotate, hinge and squat) with bespoke workouts for disciplines like running, cycling and yoga, while helping to build strength (especially core), flexibility, cardio fitness and heart health. When anchored to a lofted structure the cables are used to leverage the user's own body weight and taking the strain off joints.
Also consider: The Move is the entry level system aimed at beginners. For greater functionality, the more expensive and advanced Home 2 system is the best option.
3. NordicTrack Commercial 1750 treadmill
Best treadmill
Specifications
Specifications : 10-inch touchscreen, live streamed classes, dual 3-inch Bluetooth speakers, 22km/h top speed, 15% incline
Reasons to buy
+
Live steamed classes and Street View integration
+
Adjustable cushioning
Reasons to avoid
-
There are cheaper options
With this NordicTrack treadmill, you can stay home and still take the scenic route. The highlight here is a 10-inch touchscreen that enables runners, walkers and probably crawlers to stream live and on-demand classes from iFit personal trainers. Those trainers can control the speed (max 22km/h) and incline/decline (15% to 3%) on the treadmill, ensuring a rich and varied workout.
Google Maps Street View integration also means you can run the landscapes, while simulating the terrain and enjoying the view. If you're training for the London Marathon, for example, this is a great way to familiarise yourself with parts of the course. The dual 3-inch speakers are Bluetooth compatible so pairing your audio device is simple. Away from the smart features, it's also a seriously well-made treadmill, which can be tailored for joint-friendly cushioning or road-running simulation. Vibrations are minimal and self-cooling tech will keep the treadmill running for as long as you can.
Also consider: The more affordable JTX Sprint 5 offers a top-speed of 18km/h and max incline of 12%. It has a foldaway design for enhanced space saving and 43 built-in programs.
4. York Fitness Spinlock cast iron dumbbell set
Best Dumbbells
Specifications
Specifications : 4 x 0.5 KG, 4 x 1.25 KG, 4 x 2.5 KG cast iron plates
Reasons to buy
+
Classic design
+
Affordable
You can pump actual iron with these old-school classics. When it comes to fitness equipment, it's easy to overthink things. But when it comes to dumbbells, the name is the giveaway. For moderate strength training, the classic York Fitness Spinlock weights take some beating. The weighty cast iron build limits the bulk and the easy of customisation up to 20kg means they're suitable for most home-based workouts. The knurling grip is secure, even when things get sweaty negating the fear of weights dropping onto your head while performing those triceps extensions. They can be a little noisy, but personally, we like that. It makes you feel like you're putting the grind in, even with 10kg on the bar.
Also consider: The best adjustable dumbbells
5. Tonal multi-gym
Best Multigym
Specifications
Specifications: Up to 200lb of digital weight (100lb per arm), Wi-Fi, Bluetooth 4.2, 15W stereo speakers, 60-inch screen
Reasons to buy
+
Space saving
+
AI-based training changes everything
Reasons to avoid
-
Also a testing workout for your wallet
The future of home fitness is digital and Tonal is powering the revolution. Tonal and its competitor Mirror (not currently available in the UK) are the future of strength training in the home. Tonal is comprised of a large Wi-Fi enabled touchscreen that attaches to the wall, with extendable accessories that neatly pack away. When you're not using it, Tonal takes up little more space than a mounted TV. When in use it minimises the space required for a full body strength training workout.
The large touchscreen enables users to choose workout programs, while showcasing proper form for each exercise in real time. There are no physical weights, so the resistance is electromagnetic and can even smartly assign weight baring or adjust the load when you're reaching the limit of your capabilities. It measures reps, sets, range of motion, time under tension, power and much more. Sure, it's super expensive right now and requires an additional subscription (free for the first year), but the era of boutique home fitness is upon us.
Also consider: For a cable-based option we loved the Bowflex Extreme 2. The multigym offers 70 exercises and has a no-change pulley system that enables easy switching between activities.
6. TriggerPoint GRID foam roller
Best body massage tool
Specifications
Specifications: EVA foam over hollow core, 33cm long
Reasons to buy
+
The closest thing to an actual sports massage
+
Nicely rigid
Reasons to avoid
-
Okay, it's not an actual sports massage
Even with correct usage, home gym workouts can lead to sore muscles. In fact, they will lead to sore muscles. Quick recovery is important if you want to go again the next day without risking injury. Thus a foam roller to work out those tight muscles and increase blood flow belongs in your home fitness arsenal. TriggerPoint has spent years perfecting every element of these accessories, with its patented solution mimicking the fingertips, fingers and palm for an effective sports massage for your spine, lats, quads or calf muscles. The EVA foam tops a strong hollow core that can support your entire body weight (up to 500lbs)
Also consider: For more targeted, deeper relief, try one of Theragun's massage 'guns' – they really batter soreness into submission!
7. Tangram Factory Smart Rope
Best Skipping Rope – an LED embedded rope, indeed!
Specifications
Specifications: LED lights, adjustable rope, SmartRope mobile app, Bluetooth 4.0, replaceable battery
Reasons to buy
+
Skipping stats quantified
+
Easy app connectivity
Reasons to avoid
-
Some may consider it overkill
Connected tech is touching every aspect of fitness equipment – even the humble skipping rope. While purists might argue this isn't necessary, we beg to differ. Skipping is one of the best cardio workouts there is, so your effort deserves to be quantified. The Tangram Factory Smart Rope with LED lights displays your reps (because it's pretty easy to lose count, right?) in mid-air as you hop.
Once synced through the SmartRope mobile app for iOS and Android and you'll also be able to track burned calories and workout time. You'll be able to track improvement over time and challenge others to beat your high scores. If we're being picky, we'd love those handles to track heart-rate too, but you can add that to your arsenal and track it in other ways. All data can be synced to Apple Health and Google Fit for a more holistic overlook of your fitness.
Also consider: At the other end of the scale, you can get a basic Lonsdale Club skipping rope for three quid. Don't accuse us of being fitness equipment elitists!
8. Opti Pullup bar
Best pullup bar
Specifications
Specifications: Supplied assembled, Size H26cm, W43cm, D95cm
Reasons to buy
+
Exceptionally reliable
+
Really good value
Reasons to avoid
-
Initial fitting can be a pain
In the eyes of some (not us), the more pull-ups you can do, the more badass you are. But those folks just don't walk into the gym and pull off dozens of reps like Olympic gymnasts. You know they're practicing at home before they try it in public
Attempting to hoist your own body weight above a bar is an incredibly taxing activity and is perfect for building pure upper body strength. This bar (which has a max weight-bearing of 100kg and foam grips in multiple locations) can also be used for push-ups and sit-ups. This affordable pull-up bar is also incredibly durable and well fitting. Once in place – which admittedly can be a chore – you shouldn't ever need to think about it again.
Also consider: Don't want to risk ruining your doorframes? The free-standing Ultrasport Power Tower is compatible with pull-ups, dips and core-building leg lifts
9. TRX Kettlebells
The best kettlebells overall
Reasons to buy
+
Well-priced
+
Color-coded weightings
Kettlebells are a great way to enhance your squats and lunges and gain additional strength. In fact, the best kettlebells can make just about any of your workouts more effective; whether it's squatting and lunging your way to a fitness model-grade posterior, or swinging them between your legs to strengthen half a dozen muscle groups at once. The kettlebell Russian twist is also one of the best exercises for side abs.
More versatile than a dumbbell, the kettlebell's weight distribution is uneven which can challenge your centre of gravity and ensure you're focusing on the intended muscles. They also provide a more effective cardio (read: fat burning) workouts because of additional movement, while building the functional strength you might actually use in real world situations.
TRX kettlebells (opens in new tab) are our favorites, offering the perfect combination of quality, design and value for money. They only go up to 24kg, but that's plenty if you're jsut starting out with kettlebells.
Also consider: If you like your smart gadgets, take a look at the JaxJox Kettlebell Connect (opens in new tab), a six-in-one digital kettlebell that enables you to add or remove weight at the touch of a button.
How to choose the best workout equipment for home
So here's the thing. A yoga mat, a skipping rope, some modest kettlebells, some resistance cables, a pull-up bar and a foam roller can combine to form a holistic, full body exercise regimen that doesn't take up much space, or cost a whole lot. When not in use they can be stored in a box under the stairs. Having lots of room isn't synonymous with staying fit at home, but if you do have a spare room or a garage and the budget for the right gear you might want to incorporate that treadmill or multi-gym.
We'd also advise you to consider your fitness goals here too. If you're looking to stay lean, tone muscle, build strength, add flexibility and improve your mental health, a yoga mat and some online classes are a great option. For out and out strength training, pull-up bars, dumbbells, TRX resistance bands are brilliant buys.
To burn fat and get the heart-rate pumping, a treadmill and a jump rope will get you there, while some kettlebell-aided lunges or squats will help strengthen many of the muscles essential to running performance.
Combine some of the above options, study how to get the best out of the equipment while learning the safe and correct practice, and you'll be on your way to waving that gym membership goodbye.
Chris is a freelance contributor to Fit&Well. He's from Shropshire, England originally, but currently lives in the United States near Miami, FL. Chris has written about health and fitness technology for a decade, including as an in-depth feature writer and product reviewer for Wareable.com, tackling emerging wearable tech trends in the sports and fitness industries. When not on the beat for Fit&Well, Chris writes about technology for Trusted Reviews and WIRED, sports for The Guardian and just about everything else for Shortlist, Pellicle, Digital Spy and a selection of other publications. He also pens books on technology use for Flametree Publishing.
Chris stays fit through hot yoga (studio not always necessary in the Florida humidity) and hopes to complete teacher training in 2021. He enjoys cycling, tennis, running and, ever-more-infrequently, playing football (or soccer, to his American friends). Those old injuries he 'ran off' as a teenager have finally caught up.