Best workout equipment for home 2022
The best workout equipment for home to improve your fitness and build muscle without leaving the house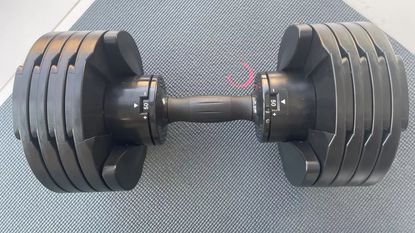 (Image credit: Vicki-Marie Cossar)
The best workout equipment for home can help you reach your fitness goals without leaving the house. After all, heading to the gym or a specialized fitness class every day is expensive and surprisingly time-consuming.
With these pieces of equipment, you can easily build a personalized at-home fitness routine. The best adjustable dumbbells allow you to tailor your Pilates and strength workouts to serve your needs, while cardio equipment like a Peloton Bike or one of the best rowing machines can help boost your metabolism.
We put each item in this guide to the test, to ensure that we're recommending products that are easy to use (like the handles, water holders, and pedals are in a convenient place), practical for exercising at home (including if they come with a virtual workout app), and can be quickly stored away when not in use.
In this guide to the best workout equipment for home fitness, we've rounded up good value, durable, easy-to-store equipment. From lightweight treadmills and rowing machines to compact yoga mats and dumbbells, you'll find home fitness equipment for almost every exercise routine.
The best workout equipment for home
Easy to use weights for muscle-building workouts
Specifications
Display: No
Dimensions: 22 x 33.5 x 31.9 inches
Storage options: Yes, storage cradles
Virtual workouts: No
Reasons to buy
+
Easy to use
+
Two-year warranty
+
Comes with storage cradles
Reasons to avoid
-
Slightly cheap-feeling design
-
Large 5lb/2.2kg weight increments
-
Dumbbells sometimes get stuck in the cradle
With a set of adjustable dumbbells, you'll be able to work on building strength by starting with a lighter load, then work your way up over time as your strength improves. And for home use, the Core Home Fitness Adjustable Dumbbells are some of the best value weights available right now.
With their modern, attractive look and easy-to-use design, we felt that these dumbbells look great tucked away between weight lifting sessions. Plus, the weight plates have a straight edge on one side to prevent them rolling away during your exercise.
These dumbbells come with one of the easiest adjustment systems we've tried—simply rotate the weight in its socket and listen for the click. While we liked the versatility of these dumbbells, with a weight range between 5lb/2.2kg and 50lb/22.6kg, you can only change the load by 5lb each time.
In contrast, the NordicTrack Select-A-Weight adjustable dumbbells allow you to choose 2.5lb increments instead. So, if you prefer exercising with a more precise load, these may not be ideal for you. However, these are also some of the lowest price dumbbells we've tested, and are a great value way to build muscle at home.
What the users say
The Core Home Fitness Adjustable Dumbbells have an average rating of 4.6 out of 5 on Amazon. Users often comment on the easy-to-use adjustment design, the safety mechanisms and the durability. However, several users noted that if dropped, the weights can break easily.
---
Premium treadmill with virtual classes for at-home cardio
Specifications
Display: Yes, 23.8-inch
Dimensions: 68 x 33 x 62 inches
Storage options: No
Virtual workouts: Yes, Peloton app (requires a subscription)
Reasons to buy
+
Compact design
+
Immersive display
+
Motivating on-demand and live classes
Reasons to avoid
-
Not foldable
-
Expensive
-
No integrated fan
Many treadmills have a functional design that's not intended to blend in nicely with your home interior. The Peloton Tread couldn't be more different. This lightweight stylish machine will slot into the corner of your room without becoming an eyesore. But it's also packed with features to help you train at home.
We were impressed at how quiet it was; just 8.8 dB at maximum speed, about the same as a food processor, which makes it a great option for exercising without disturbing others. The controls are easy to use, and there are two conveniently-placed bottle holders built into this treadmill.
The best part of the Peloton Tread, however, is the Peloton classes that stream from the screen on the front of the treadmill. With upbeat teachers, a wide variety of soundtrack options and inventive classes, the Peloton membership can help you stay motivated to reach your goals.
One potential downside to this model is that the compact design doesn't include shock absorbers. This makes the running experience feel similar to running outside on the sidewalk. And there's no decline, so downhill runners might be better served with an alternative like the ProForm Pro 9000.
What the users say
On average, the Peloton Tread has a user rating of 4.6 out of 5 on the Peloton website. Many users note that they love the variety of classes available, the ease of use, the ability to switch songs on the playlist, and the digital scenic routes. Some users were disappointed that they had to run to Peloton classes every time.
---
Sustainable and lightweight mat for home workouts
Specifications
Display: n/a
Dimensions: 24 x 68.11 x 0.12 inches
Storage options: Yes, rollable
Virtual workouts: n/a
Reasons to buy
+
Excellent grip
+
Sustainable design
+
Lightweight
Reasons to avoid
-
Very thin, just 0.12 inches thick
-
Thickness not ideal for beginners
-
Can be slippery when wet
The Jade Yoga Travel Mat is ideal for yogis who like to take their practice with them everywhere they go. Whether you want to unroll your mat at home, at the studio, or on your next holiday, it's easy to take this travel mat with you. With its extra thin design, it can be rolled into a tight tube or folded away.
It also has an effective grip, so you won't have to worry about sliding out of your downward dogs or arm balances. We did find that once you get a bit sweaty, it can get a bit slippy, so it's worth keeping a towel nearby for more challenging yoga routines or high-intensity workouts.
Plus, it's made from natural rubber rather than latex, making it a durable, eco-friendly option. Just be sure you don't leave it out in the sun to dry after a quick wipe down, as this will cause the natural rubber to deteriorate.
What the users say
The Jade Yoga Mat has an average rating of 4.6 out of 5 on Amazon, with users commenting on its lightweight design and its sticky texture. Several users, however, noted that the mat is "high maintenance" and requires careful upkeep.
---
Versatile strength training equipment for building muscle at home
Specifications
Display: No
Dimensions: n/a
Storage options: Yes, carry bag
Virtual workouts: Yes, TRX app (12 months free with purchase)
Reasons to buy
+
Easy to set up
+
Useful range of accessories
+
One-year access to the TRX workout app
Reasons to avoid
-
App requires ongoing subscription
-
Not ideal for beginners
-
Needs a suitable anchor point
If you're after a full-body workout that'll help you develop stronger muscles, the TRX Home2 Suspension Trainer might be the piece of equipment you've been looking for. Consisting of two stretchy straps and a foam anchor, it can be secured just about anywhere you have space, whether it be a door frame, a ceiling beam, or even a tree.
We found that this suspension trainer is extremely easy to set-up, and you can do a wide variety of resistance-based exercises to build strength in your core, arms and legs, from lunges to rows to suspended planks.
We do recommend giving yourself some time to get your form right, as it isn't always the most intuitive for beginners. However, your purchase also comes with a one-year subscription to the TRX smartphone app, with a library of on-demand workouts for your equipment, plus instructions on how to do each move.
What the users say
The TRX Home2 Suspension Trainer has an average rating of 4.8 out of 5 on Amazon. Users love the versatility, portability and ease of use. Although, a few negative comments noted that it was tricky to get started as a first-time user.
---
Durable rowing machine for full-body exercise
Specifications
Display: Yes, performance monitor
Dimensions: 96 x 24 x 50 inches
Storage options: Yes, foldable
Virtual workouts: No
Reasons to buy
+
Accurate rowing metrics
+
Supports heart rate monitors
+
Foldable design
Reasons to avoid
-
No virtual on-demand or live classes
-
Air resistance system is noisy
Usually, fitting a rowing machine into your home isn't really feasible—unless, of course, you have a dedicated space for your home gym. For those of us who don't have tons of free space, the Concept2 RowErg rowing machine is the perfect solution.
It's a full-sized machine, but you can disconnect the seat slider from the air-based resistance mechanism for easier storage. It has a durable design, built with aluminum and stainless steel, and is a popular choice for gyms worldwide thanks to its industry-standard workout metrics.
While this rowing machine doesn't have some of the high-tech features that other machines have—such as an HD display, built-in workout routines, or a stylish design —it does offer durability and functionality, making it the perfect option for people who want row at home, for a fat-burning full-body workout.
What the users say
Impressively, the Concept2 RowErg an average rating of 4.9 out of five on Amazon from 10,972 reviews. Users are almost universally positive about the rower, giving it praise for the easy setup, the machine's durability, and the effectiveness of the workout. There are some one star ratings, but these relate to deliveries and other retail issues.
---
Best workout equipment for home FAQs
How we tested the best workout equipment for home
Before we recommend any of the best workout equipment for home, we put these machines through their paces to help you make an informed choice. We test the equipment against several considerations, including the design, how it feels to use, and any workout apps.
Design and storage
Whether you have a dedicated space for your home gym, or you're looking for a space-saving option, we consider how you can move the machine around and whether the equipment has an easy-store or foldable design.
For smaller items, like yoga mats or suspension trainers, we look at whether they come with storage cases, bags, or straps, and if they're easily portable. But for larger machines, we test the folding mechanism and move the equipment around.
If it can't fold, we look to see if the machine has wheels or other transport system to move it out of the way after your workout. And although you'll only need to do it once, we also assemble the machine ourselves to see if it's something you can do independently.
Exercise performance
Because we're testing machines for home workouts, we evaluate the whole exercise experience, but with a focus on what it's like to use these machines in your home. This includes factors like how noisy they are and if they're a convenient way to train.
Details like the placement of handles, bottle holders, and feet plates can make a big difference, so we note how easy they were to access or adjust, and also detail any quirks in the design, like if the materials get slippy when you're sweaty.
You want to feel like you're exercising safely and effectively with durable equipment, so we also factor in the types of materials used for yoga mats, the quality of the adjustment mechanism on sets of dumbbells, and the resistance system on a rowing machine.
Virtual workouts
Many home workout products now come with virtual workout apps or subscriptions for on-demand and live classes. These services even form an essential part of equipment like the Peloton Tread or TRX Home2, so we test these apps too.
The first consideration is whether these subscriptions are good value for money, and if they are critical to your experience of the machine; for instance, the Peloton app is a core feature of the Peloton Tread.
We take a range of different classes, taught by several instructors, to get a sense of the teaching style and if this differs by trainer. But most importantly, we consider whether the classes are enjoyable enough to do regularly.
How to set up a home gym
If you're setting up a home gym with the best workout equipment for home use, there are a few factors to consider.
The most important decision you need to make is what style of exercise you want to do. It's worth choosing something you enjoy, because that'll make it easier to stick to. Once you've got an idea of whether you're after cardio-based machines or muscle-building weights, you can start to design your space.
If you have space at home for a dedicated workout area, you can buy equipment you don't have to fold or store away, as folding mechanisms, especially for large machines, can increase the price of the equipment.
Set aside some wall space for storing weights, yoga mats, resistance bands and other workout accessories you may need. You might also consider installing a large floor length mirror on one clear wall so that you can keep tabs on your form.
If you have a smaller space that is doubling as your living room or dining room, invest in fold-away equipment. Try to clear out a large cupboard where you can keep your folding gym equipment when it's not in use. A basket or storage bin nearby is perfect for storing smaller home gym accessories.
Get the Fit&Well Newsletter
Start your week with achievable workout ideas, health tips and wellbeing advice in your inbox.
Meg is a freelance journalist and features writer based in the UK. She covers culture, entertainment, lifestyle and health. Her writing has appeared in Cosmopolitan, Shondaland, Healthline, HelloGiggles, Reader's Digest, Apartment Therapy, and more. Meg has been interested in fitness for over a decade. She loves trying a wide range of exercise techniques including yoga, hiking, pilates and HIIT.