Trinny Woodall: "Exercise is one of the things that keeps me sane"
Trinny Woodall talks to Fit&Well about her make-up brand, coping with lockdown and staying healthy in mind and body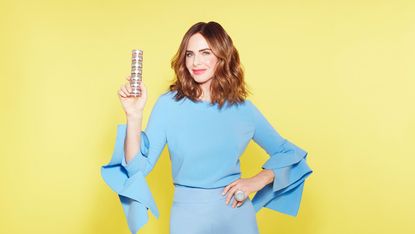 (Image credit: Anna Martensson)
Trinny Woodall has had a hugely successful career as a stylist turned make-up guru. It seems that everything she touches turns to gold – from her clothes and jewellery to her published books and Trinny London make-up range, she certainly knows how to shine.
The fact that her business has increased its turnover and brought in new staff during lockdown is evidence that she is the queen of the crop, not only in her enviable wardrobe but in the world of business too.
"At the start of lockdown, I had no idea what would happen with the brand," Trinny tells me as we chat over Zoom. "At a time when people were unfortunately losing jobs and being furloughed, it was obviously very worrying but fortunately our business hasn't been negatively affected.
"What was interesting to see, was that as people were stuck at home, their spending habits changed, they began using their money in different ways – leading us to have in May our best financial month since we launched three years ago."
Not only has Trinny been on the ball when it comes to fashion advice for the last two decades, she is also spot on when it comes to make-up. Trinny London, a collection of stackable, creamy cosmetics, allows you to match your skin tone, eye colour and other features on their website. It has always been Trinny's purpose to make women feel beautiful in their own skin.
"It's all about putting your best face forward and wearing make-up gives every woman an instant lift. In lockdown it is very easy to slob around but more than ever it is important to get dressed, care for your skin and nurture yourself."
This last bit of advice has been something Trinny has herself had to learn to do over the years. Despite being known for her straight-talking advice and bossiness, she was, she admits, a shy child who was plagued by acne. It is difficult to believe this highly passionate woman who speaks her mind with such conviction was once not so self-assured but Trinny insists it has been the passage of time, developing her expertise and her strong work ethic that has taught her about inner confidence.
"I'm at an age now and a time in my career where I simply don't care what people think of me," Trinny laughs. "I am sure I grate on people's nerves but it doesn't bother me in the slightest."
Her strength of mind is in sync with her body – as any of her thousands of social media followers will have seen during lockdown, Trinny has kept to a regular fitness regime. With live streams of body conditioning and pilates classes with her personal trainer, Trinny has an enviable figure and appears years younger than she is.
"It takes a lot of very hard work," she jokes, when I point out how incredible she looks. "I have to do exercise; it is one of the things that keeps me sane."
From her days as a TV presenter alongside Susannah Constantine in the BBC's What Not To Wear, to her new cult make-up brand, life has not always been an easy ride for Trinny. Her personal life – including divorce, personal tragedy and health problems - has been well-documented. So, it is no surprise that keeping fit has helped her keep her head above water.
"It's difficult not to dwell on things but it's important to try and live life to the full," she adds – citing meditation as a good healer. And then there is talking openly about things; something Trinny is brilliant at. After all – having built up an online social community of more than 650,000 followers – the entrepreneur is never short of speaking her mind on her daily video posts, sharing everything from her morning beauty routine to outfit of the day tutorials with her loyal following of fans.
"I recently did a Facebook Live video and there were people commenting from 80 different locations in 32 countries around the world. How unbelievable and fantastic is that?" she asks me. I tell her I'm not surprised; her energy and sweet nature is infectious!
In fact, for someone who has led a very colourful and emotional life, it seems rather poignant that her latest Trinny London eyeshadow collection comes in four tones named hope, fortitude, truth and courage: characteristics this remarkable woman certainly has!
Trinny's tips for looking and feeling great
1. You're never too old to wear white
"Why do people think it's only for the young? The trick to wearing white well is to think layering and textures. Sheer is also a playful way to add white to your look as it's not about showing off skin, just creating the illusion of doing so."
2. Wear Trinny London BFF cream
"There's a reason why it is our top-selling product. Worn alone or beneath foundation, Trinny London BFF cream is the secret to subtly radiant skin, plus it contains a SPF which is the most important way a woman can protect her skin."
3. Incorporate exercise into your daily life as much as possible
"As you get older it is important to keep as active as possible and to continue to tone and strengthen your body. When you're doing pilates properly you really feel a deep burn so really push yourself to see results."
4. Try meditation and visualisation techniques to keep anxiety at bay
"I will go and see my meditator if I am feeling stressed out and have a brain dump. He'll then get me to visualise the success of my brand and people using the products. He will also ask me to visualise sitting on top of the world with the universe in front of me and how limitless that is. It can be a very powerful coping mechanism."
For more details and to shop the range, visit Trinny London at https://trinnylondon.com/uk.
Get the Fit&Well Newsletter
Start your week with achievable workout ideas, health tips and wellbeing advice in your inbox.
Suzzanne has been writing as a lifestyle journalist for 20 years where they have worked as senior editor across magazines, newspapers and television. As a busy freelancer now they frequently write about lifestyle, health, beauty and fitness for Fit&Well, Hello!, Daily Mail, The Sun, and many others. They also write up product reviews that feature in T3, IndyBest, ES Best and the i.