Tom Daley: "Being a father gives me so much motivation"
Tom Daley chats to Fit&Well about his family, life in lockdown and his thoughts on getting back in the water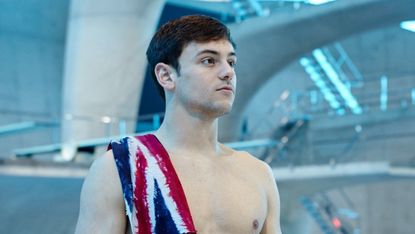 (Image credit: Tom Daley)
For someone who is used to training long shifts, six days a week, the past few months in lockdown have been both physically and mentally challenging for 26-year-old athlete Tom Daley.
As I chat to him at his Central London home – which he shares with his husband Dustin and their two-year-old son Robbie – it is with a mixture of emotions that he describes the last few months. And it's no surprise, as is the case for any athlete in training for the Olympics – to suddenly have it taken away from them - is an enormous hurdle to overcome.
"Athletes plan things, we have to work to exact dates and times, we are focused on a goal," Tom tells me.
"The most stressful part was not knowing when it was going to take place or if we were going to postpone it or not, and how long for.
"At first when the pools were shut and I could no longer train I would dream about water; I'm sure other Olympic competitors did the same about their sport. The one event that we were all focussing on had suddenly disappeared. To have that taken away from you suddenly does hit hard."
And so it seems, does his back – as he acknowledges time spent away from the pool has given his body a chance to heal. The impact of his back hitting the water over and over again has left him in chronic pain and, with a broken hand earlier this year, lockdown has enabled him to completely rest it.
"Every time you dive you hit the water so hard. My back is very bruised. Lockdown has given me a chance to stay away from the pool and not repeatedly have to hit the water. Resting without the impact of the water on my body makes a real difference," he says.
That's not to say Tom has backed away from exercise – as any one of his two million social media followers will know – he has been running online fitness classes featuring full body home workouts.
"This has been the longest time I have been away from training, and the longest time I have been away from the pool in 23 years so fitness was a motivation not only for my followers but my own sense of mind, too – it gave me routine which is what I needed. I'm never at home, my life normally revolves around training and competitions so having some kind of structure was a good thing."
In at the deep end
Life as a stay-at-home dad has certainly thrown Tom in at the deep end but he has relished spending time watching his son grow.
"I'd have been travelling here, there and everywhere if it had been the Olympics and now I have just been watching Robbie reach his milestones instead which has been such a blessing. It has been amazing to see him achieve things like learn to climb the stairs and recognise colours. Meal times have also been such a pleasure as he eats the same food as Dustin and I – it has given us all the time in the world to totally bond."
Tom admits that like everyone else who took time to comprehend the lockdown, adapting to it was not always easy. "Anyone who has a toddler will know there is always going to be meltdowns and early wakings but one thing I have learnt is having a lot of patience goes a long way."
Practicing mindfulness has helped him a lot – from visualising himself jumping off a diving board in the early days of lockdown to concentrating on his breathing – it is something Tom describes as very powerful. As is knitting – a new hobby he has taken up, along with cooking. Perhaps, I suggest, being out of the spotlight has given him time not only to reset his body but his mind, too. After all – he has had a very colourful career that has been publicly played out since he won his first gold medal aged 13 at the European Championships. And then at the age of 15 becoming Britain's youngest world champion at an Olympic sport threw him head first into the media glare.
"It has given me a new sense of calm being at home," he admits. "And also being a father gives me so much motivation – I'm not just diving now for myself but my family too and they will always come first."
In fact, as a brand ambassador for Johnson's, I couldn't think of a better person to front the campaign that is all about embracing family life. It is obvious that Tom – who should have been at the European championships when lockdown hit – has loved the time he has spent with his family; giving him even more of grit and determination to focus on the next chapter of his life.
"I want to go into the next year with no regrets and do everything I can and be the best I can and just try to enjoy it," he says.
With our interview over, Tom is getting ready to return to training at the Aquatics Centre in London's Olympic Park – something he describes as "surreal but super exciting."
And having taken a long breather from diving, it is no wonder Tom is ready to jump in again.
Get the Fit&Well Newsletter
Start your week with achievable workout ideas, health tips and wellbeing advice in your inbox.
Suzzanne has been writing as a lifestyle journalist for 20 years where they have worked as senior editor across magazines, newspapers and television. As a busy freelancer now they frequently write about lifestyle, health, beauty and fitness for Fit&Well, Hello!, Daily Mail, The Sun, and many others. They also write up product reviews that feature in T3, IndyBest, ES Best and the i.