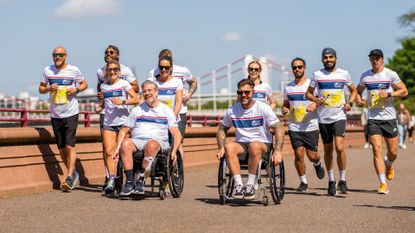 (Image credit: Aaron Teale / Red Bull Content Pool)
Sometimes, running events can feel stressful, what with trying to fit training sessions into busy schedules and worrying if you'll be able to complete the distance on the day.
You don't have to worry about any of those things with the Red Bull Wings For Life World Run (opens in new tab). You can run at any speed you like, for as long as you like and wherever you like.
The virtual event has you racing a Catcher Car in the Wings For Life World Run app. The goal is to run as far as you can before the car catches you. The car starts 30 minutes after you do, driving at 14km/h at first and gradually speeding up to catch every runner, with the event ending when everyone has been caught.
It's an exhilarating experience and means that every runner gets their own finish line, whether they've completed 5km or 15km before the car catches them.
It's also the biggest event in the world, bringing 160,000 runners together to raise money to fund research into spinal cord injuries. It costs £18 to enter the Wings For Life World Run, which takes place on Sunday 7th May, and 100% of the sign-up fee goes to charity partner Wings For Life, with Red Bull funding all the logistics costs of the race.
The virtual event is the perfect opportunity to enlist some of your running buddies and plan out a route that allows you to run together and stay out of the Catcher Car's clutches for as long as possible. A loop around a local park is a good option, or if the idea of running in circles doesn't appeal, then a long canal towpath might work instead.
Wherever you do run, you'll be motivated by the idea of 160,000 other people running with you all over the world at the exact same time, as well as the prospect of the Catcher Car reeling you in.
You can also join in one of the UK's organised app runs in London, Manchester, Bath or Glasgow. At these events you will still use the Wings For Life app to track your run via GPS, and the Catcher Car will chase you down in the app, but there are set routes laid out that make it even easier for participants to run, walk or push the event together. All of the courses are wheelchair accessible and fully signposted. Plus, you'll receive a voucher for a free drink at a post-event venue nearby.
In London, the event will be held in Battersea Park and participants can either run a 2.5km loop of the park or stick to the Millennium Arena running track, if you want the fastest possible course for your run. Platt Fields Park in Manchester hosts a 1km loop. In Bath the run starts on a track before heading out for a 4km loop of the trail surrounding the University of Bath campus, while runners in Glasgow use a 1.46km loop around Victoria Park.
In the spirit of inclusion, Philips Sports Headphones are funding extra places in the race for anyone who signs up between 27th January and 15th February. Enter Wings For Life World Run 2023 between these dates and you'll get a race voucher that you can give to a friend to run with.
If you sign up before 25th March you can also get a free Wings For Life technical running T-shirt from partner Do Sport to wear during the event.
With every penny of your sign up fee going towards vital research into spinal cord injuries, and the day itself being a truly unique and inclusive experience, Wings For Life World Run is one event you don't want to miss in 2023.
Sign up for the Wings for Life World Run app run on the Wings For Life website (opens in new tab).
Launched in 2020, Fit&Well.com is all about helping you meet your health and fitness goals in ways that are fun and achievable. With news and features on fitness, weight loss, running, nutrition, yoga, wellness and more, we're committed to helping you wherever you are on your fitness journey. We break down the best fitness tech, with reviews, buying guides and the latest deals on fitness and wellness kit, from dumbbells to diffusers.
We cater for all difficulty levels here. It doesn't matter if you're a beginner in the world of fitness or you're gearing up for your tenth marathon: we're all moving towards the same goal – creating a healthier, happier you. From guides on getting started doing walks around the block, to creating the perfect work-from-home space, to eating to fuel your first triathlon. It's all here.