A quick morning yoga routine to awaken your body and your mind
Dread the alarm going off? This five-minute morning yoga routine will have you looking forward to getting out of bed each day…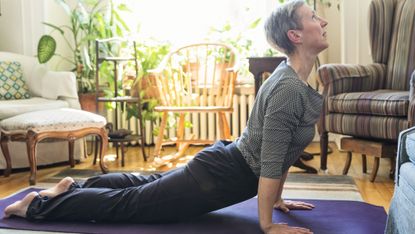 (Image credit: Getty Images)
It can be hard to throw off your duvet at the best of times, but a quick morning yoga routine can make all the difference.
'Your body has been still for seven to nine hours, so it's no surprise you feel groggy and your joints and muscles are stiff,' says Kira Mahal, CEO of MotivatePT (opens in new tab). But give Kira's five-minute yoga routine a go and you'll feel invigorated first thing.
'This routine will wake up your body and mind. As you start to move, your blood will pump around your body, increasing oxygen levels to your brain, making you feel alert,' explains Kira.
'It will also warm up your synovial fluid' – that's what helps your joints move smoothly – 'and by stretching each muscle, you'll help relieve tension and maintain flexibility,' she adds.
Kira's top tip? 'Make sure you don't overstretch, as your muscles will be still be quite tight. 'If something feels uncomfortable, change position and adapt the pose.'
Ready to get started? Read on…
Your quick morning yoga routine
Sundial salutation
Stand feet hip-width apart. Inhale, fold forward and place your hands on each elbow. Rotate your upper body right, open your chest so your elbow is pointing towards the sky. Once you reach the top, continue in a clockwise motion, keeping your chest open. Repeat three times.
Standing forward bend
Exhale, bend forward at your hips and lengthen your torso. Keep knees straight and place palms on backs of ankles, or cross arms, and hold your elbows. Let gravity pull you down and breathe. Hold for 30-60 seconds.
Malasana yogi squat
Stand feet slightly wider than hip-width apart, toes pointing outwards. Squat as deep as you can. Bring elbows to inside of your knees and bring your palms together. Use elbows to push knees apart. Hold for 30-60 seconds.
Forearm plank
To transition into this pose, come forwards into downward- facing dog. Then shift weight forwards and drop onto elbows, one at a time. Keep straight back, hips low and in a straight line. Breathe and hold for 30-60 seconds.
Easy lunge twist
In downward dog, exhale and bring your right foot forward and place between the hands. Bend right knee to 90°. Place your left hand next to your right foot, so it's directly under your shoulder. Inhale and bring your right arm up towards the ceiling by rotating the upper body to right as well. If you're not able to keep your back leg off the floor, maintain position with your left shin on the ground. Rotate gaze up to the ceiling and lengthen through your spine. Hold for 30-60 seconds. Repeat on other side.
Hip opener
In downward dog, lift your right leg towards sky, foot flexed, hips level. Bend your right knee and let the heel move towards your hip. Hold for 15-30 seconds. Repeat with the other leg. Return to downward dog, walk hands to your feet and slowly curl up to a standing position.
Natalia is a health and fitness journalist who has written for the likes of Woman & Home and Marie Claire, and likes to practice what she preaches when it comes to staying fit and well. She loves the outdoors and would happily swap the treadmill for the trail at any opportunity. As such, in her free time you'll likely find her up a mountain somewhere. She has hiked eight of the major mountain ranges across four continents, including the Appalachians, the Smokies, the Sierra Nevadas (where she hiked to the top of Half Dome during her honeymoon) and the Atlas Mountains, as well hitting the summits of Snowdon and Pen-Y-Fan (Brecon Beacons), Table Mountain in South Africa and the Blue Mountains in Australia. She was also a fencer for 13 years, wielding an epée for Team GB during her teenage years. Having recently welcomed a baby, Natalia is currently getting back into her fitness routine, and has her sights set on completing a triathlon, something she and her husband started out on before their bundle of joy arrived.