Benefits of yoga: 6 reasons why hitting the mat can improve your health
From a longer life to making you better in the bedroom, the benefits of yoga might surprise you…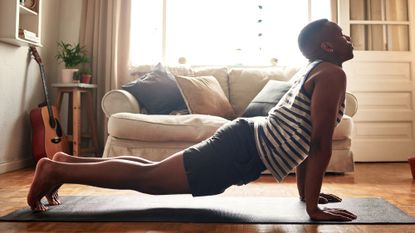 (Image credit: Getty Images)
The mind and body benefits of yoga are proven, which is why more and more people are turning to the age-old practice during the physically and mentally challenging coronavirus pandemic.
Happily, the rise of online classes and dedicated apps means you can now downward dog in the comfort of your front room, with minimal equipment required. All you really need to get started is a mat (check out our pick of the best yoga mats) and the desire to get your omm on.
'I like to have plants around and a scented candle too,' says yoga teacher and YouTuber Helen Faliveno. Worried about a naked flame near burning during your practice? Try one of the best diffusers for essential oils as an alternative to candles.
'If you're using a laptop to stream your yoga, shut down your email and all other tabs, so that you're not interrupted,' Helen also advises.
She adds that in the absence of a teacher, it's important to pay attention to how you feel. 'You are the expert on your body, so if something doesn't feel right, adapt the pose and don't push into pain.'
Ready to give it a go? Here are some of the key benefits of yoga you can expect to experience…
Yoga boosts your mood
'One of my favourite fitness quotes is written on the wall of my yoga studio,' says Fit&Well's editor, Stephanie Wood. 'It reads: "I really regret that workout, said no one. Ever." That's definitely true of yoga - you're guaranteed to finish a session in a better mood then when you started.'
That statement is backed up by a recent study (opens in new tab), which found that it's more effective at improving mood than other low-impact activities, such as walking.
What's more, there's a yoga pose for every mood. 'Want to feel energetic? Take a triangle pose,' says Suzy Reading, author of The Self-Care Revolution. 'Want to feel calm? Child's pose will do it. Powerful? A warrior pose is the one.'
Yoga is a stress buster
Yoga keeps your mind anchored on breathing, which helps you navigate life off the mat better. It's also an ideal tonic for anxiety. 'When you breathe better, you feel better,' says Suzy. Oh, and it helps you sleep, too!
Yoga boosts your libido
A 2019 study (opens in new tab) published in The Journal of Sexual Medicine concluded that regular yoga practice improves several aspects of women's sex lives, including desire, arousal, orgasm, and overall satisfaction.
'Yoga has a significant effect on the libido as it increases blood flow in the pelvis region', explains instructor Maija Kivelä. Plus, those bendy moves might just come in handy, if you know what we mean…
Yoga can help you lose weight
Whilst yoga isn't traditionally considered one of the best exercises for weight loss, a staggering 120 calories can be burnt in just 30 minutes of doing certain types of yoga.
'Yoga works on strength, agility, endurance, core and overall strength,' explains Maija. 'Any athlete can benefit hugely by adding yoga to their training regime.'
If your goal is to lose weight, opt for more vigorous and active forms of yoga, such as ashtanga, vinyasa flow or bikram.
Yoga improves flexibility
Why is flexibility important? Being flexible stretches your muscles to help prevent injuries and improve balance, plus it can help to improve your posture - which is increasingly important now that many of us are moving less and working from home more thanks to coronavirus restrictions.
Yoga helps future-proof your life
A bit of downward dogging (clean thoughts, please) can help combat issues associated with the ageing process - and even add years to your life. According to the UK's NHS (opens in new tab), yoga can improve conditions such as arthritis, heart disease and high blood pressure.
Emily is a writer with plenty of experience in women's lifestyle. She has written for titles including Now, Look, and Woman's Own about health and fitness; from the ideal home workouts and combating everyday ailments to boosting your wellbeing and mental health. Fitness-wise, she has always enjoyed a healthy competition in netball or football, and is keen on her walking, running and spinning classes. Emily's top fitness tip? The best workout partner is an outstanding playlist - it'll help you power through those my-muscles-are-turning-to-jelly moments.